At Interact we have no marketing budget, no brand recognition, and a crude product. We've been in beta for months and development is continually improving the product, yet it's still in infancy. Our most effective strategy for getting new users is still a simple, personal outreach email to targeted potential users. In the last month, I've sent 1200 emails to bloggers, small businesses, and E-commerce sites asking if they are interested in being a beta user for free, and here's what happened.
Email outreach isn't sexy, cutting edge, or necessarily innovative, but it's effective, especially for a new brand that doesn't have a budget for ad dollars. Here are the biggest things that I learned spending a month emailing prospects.
Be Persistent: Just because on average 17% of people I emailed responded doesn't mean that exactly 1.7 of every 10 would respond right away. There have been days with no responses and other times when nearly everyone I emailed got back to me right away. However, if the down times lead to less emails being sent, the total effect is negative. Salesforce recommends sending 1000 outreach emails per month, and if you skip weekends that means 40 per working day.
Be Polite: This is how every single email I send begins.
Because I'm not immediately pushing a product and giving readers an opportunity to not read my email before they waste any time, there is a sense of respect for the readers' time created that in turn leads to respect coming my way. This respect eliminated all angry responses; I have not gotten one complaint from a prospect who was annoyed by my email and have gotten many emails saying how refreshing a respectful outreach email was.

Reach out to a person: Many businesses only list a general email on their site such as info@mysite.com. I rarely get responses from this type of email address. Use rapportive to find an actual person's email address instead of wasting time reaching out to a dead-end company one.
Be Timely: The time an email is sent out greatly determines the number of responses I got. The chart below shows response times by hour sent.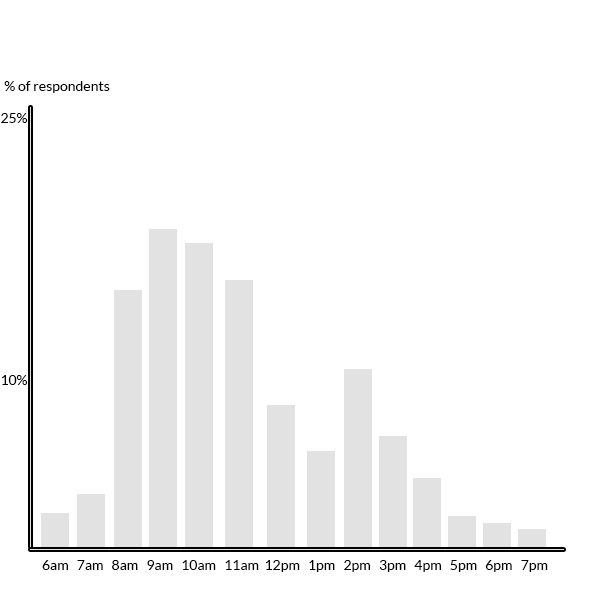 Front-Load the week: The first few days of the week yielded much better results than later in the week, and I rarely got responses from weekend outreach campaigns.
Keep track of who responds: After a few days, a pattern should start to emerge. For Interact, personal finance, business, and marketing quickly jumped out as the industries where quizzes really excited bloggers and business owners. Now I spend 75% of my time on those three verticals while testing other areas with the other 25%.
Find Outreach Platforms: They save you a ton of time. Here are the top methods I used to find leads.
Technorati.com
Inkybee.com (free trial)
Google search (List of blogs about whatever you need)
Blogrolls on sites that are using our product (yah they are outdated)
Be a good listener: When we first started onboarding customers, they had all kinds of suggestions for how to make the product better and easier to use. We kept a laundry list of items and as patterns started to emerge we knew the most common issues were the ones to attack first.
The ROI of Email Outreach:
Here's how the ROI on time spent breaks down for my email outreach campaign. Interact is still in beta and we don't have a payment system built in yet to take payments so it's hard to quantify the dollar value of a customer, but 1.6 new customers an hour is satisfying, especially if the methods are scalable.