Have you noticed scrolling a social media feed that personality quizzes pop up quite often now? Or you see a friend sharing there that she or he is a particular type of movie hero, have the characteristics of some celebrities or just an extraordinary persona.
Even very busy people often take personality quizzes, because of the one big reason – people love to know more about themselves.
Within the last couple of years, quizzes became a successful marketing tool for many companies.
They are fun, exciting and easy to process. Engaging content attracts people. For seeing the results, people are often asked to leave an email.
The properly picked questions make people feel that you know them and when you give personalized results, you start building the trust with them.
That's a great way to generate more leads.
How to create an attractive quiz
Planning your quiz think about who your audience is and what solution you offer to them. Take the avatar of your ideal client and craft the result for it.
There are several steps to make your quizzes effective:
Pick a topic that aligns with what you offer

Come up with the questions

Create individual results

Follow up based on the results
To make the quiz work for you, it needs to match your offer. The mistake that some people make is they plan the topic that is interesting but far from what they want to sell later.
Use a quiz as a tool to segment your ideal client to give a more personalized solution.
Plan your questions and answers. They can help you to segment people by their interests, worries, or other data that you may think will be useful.
Make the questions easy to answer, mix them with the images when you can and keep 3-5 answers for one question otherwise people may leave the quiz before finishing.
Organize them into 3-4 types of results that people get in the end. Even if you offer only one kind of services, you can group clients to a few categories.
After taking the quiz, ask the person to leave an email to get the results.
Then you can guide people to your webinars, send them email series, offer the consultation based on the results, etc.
Let's get practical and look through some successful entrepreneurial quiz ideas to inspire you. Look at how people structure the quiz, how they ask the questions, and how they maintain the relationship with subscribers after.
1. What Type of Influencer Are You as an Entrepreneur?
What Type of Influencer Are You as an Entrepreneur? quiz will guide you through different criteria to define what type of influencer you are. It is based on your expertise, the relationship you create with your audience, and social proofs you have to be considered as an influencer.
When you finish the quiz, you will see at what stage you are right now, what challenges you face and what next steps to take to grow your authority and become an influencer in your niche.
Based on the result you get, you will receive a series of emails with tips on what and how to do that.
2. What's Your Secret Sauce?
What's your secret sauce? quiz will take you through 'Why?' and 'What's your life?' types of questions to dig deep into your personality. The author mixes text and image questions in the quiz.
The results show you the characteristics of your type of people and a list of the recommended resources and podcast episodes.
3. What Type of Brand Personality Are You?
What type of brand personality are you? quiz leads you through the questions about you, your business, and your clients. Filled with the images, the easy-to-answer questions help associate your brand with the style it shows.
In the end, you get tips on how to present your brand, how to market to your ideal clients, and an e-Book with brand strategy ideas.
4. Wanna Know What Kind of #launchgal YOU are?
Wanna know what kind of #launchgal YOU are? quiz gets you to understand yourself. Besides the usual questions, it suggests finishing the sentence that feels more like you.
In the end, you see the characteristics that are relevant to people like you, get a series of tips and have an offer to participate in the upcoming events to meet fellow women entrepreneurs.
5. Want to Know What Kind of Website Your Business is Most Suited For?
Want to know what kind of website your business is most suited for? quiz makes you think what you need a website for, what your experience in business is, and what you want to have on the site.
After finishing the quiz, you get introduced to the platform that will help you to create a beautiful website and call-to-action to check the gallery of the templates that you can use.
6. What's Your Pinterest Personality?
What's Your Pinterest Personality? quiz dives deep into how you use Pinterest and leverage it for your business. It's a mix of text questions about how often you use it or how you schedule it and image questions like how you would describe your feeling with Emojis.
The results will show your best side of using Pinterest, your weaknesses, as well as your next step with Pinterest.
The Call-to-action at the end is to check your email for a free Pinterest audit checklist.
7. Number 1 Thing You Need to Do Next to Sell Your Products Online Successfully
#1 thing you need to do next to sell your products online successfully quiz is designed for those who sell handmade products online.
You'll be asked what you struggle with the most now in your handmade craft business, and as the next step, you can access a free training that you will get after you enter your email.
8. What Area of Marketing Should You Focus on Next in Your Photo Business?
What Area of Marketing Should You Focus on Next in Your Photo Business? quiz targets photographers interested in growing their business.
The questions focus on the marketing channels you use to get more photo shoots and how you develop your relationship with the clients.
As a result, you will know how good your marketing is and get a free downloadable marketing plan.
9. Define Your Brand Style
Define Your Brand Style quiz makes you brainstorm your online business brand design. The questions are based on your style preferences in different aspects of your life: your clothes, desk, social media posts, etc.
In the end, you see the percentage you have of each of the different styles, do's and don'ts for your brand style, and a free stock photo collection that fits that brand style.
10. Get Your Focus on
Get your FOCUS on quiz helps you to find out where to focus on your time and energy in the business right now.
The questions are based on where you put an effort to and how confident you are in marketing your business.
After finishing the quiz, you will see the suggestions about where to focus your attention.
Now, all of them are good creative examples, but they are already completed quizzes that work for others.
Use this inspiration to create a quiz that suits your business.
3 Interact Template Quizzes for Entrepreneurs
You can plan everything from scratch or take one of the predesigned quiz templates for entrepreneurs shown below and modify it.
1. Start a Side Hustle
Start a Side Hustle quiz asks your visitors all about their side work, people's expectations from it and what they are ready to invest.
To modify the template, pick Use This Quiz and update the necessary fields of the quiz.
In the admin panel, you can change any questions, answers and edit the results.
2. Webpreneur Assessment
Webpreneur Assessment is built by the scored quiz type where the person gets some points for the answer.
Each question is straightforward. You can add more than two answers and give them different scores.
Quiz outcomes have the result description according to the score the person got. Add there a call-to-action on what you want people to do next (e.g., watch your webinar, listen to your podcast episodes, read your article) or tell what they can expect from you after.
If you start a similar type of quizzes from scratch, then in the beginning when you build an Interact quiz you can pick the Scored quiz and then follow the steps to finish it.
In this case, you can set the points to each answer, and the number of points will calculate the result.
3. What Type of Entrepreneur Are You?
What Type of Entrepreneur Are You? quiz offers to pick the types of personalities that the entrepreneur has. Each answer belongs to the specific characteristic.
This type is the personality quiz filled with the images and the details for each question and outcome.
In the admin panel, you can set what answer fits specific result in the end. As you already have the descriptive quiz outcomes, you can add call-to-action, and the quiz is ready to be embedded on your site.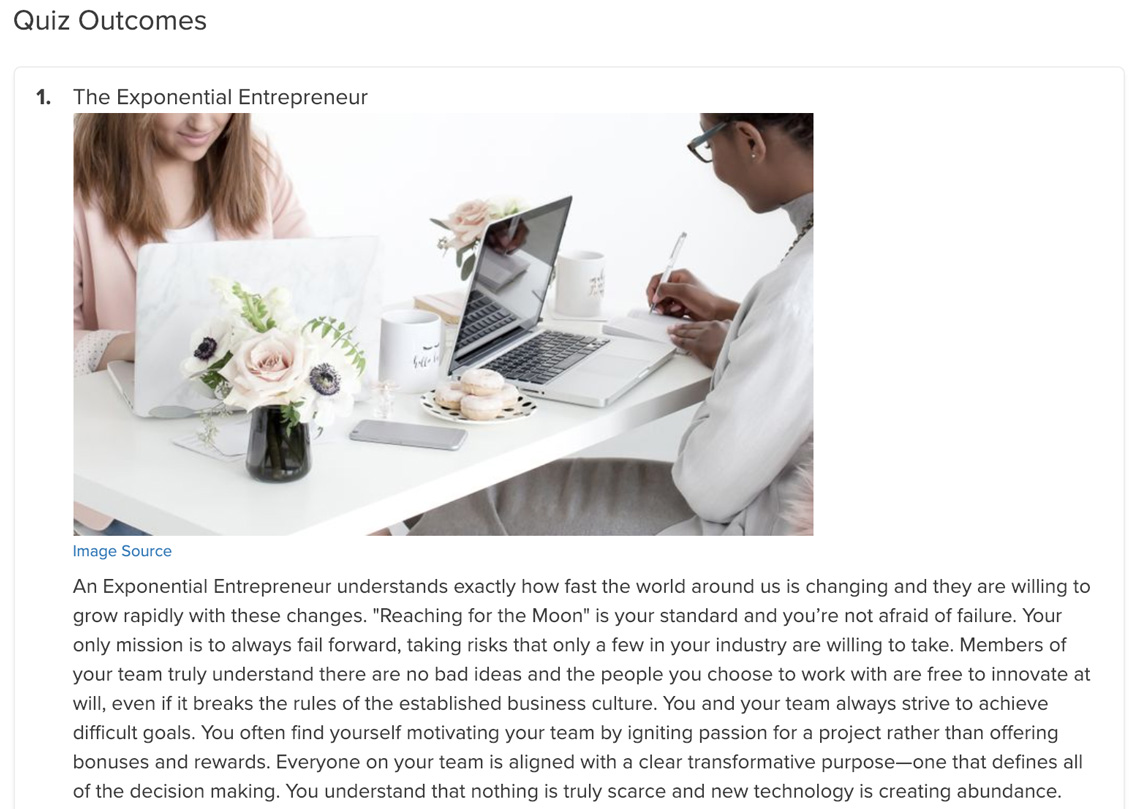 Conclusion
Using a quiz as a lead magnet is an interactive way to get new email subscribers. Regularly check how well it performs. Look at the statistics to see which questions people leave your quiz, improve it, and test again.
After you create and publish your quiz, promote it through social media and other channels to attract more people.