The title of this post is purposely vague. Being a marketer is such a broad concept that I didn't want to limit this list to just blogs that are strictly about marketing. I think a lot of times the content that makes you better at marketing doesn't directly have to do with writing blog posts or what-not, but rather helps you understand what marketing is all about and seeing what other people have done with success. With that in mind, here are my 20 favorite blogs for becoming a better marketer.
This company is documenting their rise from nothing to something in a very short amount of time. I specifically like that the founder, Josh Pigford, is very candid about what works and what doesn't when it comes to marketing and growth. It also doesn't hurt Baremetrics' credibility in the marketing game that they are growing by an average of 10% per month. Sometimes (most of the time), it's extraordinarily helpful to hear about what others have tried and succeeded (or failed) at, and Baremetrics is continually updating their audience on what's working.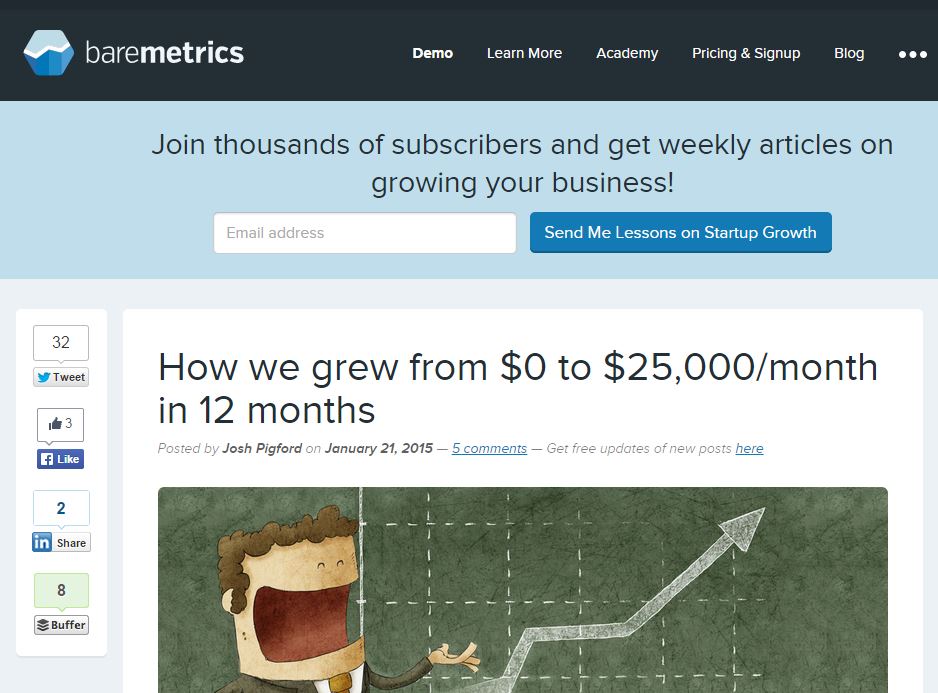 Using the same concept as Baremetrics, Gleam posts data-driven studies on what's working for them. Posts like this one share exact numbers from growth experiments the company has run internally, providing exceptional value to the reader.
Tint is a breakout company in the social media space, and they share what they've learned along the way. For marketers, the Tint blog provides an inside look at how sales, marketing, and customer service work at a startup that's growing rapidly. The Tint team also shares in detail what's working in the social space based on millions of impressions their customers receive.
Every post on the Buffer blog is data-driven (I know this because guest writing for them is a data-essential task). What this means is that every post from Buffer can be trusted as tested and sound advice. Buffer is also not afraid to share anything and everything they learn as the company grows, leading to a lot of actionable tips for social marketers.
This blog is the most actual-evidence-based resource for conversion rate optimization I've ever come across. Every single post has numbers in it that just can't be denied, and you'll learn a massive amount about why some of your marketing is working and other parts aren't.
If you have to pick one blog to learn about SEO, I'd recommend backlinko. It's a very well researched and always data-backed site that offers up information not only on how SEO works within your marketing, but also how to optimize your pieces for search engines.
Neil Patel has done a lot of content marketing, and he's discovered some pretty amazing information along the way. All this gets shared on QuickSprout, a place that has everything from SEO checklists to case studies involving millions of dollars in marketing spend.
I'd call MOZ the go-to resource for content marketing and SEO advice and feel comfortable about that assertion. The company has been a leader in the area for a long time, and they've built a massive community of writers that includes experts in all areas of marketing and advertising. If you want to see a case study about pretty much any marketing idea, they probably have it.
Email is still a huge part of marketing, and Vero has you covered for all things email. They have a huge amount of data on what works in email marketing from their vast array of customers, and they share the insights with everyone. Vero takes special care to ensure that every post has at least one actionable tip included so you never walk away empty handed.
Want to see actual numbers on how many referral visits guest blogging can provide? Groove has that. That's just one of the ways this blog provides great value to marketers. Alex who runs the blog is constantly trying out new initiatives with Groove and shares all the results on the blog as they journey towards $500k MRR.
Not a marketing blog, but Little Big Details points out the little thing that really make a difference in design. As marketers, we often are responsible for small design things where it doesn't make sense for the design team to get involved (think images in a blog post). It's nice to have things like what Little Big Details has in the back of our minds as we produce the content that potential customers will see first when interacting with our brands.
Video is a segment of marketing that continues to grow as we move to a more visual web. Vidyard, which does video hosting for enterprises, has a resourceful blog where they share all sorts of tips and tricks for how to get your video shared and how to make better videos in the first place. They also have a great sense of humor which is vastly appreciated by me.
This blog has the most diverse and accomplished collection of writers I've ever seen. That means each contributor brings a deep level of knowledge in one area and shares it with the world, which leads to a level of learning in many areas that's really unprecedented all in one place. One day you'll have a conversion optimization expert, the next a design guru, put it all together and you've got one heck of a blog.
If you don't understand how to use technology to streamline your marketing efforts, you are missing out. On his blog, Scott Brinker is continually updating the world on what's going on with marketing technology, including marketing automation, content production tools, and frameworks. It's an excellent resource to stay up to date on, checking in to see what's changed in the industry.
This blog jumps into a lot of areas that are extremely useful for marketers but also overlooked more often than not. For example, one of my favorite posts from them is this one about the psychology of color, which I've kept in the back of my mind throughout a ton of projects that involve a bit of design in one way shape or form. That's not to say Kissmetrics doesn't provide sound content marketing and conversion optimization advice, they certainly do that, but the pieces that really stick out are the ones like the color post.
Not even a blog, and only a couple of the lectures are even about marketing, and yet this is one of the best resources for marketing I've ever come across. In the series you'll hear from founders of companies that have innovated their way to success by thinking outside the box or just by sheer willpower. It's inspiring and will most definitely get your ideas flowing.
Another vital skill for any marketer is writing, and copyblogger is the best resource I've found for improving your writing skills. They've been around for a long time – long enough to see trends rise and fall, which gives them a unique vantage point from which to help you write in a way that will stand the test of time. If you're anything like me, that means a lot because you want to know that your efforts won't disappear down the road.
You know how sometimes an unknown blog will create a great piece, but no one reads it because it's a small blog? Inbound is working to unearth pieces like that, and so far it's doing a pretty good job. A quick scan through the top posts on any given day will bring up succinct and actionable tips on all kinds of marketing.
This blog has a unique perspective on content marketing given that their entire business revolves around WordPress support so the writing team has seen thousands of blogs and most likely millions of blog posts. They use that information to share data-driven insights on what works well in the world of WordPress. They also follow the transparency trend with monthly updates that dig into which marketing initiatives worked for their own site.
Noah Kagan has done marketing for some amazing companies ranging from Facebook to Mint.com to Appsumo, it seems like he can't miss. However, if you read OkDork you'll find out that he has (and does) miss, and thankfully he shares every miss and every hit with us on the blog.
21. Ryan Robinson
Ryan's blog focuses on side hustles, but there is content on everything from conversion rate optimization to how to start a blog. One of my favorite things about this blog is that it focuses on starting side businesses, which means you have to become very efficient with your time spent marketing. Time is money so saving time makes you more money.