The World Wildlife Fund is one of my favorite Interact customers (yes, we play favorites). It's not just that they do great work to protect endangered species around the world, but they also created one of the best looking and most efficient quizzes I've ever seen. Let's take a look at what The World Wildlife Fund was able to achieve and dive into the strategy behind their success with a lead generating quiz.
Results.
We are going to have our dessert before our dinner, and look at the outcome of this quiz before we examine it piece by piece. The quiz was called "Who's Your Animal Soulmate?" and it was taken 2,703 times. At the end of the quiz there is a form asking people if they'd like to get updates from The World Wildlife Fund, and if the quiz taker is interested they can put in their name and email address. That's a massive 38.5% conversion rate! Show me a better conversion rate than that and I'll send you a box of Girl Scout Cookies.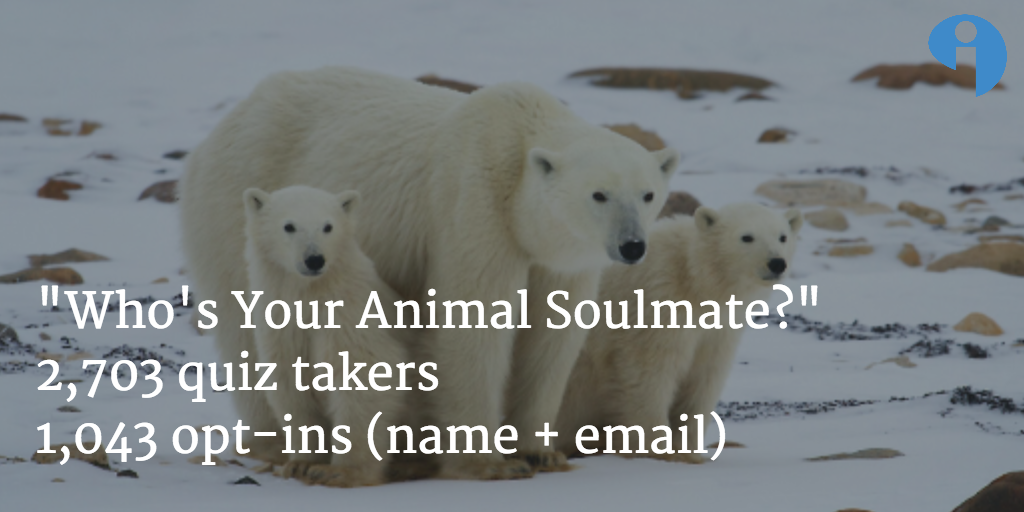 The quiz got most of it's traffic from social shares, a screenshot from Buzzsumo shows it was shared over 2,000 times. That is unique to quizzes as a lead generating mechanism. Think about the last time someone shared a white paper or an industry report – who would do that? This quiz however, is collecting the same kinds of information that those other lead generating pages would, but it's also highly share-able.
Strategy
So how did The World Wildlife Fund come up with the idea "Who's Your Animal Soulmate?" (other than the fact that this quiz was released around Valentine's Day). They did it by examining their content to find the best possible quiz idea, doing what I call "quiz-purposing" (which basically means turning your past popular content into a quiz).
I've put a screenshot in here that clarifies this concept a little bit. When you search for Nathab.com (The World Wildlife Fund subsidiary website), you see the main site and then the top pages on the site listed out in the results. A few of the results are "Polar Bear Tours" and "Galapagos" and "Our Trips." Each of these pages revolves around an animal, given that The World Wildlife Fund focuses on animals, and these are places where animals are endangered.
From there The World Wildlife Fund created quiz results out of those top pages, such as the one pictured below of the polar bears. Now The World Wildlife Fund can rest easier knowing that their quiz has been built from content that is already popular on the site – very nearly guaranteeing success.
A walkthrough of the quiz
Now let's look at the quiz itself. I would like to say that every quiz will achieve the same opt-in results that The World Wildlife Fund got, but that's just not true. They did an excellent job creating their quiz to be engaging, trustworthy, and fun all with the goal of getting more people to subscribe. It worked, so let's see what we can learn from them.
1. Grab your prospect's attention with the quiz cover
The numbers on the left side of the screenshot below are pretty telling as to what kind of traffic quizzes get. The vast majority comes from Facebook, followed closely by other social networks. The World Wildlife Fund Can Share the quiz once, but after that it's up to other people seeing the quiz appear on their feeds to keep the traffic going.
This is how the quiz was initially shared on the corporate Facebook page. Because of Facebook's settings, you have to take a screenshot of the quiz and upload that along with a link to the quiz page on the World Wildlife Fund page. The nice picture of polar bears seemingly in love makes for an attention-grabbing visual that certainly stands out on social media feeds.
2. A set of questions that build a connection
At this stage a quiz taker has clicked on a quiz link from a social feed and is now on the quiz from The World Wildlife Fund. Now it's up to the quiz writer to build up enough trust through nine questions of the quiz and get to the point where the quiz taker feels comfortable inputting their name and email address at the end of the quiz. This is a tall order, that's not a lot of time and this is just a quiz after all. However, they managed to pull it off, and there are a couple of reasons why.
The quiz is conversational. The huge advantage quizzes have over virtually every other form of content is the ability to hold a back-and-forth conversation with people over the internet. This can be an advantage, if you word the questions right. The best way to use this unique feature of quizzes is by being yourself, but like a tipsy version of yourself. Remember you don't have long to build up trust here, so let your personality shine through and show your humanness.
Imagery reinforces the brand. The quiz is full of images. It's not coincidence, we did a study and found that all 100 of the top 100 quizzes built using Interact have at least one image question like the one pictured below. The World Wildlife Fund quiz uses images of animals and destinations to reinforce the brand's integrity.
It gets a bit personal. You are going to ask for the quiz takers' personal information at the end of the quiz, so you should probably start asking personal questions before that point. Quiz questions are a great way to "break the ice" because they are light and fun, and by asking questions directly about the person taking the quiz, it can feel much more intimate than just some online quiz.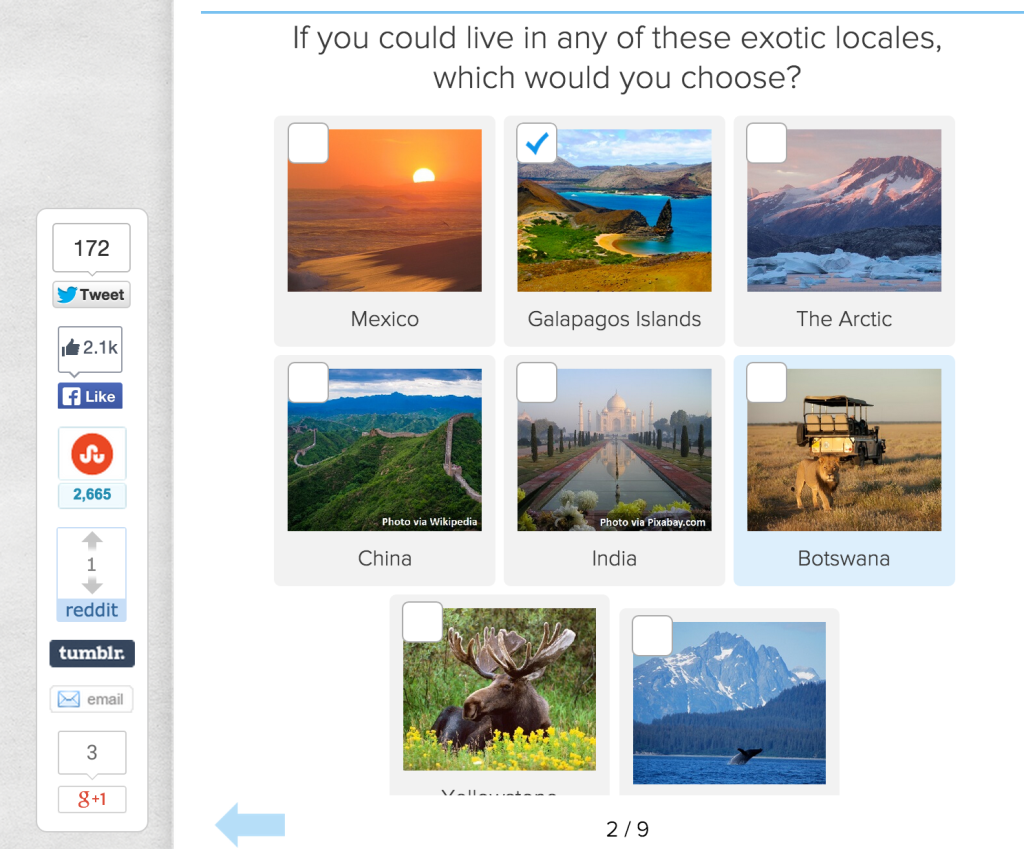 3. Write a lead capture form that stands up for integrity and has relevance
Now it's the end of the quiz, you've built up some rapport through the questions and it's time for the big ask! The way this opt-in form is worded can make or break the conversion percentage – there are two things to get right and a third optional bonus round.
Be honest. Tell people what you'll be sending them when they opt-in. There's nothing worse than inputting your email address blindly, not knowing who or what will have access to your inbox and how often they will spam you. It's much better to be up front about what you are going to send than to be vague. After all, this is the beginning of a relationship with the customer that you hope will be a long one.
Be relevant to the quiz. This quiz is about animals, and the opt-in call to action says "Receive exciting travel and conservation updates." Since I clicked on the quiz, I'm interested in animals and where they live, of course might also be interested in updates on travel and conversation. The same goes for any quiz, the call to action on the opt-in should match the topic of the quiz itself.
Optional – throw in a bonus. In this example, people who opt-in will also be entered to win a Patagonia jacket, which is a cool added bonus. I've also seen people have really good success with giving away discount codes for people who opt-in or sending a free book or video exclusive to subscribers.
4. Craft results to keep the conversation going and entice sharing
Quiz results are where you as the quiz creator get a chance to continue the conversation with quiz takers by including personalized links to pages on your site and enticing people to share their results with the world. The World Wildlife Fund did an excellent job in this arena, so let's go over what they did to maximize success.
Be very kind with your results. When people share their result, it will include the result title and description. No one wants to share a result that is in any way negative or derogatory, so make sure to put on your "nice" hat when writing quiz results. That doesn't mean you should lie through your teeth, everything should be honest, but be nice about it. For example, in this description of a Panda as your soulmate it says "This peaceful creature is quite the catch" which is a nice way of saying your soulmate doesn't do much.
Have clear links to follow up. When I see my quiz result I am all kinds of curious. After all I've just answered a series of personal questions to get this result, and in some ways it's like a judgment of my life. Of course I'm interested in learning more about my result (in this case, learning more about Pandas).
Let the people share. At the beginning of this post I showed a screenshot of how much this quiz got shared, and that's not an accident. There is a very clear call to action to share at the end of this quiz, and it was effective.
5. Follow up via email and send me cool stuff
So Now you have my contact information and have to make the first contact via email. This is a crucial step because this establishes our relationship outside of the quiz itself and is the first step in turning someone who took a quiz on the internet into a long-term customer who could be profitable to your company. Let's go over the guidelines.
Address me by name. You can't see it in my screenshot, but the email from The World Wildlife Fund starts off "Hello Josh" this is important because it indicates you know who I am and want to begin a personal conversation.
Acknowledge that you got my email from the quiz. I see this one get messed up all the time. Companies will either add emails collected through a quiz to a general list or just send an email with no indication of how the address was obtained. Being up front about how you got my email and why you are sending me stuff helps build trust and my interest will be piqued.
Talk about the quiz. Either have a link to check out even more information to the quiz or just mention my results again.
The World Wildlife Fund achieved in just a few days what it takes some people months to achieve, they brought in over 1,000 fresh subscribers to their database. They created an amazing quiz to achieve this, and we broke down step by step what that process looked like.