Build an assessment now at tryinteract.com
Assessments are commonly used for:
Lead generation (either by sending to a cold list, promoting with Google ads, or promoting through syndication)
Lead scoring (by segmenting leads based on their scores)
Interactive assessments stand out against other forms of lead generation because they are new, different, and fun. We've seen an average conversion rate of 40% on our assessments, meaning that 4/10 people who click "start assessment" end up becoming leads. We also integrate with all marketing automation systems so you can tag the leads based on their assessment score and follow up appropriately.
There are 4 parts to setting up an assessment.
1. Subject
Deciding what to make an assessment about is the most important part of the whole process. When deciding on an assessment title, you have to keep two things in mind. First, the assessment has to be appealing to the right audience. It must tell the quiz taker something about themselves so that they'll want to take it. Second, the assessment must be closely related to a a business problem you solve. Here are some examples to give you an idea of how this works.
"How mature are your ITSM processes?" for a company that helps with process management
"Are You Internet of Things Ready?" for a company that provides tools for managing internet of things enabled devices
"How Robust is Your Data Center?" for a company that sells data management services
"How Much Do You Know about Affluent Home Buyers?" for a company that sells real estate training courses
"Can You Pass the Hardest Finance History Test Ever?" for a company that sells virtual data rooms to finance professionals
"Can You Identify These Dog Breeds?" for an animal care non-profit
Hopefully you can see how these successful assessments connect the dots between engagement and practicality.
2. Questions
We recommend 6 to 12 questions for each assessment. This number of questions will take 2-3 minutes to answer, which is the sweet spot. To be more specific, we say 7 questions and 2 minutes is ideal to get prospects engaged with your assessment without keeping them around for so long that they get bored.
When writing questions you should follow two rules.
Show your expertise: Make sure you are conveying that your company has solutions to offer for the problem your assessment is related to
Follow the "tipsy college student" rule: Remember that an assessment is a one-to-one form of communication. You are asking questions and one person is responding to them, like a scripted conversation. You should speak less formally and with more levity, because that will help to build rapport, which is important when you are going to be asking people to enter an email address.
3. Lead Capture Form
After a quiz taker answers all the questions in your assessment, they'll be presented with a lead capture form. This is where you are able to generate leads that connect up to your marketing automation system and are tagged by quiz result so you can follow up appropriately. There are two vital parts to the lead capture form
Give a relevant reason to opt in: You want to let people know what they'll get if they do opt in (other than just their quiz results). This form should be relevant to the topic of the quiz. For example, a quiz about how mature your processes are can promise to send more information about how to reach the next level of maturity by opting in.
Also, let people know how much and through what methods you'll be contacting them, just to put their mind at ease
4. Results
After someone opts in, they are immediately shown their results. They will be very curious at this point, so you'll want to make sure to give a satisfying outcome. Here are the three essential elements of a good assessment result.
A quick outcome title that tells me how I did: This is also the result title that will be sent to your marketing automation system, so make it short, but descriptive
A short description of the outcome: Tell people what their particular outcome means. Keep it short (3-4 sentences), but long enough that it satisfies curiosity
A link to learn more: Include a link to learn more or download information related to the particular outcome.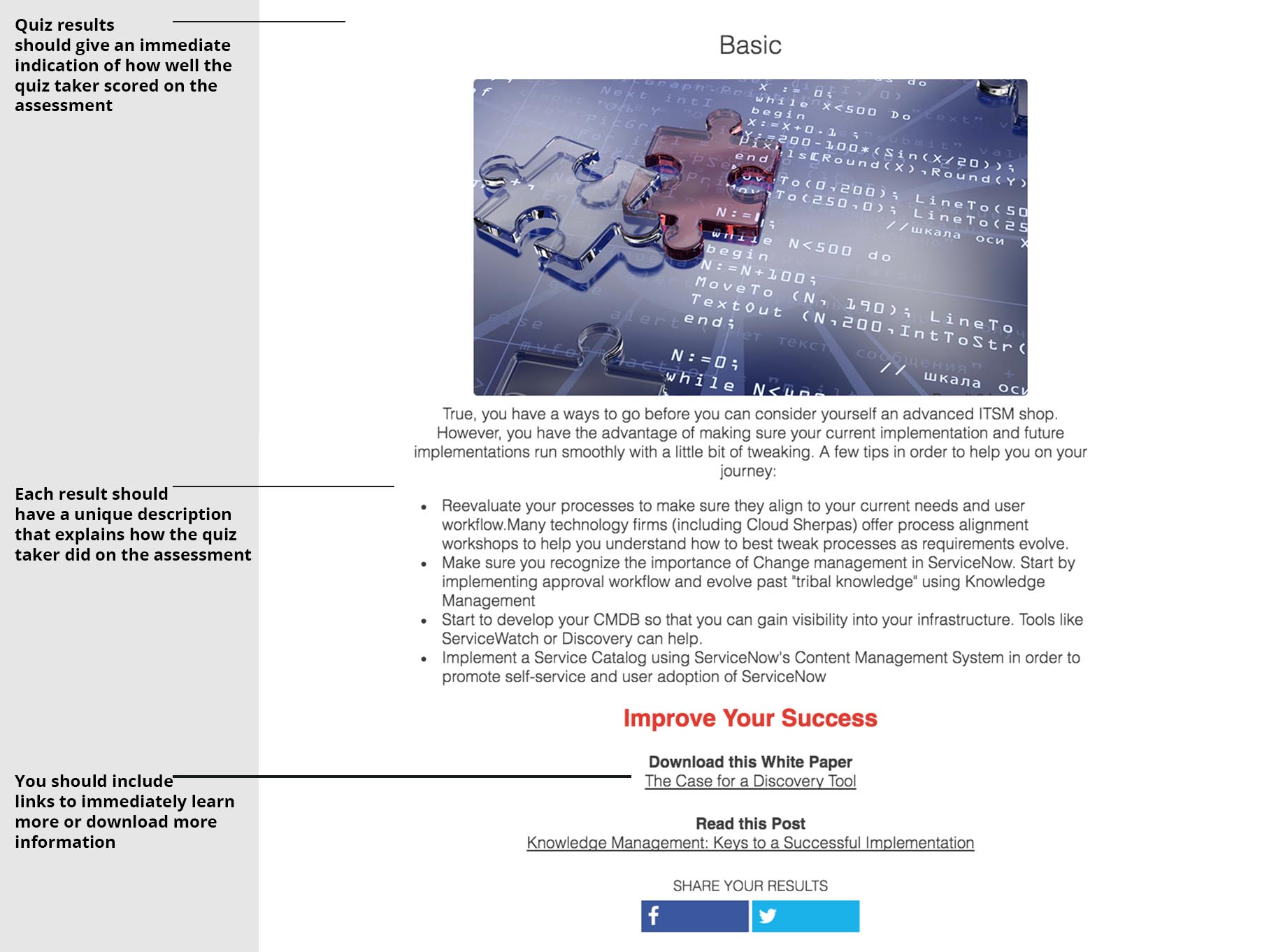 Build an assessment now at tryinteract.com