In this day and age, one thing that is becoming increasingly clear is that the most successful brands in the world are the ones that are able to consistently connect and engage with their customers.
Marketing is no longer about simply raising awareness of your brand by bombarding customers with as many marketing messages as possible.
Customers have changed, from the way they consume content, their purchasing habits, to the way they want to interact with their favorite brands. And that means that, in order to truly connect and engage with this new breed of customer, your marketing needs to change too.
Enter experiential marketing.
Experiential marketing isn't a new concept, but it is one that has been given new life in recent months with more and more marketers jumping on the experiential marketing bandwagon. According to EMI & Mosaic, 79% of brands said that they aim to develop and implement more experiential programs compared to last year, and a survey by Eventrack found that 77% of marketers say that experiential marketing is vital to their brand's advertising strategy.
But what is experiential marketing exactly? How can it help me improve sales and conversions? Who can use it and why?
In today's article, I'll be answering all of those questions and more as I break down for you how your business can embrace the power of experiential marketing.
Making sense of Experiential Marketing
Experiential marketing can be best described as:
"Creating an environment where audiences are able to develop an authentic connection with a brand through meaningful and personal interactions."
The core idea behind experiential marketing is that by being able to provide people with an experience where they have to actively engage with your brand, you will be able to create a much more long-lasting and positive impression of your brand within their minds.
Instead of just promoting a few ads and marketing messages to a passive audience and hoping that they'll remember you later on. Experiential marketing is all about giving people the opportunity to experience your brand in an entirely unique way.
For example, for the whiskey brand Macallan, they implemented an experiential marketing campaign designed to give their target audience a way to understand the brand's identity and its core values of style, sophistical and exclusivity through their Macallan Residence event.
Attendees were invited to participate in a variety of activities such as professional shoe shining, speak with a professional tailor who would give advice, attend a talk by a top mixologist on whiskey cocktails and, of course, drink as much whiskey as they'd like. The end result was that audience members were not only treated to a memorable branded event that they're likely to share with their friends, but it also allowed them to appreciate Macallan's in a way that other forms of advertising can't offer.
Try experiential marketing for yourself. Create a quiz now!
Who can use Experiential Marketing?
Now wait a minute, I hear you say, experiential marketing is all well and good but I'm a small business and I can't afford to spend thousands of dollars on big fancy events!
While it's true that there is a lot of overlap between event marketing and experiential marketing, the great news is that you don't have to host events in order to take advantage of experiential marketing. After all, the goal of experiential marketing is about providing your audience with the opportunity to have a meaningful interaction with your brand and that can happen both offline and online.
As long as you're incorporating the three following elements, you're taking advantage of experiential marketing:
Active participation and engagement from the audience

Promotes the brand's message and values

Provides long-lasting value
With that in mind, let's take a look at how different companies have used experiential marketing in the past:
Attracting and Engaging Leads with Quizzes
One of the simplest ways to take advantage of experiential marketing is to create an online quiz for your target audience.
Through taking an online quiz, your audience is able to actively interact with your brand in a way that is both highly engaging and personalized to them while, at the same time, you're able to promote your brand's core messages and values.
For travel magazine Afar, they were able to achieve this with their "Where Should YOU Go In 2015?" quiz.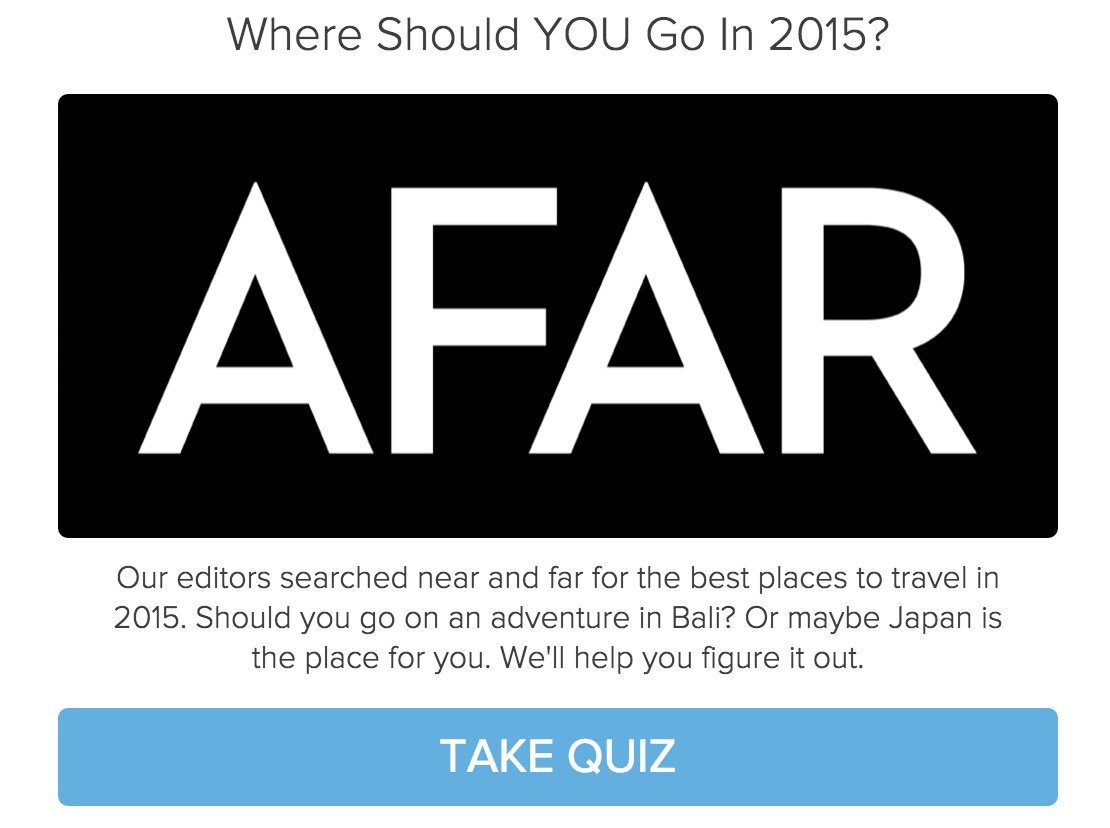 For the editors of Afar, they understood that a major pain point for their audience was finding the perfect place to travel to. In order to help them overcome that obstacle, they put together a simple personality quiz that would suggest the ideal destination for the quiz taker based on their individual preferences.
Through this quiz, Afar's audience were given the opportunity to actively interact with the brand and receive personalized value in the form of their quiz results. The quiz also provided Afar the chance to demonstrate to their audience the depth of their knowledge and status as experts on traveling, as well as their mission to provide their audience with the best experience possible.
Nurturing Prospects with Fun Apps
One of the most powerful benefits of experiential marketing is its ability to help your audiences gain a better understanding of your product or service. You can tell people about how great your product is and all the benefits it provides until you're blue in the face, but they won't truly appreciate the fact until they're able to experience those benefits themselves.
This is was the exact scenario that Docker found themselves in. As a SaaS provider that allowed developers to create and run apps on different operating systems, Docker had a product that was very difficult to explain, let alone make appealing, to people who weren't already familiar with technical jargon and language.
To combat this Docker decided to create an app that let their target audience experience all the benefits of their product themselves.
And thus the DockerDash app was born, a gamified version of their software platform that encouraged users to engage with various features of the Docker platform by completing a series of fun games and challenges. Instead of giving their audience a standard product demo or free trial, Docker was able to educate and nurture their target customers by providing them with a fun and wholly unique way to engage with their product.
To make it even more engaging, the DockerDash app was released in conjunction with their annual developer conference DockerCon. Beyond showcasing the Docker's software platform, the app also encouraged event attendees to collaborate with one another to complete certain challenges, help them network with other developers and make the most of the event itself.

DockerCon Open from Jack Morton Worldwide on Vimeo.
Showcase Your Product with Virtual Reality
One of the main challenges of marketing is being able to provide your audience with as much relevant information as possible so they feel confident in making a purchase. Everyone wants to feel like they're making an informed decision, in fact, 80% of consumers say that product showcases and samples significantly define their purchasing decisions.
As technology continues to evolve and improve, so too will the different ways that brands are able to utilize experiential marketing as part of their overall marketing strategy. One very clear example of this is how luxury retail brands have begun experimenting with virtual reality as a way to engage with their customers.
To help showcase their product to customers in their own homes, Swavorksi developed a virtual shopping experience. All their audience had to do was download the relevant app and, together with a compatible VR headset, users would be able to browse a virtual showroom of Swarvorski products.
More than just displaying their products, the app would also provide a description of each item that would give a story behind the piece, important product information and even allowing users to purchase the product directly through the app itself.
You can see how in embracing new technology like virtual reality Swavorski was able to create a highly engaging and distinctive experience that they audiences would actively want to participate in, even if just to experience the novelty of it all. And just by participating in this experience audiences are able to learn more about Swavorski as a brand, subconsciously develop an emotional connection with the brand and all within the comfort of their own home.
Creating Brand Advocates with Photo Challenges
Experiential marketing can be a highly effective tool in helping you build longer lasting relationships with your customers and, in turn, convert traditionally passive customers into loyal brand advocates. In fact, research by McKinsey found that 50% to 80% of all word-of-mouth activity can be traced back to the user participating in a branded event.
Simply put, the more memorable experiences you can provide for your customers, the more likely they are to speak positively about your brand to others.
For the online book service OpenTable, they make use of experiential marketing with their recent mother's day #DiningMode contest.
The contest is incredibly simple with contestants asked to take a photo of themselves enjoying a meal with their mother and tag it with the hashtag #DiningMode and the @OpenTable account in order to be in the running to win a $400 gift card. By running this contest, OpenTable encourages and rewards their audience for interacting with their brand, and turns every single contestant into a brand advocate by having them actively promote OpenTable.
Activating Customers with Webinars and Online Courses
By far one of the most common ways brands use experiential marketing is by hosting classes and workshops for their audience. These types of events are the perfect vehicle to demonstrate your expertise, provide value for your audience and quickly build up that all-important relationship between buyer and seller.
Which is why it should be no surprise that so many entrepreneurs use webinars and short courses as a way to create interest for their products or services. In fact, 98% of customers feel more inclined to purchase after attending a relevant event and 65% of marketers say that experiential marketing tactics lead to direct sales.
There are even webinar software solutions that can be used to create evergreen webinars, allowing your webinar marketing to generate revenue on autopilot. The team at Growth Marketing Pro has done this with their Growth Webinar.
You can see this in action with Foundr's Instagram Domination masterclass.
Attendees of this live one-hour masterclass are taught a number of powerful tactics on how to use Instagram for their business and are given the opportunity to interact directly with members of the Foundr team.
But, more importantly, the masterclass also serves as a way to generate interest and desire for Foundr's paid course on Instagram marketing. At the end of the masterclass, Foundr follows up with a pitch for their full Instagram Domination course and they use the amount of "know, like and trust" they've built throughout the masterclass to make an immediate sale.
Conclusion
As the marketplace gets more and more crowded by the day, it's important for brands who want to stay on top of the competition to find ways to forge a genuine connection with their audience.
Try experiential marketing for yourself. Create a quiz now!
Which is why so many marketers are so excited about the power of experiential marketing and its potential to help businesses differentiate themselves from the competition, increase customer loyalty, and ultimately generate more sales and profit. When done right, experiential marketing has the power to be far more effective than any other form of marketing.
Have you tried using experiential marketing in the past? Are there any tactics that you can't wait to try out? Let us know in the comments below!