In my college apartment, with a weak phone signal on a Friday afternoon I picked up the phone and called Neil Patel. He was kind enough to answer and talk with me about an idea I'd been kicking around in my head. I wanted to create a product that would allow anyone to make a quiz and use it to generate leads.
To my surprise he told me that he'd thought about this idea and there was no one currently doing it. (if he didn't know of anyone doing it, there was no one doing it). He sent me a link to a quiz on a Golfing website that asked you about your style of game and then recommended a Golf club for your personal style.
It's been over a year since that conversation, and Interact quizzes have now been used to help customers sell hundreds of thousands of dollars worth or products.
Today I want to share the story of Birchbox, a leader in the beauty products space online. They created an absolutely stellar E-commerce quiz that was taken over 11,000 times and led to $7,260 in sales.
First off, the quiz was featured on the Birchbox magazine. Embedded right into the CMS, which runs on wordpress, using the Interact iframe. I mention this because the team responsible for this quiz was the Birchbox Marketing team, and one of their main concerns was making sure it wouldn't take IT resources to get it set up.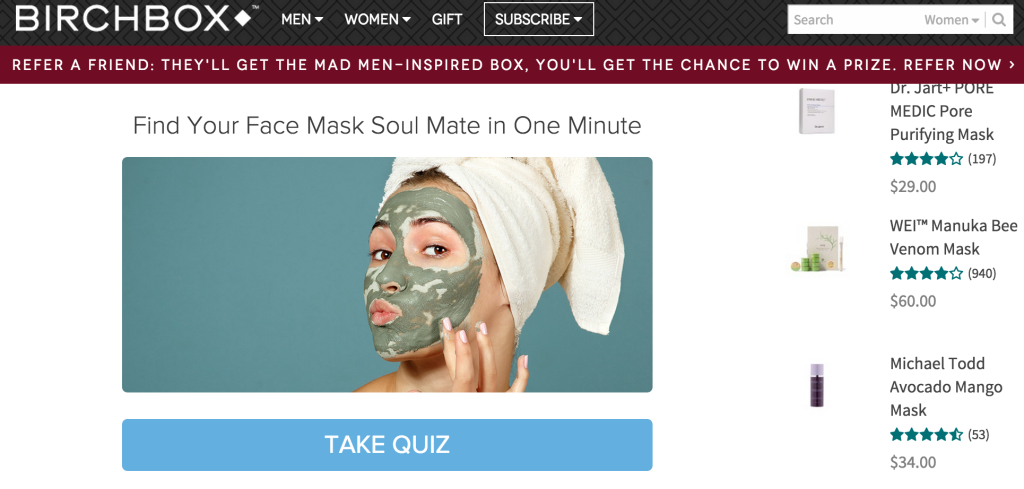 Then you get into the questions, and this is where things get interesting. You see, this quiz is not actually that unique. One of the very first quizzes created with Interact was called "What's your skin type?" and it had virtually the same questions as this Facemask quiz. The point I'm trying to make here is that it's not exceptionally difficult to set up quiz questions that have the right logic for accurate quiz results.
And the results, where the magic happens. After answering just five questions, the results are shown. This quiz does not actively generate leads because the focus is on selling products, and when someone purchases a product their contact information is collected anyways.
And where the money comes from. Each quiz result links to a specific product (a recommended Facemask based on the quiz results). This part gets really cool because recommending personalized products makes a massive difference when it comes to sales, increasing conversions by up to 42%.
Personalizing product recommendations is not easy. I did some research and found a few companies that offer a personalization engine for E-commerce sites, and they start in the low $100,000's. The price of this quiz for Birchbox was less than $1000, that's quite a deal.
Before we even started Interact, I knew that using quizzes to personalize products could be an extremely effective way to make more sales based on the recommendation of Neil Patel. Today, companies that I admire, like Birchbox, have begun using quizzes to drive sales in a very personal way.
To make a quiz and use it to personalize your site, head to Tryinteract.com all quizzes are free up to 500 hits, so there's no obligation until it starts making you money!