Three ways dating sites can use quizzes
Dating sites are literally about helping people make a connection. After examining the different features dating sites offer their membership, I've come up with three ways they can use quizzes to sign up members and keep them engaged while they navigate the dating world.
The quiz trio of ideas begins with 1) a guess-to-know-me quiz, 2) a quiz that repurposes information from relevant articles and 3) a personality quiz that uses the same Interact quiz tool to provide a familiar experience.
1. The guess-to-know-me quiz
Since a dating site is a marketing tool, it's only as good as the features it offers its members, otherwise it can feel like window shopping through a screen: you can look but you can't connect.
So let's look at dating sites through another lens and compare the online dating potential to meet Mr. or Ms. Right to the content on your website.
How do you keep your audience engaged and help them make that connection? With content that educates them, makes them think — and especially in this arena — content that sparks them up.
Let's start with the content that will spark them up and help subscribers make that sought-after connection: the "guess-to-know-me quiz."
First, a brief look at why many online dating profiles fail is because they're too dry, too generic and they just don't stand apart from other profiles the love of your life may be browsing. In short, they read like toast without butter.
The guess-to-know-me quiz can kickstart the conversation and boost your profile out of the running gate.
So how do you include questions that are fun, that tell the other person a little something more and make them feel like they're actually getting to know the person? The answers to that are both in the quiz questions and in the explanations given with each answer.
Observe how the quiz questions below are fun, informative and how they pique the reader's curiosity.
See how the explanation above gives added information about the person's preferences, interests and their sense of humor?
The answer above is another example of how the explanation adds extra value: the quiz questions engage the reader, yet both the answer and the explanation give insight about the person.
How dating sites can use the guess-to-know-me quiz
Dating sites can use the guess-to-know-me quiz in two ways: a) they can provide members with a ready-made quiz based on the information they completed when they signed up, so members can invite prospective matches to take their quiz, or b) they can send a sample of what their profile quiz would look like so they can entice them to sign up.
In the same way a member might pay a pro to write their profile, the quiz profile is the tool that makes the rest of their profile (About Me section and photos) stand out making it more tempting for the quiz taker to reach out by email.
The call-to-action and results pages
Below are two opportunities for the quiz taker to make that extra step and join the mailing list or link to the dating site's homepage for more information on becoming a member.
For more ideas about the types of questions that work with a guess-to-know-me quiz, see the post on using quizzes for About pages (https://www.tryinteract.com/blog/using-quizzes-in-about-pages/).
2. Repurpose popular content into a helpful quiz
Next is how to use informative content to educate a dating site audience with relevant articles on topics like "How to make a good first impression," "Why you're not getting asked on a second date," "Why SHE's just not that into you," to name a few.
While these articles provide great information to help members reach their goal, sometimes people don't have time to read the whole article. Let's look at how to serve that content in a quiz way.
Here are some of the latest stats and facts about online dating repurposed into a quiz. Since stats can be dry, try to balance the percentages between the questions and the answers.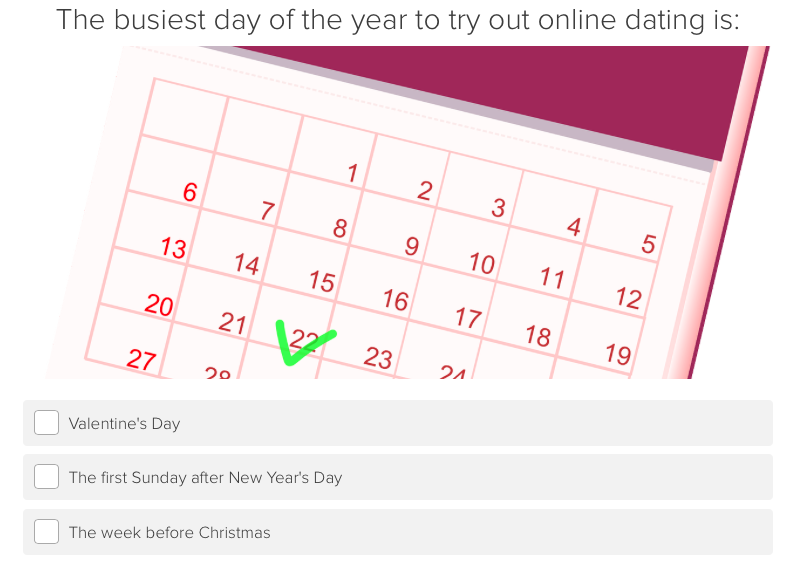 The results (above) can be shared through social media and the reader is also invited to sample the guess-to-know-me quiz on the dating site's homepage.
3. Find your match by taking a personality quiz
Finally, here's the content that makes them think about who they are, who's a potential match or how they can approach someone based on their personality quiz result.
Many dating sites feature personality tests like the Color Code personality (are you a blue, an orange, a gold or a green?) or Dr. Helen Fisher's personality types (are you a builder, a negotiator, an explorer or a director?) that provide insight on yourself and a potential significant other. The results give potential matches ideas about how to interact with someone of this personality type.
All these personality tests do fit into Interact's quiz building tool and provide the user with the same experience as when taking the guess-to-know-me quiz or the informative quiz, instead of being directed away from the site or to some other quiz format that's not as appealing.
To wrap up, three quiz ideas with three different purposes: to educate your audience, to make them think and to spark them up so they can take the next step towards making that connection. Don't forget: a good relationship begins with a good conversation but a first connection begins with a good quiz.
Source: Online dating statistics: http://www.datingsitesreviews.com