Putting a "How did you hear about us?" survey on your website is a great way to learn how your customers and visitors are discovering your brand.
The benefits of that insight are invaluable.
In this guide, you'll learn:
Let's get started.
Why you need a "How did you hear about us?" survey
Below is a basic example of a "How did you hear about us?" question in a lead capture form from BCI Australia. The company gives away a recording of their COVID-19 webinar in exchange for contact information.
Here's another example from the University of Leicester. They simply ask students or visitors how they found out about their course and give them a list of answer options to choose from.
In plain words, a "How did you hear about us?" survey will help you find out where your customers and visitors came from. The survey will reveal how they found and chose you among hundreds—if not thousands—of similar websites.
A "How did you hear about us?" survey will give you valuable customer feedback on which marketing efforts work well and which don't. From that, you can adjust your marketing strategy to engage with existing customers and nurture potential leads.
Now, if you're already using Google Analytics, you might be wondering why you should also include a "How did you hear about us?" survey on your site.
Well, if you just want to find out where your customers came from, then a "How Did You Hear About us?" survey isn't a must-have. An analytics tool can also give you that information.
But think about it this way: A "How did you hear about us?" survey is a great way to start a conversation with first-time visitors or enhance your relationship with existing customers.
You ask them a question, and they respond to you. It's two-way communication. Sure, you'll see statistics with Google Analytics, but without customer interaction.
Now, this doesn't mean you shouldn't use analytics tools. But by using them without a "How did you hear about us?" survey, you're not making the most of the interaction and leaving money on the table. You're missing a huge opportunity to establish a meaningful conversation with your (potential) customers.
Plus, the survey is easy and inexpensive to create, so there's no reason not to use one.
How to create a "How did you hear about us?" survey
Now that you understand the benefits of a "How did you hear about us?" survey and what one looks like, it's time to learn how to create your first survey.
Answer options for a "How did you hear about us?" question
Include all of the channels you've used to run your marketing and advertising campaigns.
Here are some answer options you might want to include:
Advertising sources: Promotional videos, television, newspapers, billboards, podcasts
Internet: Social media, search engines (e.g., Google search, Bing search), another company's website, job listings (e.g., LinkedIn, CareerBuilder), blogs, customer review sites, organic content (videos, pictures, stories, ebooks, whitepaper), online courses
Word of mouth: Peer referral, customer testimonials, employer or coworker, community forum
Events: Webinar, corporate outing/social, networking event, training seminar, online meetings/conferences
Don't forget to include an "Other" option with space to comment so customers can specify how they heard about your business.
Follow-up questions to discover more about your customers
Adding follow-up questions will help you uncover more about your customers' motivation and behaviors. These insights are valuable for your marketing strategies.
Here is an example from Atrium Health:
Let's say a customer responds with "social media." Below are some sample questions you could use to follow up. You can use Interact's logic branching tool to determine who should see them.
Which social media platform brought you to us?
The answer will tell you where your customers hang out online and where your social media advertising campaigns have paid off.
Did you find what you were looking for?
The answer will help you understand if your website is easy to navigate and if your content is good enough.
If a customer answers "no" to this question, follow up with another question, like, "What else could we help you with?" or "Could you please tell us what you're looking for?" or "What feature do you want to see next?"
Include predefined answer options (with a text field for customers to elaborate). This way, you'll learn what you're content is missing and adjust your content marketing strategy accordingly.
Would you recommend us to your friends?
If you're trying to calculate Net Promoter Score and evaluate customer satisfaction, this question is useful. It will help you determine if your customers are happy with their first visit or purchase and if they're willing to recommend your business to others.
Here is an example from Greengard:
Survey 101: Only ask your customers and visitors for information you're committed to using. If you ask too many questions—especially ones you don't intend to use—it wastes your time and theirs. Time is, of course, valuable and limited.
Actionable tips for creating a perfect "How did you hear about us?" survey
To make the best "How do you hear about us?" survey for your business, keep in mind these tips:
Use a multiple-choice question but limit answer options. Don't show a list of 20 or 30 options because that may overwhelm your customers.
Add a short description to tell your customers why you're asking. Explain that their answer will help improve the overall customer experience. You'll build trust with first-time visitors, and they'll feel encouraged to do the survey and give meaningful answers.
Schedule a time to review the "Other" field text. If there's a reoccurring answer, add this source to the list of answer options.
When and where to show a "How did you hear about us?" survey
A "How did you hear about us?" survey typically includes one question and a set of answers (multiple choice). Tools like Interact can help you create this survey easily and learn about your customers by using quizzes.
The tricky part is determining when and where you should show the survey. Here are some ideas to consider:
Add the anchor text "How did you hear about us?" at the bottom of your website on all pages. Visitors can click the anchor text to take the survey.
Put the survey on a pop-up and set it to show to first-time visitors only.
Add a "How did you hear about us?" question to the checkout form where customers fill in their payment formation.
Show the survey on a thank-you page after customers complete their purchase.
Include a "How did you hear about us?" question on event registration forms, newsletter forms, contact forms, signup forms, and the like.
Use these tactics as a source of inspiration to create your own survey.
Hint: Get creative!
Common "How did you hear about us?" alternatives
"How did you hear about us?" can be a bit of a cliché. Many people just quickly answer the question with their go-to response without really thinking about it.
What's more, some may think you're trying to convey personal information (if your survey aims for lead capture), so they decide not to do the survey or, even worse, they leave your site immediately.
Luckily, there's a better way to convince your prospects and customers to give you the information you need.
Use the following alternatives instead of asking "How did you hear about us?"
"Who referred you to us?"
This question works because customers don't hear it as often.
To make it more effective, add a short description explaining why you're asking. For example, maybe you'd like to send that person a thank-you gift to let them know you appreciate the referral. Customers will usually happily provide referrer names if you provide a valid reason for asking.
Here is an excellent example from Dempsey Uniform:
Pro tip: Consider using the "Who referred you to us?" survey as a part of your referral program. This way, you'll motivate both new and existing customers to refer your business to others. It works like a charm!
"Where did you first hear about us?"
Here's the thing: Your customers may hear about your business multiple times through different channels before they ever make contact with you.
Asking "How did you hear about us?" assumes they saw your business somewhere once and then decided to call. Since this isn't always the case, their answer to your survey might not be accurate.
To solve this problem, tweak "How did you hear about us?" by adding the word "first." Ora.pm applied this tactic very well.
"How did you hear about this job?"
A "How did you hear about us?" survey is beneficial for employers, too. You can edit the question and add it to your application, as Cleo did. Then, use the insight to improve your recruitment process and hiring strategy.
Lead generation "How did you hear about us?"
The "How did you hear about us?" survey below is slightly different. Besides the question, it asks visitors for their name and address to collect information for CRM. Sometimes, a survey can include other demographic questions to ask about age and occupation.
Here is an example from Clazzical Notes:
"How did you hear about this event?"
Conduct a post-event survey for attendee feedback. Ask what they thought about the overall event, content, speakers, and more. Knowing how attendees heard about the event will tell you how to target potential attendees for future events.
Here is a good example from Mission43:
"How often do you [blank]?"
Asking a direct question (about product satisfaction, for example) may make people feel uncomfortable and put on the spot. Instead, ask an indirect question, like "How often do you visit our restaurant for dining?" Look at Wayne County's survey for inspiration.
"How would you rate our [blank]?"
Another way to ask an indirect question is by asking customers to review your service or sign-up process. You could include a comment box so they can give more feedback, and perhaps they'll tell you how they discovered your business.
Below is an example from Healthy Bodies Physiotherapy:
Get inspired by these "How did you hear about us?" examples and modify them to match your target audience to get the most accurate information.
Remember, making a simple tweak to how you speak to customers can make a big difference.
An unconventional way to create a "How did you hear about us?" survey
Showing the "How did you hear about us?" form directly can backfire sometimes.
Think like this: If you enter a website and are immediately asked "How did you hear about us?" what are the chances that you'll respond?
I don't know about you, but I won't take the survey.
Why?
Because I don't have time. I just want to get what I'm looking for or finish what I'm reading, and then close the site. That's it!
I bet you answered similarly.
The truth is, taking a "How did you hear about us?"' survey isn't on the top of a customer's to-do list.
Even when asking a loyal customer, the chances of them taking the survey or giving valuable information are low.
Unless . . . you make taking the survey irresistible to them.
How?
Rather than displaying a "How did you hear about us?" question right away, imbed it into another compelling survey. You'll supply your visitors with value and make use of the process by asking additional questions.
Below are three outstanding examples. But first, let's cover some basics.
The psychology behind the tactic
The tactic relies on two main psychological principles.
First, consider the "Foot in the Door" phenomenon where people are more likely to complete a larger action by first completing a smaller one.
According to Psychologist World, this "is a strategy used to persuade people to agree to a particular action, based on the idea that if a respondent will comply with a small initial request, then they will be more likely to agree to a later, more significant, request, which they would not have agreed to had they been asked it outright."
It may be challenging to motivate a first-time visitor to immediately take your survey because the request may feel significant.
Many don't feel comfortable doing so, believing it a waste of time. Others simply don't see any real incentive for answering questions. After all, what's in it for them?
But if you give them value first—easily accessible with a click— they are more likely to give you information.
Second, the Zeigarnik Effect states that "people tend to remember unfinished or incomplete tasks better than completed tasks."
Simply put, your customers initiate a task by signing up for a free trial or registering for your event. And because they want the value you're offering, they won't mind answering one more question to get it.
In many cases, people are only minimally interested in direct "How do you hear about us?" surveys. But when they complete multiple steps, it usually means they're genuinely interested in your business, which tends to translate into high levels of engagement.
These are some of the convincing reasons why embedding the "How did you hear about us?" question in another survey works well and why many companies are implementing it.
Now let's learn from some examples of "How did you hear about us?" surveys.
TripAdvisor
TripAdvisor is a free travel guide and research website. It's where travelers share the highs and lows of their experiences to benefit future guests. TripAdvisor is the world's largest travel platform, available in 49 markets and 28 languages.
After landing on their site, visitors see this sticky survey widget at the bottom right corner, asking if they want to share their user experience.
Notice the call to action (CTA) button (i.e., Take Survey). It's dead simple.
When visitors click this button, they'll be directed to a dedicated page for the survey:
The first question is clever. TripAdvisor doesn't ask visitors how they found them right away. Instead, they ask why they visited their website. Answer options are clear and relevant.
As visitors continue, they'll see the following question:
It's not a "How did you hear about us?" question with a bunch of options. It's a straightforward question: "Have you seen TripAdvisor advertising in the past 30 days?" with only three options to choose from: Yes, No, or Unsure.
By asking this, TripAdvisor can measure their advertising performance. If many people answer "yes," it means their advertising has reached a lot of customers. Many "no" answers means they may need to improve their ad campaign.
TripAdvisor's example is strong because:
It's simple.
It doesn't make customers uncomfortable, like some other "How did you hear about us?" surveys can do.
It focuses on the exact information the brand is looking for.
These are some of the core tenets of an effective survey, and it's hard to go wrong with them.
ProofHub
ProofHub is a project management tool that allows users to manage projects and collaborate with their teams effectively. It provides them with all the features they need to work smarter and faster.
Customers will never see a "How did you hear about us?" survey immediately on their site. Instead, they'll see the question when clicking "Start your free trial."
Once customers fill in some necessary information and click "Continue," they'll see: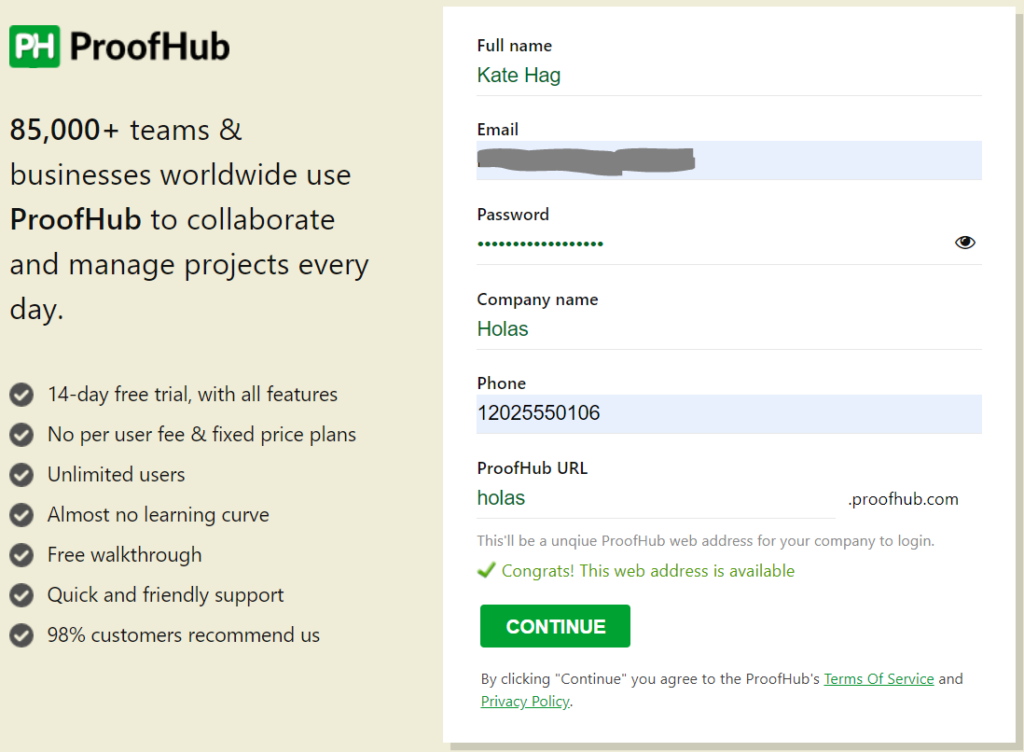 .. and here it is:
It's very straightforward and to the point. Although it doesn't offer a list of answer options, the question comes with a hint (i.e., Search, Twitter, or any other source).
There are three reasons why ProofHub did a great job of asking this question:
They found a great place to ask "How did you hear about us." It's just one click before visitors can experience ProofHub's features. It's no hassle to type an answer to finish the signup process.
The CTA (Signup) has plenty of contrast that naturally draws visitors' attention, encouraging them to quickly answer all the questions.
The left side succinctly lists the benefits visitors will receive from the service, letting them know the specific values that come with signing up. This technique is based on social proof, which is powerful to build trust with visitors. It tells visitors that the product is so amazing that giving some additional information is worth it.
ProProfs Project
Like ProofHub, ProProfs Project is also a project management tool. It "streamlines team communication whether you are managing a remote or an in-house team."
While I wouldn't say their "How did you hear about us?" is revolutionary, it certainly gets the job done. It doesn't show any survey questions on the website, but instead embeds them into their signup form.
When someone enters an email to sign up for a free account, they're taken to the below page to enter some personal information.
Notice the last question: "What keywords would you type in search to find us?" It directly refers to search engines and asks for the specific keywords visitors used to find the tool. ProProfs Project can use this information to improve their keyword research and SEO.
Positioning the question right above the CTA button is a smart move. Also, ProProfs Project makes use of urgency (by showing "You are 1 click away"), which helps influence visitor behavior.
Your turn!
That's it—everything you need to know about a "How did you hear about us?" survey and using the information you gather to improve your marketing campaigns.
It's time to sign up for Interact and create your survey with a risk-free trail!
Need help with the creation process? Learn more here. Or get in touch with Interact-certified consultants to learn how they can help your business.