How many times have you done this – you find a sweet new tool on the internet and get completely enthralled with it. Within the first week you've logged tens of hours building content with the tool and it's the coolest thing on the internet in your opinion. Two weeks later, you've forgotten about the tool, you get a "come back!" email from the tool's owners, but you've already moved on.
Unfortunately this scenario plagues many people, we are all captivated by new "shiny" things and love discovering tools, but we don't always follow through. Now this only matter because some of the biggest successes come not on the first or second try, but on the 10th or 20th try, as has been the case with Interact users. Sometimes it takes a strategy that goes beyond just building out a quiz you saw online or have had in the back of your mind, sometimes you need a long-term approach to see real returns on your efforts.
Based on what we've seen to work with our portfolio of 10,000 quiz builders, here are the keys to a long-term quiz marketing strategy that really works.
1. Have a schedule
This one is a must-have for any sort of content marketing. Marketing people have way too much going on to not have schedules. If you decide to do a quiz once each week, stick to it and deliver that quiz every Friday afternoon (or whenever you set the time). I would recommend doing a quiz once every two weeks based on what we've seen our customers have success with. Any more than that and your audience (and you) will tire of making quizzes, any less and you'll get out or rhythm too easily and stop making quizzes.
That being said, we do have customers who have amazing success making quizzes every single week, but think about how much time will need to be allotted to making each quiz (on average it takes 45 minutes).
2. Have a method for coming up with ideas
The biggest reason people stop making quizzes is because they just run out of ideas. Many people come to us with an idea for one quiz, they make that one quiz and it's very successful, but they have no other ideas so don't make any more quizzes. This is a shame, especially when you spend time learning how to make the first quiz and then lose that time. Here are a few ways to keep coming up with ideas.
Capitalize on trends
Stuff is always happening in the world, and that stuff is constantly changing. You can build quiz ideas around these events that gather so much attention. For example, when the mid-term elections were going on, the quiz below was released. The quiz mixes politics (hot topic) and currently popular republicans in the media (another hot topic). The quiz was very popular (in the realm of 20k views), and could be replicated next time an election rolls around without being redundant.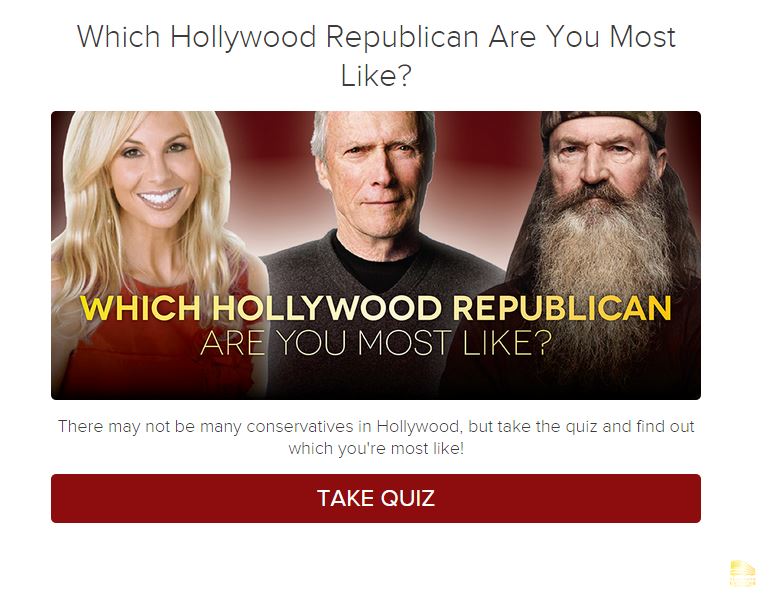 Utilize your past successes
The #1 thing that sets quizzes apart from literally every other form of content is their ability to intelligently provide recommendations to web visitors. Take for example the quiz below, which will determine what kind of recipe you are and then link to an article on the hosts' website that actually has that recipe.
This might seem genius, and it is, but the method is simple. You start with popular articles on your website (in this case a few recipes), then you craft a quiz that helps people find the right article for their personality – bam, quiz idea.
Answer real questions
If you run out of fun things to do, you could always just be helpful (kidding, sort of). If you do a quiz right, it can actually be used to answer some pretty big questions. Forbes did one recently that was designed to help prospective college students pick the right place to go to school. Now that is a seriously big question, and I really hope that no one based their entire college decision off of a quiz, but the appeal of getting an answer to a real question is still there.
Every business has big questions that are answered with your product (otherwise there's really not a business, I think). Find out what those questions are, and you've got great quiz ideas.
3. Treat each quiz like a project
You have a process for how to create new things, and it probably works excellently, but I'll share the process one of our clients' follows to make their quizzes.
First, formulate the quiz content. This is either done inside the Interact quiz builder or just in a word document. All the questions and results are mapped out and decided on with the content team.
Second, build the creatives. The graphics department is responsible for sourcing or building all the creative pieces (images or gifs) that are needed for the quiz.
Third, put everything in the system. Put all the content into Interact and build it out.
Fourth, get approval. I really like the way our client does this one. They come up with an imaginary person (in their case the managing editor at TIME magazine). Then, before you release any quiz ask yourself if you'd be okay with the managing editor of TIME taking the quiz. If not, try again.
4. Assign someone to be in charge.
Someone has to take the lead on every project, and the same is true of quizzes. If you don't assign someone to do it, no one will. This does not mean that a whole team can't be involved (they should be FYI), but it does mean that one person is responsible for delivering each quiz on time and completed.