Want to make a quiz for your school? Request a free demo at tryinteract.com
What is the one place where every single potential student spends time? If you answered Facebook then you nailed it. The only problem is, your student prospects are not thinking about what university to attend when they are browsing Facebook, so white papers and information forms just don't cut it when it comes to marketing on the social network.
Not to worry, there is one kind of content that absolutely crushes it on Facebook, and that content is quizzes. Today we are going to look at exactly how you can use quizzes to bring in warm leads for your higher education institution through the medium of Facebook. This is an actionable guide, you'll walk away knowing exactly how to build your own lead generating quiz – stay tuned.
How to create the quiz
There is an art to crafting a personality quiz that is organically interesting to your audience on Facebook. Ironically, this art is guided by a fairly strict set of guidelines for how to create the quiz. Let's jump in step-by-step.
What to make the quiz about
This is the easiest part of the whole process. All you have to do is make a quiz titled "Which Major Should You Have?" or alternatively "Which Career Should You Pursue?" (the same quiz basically). This same quiz has been done over 100 times that I've personally witnessed and led directly to over $1.5 million in revenue.
How to write quiz questions
A quiz presents the unique opportunity to speak directly with your audience through a scripted conversation. You can use this chance to build trust with the prospect and warm them up to opt-in when you ask them to. The key to successfully building rapport through quiz questions is to sound human. Just loosen up, remember that you are speaking to one person at a time through the quiz and you don't need to put on a professional tone to address an audience.
How to present a compelling opt-in offer
After the questions of the quiz you can place an opt-in gate before the quiz results are shown. This is a natural incentive for the quiz taker to put in their information, but it's also important to get the wording right here to maximize the opt-ins.
The first thing to do on this opt-in text is convey value. For higher ed the simple offer is to call the prospect and explain their recommended major in more detail. Since the quiz will get them curious this is a subtle way to continue the conversation.
The second thing to do is say exactly how and when you'll be contacting the prospects who opt-in. It's much better to be honest here, and as you can see in the example below, even if you are overly blunt about the amount of contacting that will be done the form can still convert at 50% or higher.
How to present results worth sharing
After the op-in form is presented your quiz taker will be taken to their result (recommended major). The goal is to get people to share their quiz results and continue interacting with your brand. There are three steps to achieve that outcome.
First, be up-lifting. No one wants to share negative things about themselves, and that's especially true with quizzes. Tell people that they rock, but use facts, don't just mindlessly flatter people – they'll see right through it.
Second, continue the conversation. Include a personalized link in each quiz result to check out more information on the recommended major. That way if someone is interested in learning more right now they can.
Third, let the people share. Obviously include social buttons for people to share their results. Quizzes get 75% of their traffic from Facebook, so sharing is how you'll get more leads.
How to promote the quiz
After you make your quiz it's time to get it up and running. This is a two-step process.
On your site
The first step is to embed the quiz on your own website so that when you share it on Facebook the traffic will come back to your domain. The quiz embeds through a simple iframe code and looks native to your site like the example below.
On Facebook
Take the link of the new page you created to embed the quiz on and share it on Facebook with a picture of a person as the hero image. For best results you should promote the post to a targeted audience of prospects.
How to turn the quiz leads into new students.
Now that you have your quiz up and running and it's started bringing in tons of new leads you have to do something with those leads to convert them into new students. The first step in this process is to send a welcome email referencing the quiz like the one below.
After that first email you'll want to either call every prospect (if you have their phone number), or start them on a drip campaign to warm up the lead and get them sales-ready. Below is an example of a sequence of emails to send to a new quiz lead in order to prepare them for a sale.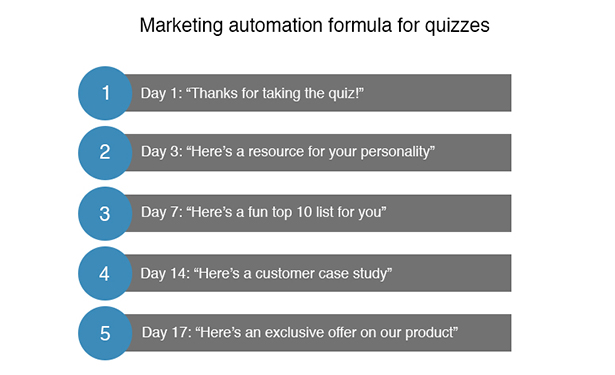 All of your student prospects are on Facebook, and quizzes are the perfect way to reach them in a non-threatening way. You now have a comprehensive guide to creating your own higher ed quiz, so I encourage you to make one today and see if you can achieve the same kind of results I've been witnessing.
Want to make a quiz for your school? Request a free demo at tryinteract.com