Generate coaching leads with a quiz
Engage your potential clients with a quiz and generate leads (40% average conversion rate)
The demand for online coaches has grown over the years. Whether for life, business, or fitness, we could all use some coaching in our lives!
As an online coach, you might feel overwhelmed by the competition. How can you get more clients?
At Interact, the answer to this question is easy—create a quiz! A quiz will introduce your coaching services in a fun and concise way. Our clients have seen excellent results—and our clients are primarily online coaches!
It doesn't matter what type of coach you are; a quiz will attract more leads, long-term clients, and sales. I'll show you everything you need to know about using a quiz to grow your coaching business:
Why make a coaching quiz?
How to design a coaching quiz
Build a coaching quiz with Interact
How to promote your coaching quiz
Get more sales with an email sequence
Let's get to it.
Why make a coaching quiz?
A coaching quiz will grow your email list, bring leads, and increase sales. Let's go over each of these with an example.
1. Email list
Our quiz software shines when it comes to building email lists. When someone takes your Interact quiz, you can ask for their email address in exchange for their quiz results using an email opt-in form.
So how effective are email opt-ins, anyway? Kayla Hollatz's tweet says it all.
Kayla is a copywriter (who writes for us, by the way!) and a brand strategist. Her "What's your brand voice style?" quiz generated over 600 email subscribers—talk about results.
Here are some resources to build an email opt-in form:
With more email subscribers comes more leads, which I'll talk about next.
2. More leads
Anyone interested in your business is considered a lead. The more leads you have, the more customers you'll get at the end of your funnel.
Amber Lilystrom is a life coach who attracted over 2,500 leads with a "What's your core purpose?" quiz.
In her case study, Amber notes how building a quiz and a Facebook Ad strategy took ten hours and $250-350 to create. A low-cost strategy for significant results (2500+ leads!) doesn't sound too bad to me!
Note: I'll give you an intro on connecting Facebook Ads later in the post.
3. Increased sales
Getting more subscribers and leads is one thing, but what about the end result? How many sales can you get with a quiz?
Ashley Beaudin, a self-sabotage and business coach, generated $7,000 in membership sales using her quiz and webinar freebie.
Are you wondering how you can get the same results? Keep reading.
Most of our coaches build a quiz funnel strategy to guide users to their services. A quiz funnel strategy guides users from awareness to purchase. I'll go over the quiz funnel later, but you can also check out these resources:
A notable part of Ashley's campaign was the exclusive self-sabotage webinar. After taking her quiz, Ashley invited users to a free webinar (talk about value), and then asked each quiz-taker to join her membership.
Going from a quiz to a webinar and then straight to membership is a tight-knit sales funnel. Users didn't get distracted by too much content—she kept it simple.
Plus, Ashley used social media to put her quiz on blast. I'll teach you how to promote your quiz on social channels soon. But first, you might be wondering what a coaching quiz looks like.
What does a coaching quiz look like?
Coaching quizzes come in all shapes and sizes. For inspiration, I collected five different coaching quizzes and identified what makes them stand out.
1. Ashley Beaudin—What's your self-sabotage?
Ashley Beaudin is a self-sabotage and business coach. She helps women heal their trauma and build businesses around their lives.
Using her "What's your self-sabotage quiz?" Ashley teaches users how they self-sabotage and offers a solution (her coaching services).
What makes Ashley's quiz stand out are her questions. Self-sabotage is a heavy topic; you're probably assuming her quiz is serious and "low-vibe," but it's quite the opposite.
Ashley's questions are simple yet thoughtful. A question like, "Which of these values are important to you?" isn't heavy-duty. It makes you think introspectively in a healthy way.
Some other questions Ashley asks in her coaching quiz are:
1. You have a new habit that you're excited to implement! But it doesn't last. What are you most likely to do?
Assume no matter how hard you try, it probably won't work.
Feel hopeless because you can't seem to get the perfect streak.
Keep pushing it off until "next week."
Spiral into wondering if this is something you even want.
Look around and see if someone close to you needs help.
Stay super busy, so you don't have to think about it.
Put up walls and think, "I'm never trying that again."
You feel so embarrassed and criticize yourself.
2. What were you like as a child in school?
Independent and a rule-follower with a desire to do things well.
Helper, befriended the new kid, and quick to volunteer.
Really involved, busy bee, and always did extra credit work.
Lit up with creative projects and fell in love with reading early.
Lived for assemblies and recess, spontaneous, starter.
Leader, advocate for the underdog and outspoken.
Enjoyed individual work, hated group-work and stayed quiet.
Loved finding out the plan for the year and never missed a day.
3. Which of these values are most important to you?
Belonging.
Community.
Security.
Confidence.
Creativity.
Truth.
Achievement.
Leadership.
Note: Notice how one word can describe so much? Keep this in mind as you create your questions!
4. I am really afraid of…
Vulnerability.
Success.
Failure.
Being alone.
Criticism.
Rejection.
Stillness.
Feeling.
2. Kelly Trach—What's your genius?
Kelly helps her clients build online businesses and courses with a "What's your genius?" quiz.

Kelly's business is based around finding your genius—I like how she keeps her quiz on-brand. But the real winner of her quiz is the email opt-in form.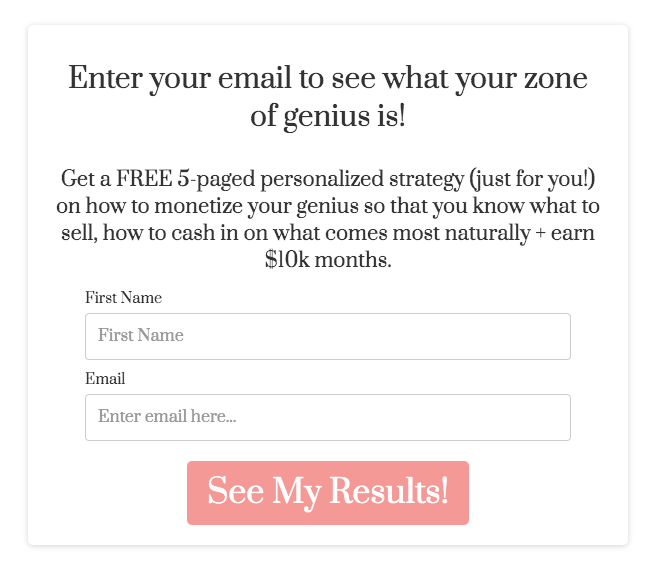 The best part is her description, where she offers quiz-takers a freebie and solution.
Freebie—A free five-page personalized strategy is pretty awesome. Many people would exchange an email address for that!
Solution—She mentions how her freebie will help users make $10k+ each month from doing what they love.
Money + passion is an equation all of us want. So who wouldn't want to cash in on this?
All in all, her email opt-in tells users the perks of exchanging an email. Plus, she only asks for a first name and email for simplicity. Keep this in mind when you create your own opt-in.

3. Misty Sansom—What's your purpose profile?
Misty Sanson's business helps clients find their purpose, so a "What's your purpose profile?" is a perfect way to promote her services.
I want to point out her quiz image above. Notice how she shows the four "purpose archetypes" in her image:
The free spirit
The guardian
The dreamer
The thinker
When you tell visitors what possible results they'll get, they'll get excited about seeing their own results. But the best part is her freebie.
Misty created detailed guides of each quiz type as a reward for taking her quiz.
Notice how she adds it in the results email and says, "I have a couple of extra gifts you might like (like a guide to developing that incredible intuition of yours)." It looks like this isn't the only freebie quiz-takers will get!
4. Wandering Aimfully—Which of these is your business bottleneck?
Jason and Caroline are two business coaches with the brand Wandering Aimfully. Their quiz, "Which of these is your business bottleneck?" helps users find what's holding them back from growing their biz.
What makes this quiz stand out are the results pages. Let's take a look at the most convert-worthy parts.
Starting from the top, Jason and Caroline use fun graphics to describe "The Time Tangler."
I like how they add a positive spin to this result in the description: "This means with a few tweaks to your productivity, you could see MAJOR strides in your business growth."
Overall, they do an excellent job of spinning any negative traits into something encouraging. See below:
A unique part about this page is how they say, "Check out the other results here and pick the one that suits you," if a user isn't happy with their results. Isn't it refreshing how they admit their quiz isn't perfect, and that you might fit as another profile?
We could talk about results landing pages forever, which is why we have a post specifically for it: How to Create a Result Landing Page that Dazzles Your Audience.
5. Anna Vatuone—Personal branding quiz
We get a lot of branding coaches in our sphere, like Anna Vatuone with her personal branding quiz. When her visitors take this quiz, they learn how to build a personal brand.
Anna knows the art of simplicity. Using a simple color palette, Anna helps users focus on what's important—her quiz questions.
Also, there are no distractions on her quiz page. Quiz-takers won't feel tempted to exit out of her quiz.
Here are few suggestions for building a quiz without distractions:
Remove your homepage menu from the quiz page
Implement a white background to encourage users to focus on your questions
You must be buzzing with inspiration after reading about these quizzes, right? Take a look at our case studies for more inspo. And keep reading to learn how to create the perfect coaching quiz for your users.
Before designing your coaching quiz
I'll teach you how to use Interact when making a quiz. But first, let's go over the three important elements of a quiz: your topic, questions, and freebie.
1. Choose a quiz topic
A good quiz topic reflects your services AND answers your audience's most important questions.
For example, Amber Lilyestrom's "What's your core purpose?" quiz reflects her services as a purpose/life coach. Plus, it answers her audience's biggest question—what is your purpose in life?
The best way to choose a good quiz topic is with your audience. Look through your social media handles and community groups. Afterwards, ask yourself: 
What are my audience's struggles?
What are their strengths?
What answers are they looking for?
If you already have an email list, send a quick survey with the following questions:
1. What do you hope to get out of my services?
2. If you could get any question answered about (your industry), what would it be?
3. Why did you subscribe to my email?
Once you narrow down what your audience wants, think about the purpose of your business. Ask questions like:
What solutions does my coaching business offer?
How do I help people achieve _____?
What is my unique selling point?
Tie your findings together and choose the best quiz topic for your coaching. You can also take a look at our quiz templates or blog for inspiration.
Overall, choose a topic that reflects your services and answers your audience's biggest question. And speaking of questions, let's talk about how to create ah-mazing quiz questions.
2. Brainstorm good questions
Your quiz isn't much without insightful questions. But what makes a quiz question good?
Intentional—Every question you ask needs a purpose. What will your audience learn about themselves? And what will you learn about them?
Take a look at the two questions below and choose which one is the most intentional.
Question one: What's your favorite color?
Question two: What color describes you best?
Both questions are asking the same thing, but question two has an intention behind it—to choose the color that best describes you.
Connecting someone's favorite color with their behavior makes the question more interesting.
Fun—Quizzes are popular because they're just plain fun.
Notice how this question is easy to understand and exciting. The quiz-maker uses punchy copy, exclamation marks, and exciting images to bring up the mood.
Relatable—As a coach, one of your best traits is connecting with others—show that in your quiz with relatable questions.
Talk to your quiz-takers as if they're good friends of yours: Be kind, humorous, and authentic.
Sarah Rosensweet is a parenting coach. Using her parenting style quiz, she asks vulnerable questions about being a parent, like, "What parenting question keeps you up at night?"
And you don't have to get so deep that it's uncomfortable. Just ask questions that get your users thinking, Wow. I've never thought about it that way before, or This coach understands where I'm coming from.
Check out our post 90+ Thoughtful Quiz Questions to Ask as a Coach, where we created coaching questions for:
Life coaches
Finance coaches
Business coaches
Spiritual coaches
Health coaches
Brand coaches
3. Create a quiz freebie
Now that you have your quiz topic and questions down, you'll need a freebie. Freebies convince users to take your quiz and sign up for your email list.
For example, the Royal Shaman offers a free five-minute video explaining each of her quiz types on YouTube.
As shown above, when a user takes her "What's your consciousness level?" quiz, they'll get a video of the Shaman herself explaining their results. 
Some other freebies coaches create are:
Podcast episodes—Record an episode specifically for each quiz result OR recommend an episode connected to your quiz.
Jenna Kutcher, an online marketing educator and coach, built a playlist of her most relevant episodes for each of her quiz results.
Downloadable guides—A PDF is the easiest way to create a personal freebie.
All you have to do is describe each quiz's results in-depth. Include a few designs, and you've got yourself a personable freebie (and email magnet!)
Blog posts—If you're a blogger, then this freebie has your name written all over it. Write a few blog posts on each result type. Write about the strengths, weaknesses, and superpowers.
You can always repurpose your blog posts into videos, podcasts, and e-books!
Build a coaching quiz with Interact
You're officially ready to grow your coaching biz with a quiz! If you don't already have an Interact account, go ahead and sign up for one below:
Our quiz software is built for growing coaching businesses. We offer features like:
Email marketing integration
Hundreds of quiz templates
Embedding your quiz on social media and your website
Tracking your quiz success with analytics
So let's get started!
1. Choose a template
2. Design the cover page
3. Create question pages
4. Build results pages
5. Correlate questions and answers
1. Choose a template
In this guide, I'll use one of our quiz templates. On your quiz dashboard, click Create New Quiz to get started.
I chose the template, "Do you have what it takes to start your own business?" for this tutorial. But feel free to choose whatever fits.
You can also choose the Start from Scratch option to build a brand new quiz.
You'll see a menu with quiz colors, font choices, and a logo upload at the top of the editing page. This is your go-to menu for all things design.
Let's go over each element.
Quiz colors—You can either keep the same color scheme template or choose different colors. We suggest going with your brand color scheme. If you don't have one, then head over to our post about designing your quiz.
Font—We have a huge list of fonts. Choose one that goes well with your design—but make sure it's easy to read!
Logo—Do you want users to remember your business as they take your quiz? Then upload your logo! It'll appear at the bottom right of each quiz page.
2. Design the cover page
Your cover page is like giving a good first impression—you want to get it right.
There are three parts to a converting cover page.
Quiz title—Notice how the title above is a question. Instead of saying, "See what it takes to start your business," it asks, "Do you have what it takes?"
When you form your title into a question, users will naturally want to know the answer and take your quiz. 
Quiz description—Let quiz-takers know what your quiz is about, how long it takes to finish, and the freebie they'll get after.
CTA button—Like the quiz title, your CTA button doesn't need to be anything fancy. Something like, "Take the quiz" will do. But feel free to personalized it:
Learn your ______
Transform your _______
I'm ready to know ______!
3. Questions
We already talked about what makes a good question, but what about the design?
This question page is a little boring—there are no images to spruce things up. Let's change that by adding an image.
That's more like it. Click Edit to upload an image or choose from our gallery. And you can also add answer images!
Answer images help quiz-takers visualize each option. And you can always switch back to text answers by clicking Use Text Answers.
What if you want users to choose more than one answer? Click Answer Settings to allow multiple choice answers.
4. Result pages
Your quiz results are the best part of your quiz—users get to find out their type, AND you get to promote your awesome services.
I'll go over each section of a quiz results page, starting from the top.
Users want to see their results right away. Add their results with an image at the very top. If you want to get fancy, replace your image with a video that talks about their quiz results.
As for the results description, make sure to:
Describe results—Give quiz-takers all the deets about their results. How do they behave? What are their strengths? Weaknesses?
Talk about the problem—No one is perfect. What does each result struggle with, and why? Bring it to the quiz-taker's attention in an encouraging way.
Offer a solution—This is where your business comes in. Use your services as the solution to their problem, and give them more tips to solve it, like below.
Keep your tips actionable and straightforward. After that, introduce yourself to your quiz-takers with a professional image and quick bio. 
Your introduction isn't all about your business; it's also about your audience. How do you help people like your audience and why?
Now that your audience knows who you are, tell them how they can engage with your services. You could include a relevant blog post, video, or webinar.
Adding value like above gets users thinking, This coach knows what they're talking about! I should look at their content.
And last is the call to action.
If you built an email opt-in form, your users will know they signed up for your email. But it's nice to remind them with a quick, "Expect to see me in your inbox" note and CTA button.
Your CTA button can also redirect users to another piece of content, like an article or waiting list. The sky's the limit!
5. Correlate your questions and answers
For accurate results, each question needs to correlate with your results. Head back to your questions and click Set Answer Scores. If you're creating a personality quiz, then this will say "Edit Result Correlation."
Now you can set your answer scores or correlate your answers with each result page. Make sure to do this for each question.
When you're done, click the eye icon at the top right to preview your quiz. Make sure your answers are correlated correctly and that your design looks good.
Click Publish to finish your quiz. That's it! Pretty easy, right? Now let's talk about promotion.
Promoting your coaching quiz
Creating your coaching quiz is one part of the job. But you also need to promote and share your work with others.
Quiz promotion is best explained with a quiz funnel.
The point of creating a quiz is to attract new people to your coaching business. With that, your quiz sits at the awareness stage—users become aware of your services by taking your quiz.
This is why promoting your quiz is SO important. Without promotion, it'll sit on your website and collect dust. And we don't want that, right?
I'll talk about the rest of the quiz funnel stages later, but for now, let's focus on broadening the awareness stage with promotion.
A few ways to promote your quiz are social media, a landing page, and your website. Let's go through each method, shall we?
1. Social media
The easiest way to promote your quiz on social media is by organically sharing it with your followers.
You can add a link to your Instagram bio, but what about Twitter, Facebook, and Pinterest?
Using Interact, it's easy to embed your quiz with a Tweet, pin, or Facebook post. On your quiz dashboard, click Share & Embed to get started.
Under Share Link, copy and paste your quiz link to any social media channel. Or click on one of the social icons to share automatically.
We'll use Twitter as an example. When you click on Twitter's icon, a tweet with your quiz will appear.
Customize your tweet how you like and click post to share your quiz.
Pretty easy, right?
On another note, many of our clients grew their coaching business with Facebook Ads, like Amber Lilyestrom.
You'll need to create a Facebook Ad campaign on Facebook's interface. We offer a link so you can easily add your quiz to your Facebook ad. Head to Facebook Ads to get started.
When you copy and paste the quiz share link to your ads, users can take your quiz directly from a Facebook ad!
So, how else can you promote your coaching quiz?
2. Landing page
A landing page is another popular way to grow your quiz strategy. Quiz landing pages focus solely on your quiz. We recommend using landing page software like:
What does a high-converting landing page look like? We'll take a look at Ashley's "Light up your BIZ" quiz landing page.
There are a few things to note at the top. She adds a CTA button, "Take this quiz," in the first section—a perfect spot for eager visitors to get started.
She also implements an animated image of herself and asks, "Are you ready to grow your business faster and easier?" Most new biz people will think, Yes! That's me! I want to read more.
Heading over to the middle of her page, Ashley points out her audience's biggest struggles.
Most quiz landing pages follow the same format as your quiz result pages: a description, problem, and solution.
After pointing out the problem, Ashley swiftly leads into the solution—her business!
Notice how Ashley tells users who she is and why she's in the health biz world. She shares how she overcame her business struggles by identifying her strengths and personality.
So how can users find out their strengths to build the health business of their dreams? With her quiz, of course!
A landing page will motivate users to take your quiz and learn all about your services. Check out our in-depth guide on quiz landing pages here: How to Create a Landing Page that Works.
3. Your Website
You don't have to build a quiz landing page or Facebook ad campaign, but you should ALWAYS embed your quiz on your website. Check out our in-depth tutorial on how to embed your quiz to your website.
And while you're at it, dedicate a section of your homepage to your quiz.
Kelly added a "What's your genius?" promo to her homepage. All you need is an image, quick description, and call to action button.
Image—You can upload your cover page image or something else. We recommend a photo that fits with your quiz and overall brand aesthetic.
Description—This part is simple—tell users what they'll learn from your quiz and why they should care.
CTA button —A straightforward "Take the quiz" will do!
Another way to add a quiz to your website is with pop-up ads. Over the years, we've learned how to use pop-up ads without the crazy colors, flashing lights, and noises.
Most coaches create pop-up ads to look something like below:
This looks pretty good, right? For starters, the color scheme is simple. Plus, she added a welcoming image of herself.
To build a pop-up ad with Interact, click Popup on the Share & Embed page.
With WordPress, copy and paste your popup link using a plugin. If you use another website, copy and paste the Javascript code to the closing </head> tag of your site.
Choose whatever background color you'd like your ad to have. Then decide how many seconds a user must be on your site before your ad appears with Timer Delay.
What if someone exits out of your ad? Use Hiatus to decide how many days until your ad can reappear (assuming they return to your site).
As for the cover page, you can either show your cover page or bring quiz-takers right to your questions by checking Disable cover page on quiz embed.
You can choose which web pages display your ad. If you click on Show popup only when a visitor is on certain pages, you can decide which URLs to use below.
And there you have it! Using social media, landing pages, and your website are great ways to promote your coaching quiz.
There's one more thing we have to talk about in this guide—building an email sequence.
Get more sales with an email sequence
So you've created your quiz and promoted it online. What happens next? Well, remember when we talked about the quiz funnel earlier?
We went over the quiz awareness stage. But what about the other stages?
This is where an email sequence comes into play.
An email sequence is a series of emails that guide users through the interest, consideration, purchase, and follow-up stages.
Interest—Users took your quiz and want to know more about your business. With an "interest" email, most coaches will resend the quiz results and talk a little more about their biz.
In this email, Kayla says:
"Throughout next week, I'm going to pop into your inbox with some action-packed lessons to help you make more of an impact with your (quiz result) through your copywriting and content creation."
A sentence like this will introduce users to your email sequence. They'll know you'll be popping in to talk more about their quiz results and how to use them to their advantage.
Consideration—Now that users know their quiz results and who you are, talk more about your coaching success.
You can do this with:
Customer success stories—Does one of your clients have a transformational story? Share it!
Testimonials—Ask a few clients for a testimonial and add it to your emails and website.
As long as you always tie your content back to the user, feel free to promote yourself a little.
Purchase—If someone has followed you this far, then they're probably interested in buying your product.
Along with sales copy, encourage your audience to buy with:
Discounts—Add a 10% discount to their first purchase!
Scarcity value—Saying something like, "This offer is only available for 24 hours!" will convince users to buy right away.
Social proof—I don't know about you, but I always look at reviews before buying an online product. I like to know that others are enjoying something before I go for it myself. Use testimonials and hard-driven results to sell your service.
Follow up—Add all of your new clients to another email sequence and follow up with:
Updates
Loyalty discounts and rewards
This is a quick introduction to creating an email sequence, but we go into more detail with this post: How to Write the Perfect Followup Email Sequence for Your Quiz.
Wrapping up
All it takes is a solid quiz, quiz strategy, and patience to get amazing results!
Here's what you learned in this guide:
Why you should make a coaching quiz: A quiz opens the door to more leads, email subscribers, and sales! Plus, it's cost-effective. Why spend hundreds of dollars when you can build a fun quiz for less?
What coaching quizzes look like: Our clients consist of coaches from all industries. It doesn't matter if you're a life coach or a finance coach—a quiz will work for your biz.
How to create a coaching quiz: You can always return to this guide for a step-by-step tutorial.
How to promote your quiz: Social media, landing pages, and your website are solid strategies to promote your quiz.
An introduction to email sequences: Follow up with your quiz-takers and guide them to your products with an email sequence.
Don't forget to check out our guide 90+ Thoughtful Quiz Questions to Ask as a Coach.
Here's to growing your coaching biz!