Make your own Chatbot using interact
Chatbots are all the rage right now, and we've found a super simple way to build one using interact and the branching logic visual editor we offer. Before I jump into anything I just want to quickly define what exactly I mean when I'm talking about a Chatbot.
Chatbot: A scripted conversation where you ask people questions, and based on their responses you modify your next questions to adapt to their inputs. As someone progresses through the Chatbot it is dynamically accommodating their preferences and at the end it will spit out a recommendation or further action based on responses
I'm going to use the example of a barista to illustrate how you can use interact to make your Chatbot. I'll walk you through each step of the process so you can see how it gets constructed. The Chatbot barista is going to help us find the right coffee for our day by asking questions and then giving a recommendation of the correct drink at the end. Here's what it will start with.
Step 1: Write the questions and logic of your Chatbot
This is a hypothetical scenario, and our barista Chatbot isn't going to be crazy thorough, we'll only be asking a few questions, but when you design your own Chatbot you can have as many questions as you'd like and make it super advanced to fit the needs of your audience perfectly.
So here's what the first question will be.
Question: "First things first, how much of a jolt do you need this morning?"
Answer 1. I need something as strong as possible, I'm basically asleep
Answer 2. I'm doing okay, but could use a fairly strong drink
Answer 3. I don't need something super strong today
Here's what that question will actually look like when someone is answering it on the Chatbot. You'll be able to choose from one of the three options. After you choose what you want you'll be automatically taken to a different set of questions depending on which option you choose.
Now what will happen is you are presented with different choices based on how you answered that first question. The Chatbot barista will adapt to your answer and give you a different follow-up.
The map below shows how I'm going to respond to the first question with a different follow-up based on which option they chose.
1. For the answer "I need something as strong as possible, I'm basically asleep" I'm going to follow up with "Strong drink it is! now let's decide between espresso-based and coffee based" so I can figure out whether I should recommend an espresso drink or a coffee drink.
2. For the answer "I'm doing okay, but could use a fairly strong drink" I will ask "Medium strength, perfect, do you prefer something creamy or flat?" because I want to know if I should go the whipped route or the flat route
3. For the answer "I don't need something super strong today" I'm going to ask "Mild drink for today sounds perfect, do you want something sweet or no?" since it will be important to distinguish those things.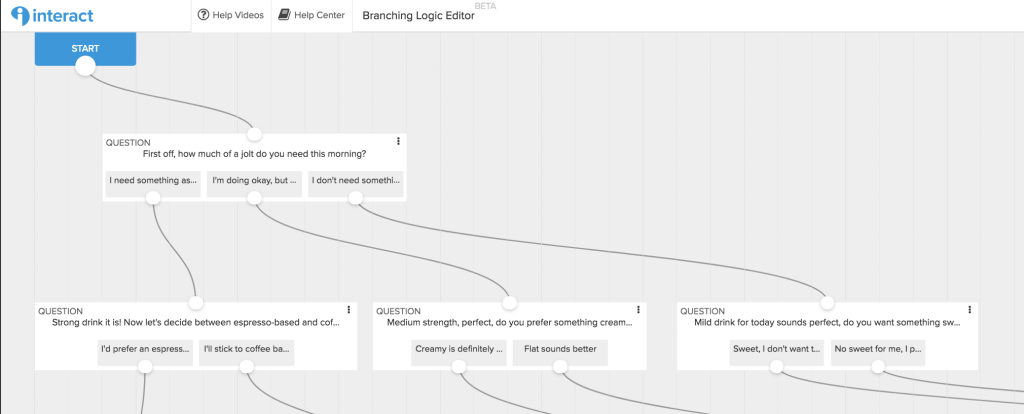 Now we're onto the third level of questions, and you can see our tree is getting pretty big. Not to worry though, when someone goes through your Chatbot they'll only being the questions that follow their own unique path so it won't be complicated for them.
So at this point let's look at where we are. We have six possible paths based on how someone has answered the questions of the Chatbot. From here forward I'm going to let the pictures do the talking because it's starting to be a lot. See below for how we've gone through thus far.
Step 2: Decide on what recommendations your Chatbot will give people
Once someone has gone through their own unique path, you'll make a recommendation to them. In this case of our Chatbot barista we're going to tell people what kind of coffee drink they should have today, and I've got those all inputted into our builder below. They are the orange boxes at the bottom.
So now you can see how we'd progress through each of the possible paths of our Chatbot. There are 12 unique paths I could take, and each one leads to a unique coffee recommendation. Our Chatbot barista is now doing the job of recommending coffee to people.
Step 3: (Optional) Use Your Chatbot to Build Your Email List
One other really cool option that interact offers is the ability to use your Chatbot to collect emails from people. Here is a screenshot from the email capture form I built into this example Chatbot. Interact has integrations with all major email marketing programs so you can send your new contacts to a list where you can follow up with them with more coffee recommendations etc.
If you choose to enable email capture on your Chatbot, I recommend leaving it optional so that if people aren't interested in opting in they don't have to.
In Summary: What we did here was hold a quick conversation through our Barista Chatbot about what kind of coffee I should have today. I used this quick conversation to not only recommend an awesome coffee drink, but also collect contact information from the people who go through the conversation.
I'm extremely excited about the possibilities with using Chatbots for recommending products and answering frequently asked questions. People love it when you give them personalized outcomes, and using the logic of a Chatbot is the perfect way to make that happen. I highly recommend checking out the interact Chatbot builder and playing around with what you can do, there's so many possibilities!
Here is the actual Chatbot so you can experience it for yourself. Our Chatbots can be placed anywhere on any website, including through our WordPress plugin.

Make your own Chatbot using interact