To make a political quiz, head to tryinteract.com
Political quizzes are some of the best quizzes that get made. It's such a natural fit given the wide range of personalities that are present in politics. At Interact, politics is the subject of nearly 15% of all quizzes made and we've seen several quizzes go viral, hitting hundreds of thousands of views.
The most common and popular form of political quiz is the political personality test. "Which candidate are you?" "Which president are you?" and so on. Not only do these quizzes benefit from the natural appeal of personality type quizzes, but they also have an added twist with the underlying rivalry of politics.
Write a title that stands out on social media
Quizzes get most of their traffic from social media, so optimizing your title to stand out is key. Luckily you have it pretty easy for political quizzes – there are two things you can do.
1. The "Which are you?" Quiz: "Which candidate are you?" is a quiz that has been made and re-made with success each time. Even better, this type of quiz is evergreen, there's always elections going on, so you never lose.
2. "Do you really know about?" Quiz: "How much do you know about Iran?" for example, is a politically fueled quiz that really took off on social media. With this type of quiz you are going for shock value. Often with politics it's surprising how little people actually know, and you can use a quiz to exemplify that.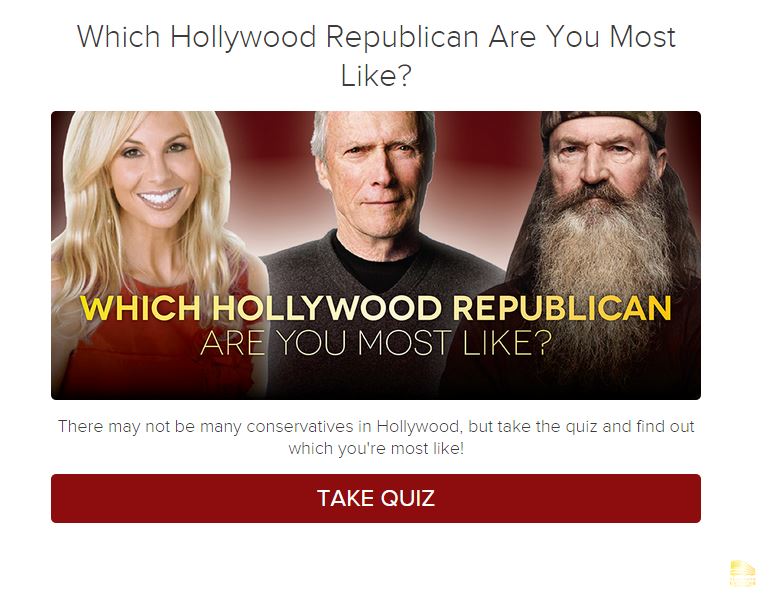 Write questions that entertain on their own
1. Images/gifs. 100% of the top 100 Interact quizzes have at least one image question. If you look at the example below, I think that number makes a lot of sense – the experience of an image question is akin to a lot of games where you click on items. This makes your quiz questions fun in their own right apart from anything else.
2. Personal questions. People really enjoy talking about themselves. A full 60% of what we say in our lives will be about our own person. Let people tell you about themselves in your quiz. Sometimes there's a hitch on how much you should ask personal questions, but remember that quizzes are anonymous and you can make your quiz more engaging by asking personal questions.
3. Ridiculous questions. I don't really mean "ridiculous" in the sense of the word as it's pertained as absurd. What I mean is to let your guard down a bit and drop some of the political speak. Remember that a quiz is a one-on-one conversation with the person who is taking the quiz, so drop some of the formality and put on your toned down voice.
Collect information to stay in touch
Email remains one of the most powerful marketing mediums, and there are famous studies about how President Obama's recent campaign benefited greatly from a strong email marketing effort. That's why we offer the opportunity to collect email addresses with our quiz builder, so you to can use this strategy. In truth, some quizzes have amazing success with this strategy, collecting thousands of contacts, while others barely manage to get a few new people. Fortunately, there's a few distinct differences between good and bad email collection campaigns, here's what they are.
1. Relevancy. Within a quiz you are able to have a discussion as you ask questions and the quiz taker responds in real time. This develops some small level of rapport, which can be leveraged when it comes time to "seal the deal" and collect an email address. However, you don't get to use any of that if your email call to action has nothing to do with the subject of the quiz. This is one area where our example quiz could actually use improvement. Instead of saying "Enter your email to see your results" it could be "Enter your email to get updates from famous Republicans" (which is what the quiz is about)
2. Draw. One reason quizzes can be so successful at lead generation is that they have a built-in incentive (seeing your quiz results). To sweeten the pot even more, you can add your own addition. Again, you want it to be relevant to your quiz, so for example in our quiz we are following it could be "Get exclusive updates from famous republicans."
3. Trust. If you are asking someone for their information, they need to know you aren't sketchy. Trust with political quizzes can come from your organization, the candidate you are representing, our your party as a whole, just make sure you mention your brand either with the logo or with your words.
Create results worth sharing so your quiz can be amplified
Quizzes can really only grow by having their results shared. Hypothetically, if one of every ten people takes your quiz and share their results, and that share drives more than ten people back to your quiz, and one of every ten of those people shares their results, you get a viral quiz, by definition. However, it's up to you to write quiz results that are worth sharing so your audience will amplify your reach for you. Some quizzes do this very well, here's how.
1. Positive writing. Being uplifting in quiz results is positively correlated with getting more social shares. This is one area where political quizzes always seem to do well, but in case you were looking for specific pointers, here's how the strategy works. Pick out one or two really good elements of each quiz result. For example, in the republican quiz we are following, they've honed in on the fact that Dwayne Johnson is a "jock" type who is also a genuinely nice human.
Once you've identified the good, focus on it and avoid the bad, don't even mention any negative elements of a quiz result. That way you aren't saying anything that isn't honest, but still being very positive.
2. Simple sharing. There is a formula for how quiz results get shared. It goes "I got (my result)(title of the quiz)" make sure your quiz results are simple in that format and less than 140 characters or you avoid over-complicating sharing.
3. Images. 90% of the top 100 Interact quizzes use images in the results. Quizzes are a highly visual medium and people expect to see a picture of their result, especially when it's a personality type quiz. Make sure you follow the exact image specifications and use professional quality pictures.
Quizzes make a lot of sense in politics because of how many people are involved and how many issues are at stake which people don't understand very well. I've personally seen political quizzes go viral and this guide is meant to give you the tools to make your own success story.
To make a political quiz, head to tryinteract.com