Create your own health & fitness quiz
Generate warm leads and recommend workout and/or diet programs based on results
Want to know how to make a fitness quiz?
As a health coach, mentor, or trainer, we know how much value you provide to your clients. Let's face it: more people should know about your amazing services.
With a fitness quiz, you can:
Generate more leads
Make more sales
Grow your email list
And more!
In this post, I'll teach you everything you need to know about making a fitness quiz with Interact. Your services deserve to reach the right people at the right time.
Let's get to it!
Table of contents:
What is a fitness quiz?
A fitness quiz helps people learn the best ways to get in shape. And we're not just talking about physical shape; we're also talking about:
Mental health—Also known as wellness, mental health is our emotional and psychological well-being.
Our mental health is affected by:
How we handle stress
How much time we spend with others
How much love we give to ourselves and others
Poor mental health can heavily impact fitness levels. If you're stressed out, then how do you expect to hit the gym?
And, of course, physical health doesn't refer merely to how you look, but how your body functions. For example, can you move throughout the day without problem? Are you sleeping well? Are you eating enough protein, vitamins, and minerals?
At the end of the day, we can all improve at least one aspect of our health. And because our mental and physical health are connected, even a little bit of improvement can go a long way in benefitting overall well-being and fitness.
Who should make a fitness quiz?
A fitness quiz is perfect for health and wellness coaches, mentors, and trainers.
Wellness coach—Martina Fink is a holistic health and beauty coach. She helps women unlock a powerful mindset and live the life of their dreams.
Let's take a look at her "What's your wellness archetype?" quiz.
This example isn't what you'd expect from a fitness quiz. Most people might associate fitness quizzes with titles like "How fit are you?" or "Are you healthy enough," but Martina thinks outside of the box.
And let's be real, your well-being is a BIG part of your health! So if you're a mental wellness coach or mentor, then a fitness quiz is up your alley.
Fitness coach—You've probably heard of the famous fitness blog Nerd Fitness. They've grown a lot over the years and now offer fitness training.
With a quiz, Nerd Fitness connects their trainers with future clients. This quiz idea is great for a couple of reasons.
One, it lets users in on the decision—they have a say in who they will train with. And two, it makes the process fun! Why fill out boring paperwork when you can take an interactive quiz instead?
Health facilities—Take a drive around your area and count how many gyms and health facilities you see.
Probably a lot, right? The fitness industry is competitive. And these days, most people sign up online rather than in-person. So your business needs an online edge, like a quiz!
Genesis Health Club uses a fitness personality quiz to generate new leads and members. When someone learns about their fitness personality, they'll want to test it out at the gym, right?
So if you own a health facility (in-person or online) then this type of quiz can attract more members.
Why make a fitness quiz?
There are so many things you can do with a fitness quiz, like:
Build a lead magnet—Fitness quizzes are the perfect lead magnet because they are free and accessible to online users. Your audience can access your lead magnet with no strings attached.
Fitness quizzes are fun, attractive, and easy to take—and they draw people in like crazy! When a new user visits your website, they'll see your quiz and think: I have to know my fitness personality. I gotta take this quiz!
Get more clients—A great lead magnet (in this case, your fitness quiz) generates more leads to your services. And you know what more leads mean?
That's right, more clients! This is why it's so important to create a quiz packed with value. The more value you give, the more you'll sell in the long-run.
Launch a new course—Are you about to start a launch? Then a fitness quiz is perfect for you. Ashley Beaudin, for example, generated $7,000 of course sales from her "What's your self-sabotage type?" wellness quiz.
You saw that right… $7,000! And it was all because of her quiz. You can check out how she made this happen in our case study.
Are you convinced that you need to make a fitness quiz, yet?
3 Types of fitness quizzes
Like we mentioned before, there are many types of fitness quizzes. We found a few examples to get you brainstormin'.
1. Mental wellness quiz
Your mental health affects your physical health. To reach your fitness goals, your brain should also be in tip-top shape.
Our mindset and emotional well-being are vulnerable, so this type of quiz digs deeper than others. Most mental health quizzes will cover topics about:
Stress levels
Emotional health
Spiritual health
Let's take a look at the Wellness Project's "What is your wellness personality?" quiz.
Some open-ended questions this quiz asks are:
What's your biggest health struggle?
Which celebrity's habits best describe your relationship to health?
Tell me about your everyday habits. Last week I…
If I had to choose one word to describe my health, it would be…
The most helpful investments in my health would be…
Notice how these questions target overall health. This is usually the case with mental wellness quizzes—your mindset affects you mentally and physically.
2. Physical health quiz
A physical health quiz gets your clients motivated to reach their fitness goals, like doing ten pull-ups or running a mile without walking.
Vida Fitness uses the classic "What is your fitness personality?" quiz.
Some questions Vida Fitness asks in this quiz are:
What's your favorite part of a workout?
How would you describe your time at the gym?
When you're at the gym, you can usually be found…
What's your signature workout move?
When you look for a new gym, you always…
Vida Fitness uses their quiz to understand their audience. They want to know why their members go to the gym and how they enjoy working out.
And once a user takes the quiz, Vida recommends a class or fitness trainer. So if you own a health center, then I hope you're taking notes—this is a solid way to get more members!
3. Food and diet quiz
A huge part of fitness is diet. And no, I'm not talking about those crazy diet pills you see on infomercials. I'm talking about the diets that change a person's lifestyle.
Let's take a look at MindBodyGreen's food quiz "Are you addicted to sugar?"
This quiz is perfect for any fitness coach or mentor. Our diets are a big reason why we go to coaches and mentors for assistance. Changing your diet requires a lot of encouragement.
Some questions MindBodyGreen asks in this quiz are:
When do you crave something sweet?
How would you describe your energy levels?
How do you describe your weight-loss success?
How often do you experience minor to major headaches?
Do you experience frequent mood swings?
Notice how these questions incorporate mental and physical health with food—your diet impacts your entire body.
This type of quiz is also a great way to promote your course or training program. If someone scores "heavily addicted to sugar," then they'll feel inclined to learn more about how your services can help them.
What these fitness quizzes have in common
They don't ask too many questions—You might be tempted to ask 20+ quiz questions, but we suggest otherwise.
Too many questions can bore or frustrate your audience. Remember, quizzes should be short and sweet—10 to 12 questions is a good range to stick with.
They promote a membership or a course—Our software is made to bring you more clients and sales—take advantage of it!
So go ahead and create a quiz based on your future course. Make user's think, I learned so much from this quiz, and now I want to get in better shape!
They avoid negativity—Health can be a sore subject for many of us. In fact, some of us may feel insecure about our health.
Help users feel secure with thoughtful and positive questions. Get them excited about their health!
I bet you've brainstormed a ton of fitness quiz ideas, right? So let's get to quiz-making!
Create a fitness quiz with Interact
You might've noticed how many of our quiz examples above use Interact. This is because we make it easy to create fitness quizzes. Plus, we offer features like:
Conditional logic
Email opt-ins
Social media sharing
Hundreds of quiz templates
Quiz design features
And more!
So before you read our tutorial, go ahead and create an account with us if you haven't already. Let's get started!
How to make a fitness quiz
First things first—let's create your quiz. On your dashboard, click Create New Quiz at the top-right.
You'll see a list of quiz templates. In this tutorial, we'll use the "What's your workout personality?" template.
Next, you'll see your quiz editing page.
1. Design your quiz
The first thing we'll do is design your overall quiz theme.
Quiz colors—If you have brand colors, go ahead and use them in your quiz. You could also keep the template's colors.
Font—Think back to the last time you squinted at a computer because you had trouble reading the text. Not fun, right? Your font should be as clear as possible.
This doesn't mean you have to choose a standard font, like Arial or Times New Roman. Just make sure it's easy to read.
Logo—Add your logo by clicking on the photo icon next to T on the top right. When you add a logo, it'll appear at the bottom right-hand corner. This way, quiz-takers will be reminded of your brand as they take the quiz.
2. Create your cover page
What's the first thing you do when you sit down at a restaurant?
That's right! You look at the menu. The menu tells you whether you want to eat there or not. Your cover page is like a restaurant menu—it will help users decide if they're going to take your fitness quiz.
The goal is to make your cover page as irresistible as possible. Now, let's take a look at each important part of the page.
Quiz title—Your quiz title asks a question your quiz-taker wants to know more about. Anyone looking to improve their fitness would love to know their fitness personality, right?
Quiz description—Your description answers the following questions:
What's your quiz about?
Why does your quiz-taker need to take it?
Notice how the description above says, Take this three-minute quiz. Most quizzes are short and sweet—users don't want to spend TOO much time taking quizzes. So if your quiz is short, highlight it in your description!
Image—Powerful images will grab a user's attention. In this case, your cover image will help users visualize what your quiz is about.
You can either upload a high-resolution image or click Edit Cover Image and choose one from our gallery.
Call to action—At this point, your audience is more than ready to take your quiz. You can keep your CTA at "Take the quiz," or personalize it to something like:
Start your fitness journey
Learn your fitness personality
Start your transformation now
3. Create your question pages
Your questions are the heart of the quiz. Without them, there's no quiz to take! If you're not sure what questions you should ask, then jump to the 28 fitness quiz questions to ask section of this article.
Once you have a list of questions, you can get to designing!
Question image—Choose an image that relates to your question. When you click Edit, you can choose an image from our gallery or upload your own.
You can also add images to your answers! Image answers help your audience visualize their answer. And you don't have to create image answers for all of your questions—you're free to pick and choose.
If you want quiz-takers to choose multiple answers, then click Answer Settings > Select Multiple Answers.
4. Make the results page
And now we've come to the most important part of your fitness quiz… the results page. Your results page connects your quiz-takers to your call to action, AKA, your:
Services
Online course
Consultation call
Blog post
I want to make sure you build the highest converting results page. With that, let's go through each section below.
Let's start at the top.
Quiz result—Notice how the quiz result doesn't say something like, "You like doing yoga" or "You enjoy yoga practice."
Instead, the result gives a name… The Yogi. It's simple yet to the point. Now the quiz-taker will think of themselves as a Yogi.
Image—Your image should relate to the quiz result. And if you want to take it a step further, then embed a video.
For example, you could record yourself explaining their results. This way, the user connects with you and your business on a deeper level.
Result description—Your description should be positive, informative, and personal.
Positive: Get your quiz-taker excited about their results! Tell them how awesome they are and why they do what they do.
Informative: Give enough information in the results to build trust with the quiz-taker. You want them to view you as an expert.
Personal: Make your audience feel seen with a personable description. Point out the traits they didn't think anyone ever noticed. Get them thinking, Wow… they truly get me! How did they know this about me?
Give advice—Advice is another way of showing your expertise. Show them how they can improve their well-being with a few tips.
You don't have to go too in-depth here. Give them enough advice so that they want more.
Introduce yourself—Your audience wants to know about you and your business. Why did you make this quiz? And why do you know all the answers? And, most importantly, what role will you play in their fitness journey?
Upload a photo of yourself to put a face to your name.
Tell your audience why and how you'll help them reach their health goals. Use positive language and actionable tips to get quiz-takers pumped.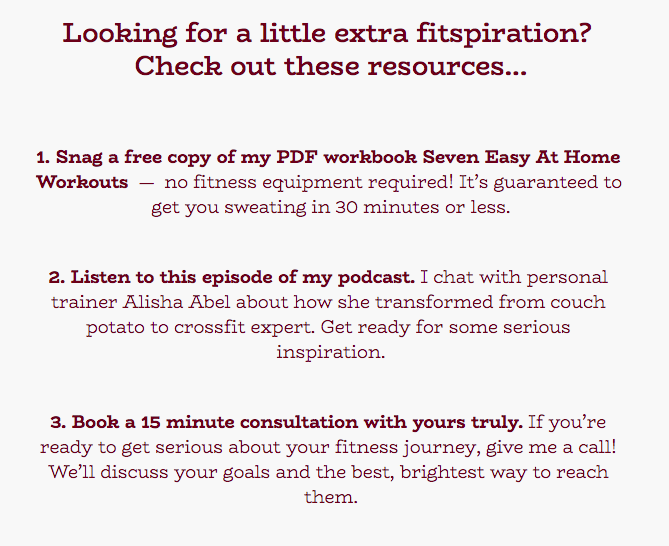 This is the most important part of your results page—give your audience something to do. What's the next step in their fitness journey? And what does it have to do with your business?
I like how this example offers three actionable tips—a user can choose whatever suits them best.
Now for the big finale. End your results page with one last call to action. We like how this page tells users to keep an eye out in their inbox. We'll talk about your email list later.
Whew—you made it! Here are the biggest takeaways about your results page:
Get your audience excited about their results
Add images and videos
Offer actionable advice with your content, like a blog post or e-book
Tell users how you'll improve their fitness
5. Correlate each question and answer
Finally, correlate each question with your results page so users get the most accurate result possible.
To get started, head back to your questions. For each question, click Edit Result Correlations.
And the rest is easy! All you have to do is connect each answer with its result. If you want to get more personalized, then head to our conditional logic tutorial.
Don't forget to correlate every question. When you're done, hit the eye icon at the top-right corner to preview your quiz.
How's everything looking? Fantastic? Great! Now click Publish and you're all done.
Keep reading this guide for more tips on how to make the best fitness quiz ever. I'll teach you how to ask interesting questions and promote your quiz.
How to ask interesting questions
Your questions are a huge part of your quiz. When you create your fitness quiz questions, they should be:
Thought-provoking
Sure, quiz questions shouldn't be hard to answer. But at the same time, your audience shouldn't know the answer right away. The sweet spot is somewhere in the middle—they should understand your question but need a minute to answer it.
So, why are insightful questions helpful?
One, they offer value. Easy-peasy questions don't stick in your brain. Quiz-takers will probably forget about questions that are too easy in an hour.
Insightful questions get users interested in learning more about their results. They think, This quiz made me think about myself in a new way. How can I learn more?
Light-hearted
You might be thinking, You just told me to make insightful questions, so shouldn't they be serious?
Not at all. A question can be both insightful and light-hearted. You just have to get creative.
Earlier in this post, I mentioned how Ashley Beaudin created the quiz "What's your self-sabotage?"
Does this title sound serious? Heck yeah. And yet, she created light-hearted questions like the one above. Choosing a fruit that describes you is fun yet thought-provoking. She encourages her quiz-takers to think about their personality traits and habits.
Easy to understand
Unless you're building an assessment, anyone should be able to take your quiz without a problem. Publishing an online quiz reaches out to people from all over the world. You can make a quiz easy to understand by:
Using 8th-grade level vocabulary
Using images to explain your questions and answers
Keeping sentences short (up to twelve words long)
When you finish your quiz, ask a few friends to take it and share what they think. You can use this feedback to improve your questions.
28 fitness quiz questions to ask
Not sure what type of questions to ask? We've got you covered!
Situational questions
True-or-false questions
Statement questions
The questions are divided into four types of fitness, but feel free to pick and choose from every category. After all, your health is connected to every part of your body.
Mental health quiz questions
1. What's your favorite pick-me-up?
My favorite dessert—ice cream!
A call with my best friend—we can talk forever.
Going on a long run—it clears my head.
Distracting myself with my favorite TV show.
2. I think talking about emotions is…
Super uncomfortable—I'd rather avoid it.
Good for you, but sometimes I say too much.
Unnecessary—I don't have much to say about them.
Good, if I'm with the right person.
3. You and your best friend get in a huge fight. How do you deal?
I ignore them. I'm not talking unless they talk first.
I apologize ASAP, even if it wasn't entirely my fault.
I try to move forward. There's no point in sulking about it.
I ask to meet up and talk it through. We're best friends for life.
4. What's your favorite type of movie?
Comedies—I love a good laugh.
Horror—the suspense hooks me.
Romantic sob stories—What can I say? I'm a crier.
Anything happy—I don't like to feel sad.
5. It's your birthday and you get to buy one thing you've been wanting forever. What is it?
Tickets to the beach! I need a vacation.
Can I save the money instead?
A new journal to write out my thoughts.
That new shirt I've been eyeing.
6. I go outside at least once a day
True, if not more!
Neutral—I try to, but sometimes I get caught up with work.
False—my house is so cozy, why would I leave?
7. You have a job interview in an hour. How do you handle the nerves?
I rehearse what I plan to say over and over again—practice makes perfect!
I get myself pumped with upbeat music. I'm confident and ready to kick butt!
I go about my day. Job interviews aren't stressful for me.
I panic until the minute it starts. What if something goes wrong?
Physical health quiz questions
1. Your friend texts you in the morning and asks you to join a gym class with her. What are you thinking?
I've been wanting to exercise all weekend—I'm in!
Gym classes aren't my thing. I'm going to pass.
Ugh. I'd rather stay in bed all day, but I should probably go.
What a coincidence! I'm already on my way to the class.
2. What's your favorite way to exercise?
I love taking walks every morning.
I'm into high-intensity exercises, like kickboxing.
Group classes—I've met so many friends at the gym.
Does walking around my house count?
3. Your fairy godmother wishes you good health for the rest of your life. It doesn't matter how much exercise you do now, you'll always stay in good shape. What do you do?
Cancel my gym membership forever. I'm done working out!
Continue going to classes. I still love getting my endorphins.
Feel relieved! I don't have to make myself work out anymore.
4. True or false: You work out for fun.
True—I love to move my body!
False—if I never had to exercise again, I'd be fine with it.
5. What's your favorite exercise outside of the gym?
Hiking—I love the outdoors!
Swimming—the ocean is my happy place.
Dancing—I'm taking a salsa class next week!
Nothing—I love the gym WAY too much.
6. How do you feel after exercising?
Energized AF—nothing can stop me.
Sore and tired—I want to nap ASAP.
Bored—that was a waste of time.
Guilty—I should've done more reps.
7. You'd rather exercise outdoors than indoors.
Agree—the outdoors is the best gym.
Neutral—I like both.
Disagree—I like the comfort of a gym.
Food and diet quiz questions
1. True or false: You crave sugar before you go to bed.
True—I can't get enough of it!
False—I'm too tired to think about food.
2. When I'm done eating a meal, I feel…
Super tired. Is it nap time yet?
Satisfied. I could go for a walk.
Still hungry. Nothing fills me up.
3. What's your favorite meal of the day?
Breakfast—I love starting my mornings right.
Lunch—I'm a sandwich person.
Dinner with a glass of wine!
4. True or False: You cook more than you eat out.
True—cooking is fun.
False—cooking takes way too long.
Does heating frozen food count as cooking?
5. What do you do while you eat dinner?
Go on Instagram or TikTok
Watch my favorite TV show
Sit down at the table and talk with my family
I eat it so fast that I don't have time to do anything else.
6. If you could get rid of one meal, what would it be?
None! I love breakfast, lunch, and dinner.
Lunch—it gets in the way of my busy work week.
Breakfast—I'm not a morning person.
Dinner—I'd rather snack all night.
7. It's Thanksgiving. What do you eat first?
Mashed potatoes—comfort food is my fave.
The turkey, of course—I'm a big meat person.
Pumpkin pie—I'm all about the dessert.
Cranberry salad—I love greens!
Wellness quiz questions
1. What's the first thing you do when you wake up?
Yoga—it makes me calm and happy!
Make coffee and relax
Check my emails
Make a to-do list for the day
2. What's the last thing you do before going to sleep?
Read a book
Watch a show or movie
Go on Instagram
Nothing—I lie down until I fall asleep.
3. What are your energy levels like throughout the day?
Sometimes I get tired, but I mostly feel energized.
Stable and calm
It depends on the day—my energy is all over the place.
I'm stressed until I'm off work.
4. I'm on my phone all day long.
Agree—I use it for literally everything.
Neutral—I use it when I need it.
Disagree—I'm not down with the phone thing.
5. How often do you see your family and friends?
Every day!
Usually once or twice a week
Once a week—unless I'm swamped with work.
6. When you think about your future, you…
Daydream—there are so many possibilities!
Panic—the future is scary to think about.
Don't do anything—what's there to be excited about?
Get nervous—you have so many goals to hit, what if you don't reach them?
7. True or False: I have hobbies outside of work.
True—I love trying new things.
False—work is my life.
You can use any or all of these questions if you'd like. And feel free to check out our guide How to Ask Better Questions for more ideas!
What to do after you make your quiz
So, you made your fitness quiz. Your quiz design looks fantastic, your questions are spot on, and your results pages are conversion-worthy.
You might be thinking, I must be done now, right?
Not exactly. Sure, you've created your quiz, but what about your quiz goals?
Let's say you want to increase web traffic with a quiz. This means you need to promote your quiz with a landing page.
Or, maybe you want more clients. This means you should create an email list.
There are so many ways to reach your business goals with a fitness quiz. We'll go over the most popular ways below.
1. Grow your email list with an email opt-in
Your email list is the perfect way to:
Promote your business—Your email list is all yours. This means you can send as much content as you want! And by content, we mean:
Blog posts
Downloadable files
Videos
Podcasts
E-books
You get the picture.
Interact with your audience—Emailing your audience is like talking to a friend. You get to share advice, big news, and stories. Plus, you can include giveaways and promotions.
So, how do you add quiz-takers to your email list?
First, build an email opt-in. An email opt-in asks users to enter their name and email to receive their quiz results. From there, add them to your email list.
It's easy to create an email opt-in with Interact! On your quiz editing page, head to Lead Generation and toggle Off to On.
An opt-in form page will appear.
Under Select Contact Fields, you can ask for certain information on your contact form. The only pieces of info you need are the user's first name and email address.
You can ask for more info if you'd like, but asking for too much personal information can make people uncomfortable.
Next is Form Settings. I recommend allowing users to skip your opt-in form. If you force someone to enter their information, they might exit out of the page.
Above is your email opt-in form. Feel free to edit the content and CTA to whatever you'd like. When you're done, click Save & Continue.
In the next steps, you'll integrate your opt-in with your email service.
You'll also want to build a personalized email sequence for your quiz. We talk about this in-depth in our Complete List Building Guide, which includes free templates.
2. Promote your quiz on social media
Information spreads on social media like wildfire. Promoting your quiz on social media will generate web traffic and more leads. And, best of all, it takes less than ten minutes to share your quiz on any social media handle.
Here's how to do it.
On your Interact dashboard, go to your fitness quiz and click Share & Embed.
Under Share Link, you'll notice five different social media channels at the bottom.
All you have to do is click on one of the icons to share your quiz. We'll use Twitter as an example.
Now all your followers can take your quiz directly from Twitter. It's that easy!
Check out our guide How to Embed Your Quiz on Any Website to learn how to add your quiz to your website.
3. Build content around your quiz
If online users love anything, it's free content.
Let's retrace your memory back to building a health results page. Remember how I recommended adding free content to each result? It looked something like below:
See how the first two resources are free? This is a great way to guide your audience to your product.
So, when you create your quiz, create a few more pieces of complementary content. This can be anything, like:
A blog post—Articles are a great way to teach your audience something new. Some blog post ideas you could write are:
XX Ways to Do Lunges
Does the (name a diet) work? Here's what we found out.
Work at a desk? Here's how to keep active.
A podcast episode—Did one of your clients go through a major transformation using your fitness program? Interview them on your podcast!
An e-book—It's common for businesses to offer a free e-book with their quiz. This way, users get an in-depth guide on their quiz results. And they can look back on their results whenever they want to.
A downloadable file—A downloadable file can be anything, like:
Audio of health and fitness affirmations
Videos of weight training exercises
A personalized grocery list
And, best of all, you can repurpose your content. Repurposing means using the same content but in different ways.
For example, you could create a video with the same content as your blog post. And then you could turn that video into a long podcast episode. The possibilities are endless!

You've made it!
Would you look at that… you've made it to the end! Here's what you learned:
What a fitness quiz is
Who should make a fitness quiz
Why you should make a fitness quiz
3 types of fitness quizzes
How to make a fitness quiz
How to ask interesting questions
28 fitness questions to ask
What to do after you create your quiz
From here, you can learn more about building a marketing funnel. A quiz marketing funnel will streamline your quiz strategy, which will bring even more sales and conversions. Check out our in-depth guide on building a quiz marketing funnel!
Here's to helping your clients through their fitness journey with a quiz!