Why reinvent the wheel if you don't have to?
As an online entrepreneur, you may already be sitting on a valuable archive of content and not even realize it.
Every time you create a blog post, social media post, or email, you have an opportunity to repurpose it.
Repurposing content is the practice of reusing elements of existing content to create something new. This practice saves time while increasing the content's reach and effectiveness.
When you repurpose your content, you're giving it new life! It's easier to get more high-value content in front of the right people when you repurpose content that's already performing well.
Today, I'll talk about how to repurpose existing content for a quiz. Since quizzes are meant to help people grow their email list with interested subscribers, let's make sure we make the best impression with your quiz content.
6 ways to repurpose existing content for your online quiz
You don't have all the time in the world to create your quiz. Since you're working on many projects simultaneously, the below repurposing strategies will help you make the best use of your limited time.
Instead of creating your quiz from scratch, pull from your strong foundation of existing content.
In this article, you'll learn how to:
Let's get started!
Repurpose your writing
Have you already written content that's relevant to your quiz topic? If so, you may want to repurpose it for your quiz. This writing could come from a high-performing blog post, video transcript, email conversation, social media post, or any number of platforms.
Repurposing written content is one of the most common ways quiz creators reuse existing content.
Author Kate Crocco used this strategy when creating her What's Holding You Back? quiz. She wanted to use her book, Thinking Like a Boss, as the inspiration behind her quiz. And this strategy worked: she saw a 400% ROI in just two months by promoting her quiz.
Kate took much of her quiz content—including specific questions, answers, and result types— directly from her book, making it super easy to create her unique quiz. Kate also makes the first two chapters of her book available to quiz-takers after they finish her quiz. What a great incentive!
Repurpose your graphics
To drive more website traffic, many entrepreneurs use social media graphics to encourage people to take their quiz and share their results. Instead of creating these graphics from scratch, repurpose visuals you've already created for your blog and social media.
Visual marketing is most effective when it's consistent. Using the same graphic templates for your quiz as you do other platforms will help you stay on-brand and save time.
For example, when designer Allison of AllieMarie Design launched her Design Spirit quiz, she modeled her graphics after her blog post graphic templates. She frequently uses them on Pinterest while linking to her quiz, hoping to entice more people to take it.
This strategy is working since she's already generated over 1,000 new qualified leads for her online course through the quiz. If you want to do the same, we recommend using Pinterest as a long-term marketing strategy for your quiz and testing different visuals to see which performs the best.
Repurpose podcast episodes
Quizzes are a fantastic way for podcasters to recommend episode content based on their audience's interests and personality traits. Instead of making your audience search for the exact podcast episode they need, use a quiz to make this journey more delightful.
Podcasters like Maria of Bloom and Grow Radio have put this strategy into action. In her Plant Parent Personality quiz, Maria provides valuable tips on growing indoor jungles based on the quiz-taker's final result type.
In her quiz result landing pages, you'll find a curated list of podcast episodes for each type. Since Maria has already recorded and produced over 150 episodes as of January 2022, this list is a helpful guide to the best-of-the-best episodes for each Plant Parent type.
Not only has Maria seen a rise in podcast subscribers, but she's also doubled her email list to 8,600 subscribers. If you're a podcaster or video creator, this repurposing strategy could work well for you.
Repurpose someone else's content
Who said the existing content had to come from you? While you'll need to be cautious when repurposing someone else's content, it could be a great marketing strategy for your quiz.
Of course, we advise against copying someone else's work. Instead, use existing information to inspire an aspect of your quiz.
In her Brand Personality quiz, brand strategist Kaye Putnam repurposed 12 archetypes from the book The Hero & the Outlaw by Margaret Mark and Carol S. Pearson. Inspired by their work, Kaye modeled her quiz results based on the below existing archetypes, but she didn't stop there.
Kaye also created helpful email sequences, stunning quiz result landing pages, and a custom infographic with valuable information about each personality type. She also credits the book's authors on her quiz landing page, making this a great example of how to repurpose existing content well (and legally!).
Repurpose your brand photography
We're all about making your quiz as brand-focused as possible! In doing so, you may want to reuse your brand photography, product photography, team photos, or headshots. This is a great way to make your quiz look and feel custom-made to your brand.
Consumers prefer brand photography over stock photography by as much as 40%, so this is a great time to invest in a brand photoshoot. You can also repurpose brand photos for your website, social media, email marketing, and other marketing materials.
Copywriter Zafira Rajan created a Brand Core Essence quiz to repurpose not only her knowledge of essential oils but also her existing photography content. By using original imagery that aligns with her other brand photos, the result is a quiz that feels like a natural extension of Zafira's brand.
Zafira reused her brand photos in her quiz result landing pages, quiz cover page, and quiz itself, helping her double her email list in one month. If you're struggling with selecting imagery to put in your quiz, take a look at the photos you already have. You may find the perfect fit!
Repurpose your quiz
Once you've created your quiz, you can repurpose it for other platforms or use it to test new offers. To increase your conversion rate over time, consider making frequent updates to your quiz. You don't have to overhaul your quiz, but rather, look at your analytics dashboard to see what's working and fix what's not.
Another way to repurpose your quiz is to create multiple versions. Depending on your goals, this quiz recreation process will help you test the effectiveness of your graphics, content, and final result descriptions.
Tina Dubois did this when she created two versions of her Metaphysical Archetype quiz to promote her membership business. The first version gives a single archetype result at the end, whereas the second version goes more in-depth with multiple results.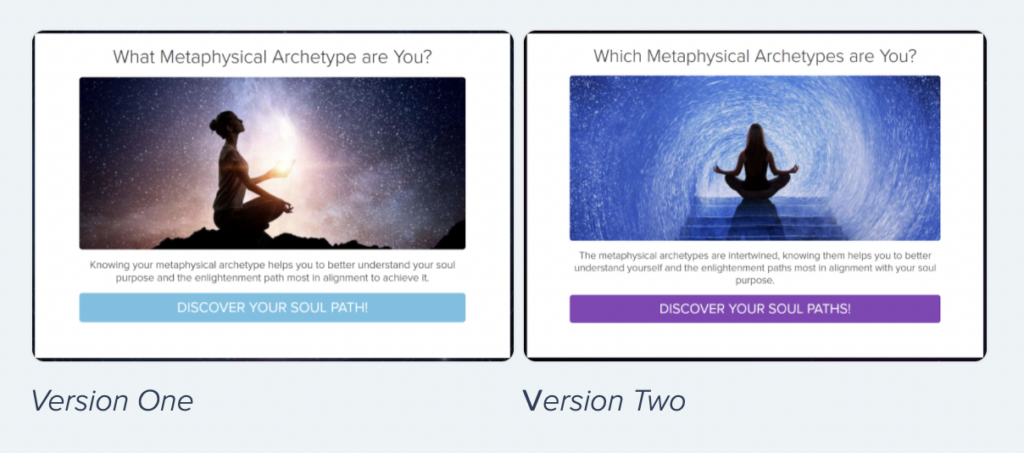 This gives her audience the option of getting their quiz results or digging deeper into their archetype. She empathizes with her audience by considering how much information they'll want upfront, which has helped her sustain a 53.1% email lead conversion rate.
Quizzes make repurposing content easier
With these real-life quiz examples to guide you, you're ready to repurpose existing content for your quiz. Take note of all the content you've already created and how you could reuse it in an online quiz.
This can include audio, video, imagery, or textual content from your archive. Think outside of the box. We can't wait to see what you create next!