At the beginning of 2014, Buzzfeed, The New York Times, and Zimbio each made a quiz about which country you should live in, and each of them got 4,000,000 or more hits. At the end of 2014, Afar Magazine created a quiz "Where Should You Go In 2015?" that brought in 9,030 new email leads that can be nurtured into long-term readers.
I love this transition from pure entertainment into pure value for brands like Afar as quizzes turned from just "like-bait" into a useful tool that brings in email subscribers. Afar is just one of many travel brands using Interact quizzes to grow their email lists, and with our marketing automation integrations, those leads are fed directly into auto-responders, so the path to revenue is clear.
All of this is just words, so let's dive in and look at the actual methods used by Afar so you can replicate them on your site.
An example from Afar with a 42% conversion rate
The Afar quiz "Where Should You Go in 2015?" has been taken 21,277 times to date, and has brought in 9,030 new email subscribers that are receiving weekly updates from the brand (I'm on the list, they send good stuff), but more on that later. Let's start at the beginning and work through the strategy here.
The hook
Quizzes get somewhere between 75% and 90% of their traffic from Facebook, so having a strong incentive for people scrolling through feeds to click on a quiz is a must. The way Afar knew their quiz would work was two-fold. First, there was the success that the other publishers had had with similar quizzes, and second was something called "quiz-purposing."
This weird term means that Afar formulated this quiz based on previously successful pages about the various destinations. Some of the most popular content on their site are the guides to places like Bali and Japan, which are the places recommended to go in 2015.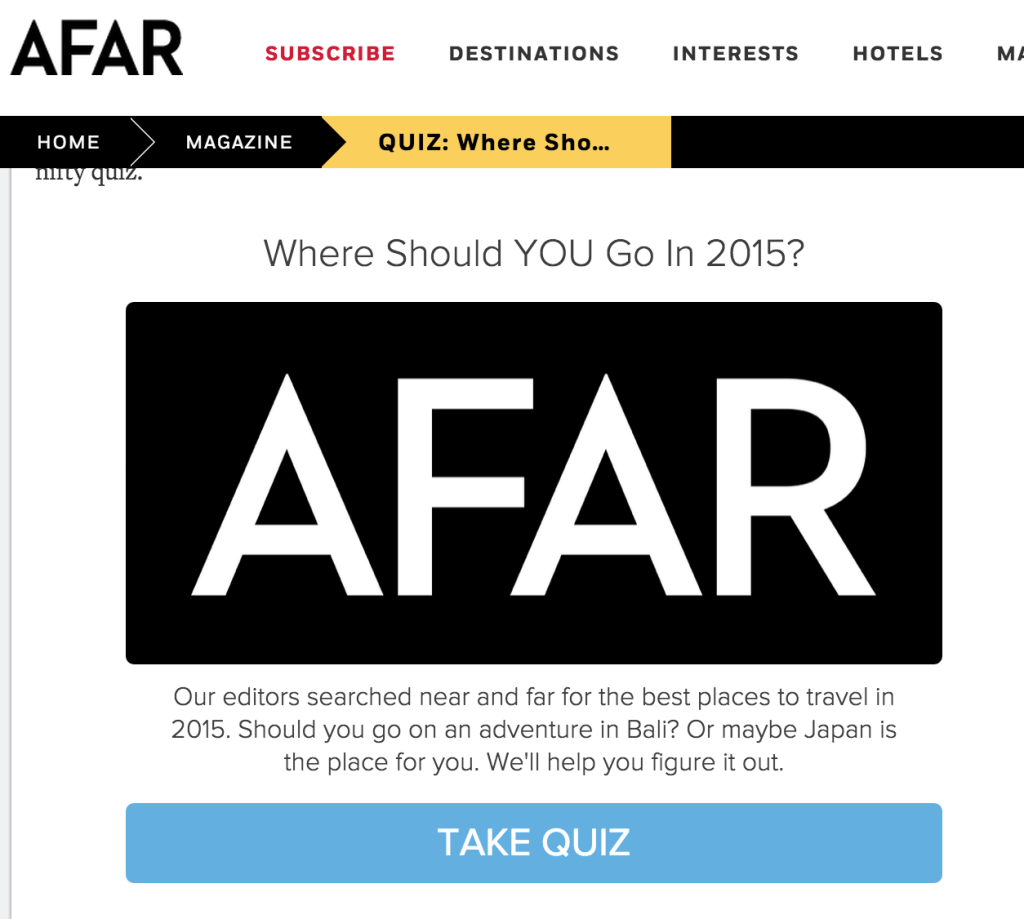 The trust factor
Now that someone has begun taking the quiz (they did, that was insinuated by the super smooth transition I just made (sarcasm)). I have some very specific tips about writing quiz questions for email collecting travel quizzes based on what's worked for others.
8-10 questions: Less makes your quiz seem unreliable, more is too long
Pictures of the places: You have all this amazing graphic material (pictures of food, sceneries, people, etc.) from the places that your travel brand creates content about. Utilize those images in the questions of your quiz to get people excited about going.
Get personal: At the end of this quiz you are going to ask someone for permission to be inside their inbox (that sounds weird, I know). That's a lot of permission to give someone you don't know, so make your questions "break the ice" in order to create a smoother transition to asking for information.
The ask
The questions are over, and now it's time to ask the person for their email address. Yes, this shows up before the results, but people can skip this step, so how did this quiz end up with a 42% conversion rate? The answer is an honest value proposition. If I decided to click on this quiz when it showed up in my Facebook feed, I have at least some interest in travel, and Afar knows that. So the call to action says "You'll also receive our newsletter stocked with travel tips and inspiration." I just took a quiz full of pictures of travel destinations, of course I want that!
There are two keys to a solid call to action in quizzes.
Relevance: The call to action about travel wouldn't make any sense if I was on a page about food or technology, but since this quiz is specifically built for people who like traveling it's perfect.
Honest goodness: Afar is up-front about what they send (travel tips and inspiration). You know what you'll be getting if you allow them to enter your inbox. And it's a good thing.
The beginning of a new relationship
At this point someone has either opted in to your marketing or they haven't. Either way this is a sensitive time where your new connection to this person could grow stronger or fall apart very easily. That's why it's important to continue the conversation, right after you tell the person that they rock.
What I mean is, this is a psychologically stimulating quiz. The person taking it is answering personal questions, and you are giving them an assessment, similar to how a psychologist would. Now let's be real, your internet travel quiz is no scientific masterpiece, but it does have the same effect in that people will believe what you tell them in their quiz result. Be nice, say kind things, but don't lie. The Afar quiz is an excellent example of this, it starts with "You clearly love adventure" – this sentence brings up images of Indiana Jones and Mount Everest (at least it does for me). It's flattery.
Here are the three keys to quiz results for a lead gen travel quiz.
Be nice: Flattery is your friend. Base your flattery on real things, using the way the person answered the quiz questions to your advantage. Also put a beautiful picture, that will help with making the description believable.
Link out: You can set up personalized links for each quiz result. This Afar quiz has links to read more about your destination.
Let the people share: This quiz was shared 2,043 times, representing a 17.6% share rate, so nearly one in five quiz takers shared their results. That's why it was able to go "viral" for a little while.
Utilizing your new email permission 
You're in! The quiz successfully got you a new email subscriber, which can be automatically ported to any of our Interact integrations (we integrate with most ESP's). You can also collect these subscribers in a file and export. Any way you get your new subscribers, it's now time to email them. The key is to live up to whatever you promised in your call to action text. Afar told me they'd send me travel tips and inspiration, and they sure did. I've attached a screenshot of one of their emails below.
They send a "weekly wander" email that I actually read, and it drives traffic back to their site, keeps people engaged, and ends up leading to revenue.
There's a couple of tips for travel email follow-ups.
Reference the quiz: If you are funneling leads to an autoresponder, had the welcome email reference the quiz itself. Something as simple as "hope you enjoyed the quiz!" or "which result did you get?" (even though you'll already know).
Send what you said you'd send: If you promised to send travel tips and inspiration, send travel tips and inspiration, nothing else. You can eventually include some ads or upsells, but don't rush it.
Travel quizzes are like crack for the social media world. It's just too much fun to take them, and travel quizzes are some of the most-shared content on the internet over the last ten years. Now you can use those quizzes to generate new email subscribers, and get real value.