Ready to create a quiz?
Create an interactive quiz to generate leads, learn about your audience, and drive more traffic
Since 93% of marketers agree that interactive content is effective in educating buyers, it's no surprise that interactive marketing has reached an all-time high.
Years ago, businesses focused on creating long-form whitepapers, e-books, and other static content types to increase their list. However, static content doesn't perform as well today.
Buyers want to feel like more than a number. They want to be seen as the individuals they are. This is why 80% of buyers prefer to consume personalized content that feels as though it was created with their uniqueness in mind.
We primarily do this through online quizzes.
When you create an interactive quiz, you can provide your audience with a memorable experience while giving them access to new insights about themselves.
You'll also be able to interact with new buyers without adding manual work to your already full plate. The entire quiz journey is automated, meaning you only need to set it up once and let it run on its own.
Many businesses use quizzes to:
Generate higher quality leads
Personally connect with potential customers
Test and validate new offers
Grow their email list
Raise their brand awareness
Nurture relationships with subscribers
If you're ready to build your own quiz, you may be considering which tool to use. Let's compare two powerful quiz builders in this quiz platform showdown.
Interact vs Outgrow
This guide focuses less on determining which tool is "better" and more on finding the best-fit quiz builder for you. Let's uncover what makes these quiz builders stand out from others on the market.
Interact
Interact is an intuitive quiz builder created with small businesses and creatives in mind. They helps growth-minded business owners scale their business with a quiz, resulting in the highest quality leads.
Interact helps businesses create a fun customer experience that's set apart from other traditional lead magnets. Instead of asking new subscribers to download a freebie that may sit in their Downloads folder, they can interact with your brand through a quiz without adding more manual work to your plate.
While Outgrow focuses on many kinds of interactive content, Interact focuses on quizzes. That's why Interact has more quiz options than other quiz builders in the industry, including an extensive library of quiz templates.
Let's discover the differences between Interact and Outgrow to learn more about our platform and determine if it's the best fit for your business.
Pricing
One of the key differences between Interact and Outgrow is length of the free trial. Outgrow offers a free limited 7-day trial while Interact offers a 14-day free trial.
Interact's Lite plan is typically best for new entrepreneurs who are just starting with building their email list. At this level, you can collect up to 6,000 leads every year, which averages to around 500 leads per month. If you plan to grow your list even more, you may want to invest in our most popular Growth plan.
If you have a tight marketing budget, you'll save 40% when you pay for your account annually. Most small to mid-size businesses will find that either the Lite or Growth plans fit what they need.
14-day free trial of all features
We previously talked about how Outgrow offers a 7-day free trial of their platform, but Interact allows users to test all of their features with a 14-day free trial.
Interact's extended trial is helpful because it may be difficult to make an informed decision about which features you truly need if you only have a week to consider. Seven days may be enough time to test a few quiz-building features, but you won't have a clear picture of what you're signing up for in such a short period of time.
It's important to us that you're able to explore all of our paid features without the stress of having to fit it into a single week. That's why we include a 14-day free trial..
With a two-week trial of Interact, you'll have enough time to test our platform so you can choose the right plan from the very start.
800+ quiz template options
In creating Interact, we wanted to ensure business owners of any background or level of expertise could market their offers through an online quiz. Some quiz creators, like Kaye Putnam, have a specific vision when it comes to crafting their quiz content. Others would rather start from a premade template that fits their niche.
In our template library, you'll find over 800 quiz templates in virtually every kind of industry. This includes interior design, home and garden, branding, business, blogging, wellness, beauty, lifestyle, and more.
Each quiz template comes with a series of pre-selected photos, questions, answers, and result descriptions you can customize to your own brand. Feel free to add your own logo and any other content that's unique to you. Then, all you need to do is make the template your own and publish your final creation.
If you want to look at other quizzes for inspiration, you can view our extensive template library or our curated list of live quiz examples from other creators. You're sure to find a quiz that gets your wheels turning!
Custom design options
Visual branding is incredibly important when you want to make a memorable impression with your brand. While we only offer white-label quiz creation with the Growth and Pro plan, meaning you're able to remove the Interact logo, you can still design a completely custom quiz for free at any level.
To begin the process, choose colors that reflect your brand and select the right font pairings. Then, you can include imagery that adds visual appeal to your quiz. We recommend including headshots, brand photos, illustrations, icons, and any other visuals that feel on-brand.
With Interact, you'll have access to thousands of stock photos within our platform. They're free for you to use, so simply search for what you're looking for and select your favorite option. Most quiz creators use our free stock imagery within their answer options to make their quiz easier to skim.
You can also add your logo to your quiz so it looks great no matter where you embed it. While you can adjust the imagery, fonts, and colors inside the Outgrow quiz builder, you're limited by their default interface design. Much like quiz-building alternative Typeform, you'll notice that Outgrow quizzes look more like forms and surveys rather than delightful quizzes.
Outgrow
Since 45% of businesses say interactive content is one of the top preferred content types, it's not surprising why tools like OutGrow decide to go all-in with interactive marketing. Outgrow goes beyond quizzes to give their users the ability to create calculators, polls, chatbots, giveaways, forms, surveys, and more.
Like Interact, they hyper-focus on helping people generate qualified leads for their business. With so many interactive content types to choose from, users can build a number of lead magnets. However, it's usually best to start with one main lead magnet that really works. Otherwise, you may cause confusion or ask your audience to complete too many tasks on your website.
You might want to ask yourself how much you will use the other features in a tool like Outgrow. Since they go beyond quiz building, they don't have as many advanced features and templates as a quiz builder like Interact. However, it may be a fit for your growing business if you have enough room in your budget for a more expensive, but comprehensive tool.
Outgrow is used by many Fortune 500 companies and startups alike, just like Interact, so let's see if it's a good fit based on your needs.
Pricing
Outgrow doesn't offer a free plan, so you'll need to quickly upgrade to a paid account after the 7-day free trial period. When you pay annually, you can save up to 44% with Outgrow. This is similar to Interact's annual savings, which allow users to save 40% on every plan.
Outgrow has a limited Freelancer and basic Freelancer plan for around $22-45 per month paid monthly, or $14-25 per month paid annually. However, this will limit the amount of leads you can collect with your quiz.
With Outgrow's most affordable plans, you can generate 12,000 subscribers per year as compared to Interact's Growth plan with 24,000 leads per year. That comes out to 1,000 leads per month. Many quiz creators at Interact generate far more leads than that in a single month.
You can see some of their success stories here:
You may need to upgrade your paid account sooner than you think based on the success of your quiz launch, so keep this in mind when you are revisiting your budget.
Depending on the Outgrow pricing plan you choose, you'll also have access to a few interactive content types, which can be a bonus. However, if you only need to use their quiz builder, you'll be paying extra to use one content type.
Variety of content types
Outgrow does a great job of giving their users a wide range of lead magnet types they can use to grow their email list. This may be a good fit for entrepreneurs who are experimenting with their content marketing strategy for the first time, but some businesses may not need all of these content types.
After looking at Outgrow's consumer reviews, customers praise them most for their calculator functionality. If this is something you've been wanting to implement into your business, Outgrow could be a great tool for you!
Some consumers say that Outgrow can be easy to use for simple quizzes, but when you get into more complex branching logic and conditioning, it gets confusing. However, their support team can help with complicated features for a price.
In short, Outgrow is a powerful tool with many interactive content types to choose from if you're looking to go all-in. One consumer noted that their quiz tool is similar to their calculator builder, so you can test this for yourself during your free 7-day trial.
More direct integrations
Outgrow is a cut above the rest when it comes to tool integrations. While most quiz builders integrate with hundreds of tools, Outgrow boasts that it can easily integrate with over 1,000 sales and marketing tools.
Since you use quizzes and other interactive content types to grow your list, these integrations are crucial. You may not need most of the integrations on this list if you're a small business owner, but it can be nice to have them.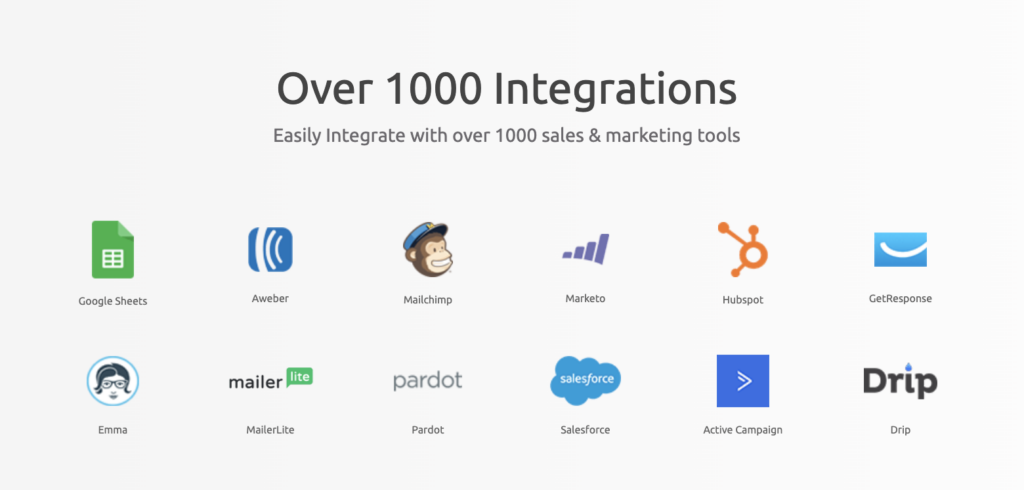 Although Outgrow has more direct integrations than most quiz-builder alternatives, you can always use third-party tools like Zapier to connect virtually any tool with Interact or Outgrow. To learn more about these Zapier tool connections, click here.
Website embed options
Most quiz builders come with automatically generated embed codes so you can place your quiz anywhere on your site. This is true for Outgrow and Interact, but Outgrow comes with more options.
Full-page and in-page embed options are pretty typical, but here are a few you may like:
Greet bar: This acts like an announcement bar on your website, enticing your audience to click the button to take your quiz.
Floater: Much like a pop-up, you can set up your quiz so it hovers over the rest of your website content until someone interacts with it.
Sidenote: Think of this feature as a greet bar that is on the right-hand side of your user's screen rather than near the top.
The Chat embed option could be a great fit if you are planning to include a chatbot on your site with Outgrow. If you are only building a quiz, you may not need all of these embed options, but much like the extended list of integrations, it's nice to have.
The final verdict
Finding the right quiz builder doesn't come down to which tool is the most affordable or has the most features. Instead, it's about choosing the tool that's the best fit for what you need.
Every business is unique, which is why there are no definitive winners when comparing any kind of software. We hope this article helped you compare these two quiz builders so you can decide which is the better fit for your business.
Do you want a quiz builder that's easy to use, super customizable, and gives you hundreds of premade quiz templates? If you want a quiz builder with unlimited completions, you may gravitate toward Interact.
Would you rather invest in a versatile interactive content builder that may have a higher price tag but integrates with hundreds of tools? Outgrow may be your answer.
As you're making your decision, sign up for a free 14-day trial of Interact and a free 7-day trial of Outgrow to test both tools.
We hope you find the best quiz builder for your business!
Create your own quiz and get started for free with Interact
Use a quiz to drive more traffic to your website and engage your audience