Building quizzes is complicated.
There's no sugarcoating it – putting together all the elements from questions to results to correlations to lead capture forms and integrations, there's just a lot to do before you're ready to launch your content. Then, once you are done with your quiz there's the issue of how to post it and embed it on your site.
All of this makes for an involved process that can easily become overwhelming.
That's why here at Interact we put a huge focus on simplifying the quiz creation process to remove all unnecessary steps and organize the steps that do need to be taken in order to set up a new quiz.
As a customer success manager here at Interact, I often work with clients to create their quizzes. Today I'm going to walk you through how I do it from start to finish, highlighting the unique time-saving pieces that are especially useful.
For the purposes of this walk-through, I'll start from the beginning, as a new user.
The first thing I'll do is set up my account, which you can do here if you'd like.
Next, I'll click the "create new quiz" button to begin setting up my first quiz (we even have a nice little animation while you are in this area). What you're looking at right here is your Interact dashboard, which is the command center from which you operate your Interact account.
Next, I'll be prompted to select either an assessment or personality quiz to make. An assessment is a quiz that has a correct answer for each question you ask (I.E. What month is it?). A personality quiz is one where there are various personality types as the outcomes of the quiz and each question correlates to different personality types. Whichever personality type ends up with the most correlations at the end of the quiz is the one that's shown to the quiz taker.
For this walk-through I'll select personality type because that's the most common type built on our platform.
Once I select "Personality" as my quiz type, I'll be asked if I want to "choose a template" or "create from scratch" I'm going to choose a template because Interact has a variety of templates available and I can use one that's basically already set up for what I want to do.
I'll get a list of templates I can use for my own business. In the top right of this page I have options to sort the templates by Industry. I'm going to look at the Non-Profit quizzes and choose the "Which Animal are You?" template because we have the privilege of working with lots of animal-based non-profits so I'm well-versed in this arena.
After I select the template, the Interact quiz builder will load in all the data for that template. Since it's my first time here, there is an overlayed walk-through that greets me. I'd highly recommend following along with this your first time, as it "lays the land" in terms of what to do and when.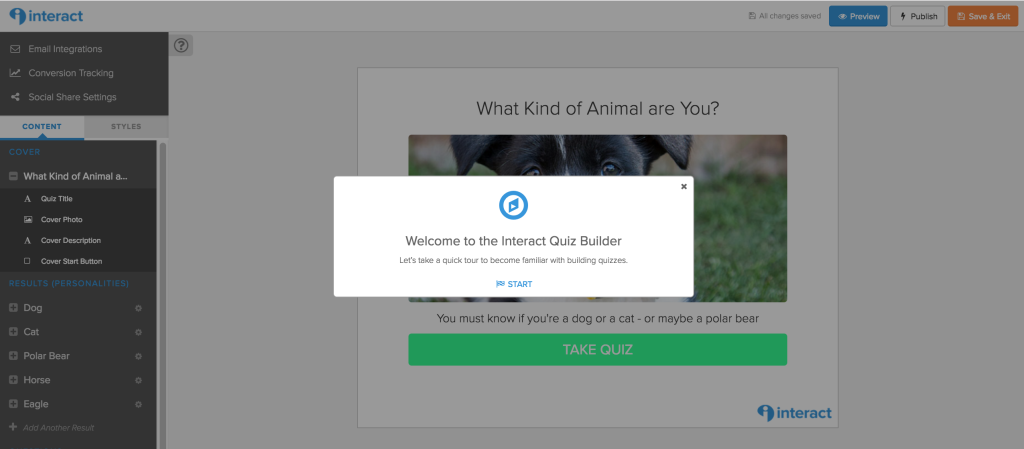 *I'm now going to switch over to an upgraded account within Interact so I can show you all the proper features. You can use Interact for free, but it is limited.
The first thing I'm going to do when I'm making my quiz is upload my own logo. I want to have my quiz look like my brand because that will prevent a breach of trust, especially since I'm going to be using this quiz for lead generation. In order to get started with that, I'm going to switch to the "styles" tab on the left grey sidebar. (picture below)
I'll click the "Logo Image" button to upload my own logo. There is a recommended size for uploading a logo. This is a them you'll see all throughout Interact, every time you upload an image there will be a recommended size.
Now that my logo is added, I can see that it's on my quiz. You can modify all other elements on the design, including the cover photo (the cute dog in this example), as well as the colors of everything and the font type.
Now I'll switch the tab back to "Content" and begin modifying the quiz results. The reason you set up the outcomes of a personality quiz first is that you'll end up correlating the questions to the outcomes, so you need the outcomes to be there in order for that to work 🙂
The first thing I'm going to do with this quiz outcome is modify the hero image (the picture of the running dog). This part is awesome because of how simple it is with Interact. No need to use any sort of image editor, we take care of everything for you. I can click on the dog photo to edit it and search for "dog" to see other photos of dogs that will work.
Once I choose a photo, I will get a preview of how it will display in the quiz results and I can modify the zoom and part of the photo that I want to show as the quiz result.
Now I click "Crop & Save" and the image is added to my result! It's that easy to add images to your quiz, and that's a good thing since it takes an average of nearly 50 images to make each quiz!
*Just as a side note, you can also upload images and use the cropping tool built into Interact to cut them down to size as well. You can add image attribution and such for each image as well.
Now I want to edit the description for this result and add a link to donate to my non-profit. If I click on the text below the image, it will open up a WYSIWYG editor that will let me add more images, links, lists, videos, and bold/italicize text.
Once I add a link, it will appear and I can see how it looks. We always recommend adding links to quiz results because are very curious by the time they see a quiz result, so it's the perfect opportunity to continue the conversation.
*Before we leave the quiz outcomes, it's worth mentioning that you can have as many outcomes as you want, but we recommend having 4-6 results.
Now we'll move on to the quiz questions. I won't spend too much here because questions are heavily image-based, and we already went over how to search for and add images. There are a variety of formats for building quiz questions, but we recommend the one picture below, with text for each question and an image for each answer choice.
One thing I did want to call out is the correlations between the questions and the outcomes we already set up. There is a button in the top right corner if each question editor that says "result correlations" and you can click that to determine how answer choices affect the outcomes of the quiz.
Now we'll move on to setting up the lead capture form that you can turn on between the last quiz question and the outcome of the quiz. I can modify the call to action text on the form, and I'll want to make it related to the quiz itself to maximize conversions.
I can also add more fields and make the lead capture form required if I'd like. I can also add a link to my own privacy policy to make sure I'm conforming to all standards.
Once I have set up my email capture form, I want to connect it to my email marketing or marketing automation program so the new leads go into a list of my choosing. Interact will automatically send quiz information along with new contacts that are added, so you'll get a rich profile for each person who opts in to your quiz. Interact integrates with all major email marketing and marketing automation programs, so select yours 🙂
Once you select your program and sign in, your lists that you already have set up in your email marketing or marketing automation program will be displayed, and you can select the one you want. The example below shows my test Aweber account with all the lists displayed.
Once you select the list you want, you're all set! that's how easy it is to connect Interact lead generation quizzes to your email marketing or marketing automation program.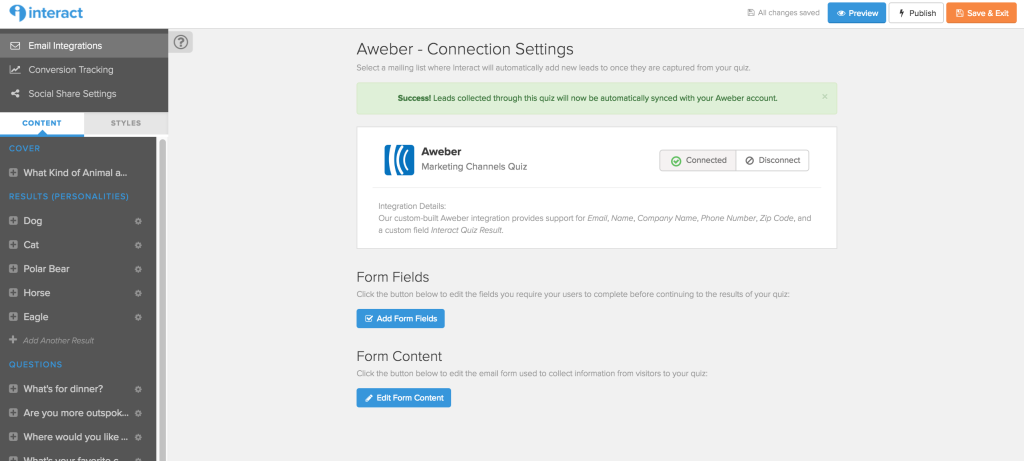 Now I've got everything set up on my quiz, I'll click "publish" and embed this quiz into a blog post and share it out on Facebook. To share it in a blog post, I'm going to grab the iframe embed code (same as a YouTube video), and paste it into my new post.
The quiz will appear in my blog post just as I created it, and it will look like part of the page.
If I'd prefer to share the quiz directly to Facebook, I can select that option from the "publish" menu and click the Facebook icon to post the quiz straight there.
The quiz will show up in a super nice format straight to a Facebook timeline.
Making quizzes would be complicated if all those steps weren't organized in a nice neat way, fortunately they are, so head to interact to make a quiz now.