Using education quizzes is a great way to get students involved in eLearning. Many quiz apps out there can help teachers create engaging online quizzes easily.
The thing is, choosing the right app isn't easy. Each tool has pros and cons.
Even when you've found an ideal quiz maker, how can you take advantage of quizzes to complement your online classrooms? What are the best practices?
If you're looking for answers to these questions, we've got you covered.
In this post, we'll dig deeper into why quizzes are valuable in online education and explore the best quiz apps for teachers. Plus, we'll share useful tips to create interactive quizzes to keep your students engaged.
Why should teachers use quizzes in online classrooms?
Research shows that learning should be fun, motivating, and transformative. When students enjoy studying, they don't want to miss a lesson. They discover the joy of learning and become lifelong learners.
Online quizzes are beneficial to both teachers and students, and they can make learning fun.
Quiz benefits for students
Get instant results: Online quizzes provide immediate, real-time feedback. Students don't have to wait hours or until the next class to find out how they scored on a quiz.
Assist in understanding: Images in a quiz help students understand questions easily by triggering imagination and affecting cognitive capabilities. They aid memory recall. They connect the familiar materials with the unfamiliar.
Support self-learning: Doing a quiz before a lesson helps students study on their own and prepare discussion questions before the beginning of class.
Revise knowledge: After a lesson, students can take a quiz to examine what they understand, memorize core concepts, or identify their knowledge gaps.
Prepare for exams: In a 2018 instructional experiment, researchers found that by giving quizzes to students to practice for an exam in advance, they performed better on exam day. This is because pre-test questions prepare students for what they need to focus on to perform best on the actual exam. They can retake a practice quiz as many times as they want to understand concepts and improve their score.
Raise confidence: Well-targeted quizzes can give students a confidence boost. Students can familiarize themselves with material and privately learn from mistakes, lessening the pressure that often accompanies exams.
Quiz benefits for teachers
A useful assessment tool: A quiz at the end of a lesson or a unit is a great way to assess students. How much have students learned? How many students understood the lecture? What are they struggling with? What interested them most? Online quizzes are ideal for measuring learning results across a broad audience. Because each student does the same test, teachers can compare results across different classes or schools. They can gain insight from an online quiz without the stress that a more formal test can bring to their students.
Track learning and teaching performance: Online quiz apps provide teachers insightful reports about students' learning progress. With those insights, they can adjust materials and methods accordingly to provide the best education. And because all online quizzes are stored on a learning management system, teachers can easily refer back to previous test results and compare them to later tests.
Open doors for experiments: Integrating online quizzes is an excellent way to diversify teaching tools, making knowledge transfer easier for students. For example, teachers can use different forms of Common Core math quiz questions, like multiple choices, fill-in-the-blanks, or true/false.
Save time and effort: Grading quizzes and providing feedback is probably the most time-consuming task for teachers. They need to give comments on each learner's strengths and weaknesses and ensure that learning actually occurs. But by creating an online quiz, teachers can provide dynamic feedback depending on the answer given to a specific question. Teachers no longer need to waste time and effort marking individual quizzes by pen.
Anytime, anywhere assessment. Quizzes are available online, so no matter where you or your students are, you can conduct an online quiz, anytime. All you have to do is share a quiz link with students through email or any social media channel.
What quiz apps should teachers use?
Online quizzes improve upon traditional schooling methods by creating a paperless, efficient, and hassle-free experience.
But with so many online quiz makers available, it can be challenging for teachers to choose the right app.
Some tools lean toward live games, while others focus on formative assessment or amped up presentations.
To make your life easier, we did a ton of research and rounded up our favorite quiz apps for teachers below:
1. Interact
As the ultimate online quiz software, Interact allows you to create beautiful, engaging quizzes and share them with students in minutes. It's easy to use and free of charge.
Top features:
A variety of quiz types, including personality quizzes, scored quizzes, and assessment quizzes.
Flexibility to personalize your quiz with colors, logos, fonts, images, and more.
A powerful drag-and-drop builder to create branching logic quizzes.
The ability to share your quiz on popular social media platforms. Interact's quizzes are fully responsive to all devices, including desktops, smartphones, iPads, and tablets.
Detailed, visual reports on your students' quiz performances.
The ability to segment students based on quiz answers or results.
More than 800 ready-made quiz templates and step-by-step instructions to create a quiz from scratch.
Alternatives: None.
2. Google Forms
Google Forms is great for creating quick opinion polls and event registrations. You can use it to create an online quiz as well.
Top features:
Flexibility to style quizzes with colors, fonts, and images.
Teachers can assign points and leave feedback on individual responses.
Teachers can email students their test results.
Alternatives: PowerPoint.
3. Quizlet
Quizlet is a web-based application that allows students to study through online games. It offers a paid ad-free subscription and a free version with ads on every page.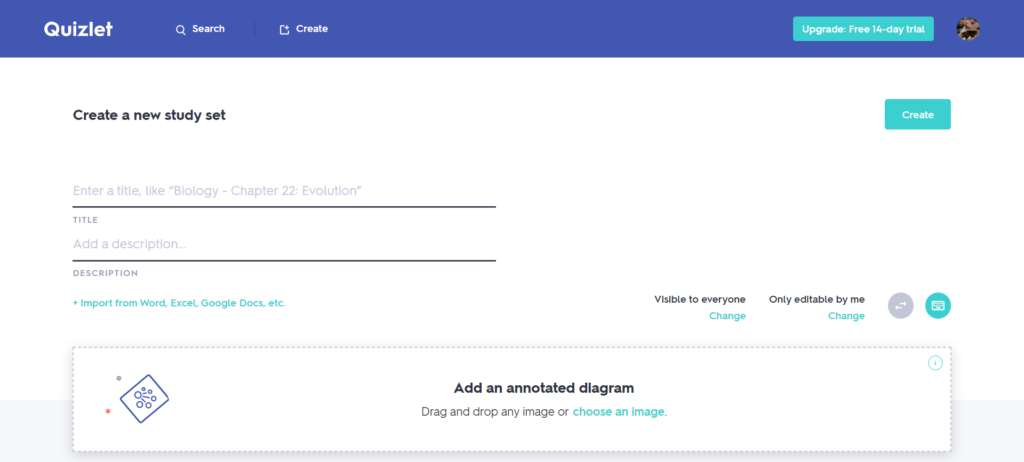 Top features:
Different review options for students, like flashcards, tests, matches, and gravity.
Interactive games for Android and iOS devices.
Students can send requests to join different classes.
Support diagrams, offline access, smart correction, and custom images (paid version).
Alternatives: Anki, Brainscape.
4. Edmodo
Edmodo is a learning management platform that integrates classroom learning with social learning for both students and teachers.
Top features:
Easy to share messages and class materials, like quizzes and assignments.
Users can browse activities and games created by others.
Communication tools for parents and teachers to be in touch.
Alternatives: Kahoot, Socrative, Quizizz.
Bonus tip: You can choose Edmodo to create simple quizzes, but if you need a more advanced quiz, try Interact.
Types of quiz questions for online classrooms
Let's look at the types of questions you can use to create an engaging quiz for your next online class.
1. Multiple choices
Multiple-choice questions are among the most effective ways to test students on lessons.
Case in point:
A multiple-choice question consists of a stem and a list of suggested alternatives. The alternatives include a small number of options, one of which is the correct answer.
Tips:
The stem should be direct, clear, and relevant to the learning material. Remove unnecessary information and confusing wording.
Avoid the "All of the above" option because students can recognize the two correct options to get the answer right. For example, a student might know that A and C are correct, but be unsure about B. Because the question includes the "All of the above" option, they will mark this option and answer the question correctly without fully understanding the concept.
Recommended reading: How to make a multiple-choice quiz that no one can resist taking.
2. Multiple responses
A multiple-response question is similar to a multiple-choice question, but it has more than one correct answer.
This type of question is sometimes challenging because students don't know how many answers to choose.
The "What Kind of Teacher Are You?" quiz below is a good example of a multiple-response question:
Tips:
Randomize the correct responses.
Avoid a large number of responses.
Avoid trick questions. Questions should be designed in a way that helps students who know the material find the correct answers.
Use familiar language. Students can dismiss distractors with unfamiliar terms as incorrect.
Recommended reading: How to make a select multiple answers question.
3. True or false
A true-false question consists of a statement that requires a true or false response. It has other variations such as "yes or no," "correct or incorrect," and "agree or disagree."
A true-false question should be based on fact and not opinion-oriented. It should be designed to quickly and efficiently test student knowledge about a particular idea or concept.
To create an effective true-false question, focus on a specific topic. Statements must have a clear, variable answer. In other words, each statement must be entirely true or false.
There can be absolutely no room for doubt or debate. If you find any gray area, consider using another type of question.
Here is an excellent quiz "What is Your Learning Style," created with Interact:
4. Short answer
In this type of question, students enter a correct answer without choosing from a list of options. Short-answer quizzes are ideal for testing knowledge and memory.
For example:
Don't forget to add answer options that take into consideration possible typos, abbreviations, case sensitivity, and spelling variants.
5. Matching
A matching question can cover a large amount of knowledge. It's one of the most engaging types of questions for students.
In a matching question, you give students premises (left column) and several responses (right column). Students have to match each premise with the appropriate response.
For example: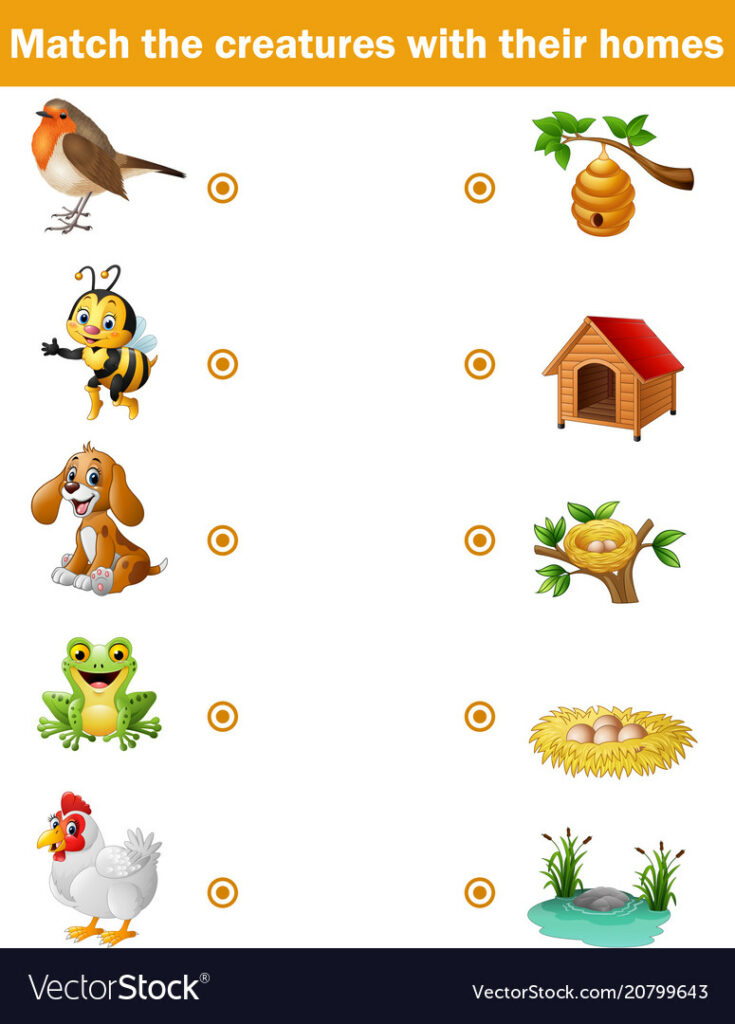 Tips:
Be specific about the directions for a matching question. For example, match the writers' names in the left column with their birthday in the right column.
Challenge students by including more responses than premises.
Organize responses objectively and logically.
Recommended reading: How to make a matching quiz using Interact.
Tips for creating effective educational quizzes
Education quiz apps give teachers the tools they need to create online quizzes. Follow the below steps to make your online quiz exceptional.
1. Use different types of questions to make your quiz interesting
Using varying types of questions is ideal for education quizzes because students learn to apply knowledge effectively in various situations. It also holds their attention and prevents boredom.
There's a good chance students will disengage with your quiz if you ask only one type of question. Make your quiz enticing by including multiple-choice, multiple-response, true/false, short-answer, and other kinds of questions.
2. Clarify your question and answer options
If your students don't understand a question, they're more likely to choose the wrong answer. As a result, you'll receive an inaccurate assessment.
To avoid that situation, you should:
Keep your questions concise and straightforward. Use understandable language and avoid unnecessary jargon.
Omit qualifiers like "always," "many," "usually," "sometimes," "never," and "every." These words give hints about the answer, which helps students guess correctly.
Avoid vague descriptors like "approximately" or "at least" because they can confuse students.
If you include negatives in your questions, make sure you underline and/or capitalize them.
3. Customize your feedback for each question
Online quiz apps for teachers usually come with an automated response that tells students whether their answer is correct. But you can give your students corrective feedback by customizing the default response. Tools like Interact allow you to do that with ease.
For example, instead of saying "Sorry, that's incorrect" or "Oops! Not quite," you can explain why the answer is incorrect and refer them to lessons that contain relevant information.
When students answer correctly, remind them why the answer is correct with custom feedback. Alternatively, give students extra information so they can reinforce their knowledge or learn something new.
4. Allow many attempts for quizzes
You can determine any number of attempts for a quiz. However, it's better to let students take a quiz multiple times, especially when it comes to practice quizzes. Students can learn from their mistakes and absorb a topic fully before moving on to the next one.
This is consistent with a learning approach called "mastery learning." According to educational psychologist Benjamin Bloom, mastery of each step before advancing to the next step is essential.
In other words, if a student doesn't understand a lesson, it's hard for them to absorb new knowledge in the next lesson because a new topic often builds on and assumes knowledge of the previous.
By allowing students to take a quiz many times, they can continue to take it until they've learned all of the information.
5. Set up branching scenarios within the quiz
In a branching scenario, the choices students make have different consequences. Those consequences lead to new choices, which again lead to new consequences. Each student follows a personalized path through the material.
Here's a simple example of a branching scenario: When a student fails a math question, you send them to a slide showing the formula so they can review the concept. Meanwhile, those who manage to do well still go on to the next question.
By setting up branching scenarios within a quiz, you can redirect students to a question based on their answer to a previous question. They move on from material they've mastered to material they're still struggling to grasp.
Recommended reading: Branching logic with scored quizzes and assessments.
When to use quizzes in online classrooms
Now that you've learned why quiz apps are beneficial, how to create them, and how to use them, let's talk about when to use quizzes in your online classes.
In traditional teaching methods, teachers test students at the end of a course. However, it's beneficial to teachers and students to use quizzes more frequently.
Start a course with a quiz
Rather than investing a lot of time introducing a course, assign a quiz of complicated "teaser" questions covering the course basics to pique student curiosity. You'll get a clear picture of what your students already know heading into your course. You can adjust the lessons accordingly after analyzing the quiz results.
Keep students up to speed with a mini-quiz
A mini-quiz could include anywhere from 5 to 10 short questions. Make it a routine part of your course.
You can choose to grade the quizzes or not. Either way, they will help measure student knowledge retention and clarify confusing concepts.
"More testing? That can't be right!"
The answer is the opposite.
Believe it or not, more testing can help students retain information. Research shows that frequent testing doesn't just evaluate learning; it actually promotes it.
More specifically, students recall, retrieve, and apply new information better after being tested on it. Behavioral researchers call it "the testing effect."
For online classrooms, it's even more important to test students regularly. You'll help them apply their knowledge in an environment where there are a few opportunities for actual in-person instructions. It's because teaching is an intimacy activity: "students give up a certain degree of control to the teacher and trust that person to help them master some new topic. It doesn't matter how big the class, that intimacy is unchanged for the teacher." By testing, teachers can guide online students through learning more effectively.
Make your online classroom exciting with quizzes!
Are you ready to bring a new type of learning to your classroom? If yes, start creating beautiful, interactive quizzes with Interact.
Don't forget to apply all the tips above to enhance your students' learning experience through quizzes.