Content is king on the internet, and your digital content mix needs to drive engagement and conversions without feeling overly salesy or pushy. You want to be interesting but not overly flashy, and you need to be providing actual value to your prospects.
Quizzes are a powerful tool to add to your content strategy for those exact reasons. They're catchy, fun, and value-add content pieces, and they're enjoyable and easy to make. Add in a quick exchange of email address for results, and your quiz is suddenly a useful lead-generating tool.
If you can't tell, I love a good quiz for driving social media engagement.
They're immersive and fun, and even the snootiest of social media users can't resist them. We've all gotten sucked into those mindless Buzzfeed quizzes about Disney characters or Hogwarts houses. However, quizzes don't have to be mindless.
Done correctly, a quiz can help your customers understand themselves better, solve a problem, or identify a next step by answering a few simple questions and getting a clear answer.
What's my work style?
What social platform am I neglecting?
What kind of freelancer do I need?
Whatever your business or brand is, you can craft a quiz that helps your audience solve a problem while they engage with you online. It's a win-win for you and for your consumers. Your customers gain a better understanding of something they may be struggling with after going through your quiz. And you, as the business, get to not only collect their information, but you also be the person to solve their challenge or problem.
Plus, with a tool like Interact, quizzes easy to make and share.
More importantly, they're underused. Market saturation is low for quizzes, and if your quiz offers something of value to your prospects that helps them in their businesses, they're going to be engaged and motivated to engage with your brand in the future.
So let's dive into the mechanics of sharing your quiz on social media to drive more engagement!
 How to Post to Social Media to Get More Leads
To get more engagement and leads on social media, there are a few steps to follow that will ensure you're seeing results. The hardest part about social media is getting people to take action! Here's how to encourage your followers and fans to take your quiz.
Understand Your Ideal Customer or Client's Pain Point
When you fill in the description of your quiz (and even when you're considering a title), remember that you need to clearly articulate what your user is going to get out of it. In my case, I'm using a clear value-add statement:
Find out how to improve your social media game!
Direct, actionable, and to the point.
Your copy should reflect the content of the quiz itself: quick, informative, and useful. Remember, you want to tune into your ideal follower's pain point. A good rule of thumb is to ask yourself "what's in it for them?" If you can't answer that question, it's back to the drawing board.
Craft Your Social Media Copy
Give your audience a reason to click with some compelling social media copy that motivates action.
Remember that pain point we talked about a moment ago? Use it again to highlight a challenge or question your customer wants answered and give them a clear next step that drives home what they'll get out of taking the quiz.
For example, some copy that would go well with my quiz:
Need help figuring out how to take your social media to the next level? Take this quiz and identify what your social presence needs to increase clicks, likes, and engagement.
Clear question, action, and benefit all in a few sentences. Make sure you're not repeating the description of the quiz exactly, and remember to customize appropriately for the different platforms. You have a little more room to move on Facebook versus Twitter, for example.
And don't stop at one social media caption. I recommend writing down five or ten that you can pull from at any time. You're definitely going to want to post your amazing quiz more than once. We'll get to how to do that later in this article.
Select an Image to Go with the Post
When choosing an image to post on social media, my rule of thumb is to go for a picture that represents the copy without being overly literal or technical.
So in my case, my quiz uses a photo of me on my computer. It's a lifestyle image that showcases an actual human being, which helps with building an emotional connection with the audience. Plus, the computer relates it to the subject matter without being too on the nose.
Pick something dynamic and fun, and if you can find an image that works, use a picture that highlights your brand colors.
A great site for free, high quality creative commons images is Unsplash.com.
If you're feeling creative, you can also try designing an image using a tool like Canva.com. Canva makes it easy for non-designers to create stunning graphics on the fly. What I like about Canva is you'll have the unique ability to create something that has some text on it as well. You can get creative here and include your pain points, benefits, and even a call-to-action right on the image.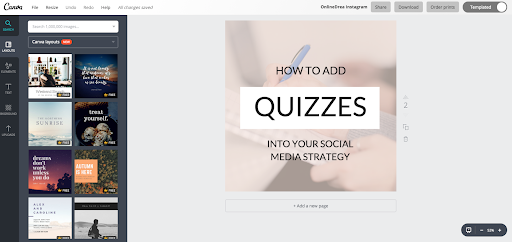 Find the Right Hashtags
The best way to organically get your content in front of the people who are looking for it is with some well-placed hashtags. Choosing your hashtags requires taking a few minutes to do some research on what other people in your industry are using, so make sure that you're staying involved in the conversation.
The easiest way to think of hashtags is to view them as keywords. Think about what someone would search for before finding you. If you're a therapist, for example, you can try using #therapist or you could try using #mentalhealth.
Hashtagify is a good tool for hashtag marketing research if you need a little help, and be sure to check out what up-and-coming influencers are using as well as the strategies used by the biggest brands.
Schedule the Post to Go Out at an Optimized Time
I recommend taking some care in your post times before you hit that "send" button and put your content out into the universe. Every audience is different, and your content needs to reach them when they're most likely to see it.
Your scheduling program might have a built-in tool for identifying the optimal time to post, or you might just be able to intuit it based on when you notice the most interaction.
Either way, post your quiz at a time that will give it the best chance of being seen. Remember that this will likely be different platform-to-platform, so don't go for a one-size-fits-all approach here.
I personally love to use Social Report to schedule my quizzes as they recommend times for me and I can add this quiz to my evergreen content strategy. More on that in a sec.
Use an Evergreen Content Strategy to Make Sure to Repost It Consistently
If you're going to take the time to create a quiz that converts, make sure the topic is something that will support your content strategy multiple times.
Evergreen content can be reused again and again without the piece losing relevance or usefulness. It stays fresh and drives traffic much longer than a flash-in-the-pan piece of content, and it requires less updating to drive SEO for longer.
I recommend sticking to quizzes that relate to your core brand messaging and target keywords, rather than something relating to a current event or trending topic. In addition to being reposted on social, an evergreen quiz can be linked on blogs and whitepapers to support broader messaging way longer than something "trendy."
For example, if you're a content consultant, a quiz written about keyword SEO is going to be useful longer than a quiz talking about an industry event.
As a part of my evergreen content strategy, I post the same quiz 10-12 times a year to my social media accounts, each time with a slightly different caption. In one caption, you may want to highlight the benefits of taking your quiz. In another caption, you may want to examine the pain points of NOT taking the quiz. You've got room to play here so keep your captions short and varied.
 Make sure that you can track how your quiz is converting over time. You'll want to be sure to measure which platforms are performing better and how many clicks your quiz gets over time.
Because your content is evergreen, it can "live" a lot longer. No need to reinvent the wheel each time because only a fraction of your followers will view your content at any given time. As long as you're constantly, using strategies to grow your account, you'll have new followers to share your quiz with every month.
Follow Up with Those Who Complete the Quiz via Email
Once you've done the work of crafting and sharing your quiz, now you get to respond to your leads! Prospects who take your quiz will trade you their email for the answer your quiz, which means your end result is a number of new leads to reach out to on email.
At this point, you're well on your way through the full lifecycle of an effective social posting strategy for your quiz: from initial conception all the way through closing on the lead and reusing your quiz, you've created an effective sales process to turn an engaging quiz into sales.
Finally, remember that contacting your leads is the exciting part, so take a minute to enjoy it. You've got some prospective sales! Go you! This is why quizzes are such engaging, high-converting pieces of content to add to your mix.
 In Conclusion
The main concept to remember here is that your quiz is an entry point into your world. Using your quiz as a part of your social media strategy is a great way for users to have a unique first experience with you.
If used correctly, you could have one quiz that continues to bring new people to your business allowing you to continue to market to those individuals for the months and years to come.