What's an entrepreneur gotta do to convince people to become email subscribers around here?
Yeesh. It feels like you've tried everything.
You've put your email opt-in forms in the right places. You've driven social media traffic to your email landing pages. You may have even tried pop-ups and banners–anything you can do to get people to sign up for your email list.
And still… no sign of growth.
What gives?
What if I told you that the key to turning your visitors to subscribers is to give something away?
Yup. I'm talking about free stuff!
You can do this by offering a lead magnet.
What is a lead magnet?
A lead magnet refers to an incentive that marketers offer potential clients and customers in exchange for their contact information, usually their email address.
Why not offer a similar incentive to, say, anyone who follows you on social media?
That may seem like a good idea in theory because it's typically easier to convince someone to follow you on social media than sign up for your email list, but social media doesn't allow you to directly reach all of your potential buyers.
Not to mention that average social media marketing conversion rates are around 1.9% while email marketing is known to produce a 6.05% average conversion rate. You can triple your success when you focus on growing your email list!
So in the battle between social media and email marketing, we know who the true victor is. The numbers don't lie! As you set goals for your online business, list building should be one of your highest priorities.
Lead magnets are list-building gold. Think of them as an easy, automated way to give value upfront, helping you build trust and authority with each new subscriber. The more value you give, the more impressed they will be with what you can offer them.
If your subscribers get a lot out of what you offer for free, they may think to themselves, "Wow, I wonder how much value I'd get out of a coaching session with them or their online course!" This can be true for anything you offer as an online entrepreneur.
Here are some other benefits to using lead magnets for list building:
It's a hands-off, completely automated way to grow your email list.
It solidifies your expertise and authority in a niche topic.
It helps your audience learn something from you, creating a high level of trust.
It gives you the opportunity to go more in-depth on a topic than you can in a blog post.
It helps you build and nurture a relationship with potential buyers.
It shows that you care about helping your audience rather than just making sales.
It gives them a taste of the value you can provide in your paid offerings.
Since so much of your list-building success comes down to the incentives you offer, how do you decide what to give new email subscribers for free?
Well, one thing is for sure: not all free stuff is created equal.
Have you ever driven through a neighborhood and noticed a piece of furniture or equipment sitting at the end of someone's driveway with "For Free" sign attached to it?
Despite all odds, when you drive past the same house weeks later, it's still sitting there…
You do NOT want the same fate for your lead magnet.
Instead, you want to offer something you know someone would be willing to pay for.
Anyone can give something away for free that doesn't cost them much to create, but when you pour your time and energy into creating an email opt-in that creates an invaluable transformation for your audience? You've hit the jackpot.
It's not about offering as many lead magnets as possible but rather having the most valuable and highest quality lead magnets in your niche.
Creating less content with more impact sounds like a dream, right?
I'm here to help you get there.
Throughout the rest of this article, I'm going to break down why you'll want to incorporate lead magnets into your list-building strategy and what lead magnet ideas are a good fit for your online business.
Then we can talk about best practices for creating your own lead magnets, complete with tried-and-true tips and tricks that will help you get started today like the high-achieving entrepreneur you are.
Let's get to it.
Popular lead magnet ideas for content creators
Now you know what a lead magnet is, but how do you decide what kind of lead magnet to create? There are dozens⁠—even hundreds⁠—of lead magnet types you can experiment with.
How in the world do you choose?!
Consider the following factors when choosing your lead magnet:
What you have the most experience in and feel most confident in
What content type (video, audio, or text) is easiest for you to create
What content type fits the way your audience likes to learn
What lead magnet type relates to your paid offering the most
But before you make your choice, let's make sure you know what goes into a good lead magnet.
The best-performing lead magnets are…
Easy to digest: If you are able to create a lead magnet that can be consumed in one sitting, that is ideal. The time commitment should be easy for your audience to make. If you will be creating a series of content, think about organizing your content into bite-sized sections so it's digestible.
Solving a real problem: One of the best ways to brainstorm topics for your lead magnets is to look at what your audience is currently struggling with. You can ask your current clients or customers what challenges they are facing and see how you can offer a simple solution through your lead magnet.
Specific by nature: If you try to help everyone with the content of your lead magnet, you may have difficulty truly making an impact on anyone. You can bring in the depth of your expertise and experience by keeping the lead magnet topic specific to your ideal audience members need. Anything else is a distraction.
Focused on one topic: In addition to choosing a specific audience you are creating your lead magnet for, you'll also want to choose one central topic to teach on. Otherwise, your lead magnet content will seem broad and vague–two things you do NOT want to embody when trying to create content with enduring value.
Inspiring a transformation: When someone signs up to receive your lead magnet, they want to know that their life or business will be improved by what they'll talk away from the lead magnet content. The more you are able to connect a before-and-after transformation to the lead magnet exercise, the better.

Easy to access: Do your email subscribers have to jump through hoops in order to access the lead magnet? Let's hope not! The lead magnet you offer should be easily accessible on any device without them having to learn how to use new tools or download extra software. You don't want them to have barriers to getting started.

Bringing in leads: Ultimately, the success of your lead magnet comes down to how well it can generate client and customer leads. You're offering something of value in order to build trust with your email subscribers, and you'll need that trust when your subscriber is ready to make a purchasing decision.
If your lead magnet is able to accomplish most (or all) of the things on this list, you'll find it easier to build your email list.
Your lead magnet will help you create not only a great first impression but a lasting one. This budding relationship between your brand and your subscribers will pay off when it comes time to pitch your product or launch a new service.
As I walk through each of the lead magnet ideas, think about what service or product offering you want the lead magnet to lead to.
Is it an online course that helps your audience learn how to DIY something valuable in their business? Is it a coaching program that guides your audience through the self-discovery process? Is it a lower-priced ebook that walks your audience step-by-step through the process of transitioning their career?
No matter what your paid offering is, you'll want to choose a lead magnet type that naturally pairs with the type of service or product you're launching. I'll help you out by giving recommendations for each lead magnet idea along with who it is best for.
I've got 20 lead magnet ideas comin' atcha. Let's go!
Psst… If you want to jump ahead to a specific lead magnet idea, be my guest!
Click the links below to find the one you fancy.

Ebook / Checklist / Template / Quiz / Email Course / Email Challenge
Calendar / Planner / Printable / Workbook / Spreadsheet / Evergreen Webinar / Video Series / Audio Series / Tutorial / Case Study / Resource Guide / Prompts / Scripts / Gated Resource Library
Ebook
Ah, the tried-and-true lead magnet.
When you saw I was going to share a list of lead magnet ideas, you probably assumed that ebooks would make the list. You were correct.
Even though it's pretty well-known, it still deserves a spot on the list. Here's why:
Ebooks are a great way to share your knowledge because they are typically easy to skim and quickly digest. They give you more space to share your knowledge and expertise on a specific topic than a blog post does.
However, you do want to make sure your ebook isn't so long that it deters you audience from reading it. If your ebook is over 50 pages, it may sit in your audience's inbox until they have the time to read it all the way through… which will probably be never.
Writing a successful ebook is less about the amount of information you put into it and more about the value of the information you include. If you can condense a lot of information into a few words, that's pure gold to your audience. (PS: This is true for just about every lead magnet type!)
Ebooks are great, but maybe you don't want to create a full-blown ebook because it feels like a large undertaking. If so, you can create a concise PDF guide that acts like an ebook without the extra length. It may not give as much information but it will be easier to digest.
For example, Christine Blubaugh, a copywriter and sales strategist, offers her audience a Social Sales Roadmap that helps them turn social media comments into more sales through better copywriting.
We love how her ebook-style lead magnet landing page breaks down what her audience will find inside the guide (with a bulleted list of benefits) and why they should care (with impressive stats).
Christine also adds a photo of herself on the lead magnet landing page to make a more personal connection with her audience. When a new subscriber decides they want to work with her or buy her online course, they know exactly who they will be connecting with and learning from.
If you're worried about the length or organization of your ebook content, get a second opinion. You can ask a trusted friend or people who have already read your ebook to give you their feedback. It's much better than trying to guess what people are thinking!
Checklist
What better way to get people to take action than to give them an easy-to-follow checklist? This lead magnet idea will help you organize a set of tasks that your email subscribers can check off as they go so they can accomplish a specific goal.
Many people struggle with not knowing where to start when it comes to your niche topic. No matter what you teach, it's valuable for them to have a checklist that can act as a cheat-sheet guide to completing any necessary tasks.
Checklists are a great way for your audience to track their progress, see all of the most important steps at a glance, and stay committed to the end goal. It can take a seemingly stressful process and turn it into a set of tasks that are easy to complete.
You can make a checklist for anything business or lifestyle-related. I recommend adding extra value to your checklist by giving helpful tips and tricks on your specific topic. They'll feel more prepared when you share your expertise.
Template
Nothing feels more daunting than trying to start something from scratch.
A blank sheet of paper should make us feel like there are endless possibilities, but usually it causes us to have writer's block and stare at a blinking cursor for minutes (or hours).
We've all been there, so why not use templates as a way to save your audience from having to start from scratch? You'll be doing them a huge favor.
Templates are a great lead magnet for designers, developers, or really anyone who wants to give their audience a visual resource they can customize. You've probably seen website templates and graphic templates, but you can use other kinds of templates to grow your email list.
You might want to create a bundle of templates that your subscribers can instantly download. Melanie from My Billie Designs did this by offering a moodboard template collection that includes four different layouts for Instagram and other social media platforms.
Since Melanie's ideal audience consists of other creative entrepreneurs who care about how to create stunning social media graphics, this is a smart move. She also includes template files for Photoshop, InDesign, and Canva so it covers all of the major design software tools.
Another fun use of templates is from Kitchen Table Classroom, a blog that gives teachers and parents arts and crafts activities they can use in their own homes and classrooms. They offer printable comic book templates that kids can use to create their own drawings. All of their downloadable freebies point to their paid activity template shop.
What kind of template can you create? Is it for business use or personal use? What are the creative elements you can put into the template to make it uniquely yours?
Quiz
We're a little biased, but we couldn't make a list about lead magnet ideas and not include quizzes. Since personality quizzes are blowing average conversion rates out of the water, they deserve a spot on our list.
No matter what your niche is, you can create a quiz that grows your email list with quality leads. A quiz naturally attracts like-minded people because your personality results are intentionally written to resonate with your ideal clients or buyers.
Unlike other lead magnet ideas, a quiz offers an interactive experience for your audience. They are able to choose their own path and learn more about themselves as they answer each question. This personalized experience feels like it's tailored specifically to them, making it easier to gain your audience's trust.
Quizzes work with any industry. We've seen people create successful quizzes on topics like parenting, health and wellness, blogging, finance, relationships, travel, and more. (Take a peek at our quiz templates to see even more topics.)
How could quizzes help you build your email list? Here are a few quiz case studies to check out for inspiration.
Amber Lilyestrom knew that she wanted to create a lead magnet that would increase her online course sales, but with so many options to choose from, she decided to test out an interactive quiz for the first time. It took her only a day to write her quiz and set up it up in Interact, and she's still reaping the benefits from it months later.
Since creating her quiz, Amber's email list has grown by over 4,000 email subscribers with many of them buying her low-tier online course. What's even better is that some of those online course students have since bought her higher priced program and become lifetime customers.
But quizzes work for freelancers, too.
As a branding designer, Allison of AllieMarie Design wanted to create a quiz to help her create some passive income beyond her freelance services, especially as she geared up for maternity leave.
Since many of her potential clients find out about her brand through Google, she wanted to turn those first-time visitors into engaged email subscribers. An Interact quiz seemed to be the perfect way to do it!
She strategically titled the quiz "What is Your Design Spirit?" to connect the subject to her evergreen online course, Design Spirit. After people take the quiz, they can sign up for more information through her email list. This triggers an email sequence that leads to a sales funnel for the online course. So smart!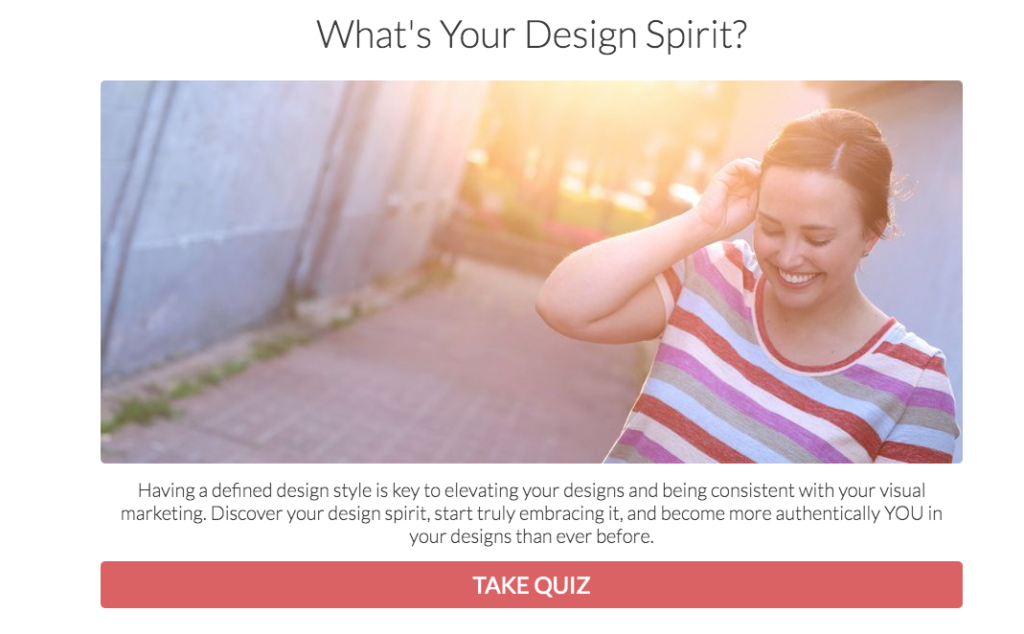 Since her quiz is the core lead magnet on her website, she mentions it multiple times throughout her website. This includes on her homepage, about page, and free resources page. She also points to it every so often through her social media posts as a part of her ongoing marketing plan. You can do the same with your quiz.
Want to build your own quiz? Sign up for your quiz building account today!
Email course
Do you have a collection of lessons you want to share with your audience? Instead of putting them into a PDF guide, which can get lost in your audience's downloads folder, you can share each lesson through an email series.
An email course also trains your audience to regularly open emails from you. It's a great way to raise your email open rates over time because they're used to seeing your name pop up in their inbox. You can track how well your emails are performing based on your open and click rates. Most email service providers (ESPs) will give you these stats so you don't have to calculate them yourself. Score!
There are quite a few email course examples I could pull from (mostly because they work for so many different industries), but here are some of my favorites:
Chris Hufnagel, a website developer and proud coding enthusiast, loves teaching his audience how to customize their websites with HTML and CSS basics. After creating content on this topic for years, he condensed the information into his three-day mini email course titled "Build a Hero."
When a new email subscriber signs up for his email course, they receive three detailed email lessons to help them practice their coding skills. Since there are only three lessons, it's easy for subscribers to quickly learn what they need and reach their goal of creating a hero area.
Since launching this email course, Chris has grown his email list by 30% while increasing his authority by sharing his unique approach to website development. He plans to strategically use feedback from subscribers who go through the email course to create a more in-depth paid version. Brilliant!
Chris isn't the only one who has found success with an email course. Victoria Fry offers a free email course on character development for novelists that has driven over a third of her email sign-ups!
One of the winning aspects of her lead magnet landing page is that she includes testimonials from other subscribers who have gone through the email course. This is a great way to add social proof to her free offer.
How can you create email content that trains your audience or guides them through a process? Let this question inspire your mini email course.
Keep in mind that email courses are best when they have a maximum of five lessons. Anything more can seem like too much of a time commitment. You want to give them enough knowledge without it feeling like information overload.
Email courses are also a great way to seamlessly transition your subscribers from the email lessons to an evergreen sales funnel. It doesn't matter if you sell digital products, physical products, or freelance services; you can utilize an email course to highlight any paid offering.
Email challenge
While you can add actionable exercises to your email course, you may want to create an email challenge instead. The main difference between an email challenge and email course is that a course is primarily for teaching your audience something new while a challenge is more focused on giving instructions and prompts to help your audience take a desired action.
There can be some overlap between the two types, but for now, let's think of an email challenge as a way to help your email subscribers complete a specific task or goal in a small number of steps.
Here's an example from Meera Kothand, an email marketing expert who clearly knows a thing or two about email challenges. She offers her audience a five-day email challenge to help them create an email marketing plan.
Wait a minute.
An email challenge on how to create an email strategy?
It's like the movie Inception, but with email marketing…
That's trippy.
Okay, back to the five-day email challenge.
It's smart that Meera's homepage says that her email course not only simplifies email marketing (one of her audience's main pain points), but she also mentions that over 10,000 people have already signed up for the email course. This gives her instant credibility because it must be a great resource if she's been able to grow her email list by that many people.
She also adds a friendly photo of herself so you know who the information is coming from in addition to what you will be learning about. Her copy is just as friendly and inviting. You can use the same techniques when writing your own lead magnet landing page.
Calendar
If you are an artist or illustrator, creating a beautifully designed printable might be exactly what your audience is looking for. You can create custom calendar pages based on upcoming holidays, events, or other things your audience cares about.
You can create weekly, monthly, quarterly, or yearly calendars. The boxes for each day can be left open or you can fill them with important dates, reminders, or even memorable quotes. Since there are so many calendar lead magnets available, find a way to make it personalized to your specific audience. They will love you for it!
Even if you aren't an artist, you can still create a calendar lead magnet. A simple and minimalistic design will help your audience stay focused on the task at hand and easily plan their days.
It's even better if you can create a project-focused calendar that helps your audience achieve something specific. That way, they will remember you as the person who helped them reach a goal by helping them organize their tasks. If you connect these tasks to a larger goal that relates to your service or product, that's even better!
Planner
You know how the saying goes: "When you fail to plan, you plan to fail." Everyone wants to be more organized, focused, and productive. One of the best ways to increase your productivity is by following a planner.
No matter what your niche is, you can find a way to create a planner that works for your audience. You can create a planner for your weekly to-do list, grocery shopping, monthly or quarterly goals, future vision planning… anything!
The best planners are those that are designed well. If it's easy to see at a quick glance what you are planning to do, your audience will be more likely to consistently stick with it and update their planner. Here are a few planners that have worked well:
When you sign up for Productive Flourishing's email list, you get instant access to their daily planner worksheets. You can download them and print off multiple copies in order to better plan your days. They have sections for setting daily goals, crossing off project tasks, and tracking your scheduled events. It includes everything you need on a single sheet of paper!
Catherine of The Blissful Mind, a mindset coach and blogger, offers a Self-Care Planner lead magnet throughout her blog. The niche topic fits perfectly into her blog content categories (namely Self-Care and Mindful Living) while staying relevant to what she coaches her clients on.
What can you create a planner on? What kinds of topics are most relevant to your audience? What tasks are valuable for them to track? All of these questions will help you create a downloadable planner that gives your audience a chance to make a real positive change in their life, blog, or business.
Printable
If you have some graphic design skills, printables could be a great lead magnet idea for you. Printables are typically easy to make because you can start from a template when you use tools like Canva. You can also start from scratch if you have a specific vision in mind.
Here are some of the printables you can create for your lead magnet:
Art or illustration
Quote
Habit trackers
Planners
Calendars
Labels
Stickers
Coloring pages
Journal pages
Cards
Since there are so many different types of printables you can choose from, I had a lot of inspiration to choose from. You can see more on Pinterest here or check out some of these examples below.
Workbook
Who doesn't love sitting down with a fresh workbook? Taking action is easy when you have a workbook in hand. Many content creators will use workbooks to share prompts and give their audience guidance on how to discover something new through personal reflection and brainstorming.
Sagan Morrow, an author and business strategist for fellow writers, created a Solopreneur Goal Planning Workbook to help her attract coaching clients.
When she created her lead magnet, she wanted to give her audience a roadmap to achieving their biggest goals. She strategically placed "solopreneur" in her title to call out who the lead magnet was perfect for, and it worked.
Within 10 days of discovering her workbook, a new one-on-one coaching client booked Sagan! Talk about a great return on investment. She continues to receive new email subscribers from her lead magnet landing page every week and is thrilled with its results.
I recommend encouraging your audience to print out your workbook so they can start filling in the boxes with their own notes. If you want to keep it all digital, make a fillable PDF file they can easily download and use to store their information.
Spreadsheet
Spreadsheets may not seem like the sexiest lead magnet idea I've shared, but don't count it out yet. Trust me–they can be super powerful when utilized correctly.
Spreadsheets can be used to track your budget and expenses, project progress, or any number of things. You can create a spreadsheet using free tools like Google Sheets or Microsoft Excel. If you want to collaborate with other users, Google Sheets allows you to share and contribute along with your desired collaborators. It's my go-to spreadsheet tool.
When you create a spreadsheet, it is important to think about how you want to organize your columns, rows, and tabs. I'll talk about this more in the next getting started section, but keep it in mind as we move along.
Evergreen webinar
Video content is all the range right now, and for good reason. Marketers who utilize video content are able to grow their revenue 49% faster than those who don't use video. Okay, that stat has all of us paying attention.
Videos are great at helping you create a personal connection with your ideal audience. When someone is able to see your body language and hear the inflection in your voice, it helps them feel like they know you more. This helps when building the know-like-trust factor you need in order to increase your sales.
Evergreen webinars are a great way to provide your audience with valuable video content because it can be pre-recorded. There's no need to host live webinars when you can record your webinar content one time and continue using it to create sales on autopilot.
It's also easier for your audience to sign up for an evergreen webinar because it doesn't have a specific time like a live webinar does. Live webinars are tricky for people who have different work schedules or live in opposite time zones. Evergreen webinars, however, can be accessed at any time without sacrificing a personal connection.
So who is doing evergreen webinars well? There are a few digital product creators and coaches who have been killing it with their evergreen webinars. Let's learn from them, shall we?
Denise Duffield-Thomas of Lucky Bitch, a popular money mindset coach, highlights her Reclaiming Your Power evergreen webinar as a core lead magnet on her website. You'll see it front and center when you visit her homepage and at the bottom of her footer.
Denise points all of her website visitors to the evergreen webinar because it acts as a personal introduction to what she teaches. With information on manifesting money and success, she uses a pre-recorded video training to walk subscribers through her philosophy and process.
Her evergreen webinar leads to her manifestation course as a way to drive passive income on autopilot. Who doesn't love the sound of that? As a seven-figure entrepreneur, she's definitely someone to learn from.
Another coach who is effectively using evergreen webinars to grow her brand is Carolin Soldo. With her Grow Your Coaching Business webinar training, she aims to convert more email subscribers into buyers by sharing her three-step process to helping other coaches find more clients.
While the video training itself has already been pre-recorded, she offers the recording at different times depending on when you land on her website. This gives her audience a sense of urgency which can increase sign-ups. The webinar won't technically be live but it will feel like it is with the countdown timer on the landing page.
Video series
If you don't want to create a longer video recording through a webinar, you can still take advantage of video content through a video series. In this lead magnet type, you'll want to create bite-sized video lessons that are easy to digest.
Most content creators choose to send daily or weekly videos, depending on how long the video series is, but we recommend creating videos that are no longer than five to seven minutes. Otherwise, you might see a drop-off in how many people will watch until the end.
You can host your videos for free on YouTube or through an affordable business video platform like Wistia or Vimeo. Make sure that you check the privacy settings on your video so you are able to make sure only your email subscribers are able to see your exclusive video series content.
If you are a speaker, using a video series to generate more leads could be a no-brainer. Brian Tracy, a speaker on sales strategy, offers a three-part video training series on "Proven Sales Methods to Increase Your Sales and Income." It's a great way for him to show his audience how well he communicates over video, which gives conference and event organizers confidence in hiring him to speak on their stages.
What if you are selling a product? You can still make an impact with your video series. MUNIO, a brand that sells self-defense keychains, created a free video series to help beginners understand how to defend themselves against common street attacks.
MUNIO's videos are successful because they give a visual demonstration that people can learn from and use. It also teaches something valuable without making the videos all about buying their product. This is a great example of how to teach your audience something even if your brand isn't a typical education-based brand.
What if you want to create something more tailored and personalized than a pre-recorded video series? You can think outside the box and utilize video content by offering a free video audit like Sarah from Digital Grace Design.
She gives first-time visitors the opportunity to sign up for a complimentary website audit through a Loom video. This takes more time since she has to customize the video audit to each subscriber who signs up, but it has been a steady lead generation tool for her website design business.
The video audit has been so successful that she has booked five clients from the video audit after only two months of having it available. It has produced five-figures of revenue for her website design business, making it well worth the extra time investment.
To save yourself some time, you could also create a templated guide with basic suggestions that are commonly recommended for each website page. That way, you aren't having to repeat yourself in the video audit and can get straight into the tailored recommendations.
Since there are so many ways you can teach through video, you'll want to get creative as to how you want to present your content. What format will give your audience the most value? What is easiest for them to consume? Pursue whatever answer feels like the best fit.
Audio series
Maybe creating video content feels a little daunting or you don't feel like you need to teach through visuals. If it feels more natural to talk aloud without needing to be on camera, you could create an audio series for your audience to enjoy.
With an audio series, your audience can listen to your audio content while doing other things. They can clean the house, organize their room, or do a creative activity all while learning from your audio lessons. Since audio can be passively consumed, it's a powerful learning format.
It's common to see podcasters use exclusive audio series to grow their email lists since their audience is so used to hearing their voice and learning from them through audio.
Dave, the host of the popular Coaching for Leaders podcast, not only provides free access to his full archive of podcast episodes but also offers an audio course titled 10 Ways to Empower the People You Lead. This exclusive audio course helps his community members feel like VIPs from the minute they sign up.
You don't have to be a podcaster to effectively use an audio series. To drive client leads for my first business (which has now transitioned into the business I have today), I used an audio series called The Power of We to teach other entrepreneurs about how to build a social media community.
While I no longer offer the audio series on my website because the subject matter isn't as relevant today with what I offer, it was instrumental in creating a strong connection with my audience early on.
When I created the audio content, I knew I wanted to conduct interviews with other influencers in the digital entrepreneur space (like Mariah Coz, Melyssa Griffin, and more) because it would not only give me more credibility but would also give extra value to my audience. More voices and experiences added different perspectives to my audio content.
Another reason why the audio series did so well was that the influencers I chose to interview were so excited to be featured in it that they shared it with their audience. It was easy to drive more email subscribers because I had access to all of their audiences. When it launched, it drove over 2,000 subscribers in a few hours. I was floored by its success!
You can borrow the same ideas for your own lead magnet. I won't mind. 🙂
Tutorial
If you are ready to walk your subscribers step-by-step through a specific process, a tutorial may be a great way to do it. Tutorials are most often in a video format, but you can also share tutorials through audio and text.
Tutorials are a good fit for online educators who want their audience to leave their tutorial feeling like they learned how to complete a specific task. When you record the tutorial, think about what skill level your intended audience is at and how that will affect the way you communicate with them.
Each step in your tutorial should be tailored to your ideal audience. What are the most important things they need to know? Which steps need to be explained in more depth than others? Design the tutorial with them in mind.
You'll also want to explain the "why" behind each step. It's great to show your audience how to get to a specific end, but what is the point behind each step of the process? What does it ultimately help them do? Including the purpose will help you communicate the full value of what you are teaching them.
Brit + Co, the popular digital media website for DIY enthusiasts, uses free video tutorials as a way to increase their email sign-ups and provide value to their audience. They also offer a wide variety of paid on-demand video classes that act as an upsell offer after a person subscribes to their email list and watches one of their free video tutorials.
If you don't want to create step-by-step video tutorials, you can also design a visual guide that walks your subscribers through a specific process. Kate Scott, a Squarespace website designer, did this with her Homepage Blueprint guide.
As a designer, she naturally wants to show off her beautiful design skills while teaching her audience something that will help them in the website building process. By doing this, she is able to build trust with new subscribers and give them a headstart on strategizing their website.
When her subscribers are ready to book a website designer, she hopes this lead magnet will be a determining factor in them choosing to work with her. She does this by adding the call-to-action of booking a free discovery call with her for those who are impressed by her illustrated guide.
Case study
Do you want to wildly impress your client leads with the kinds of results you can get them? Do you already have numbers to back up your claims? If so, a client case study could be a great lead magnet idea for you.
Case studies are all about showing how you've helped a client get from point A to their desired point B. Showing how you got to a specific outcome is helpful for potential clients because they're able to see exactly what steps were taken to reach success.
Tapad, a digital marketing agency, primes potential client leads by offering them a case study lead magnet. Since their starting investment is $14,500, their visitors need to see that the agency can help them achieve similar results. A higher level of trust is needed before a person is willing to make a higher investment.
It may seem like case studies can only work for B2B companies (meaning businesses who are selling to other businesses), but you can also use case studies as a freelancer and coach. They may not be as popular, but showing the real transformations your past clients have had is really powerful.
When you write a case study lead magnet, keep these recommendations in mind:
Write a catchy title to grab your audience's attention
Address the problem your client faced
Give an inside peek into the strategic decisions you made along the way
Show which strategies worked in your case study summary (and why)
Include statistics and analytics to support your point
Describe the effectiveness of the solution and how you helped
Highlight your client's results and celebrate all of the wins
A great place to start is by reaching out to some of your favorite clients and asking them if they'd be willing to do a private 15-minute interview with you on their experience. As you ask them questions about their previous struggles and how the solution you've provided has made their life easier, you can also gather additional information about their overall transformation to tell a better story through your case study.
If you need more case study inspiration, CoSchedule put together a blog post of over 50 case study examples. You're bound to find something that gets your creative juices flowing.
Resource guide
A resource guide is one of the easiest lead magnets to create because you already know what resources you have used to start and grow your business. When you share these resources, you have the opportunity to recommend tools that can save your audience time, energy, and money.
You can also add affiliate links for tools that you are already recommending inside the resource guide. This allows you to earn a commission when someone makes a purchase from one of your affiliate links. Hello passive income!
Some tools will have better commissions than others. While most are in the five to ten percent range, others can get as high as 30-50% if you find the right tools or programs to promote.
We also have an affiliate program at Interact when you build your own quiz–check it out here!
Are you ready to get started on your own resource guide?
Here are some examples you can pull inspiration from:
Blogger Cara from the Zeninspired Life gives her audience a chance to take a peek behind the curtain to see which tools she uses to consistency grow her blog. She does this through a free downloadable resource guide for aspiring and new bloggers alike.
When your resource guide fits a specific niche or industry, it's even better! That's exactly what Colorvale, a Lightroom preset company, did when they put together a free resource guide for photographers. This guide serves their audience while giving them an opportunity to highlight their filtered presets as a trusted resource.
With so many resources being highlighted in your guide, you may want to separate them out by categories. Each section can have its own summary along with recommendations for the tools you include. Adding a list of links on their own isn't all that valuable, but seeing why you love each tool and what it's helped you do for your business can help you make a great impression while adding a lot more value.
Prompts
If you want to inspire your audience to think outside the box, offering prompts could be a great way to do that. Prompts give your audience enough structure to help them brainstorm but also enough freedom to unleash their own creativity.
Prompts work well for audiences who want to learn how to write better, speak more clearly, or explore ideas through their own self-discovery. You can create journal prompts, meditation exercises, activities, anything!
Looking to add more value with your prompts? Take a page from this composer's book! Rebecca Hass created a five day prompt-based email course to help her audience unlock new creative ideas, but she didn't stop there.
Along with providing insightful songwriting prompts, she also decided to open up a Facebook group community so other musicians can connect with one another throughout the prompt course. She calls it the Creative Musician Club, something that speaks to her ideal audience. What a great way to add extra value to her prompts!
Maybe you want to add more prompts and exercises to your lead magnet to help your audience learn how to change their habits. These kind of prompts can inspire real change, which is exactly what this yoga instructor and mental health advocate intends to do.
Samantha Perla offers a five-step Anger Coping Method email series complete with two meditation exercises, three concentration techniques, two beginner-friendly yoga classes, and a progressive relaxation technique to become aware of how you are processing different emotions.
No matter what your niche topic is, you can create prompts that allow your audience to better understand themselves or the world around them. (Quizzes can also help you do this!) You can deliver the prompts through a PDF guide or a simple email series, depending on what your audience prefers. If you're not sure, just ask them!
Scripts
When you combine the ease of using templates with the freedom of prompts, you get scripts. This lead magnet idea can be a great fit for copywriters, speakers, and authors who want to provide scripts to audience members who want to learn from them. Not only that, but scripts also help audiences achieve something specific–usually something that they are struggling with finding the words for.
Tarzan Kay, an email copywriter, gives her audience of entrepreneurs a simple collection of free email scripts to send their clients. This adds a ton of value because she is giving them pre-written scripts that they can customize to their own business.
On her email script landing page, she includes a personal note about herself and why she is the perfect person to learn from. She mentions influential clients she works with (like Amy Porterfield) and how much her email scripts have helped other subscribers which increases brand trust.
You can create scripts for virtually anything so get creative!
Gated resource library
Do you already have a collection of PDF guides or other kinds of lead magnets? If so, you may want to bundle them together to create a gated resource library. By signing up with their email address, your audience can access a private resource library of your best lead magnets all in one place.
A resource library is best for entrepreneurs who have already created multiple lead magnets and know which resources are most beneficial to their audience. It's not about having the most amount of resources in the library but rather the right resources.
As you put your resource library, think about adding different formats to the collection. Do you have a variety of checklists, workbooks, and video trainings? All of these can be a perfect fit in your resource library.
If you want to make sure only email subscribers can access your library, create a hidden, password-protected landing page on your website. You can send the password through an automated email you send after a subscriber signs up for your resource library. That way, you can keep the whole process hands-off!
Danielle LaPorte, an author and spiritual healer, does this by keeping all of her resources in one place. She previously had them available as content upgrades throughout her blog, but now has condensed it all into one main resource library for her wide audience.
If you don't have enough resources to put into a library at the moment, no problem! You can keep this lead magnet idea in mind for the future. Then you'll be prepared for future growth!
The complete guide on how to get started with lead magnets
Well, that list of lead magnet ideas was pretty extensive.
Let's take a quick five-minute break. Stand up and stretch. Do a yoga pose. Grab yourself a snack or your favorite brew and then come back to the guide.
Are you ready to dive back in?
After reading through our lead magnet list, you've probably noticed that you have no shortage of ideas to choose from.
There may have been a few lead magnet examples that resonated with you, but we recommend choosing one to start with. You can always choose more lead magnet types to experiment with—in fact, we recommend it—but for now, let's focus on your core lead magnet.
Even though you've chosen a lead magnet idea to run with, I want to set you up for success. That means taking a small step back to look at the big picture. You'll need this to make sure you're creating your lead magnet from a strategic foundation.
Choose an email service provider (ESP)
You'll use a lead magnet to grow your email list, but you first need to have a place to collect email addresses. It's one of those "don't put the cart before the horse" moments.
Your first step is to choose an ESP. An email service provider gives you the opportunity to send email content to subscribers who have opted-in for your list. You'll want to select an ESP depending on your email marketing goals.
If you want to start with a free option, MailChimp is free for up to 2,000 subscribers with affordable email list growth options from there. It also integrates with Interact so you can easily collect email addresses from your quiz email opt-in form. However, this tool doesn't allow for customized automations and branding unless you pay their Essentials or Standard tier $9.99-$14.99/month for 500 subscribers.
Learn how to build an Interact quiz with MailChimp here!
MailChimp is one of the largest ESPs on the market but it does have its limitations. If you want to do more with email segmentation and automating multiple sales funnels, you may want to turn to a more sophisticated email service provider that is still user-friendly for entrepreneurs, small businesses, and startups.
ConvertKit was intentionally built for content creators—like bloggers, course creators, authors, podcasters, vloggers, and more—so it comes with a wide variety of visual automation options for beginner to advanced email marketers. Pricing starts at $29/month for up to 1,000 subscribers and increases from there.
For other options, ActiveCampaign has become known for their easy sales automation and basic CRM built-in tools. Most of their customer base are SaaS companies, startups, and product-based businesses. Your beginning investment starts at $9/month for 500 contacts but does not include the CRM capabilities, custom branding, or deep analytics at that level. The next level is at $49/month for 500 subscribers, which you can learn more about here.
When it comes to choosing an email service provider, you'll want to make sure it fits your budget as well as your email marketing capability needs. Be sure to set a priority list of things you need in an ESP when doing your research.
If you want to see more ESP options, you can look at our tool integration list of ESPs. You may notice some familiar logos there beyond the three we listed above, including Drip, Constant Contact, Infusionsoft, AWeber, Campaign Monitor, and so much more. Each ESP is built with a different audience in mind, so be sure to contact their customer support team to see which ESP is right for you.
We recommend choosing an ESP that's not only easy for you to use but also something you can grow into. Even if you're in your first year of business or in the beginning stages of launching your business, you'll want to begin with the end (or at least the middle) in mind.
Create an email segmentation strategy
Getting through that ESP list with all of its technical jargon can be a bit of a slog. I get it, but before you throw in the towel, I can assure you it gets easier (and way more creative) from here on out.

So… what's next?

Let's shift gears and talk about what to do after you have chosen an email service provider.

You don't technically have an email list until you get your first subscriber, even if you've signed up with an ESP. #truthbomb

If you already have a small list of email subscribers that has been growing slowly, that's awesome! You have a great start, but this next section is still relevant for you so please resist the urge to tune out.

When it comes to email segmentation, it's best to start the process as early as possible.

If you don't segment your email list, you'll assume that every subscriber has the same content interests, skill level, motivations, and habits. This can hurt your conversions because every subscriber is looking for something different.

Email segmentation helps you deliver the right content to each individual subscriber every time. Your audience will be left to wonder how in the world you know them so well.

The secret is that you'll be anticipating what your audience wants to learn more about and matching their preferences to well-defined email segments. Your subscribers will be able to self-select which segment options fit them best.
Oh, and all of this can be automated through your ESP so you can be totally hands-off.
It's kind of the best thing ever for everyone involved. Win-win!
So how do you get started with email segmentation in your list building efforts?
The first step is to determine what segments your audience will fall under.
You can organize your subscribers based on:
their skill level
their interest level in each niche topic
their goals
their needs or wants
their motivations
their habits
their location
their overall preferences
You can decide which email segments are best depending on the most relevant factors to your subscribers in relation to your offerings.
If you are a coach who works with entrepreneurs at multiple stages of their business, you may want to segment by their skill level and goals. If you lead a membership community, your strategy could be to segment your email audience by their interest level in each topic you teach on in the paid community.
These are just two examples but your online business may look different. If you want more ideas, this list may help you decide how you want to approach your email segmentation.
Also, keep in mind that once you start making sales from your emails, you can also segment by what products and services they purchase. This is a great way to stay on top of who your customers are, what they are most interested in, and how you can cater content to them so they can become lifetime customers.
Outline your lead magnet idea
Have you ever tried writing without an outline?
When you don't have a plan, it's easy to find yourself trailing off every few sentences.
You can write your lead magnet content with more confidence when you start with an outline. A lead magnet outline will help you condense all of your thoughts so your lead magnet is easy to digest.
Without an outline, you might struggle to organize your thoughts in a way that makes sense to your audience. You don't want to overwhelm your audience with lots of content. You can still provide value while making your content concise and digestible.
Outlines will also help you stay on topic. If you have a tendency to ramble (we all have those moments!), outlines will remind you of what you should be writing or talking about instead.
The optimal structure of your lead magnet outline will depend on the type of lead magnet you are creating. For example, a video series will have a different outline than a checklist or printable may have.
However, there are a few elements that every outline needs:
One primary goal: If you don't have a goal, what's the point in even creating a lead magnet? You'll want to make sure that you prioritize one goal as you start outlining your lead magnet. Common goals can include helping your audience learn something specific, connecting with them through a personal story to build trust, building their confidence with a step-by-step tutorial, and more.
Optional secondary goals: Are you having trouble narrowing down your goals? You can also set secondary goals as long as they relate to your primary goal. For example, if you are creating a "how to build a blog in a weekend" workbook and your primary goal is to help them set up a blog, your secondary goal could be to help them design their graphics and choose stock imagery. (Hint: These secondary goals might help you create lessons for more in-depth lead magnet types.)
A strong call-to-action (CTA): In order to accomplish your goal, you need to tell your audience what action they need to take. This is considered your CTA. A call-to-action can look like asking your audience to subscribe to your email list, join a waitlist, buy a product, book your freelance services, or any number of things. Make sure you choose only one CTA so you don't confuse your audience by having too many choices. When you build a lead magnet, you'll most likely have the CTA of signing up for your email list in order to get the email opt-in incentive, so this step should be easy. You will also want to think about what offering-specific CTA you will be including inside the lead magnet, but we'll get to that soon.
See, you're getting the hang of this!
Once you have these three things defined, you can move on to creating the content outline for your lead magnet content.
There's no one-size-fits-all way to craft your outline because it looks different for each lead magnet idea. In this case, we will break down how to outline each of the lead magnet ideas we listed above so you know what to do.
Ebook: Your ebook outline will typically be customized and personalized to the type of ebook you are creating. Since most business owners will be using an ebook lead magnet to teach their audience about a niche topic, you'll want to follow the how-to guide outline model. When outlining your ebook, think about what you want to teach and how you can break down the section into bite-sized lessons. These will become your overarching chapters and will guide you in the writing process.
Checklist: To outline your checklist, think about every step your audience needs to take in order to reach a specific outcome. If you have a long list of tasks in your checklist, it might help to group similar steps together. You can use headers to divide the sections to make your checklist easier to read and complete. Here is an example:
Template / Scripts: Depending on what your template or script is, you may not need to create an extended outline for this lead magnet idea. Instead, think about what all needs to be included in order for your template or script to be successful for the end user.
Quiz: Since a quiz can involve several elements beyond creating the quiz itself, we recommend looking at this personality quiz building guide to learn more about what you need.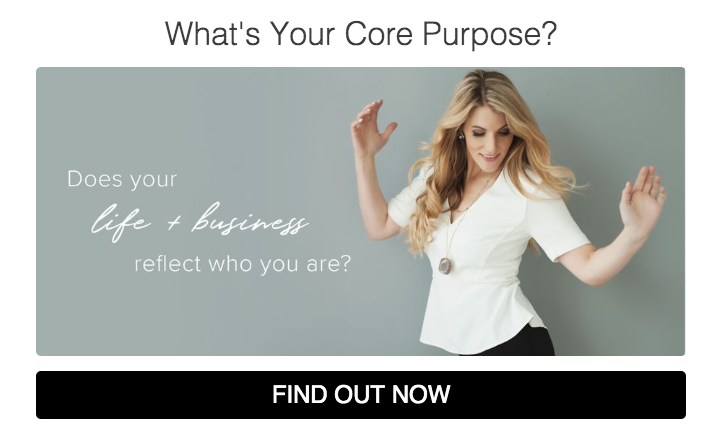 Email Course: Email courses, like ebooks, are usually best when you take a niche topic and break it down into digestible lessons. Each email that is delivered to your audience can act as its own stand-alone lesson while fitting into the rest of the content in your email course. If you need more tips on how to outline your email list so it performs well as an email opt-in, here's a how-to guide that can help.
Email Challenge: Since your email challenge is associated with a specific goal or transformation, each email will help your audience get one step closer to accomplishing it. One of the biggest benefits to outlining your email challenge ahead of time is that you can choose how long the challenge needs to be. We recommend choosing a shorter timeline when possible since it's easier for your audience to stick with. Here are some more tips on building an outline for your email challenge.

Calendar / Planner / Printable: Any of these printable PDFs will be easy to outline because they are more design-heavy. Since there isn't much content that is needed, think about how you want to design your printable and how that affects the content you need.
Workbook: Your workbook will most likely include multiple lead magnet types all in one. If you include checklists, printables, and ebook-style commentary, revisit the corresponding sections above and create a custom workbook outline that works for your niche topic.
Spreadsheet: Since your spreadsheet template will act as its own outline, you'll create it as you go! To get started, think about the sections and tabs you want to include in your spreadsheet so it is easy for your audience to organize their content inside the template.
Evergreen Webinar: Since evergreen webinars are pre-recorded, your outline is incredibly important when you press the record button. It's best to outline your core webinar content ideas and organize them into bite-sized lessons. If you are including tutorials, make sure they are short and don't distract from your other video content. If you create a slideshow presentation, make sure each slide represents a different section. (Psst, if you want more ideas, sign up for evergreen webinars other entrepreneurs have created. Take a peek at their video recordings, emails, and sales offers to gain inspiration for your own webinar outline and funnel.)
Video Series / Audio Series: No matter if you include video or audio content, you'll use the same technique for creating an outline. Think about what you are teaching and how each section of your content is best consumed. Outlining your content can help you determine the length of each audio or video file so it can be easily digestible.
Tutorials: Your tutorial outline will act as a guide for your audience to get a few steps closer to learning what you are teaching. Break your tutorial into a step-by-step guide so it's easier to walk your audience through each stage of the process. Your new subscriber should be able to walk away knowing how to get from point A to point B using the exact steps you took.
Case Study: For a case study, it is typically easiest to lead with the problem that needed a solution. After you address the struggle, you can share the strategy and step-by-step process you took to get yourself (or another client) to a desired end. Then you can share why it worked and how your audience can take similar steps.
Resource Guide: Depending on how many resources you are recommending, create a brief outline to organize your resources by category. Ask yourself what resources you'd need in order to be successful at accomplishing whatever your niche topic is. You can provide links for relevant resources in the lead magnet creation stage.
Prompts: Think about how many prompts you want to include in your collection. Once you have brain dumped the kinds of prompts you need, organize them into sections or place them in an order that makes sense.
Gated Resource Library: When you are creating a resource library, you will have multiple lead magnets gathered in one central place. Rather than outlining the content that goes inside the lead magnet (which has already been done), organize the library based on content theme or category. You can play around with the design until it is optimized for helping your audience find the content they need.
Okay, let's take a breather since that was a LOT of information.
When you're ready to dive back in, it's time to create the actual lead magnet itself (finally).
Create and design your lead magnet
Now that you have your outline, it's time to create your lead magnet. Hopefully the outline will help you feel like you already have an excellent start.
If you are having trouble writing your content or coming up with ideas, try to start with the section that makes you feel inspired and keep creating content from there.
Did you choose a longer lead magnet type like an ebook? If so, you can try speaking aloud and using a dictation tool to jot down all of your thoughts. Sean McCabe of seanwes once wrote over 55,000 words for his book by using a dictation tool. If it feels more natural to speak than to write, this might be helpful.
Once you have your content written or recorded, here are some design tools to help you create a lead magnet that makes a lasting impression as well as branded graphics that can help you market the lead magnet.
If you don't want to start from scratch with these design programs or don't like their premade templates, you can also look at Creative Market and Etsy for more premade designs that you can customize.
Write an email sequence for your lead magnet
When your lead magnet content has been written and designed, you're ready to upload your lead magnet to an email sign-up form. You can do this by creating an email opt-in form inside your email service provider and then copying and pasting the embed code into your website or blog post of choice.
Most ESPs will give you the option of sending an email along with the delivery of your lead magnet. You can customize this email to set expectations for what your audience will find in the lead magnet and give additional tips to help them put your lead magnet content into action.
Customizing your opt-in email is important, but what happens after? Your email sequence, of course! An email sequence is made up of a series of emails that are automatically sent to your subscribers based on a desired schedule. When you create an email sequence, you are essentially welcoming new audience members to your email list.
Think of it as you're walking your audience through a dinner party at your house and introducing them to everyone and everything they need to know.
You'll want to include:
Who you are
What you do
What you offer
What problems you solve
How you can help them
As you plan out your email sequence, it's best if the emails relate to your lead magnet topic so it acts as a nice transition between your lead magnet and regularly scheduled email content.
Our Interact users typically use this email sequence template when creating their own personality quiz, but you can customize it to fit any lead magnet type:
Email 1: Expand on what their quiz personality result is (or what you are teaching)
Email 2: Add value by including tips and tricks to help them solve a relevant problem
Email 3: Introduce yourself and build curiosity in what you offer
Keep in mind that you might not need an email sequence if you are creating an email course, email challenge, video series, or audio series since those lead magnet types can act as email sequences on their own. In that case, you'll still want to use these same principles to guide how you write the email content for each type.
Once you have your emails written and inputted into your ESP, we can move on to the LAST step! You've almost reached the end.
Implement the lead magnet on your website (and elsewhere)
Your goal is to have a core lead magnet that stands out from the crowd. Chances are you won't be the only entrepreneur offering a lead magnet on your specific topic.
Once your audience's eyes are on your lead magnet, you'll want to give them every reason to sign up. New visitors should leave your website feeling like your lead magnet is a prize well worth trading their email address for.
But before you can make your pitch, you need to make sure your audience can find your lead magnet. This comes down to placing your lead magnet on your website and talking about it on social media.
Here are a few ideas of where you can talk about your lead magnet:
above-the-fold on your homepage (meaning the top view of your homepage before your audience needs to scroll)
in an announcement bar that sits at the top of your homepage
at the bottom of your about page
inside a relevant blog post as a content upgrade
as a pop-up on your website (just make sure it is timed!)
in the website bio link of your social media accounts
in organic social media posts or paid ads
word-of-mouth at in-person events and conferences
The sky's the limit!
You can get creative with how you want to market your lead magnet. Start by choosing two or three ideas from the list above and implementing them when you officially launch your lead magnet.
If you have other ideas, test them out and go for it! You never know what will work until you try.
Lead magnet best practices you should know
Well, now you have the whole enchilada!
You know exactly how to create a lead magnet from start to finish, but you may feel more confident taking next steps with some best practices in mind. That's what I'm here to deliver before we reach the end.
Lead magnet basics
Start with the end in mind: While it's cool to give your audience a ton of free value, there's a reason why you're willing to share your knowledge with your audience. It's to build trust so you can sell more of your products or services, of course! Every decision you make in the lead magnet building process should keep your end goal in mind.
Assess how much value you want to give: We're all about giving lots of value to our customers, but you may want to save some of your tips and tricks to package inside an online course, coaching program, or something similar. The key is to give away valuable knowledge for free to build your authority and trust with each new subscriber. When they are ready to learn more, they can still find value in purchasing a digital product from you or working with you.
Ask if you would sign up for the lead magnet: Is your lead magnet something you would be willing to trade your email address for? If not, you may want to put more elbow grease into making it more valuable for your email subscribers. When someone gives you their email address, it's a big deal because it's a prized possession. People don't allow just anyone to send them messages in their email inbox. You want to show new subscribers that you're someone that will continually give value and are worth keeping around.
Have it lead to a paid offering: After all of the time and energy you put into creating a lead magnet, you'll want to see it pay off. It's best when your lead magnet naturally ties into one of your paid offerings. The perfect opportunity to introduce your paid offering is in your follow-up email sequence. You can use lead magnets to drive more sales for your digital products, freelance services, coaching program, membership community, and so much more.
Ask for feedback: The most important people to get feedback from are your new subscribers! They will be using your lead magnet and implementing it into their life or business, so it's important to survey your audience to see how much your lead magnet is actually helping them. You can do this by adding a simple "P.S." message at the bottom of a follow-up email or sending a separate email that is triggered after a certain length of time when someone downloads your lead magnet.
Remove roadblocks to signing up: The fewer barriers to entry, the better! This means having a simple email sign-up form that asks only for your audience member's first name and email address. If you make them fill out a full survey in order to get your lead magnet, you'll see your conversions decrease because there is more work involved. Keep the roadblocks to a minimum. (Interactive quizzes can help with this!)
Creating your lead magnet
Don't spend too much time outlining: Creating your outline is an important step of the process, but don't waste time making tweaks to it. It's better to get started with the direction you already have. The sooner you get into the creation stage, the better!
Stick to your niche topic: As you create your lead magnet content, you may be tempted to add bonus material and extra commentary into your first draft. It might seem like a good idea in the moment, but if the added content isn't relevant to the specific topic you've chosen, it'll cause confusion. Stick to your outline as much as possible so you can stay on topic.
Solve only ONE problem: Along with sticking to one core topic, make sure your lead magnet solves one specific problem. If you try to solve multiple problems in one lead magnet, your content may feel too broad and scattered. You don't need to teach everything you know in a single lead magnet.
Get a second opinion: Two pairs of eyes are always better than one. It could be beneficial to ask a trusted friend to look over your lead magnet and get their feedback. They may be able to spot a correction you need to make or provide you with creative ideas for how you can add more value.
Check for grammar and errors: Don't publish your lead magnet before you've checked it for grammar and spelling errors. It seems like a no-brainer but is still worth mentioning. You can usually do this through Microsoft Word, Apple Pages, Google Docs, or any other software you're using. I also recommend using Hemingway App to improve your overall readability.
Include an actionable exercise: Depending on your lead magnet idea, you might already have an activity included in your lead magnet. If not, I recommend including a prompt, question, or small exercise at the end to help your audience take what they've learned and put it into action. It's easier to trust someone when they've given you something to take intentional action on.
Marketing your lead magnet
Make it easy to find: You don't want to make your audience members hunt down your lead magnet. The path to finding your core lead magnet should be easy and obvious. This is the best way to increase your lead magnet conversions.
Market it in multiple places: "One and done" doesn't work well here. You'll want to mention your lead magnet often on many platforms so you are able to maximize its reach. If you're worried about it becoming overkill, try to post about it every few weeks on each social media platform and work it into relevant blog post content whenever you can in addition to having it on your website.

Write concise and clear copy: When you create a title and description to explain what your lead magnet is, remember that it's more important to be clear than clever. Try to use as few words as possible to describe your lead magnet and what's inside it. If you can make it easy to skim using smart formatting, that's even better!

Highlight the lead magnet's benefits: You might be tempted to include all of the information your audience will find inside the lead magnet, but it's more important to talk about its benefits. This means highlighting what your new email subscribers will walk away with knowing and what kind of transformation they can duplicate. This is the key to writing great copy!

Put it as your social media bio link: As you build a connection with your social media followers, they'll want to learn more from you. They will be easier to convert into email subscribers because they have already built trust with you. If you don't want to point your social media followers to just the lead magnet itself, you can use a tool like Linktree to create a landing page that is easy to edit. One of the links you put in your Linktree menu can be your lead magnet. If you decide to create multiple lead magnets, you can link to them on the same page. It's pretty nifty

Regularly post about it on social media: Think one mention of your lead magnet is enough? Think again! Because of ever-changing algorithms, not everyone who follows you will see your lead magnet announcement post. Instead, you'll want to post about your lead magnet every couple of weeks. It's best to keep your content marketing approach fresh so you aren't copying and pasting the same lead magnet announcement post over and over.
Stay true to your own voice: It's great to take a peek at what works for other content creators, but ultimately, you have to trust your instincts and stay true to who you are. Nobody knows your audience quite like you do. No one has the same skills and set of experiences as you do. You're uniquely equipped to help your audience through your lead magnet. Remember that when your inner critic tries to convince you to sound, look, or act like someone else that seems successful. You've got this!
Keep an eye on your analytics: After you've pressed publish on your lead magnet, you don't want to leave it to collect virtual dust. The energy you used to spend creating your lead magnet should now be channeled into improving your conversions. The only way you can tell what's working and what's not is to look at your analytics. You can usually find these in your ESP but it might be helpful to set up additional conversion goals in Google Analytics if you want advanced options… but baby steps for now.
Always be testing: You'll never know what will work for your brand until you test it for yourself. There is always room for improvement when it comes to increasing your lead magnet conversions. I recommend conducting A/B tests and split tests when possible to understand the messaging and branded elements that are connecting with your audience. Like advertising giant David Ogilvy once said, "Never stop testing, and your advertising will never stop improving."
Are you up for a lead magnet building challenge?
In a relatively short amount of time, you can go from zero to a full-blown lead magnet!
Now you know all of the steps it takes to make it happen, but let's review them:
Choose an email service provider (ESP)
Create an email segmentation strategy
Outline your lead magnet idea
Create and design your lead magnet
Write an email sequence for your lead magnet
Implement the lead magnet on your website (and elsewhere)
Does that ring a bell? Hopefully it does!
If you haven't chosen the type of lead magnet you want to create, take a moment to revisit the list of 20 lead magnet ideas above to find your perfect fit.
The next thing to do is to carve out time to work on your lead magnet. Do you have a free weekend coming up? Maybe you have a few hours every night to devote to the lead magnet.
No matter what your schedule looks like, you can fit it in!
Here are a few possible lead magnet schedules that could work for you:
EXAMPLE ONE: Weekday Schedule

EXAMPLE TWO: Weekend Schedule

EXAMPLE THREE: Month-Long Schedule

Some lead magnets take more time than others (like a checklist vs. an ebook), so make sure you set attainable goals. If you need some extra accountability, ask friends to check in with you to make sure you're continuing to work on the lead magnet.
Now all that's left to do is leave you with three final words:
Ready. Set. GO!