Create a Buzzfeed-Style Quiz for your Business
Generate leads, engage your audience, get more traffic
Buzzfeed quizzes set the standard for going viral and driving engagement in the world of quizzes. They're now a popular culture reference that's unavoidable. But how do you create your own Buzzfeed style quiz for your business? And turn it into a lead generation tool + recommend products to make E-Commerce sales? That's what this guide is for, we'll walk you through exactly how you can make your own Buzzfeed-style quiz and use it to build your list, sell products, and drive engagement.
Here are the steps to creating your own Buzzfeed style quiz.
---
---
Want to create your own Buzzfeed style quiz? Interact has got you covered with direct integrations to email marketing software, 100's of ready-to-use quiz templates, and one-on-one strategy support for all customers. Create a quiz with interact now!
Craft a catchy title that answers your customers most burning question
The first step to building your Buzzfeed style quiz is coming up with a title. There is a very simple formula for how you can do this. Think about what question your customers have when they come to you. Then turn that into a question for your customer. That sounds complicated but it's not.
Let's take a look at some examples because that's the best way to illustrate. First is from Henry's House of Coffee in San Francisco for people buying coffee beans online, the number one question is "Which ones should I get?" and this quiz answers that question by providing a coffee matchmaker.
Our next example is from TintHue, a play consultancy. For them the biggest question people have is "What is my play type?" and "What does that even mean?" so TintHue created this great quiz about what your play personality is.
Here's another example from The Lion Pit, an MMA gym that is using a quiz to help people find their fighting style and then promote membership to the gym. This one also looks like something you'd see on Buzzfeed, but it answers the most burning questions that potential members have which is "What's my fighting style?"
Write questions that help you determine your customers' need while revving up their curiosity
The next step is writing your quiz questions, there is a lot to talk about here and we have a full guide on writing quiz questions, but let's go over the basics.
First, write 5-10 quiz questions: That's how many people will answer before getting bored and leaving
Second, aim to figure out who someone is with your quiz questions. If you make it your goal to discover what type of person is taking your quiz then the people taking your quiz will love it because they'll get to talk about themselves.
Third, tap into people's curiosity. Your quiz questions should aim to get people thinking about which quiz outcome they might get. That will entice them to finish the quiz.
Let's look at some examples.
From the Coffee Matchmaker quiz we have a question about what type of roast you enjoy. This is a perfect quiz question because it helps you figure out which coffee is best for them, it asks the person about themselves, and it piques curiosity because people will wonder how their answer affects which quiz result they will get.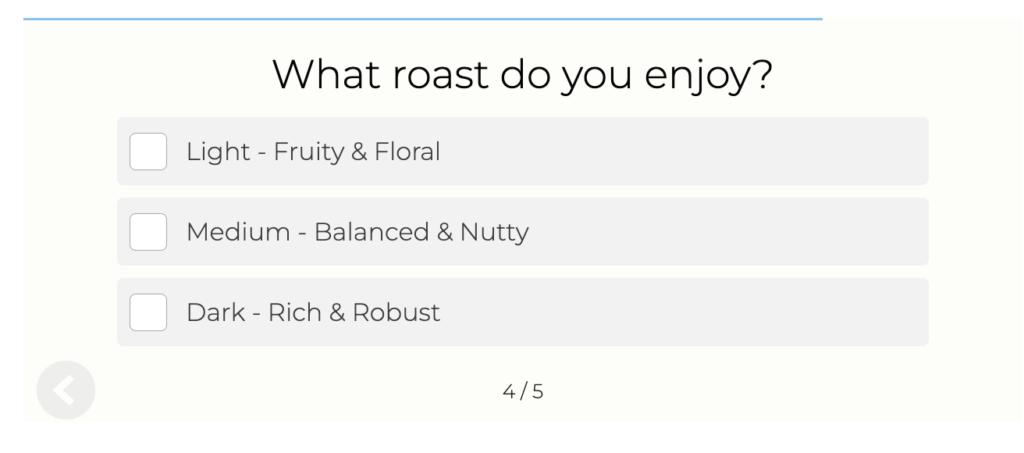 This question from the Play Personality quiz also satisfies all three criteria. It helps discover which Play type you are, it asks the person about themselves, and it makes you curious about how your walking style affects your play style.
Our last example from the fighter type quiz is another great example. The quiz needs this information in order to give you an accurate result, it is asking the person about themselves directly, and it makes you wonder how your character determines what type of fighter you are.
Present an opt-in form at the end of the quiz that is personalized to the quiz topic
Within your quiz you can ask for an opt-in at the end to generate leads. If you turn this on it has an average opt-in rate of 40.8% which is crazy high. Here is how to craft this form so people will want to join your list.
The main thing you want to do is simply make the form relevant to the quiz. If someone has come this far they are wanting to engage with you on the topic of your quiz, so if the opt-in form tells people that you'll send more information about the same topic then people will want to join.
*Note we cannot provide legal advice on opt-in consent forms, please consult your legal professional for that.
In the coffee matchmaker quiz they offer a discount on their opt-in form, as well as offering to send tips and stories related to coffee.
In the Play Personality quiz example, they do something playful by saying "We will send you fun and play.ful updates" which is really clever, and puts some personality into this personality quiz.
For the fight personality quiz they give you fight tips if you choose to opt-in and you can get on the list to learn more about your fighting style.
Show results that give your quiz takers information about themselves and recommend products
At the end of your quiz is when people will be shown their personality type, recommendations, and products that match them based on their quiz result. This is where you can continue the conversation and build relationship with your quiz takers.
In the Henry's House of Coffee quiz they recommend products you can buy right on the spot. This quiz is integrated with Shopify. They are redirecting to a Shopify page where you can see your product picks based on the quiz and them to your cart right on that page.
For the play type quiz, we got the result "Director" which means you like to direct your playtime with others and lay it all out so everyone can participate and have fun. They give a great description and then offer more information with the click of a button.
For the fight quiz result we got "Self-Awareness" and it gives us just a short teaser of our fighter type.
You can then provide more detailed results on a dedicated page (you can also redirect results to a landing page to start with).
Conclusion: Fun quizzes are about the person taking the quiz
The biggest takeaway from our research on Buzzfeed quizzes is that a successful quiz focuses on the person taking it. The title, the questions, the opt-in form, and the results are all aimed to give the quiz taker the most optimal experience. If you focus on that you cannot go wrong.
Want to create your own Buzzfeed style quiz? Interact has got you covered with direct integrations to email marketing software, 100's of ready-to-use quiz templates, and one-on-one strategy support for all customers. Create a quiz with interact now!