Level up your marketing with personalized conversations & epic conversions
Ditch that "How-do-I-grow-my-list-full-of-ideal-clients-and-customers?" stress with our intuitive quiz builder, conversion-focused templates, robust support, and ongoing educational opportunities.
Lead Generation
Grow your list full of qualified leads
Chanti Zak
Quiz Funnel Coach
Start generating quality leads ASAP with one of our conversion-focused templates
Once upon a time (ok, a couple of years ago!) we realized that most of our best-performing quizzes had been written by the same person...
...So we hired her to create hundreds of professionally-designed quiz templates for YOU! Pick one, tweak it to serve your needs and reflect your brand, then get it out there on your website and share it all over social.
Bet you could have it online and collecting names by the end of today, friend!
Check out all the templates here!
Transform website visitors into email subscribers
You do not have to be a programmer or even know how to write a word of code to embed your quiz anywhere on your website or serve it to your prospects as a popup.
And we've seen crazy conversion results from a "Take the quiz" call to action, front and center, on our customers' websites.
Grow your list and segment it at the same time
Your quiz isn't just your answer to growing your email list. It's also the easiest way for you to segment your subscribers. In a way that's fun for them! You can tag your leads based on the results of your quiz and you can tag them based on how they answer individual questions.
Which makes it way easier to send the right message to the right person at the right time. And increasing relevance is a great way to increase conversions!
Share your quiz with ease – and maybe even end up with a viral lead magnet
One-click social sharing makes it super simple for you to get your quiz out there growing your audience.
And when you add that one-click button to the end of your quiz results, your new audience will help you go viral by sharing their results with all of their friends, followers, and family on their own accounts.
Customization
Customize your quiz to fit perfectly with your brand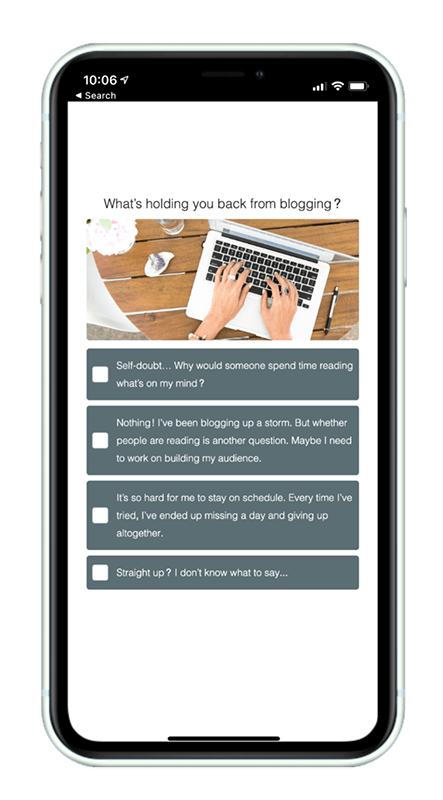 White label your quiz with fully mobile responsive custom design
Whether you use a template or start from scratch, style your quiz to match your website and create seamless experiences for your ideal customers and clients by customizing your logos, fonts, colors, images, videos, and URLs.
And chances are, 98% of people people who take your quiz will do it on their smartphone or tablet. So you know we've made it as beautiful and responsive as possible! This means that even if your website isn't responsive, your lead magnet will be!
Drop and Drag Branching Logic
Get all the precise and detailed information that you want → without fatiguing your leads before they complete your quiz.
Our drag and drop branching logic makes it fast and easy for you to create a quiz within a quiz within a quiz, and make sure that you're delivering relevant content to the right people. Right away.
Data & Tools
All the data you need to get to know your audience and optimize your marketing efforts
Easily integrate Interact with the rest of your marketing strategy
With 35+ native integrations and thousands of Zaps, we make it easy for you to integrate your quiz with the rest of your marketing efforts.
And we're always working away behind the scenes to introduce more partnerships and integrations with the apps and technologies you use most.
Check out all of our integrations here!
Get to know your audience with three types of quizzes & three types of questions
Keep people excited and engaged with multiple-choice, true or false, and image or GIF-based questions.
Then show them that you know them by matching them with their personality type, scoring them on their knowledge, or teaching them with an assessment-based quiz.
Optimize your quiz to convert more people
Our robust analytics give you a bird's eye overview of your quiz' performance, show you what answers people are choosing, which questions are getting the most engagement (and which are making them wave "buh-bye").
Dive deep with survey style analytics that show you:
How many people answered each questions
How they answered
Where they're dropping off so you can optimize the heck out of your quiz and your biz
Dive even deeper to see *exactly* how each person answered every question. And which result they got.
Don't worry if you don't know how. We've got a help doc that shows you how to do it. Step by step.
And if you're still confused, our support team will 100% get you sorted!
Gimme all that data!
We care about entrepreneurs. Nothing lights us up more than helping you grow your business.
That's why we're constantly working on introducing new features that make it easier for you to create an engaging, interactive, effective and fun quiz to generate leads for your business.
From easy integrations, to high converting templates, segmentation options, to conversion tracking, to in-app chat and quiz creation tips, we are committed to helping you market your business and help more people.
Live chat & email support
Same day response guaranteed, Mon-Fri 9 am - 4:30 pm PST
(Average response time: 5 minutes. NBD.)
Extensive help doc library
Hundreds of help docs on dozens of topics.
Basically everything you need to create your quiz and get it set up to go viral and grow your business.
(Plus, you can consider our support team your very own help doc librarian...)
The Interact Blog
Quiz tutorials, list building lessons, and case studies.
All the inspiration and lessons you need to make the most out your marketing efforts.
+
Creator Stories Podcast
Every business owner has a story.
A story of how they created their own career, took their knowledge, and experiences and carved out their own place in the world.
We talk about how people just like you and me have owned what they know is special about themselves and turned it into successful companies.
Start building your business with a quiz