In this post we will cover the easiest way to embed a quiz in your WordPress page or post. We'll be using interact quiz builder to do so, and the integration with WordPress is seamless. Here are the steps to embedding quizzes in your WordPress site.
---
---
Install interact quiz builder WordPress plugin.
Simply add a new plugin and search for "Interact quiz builder" then click "Install" and "Activate" to turn the plugin on. That is all you have to do to begin adding quizzes to your WordPress pages or posts using Shortcodes generated from interact quiz builder.
Copy quiz short code from your interact dashboard
In interact click "Publish" from the quiz editor or "Share & Embed" from the main dashboard, then click "Embed Code" and choose the "WordPress" option at the top of the page. Now click "Copy Shortcode" to copy the Short Code for this quiz so we can go add it to any page or post on our WordPress site.
Paste quiz short code into a short code block in your WordPress page or post
Within a page or post on your WordPress site, add a Shortcode block. You can search for "Shortcode" to find it quickly.
Once the Shortcode box loads in, paste your Shortcode that you copied from interact.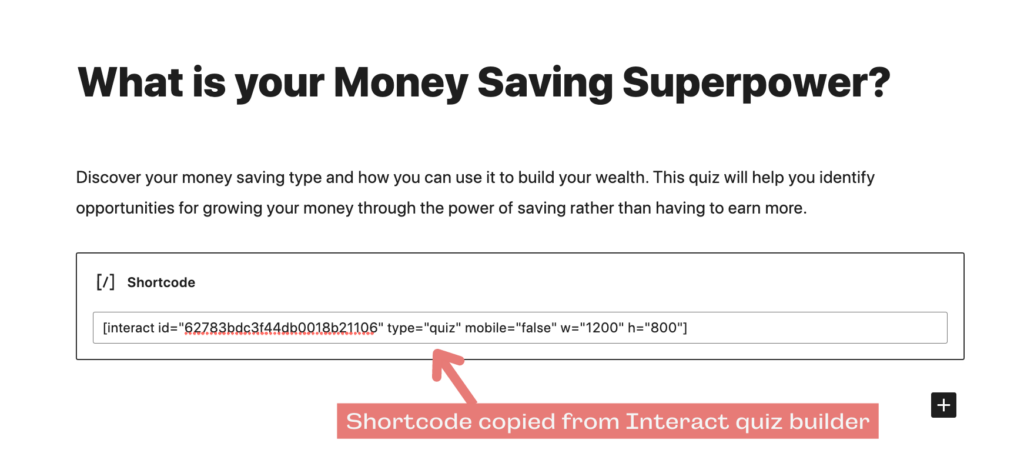 That's it, now your quiz is added into your page. Preview and publish at will.
Promote your quiz with an announcement bar or popup (optional)
To draw attention towards your new quiz and maximize quiz takers/lead generation, you can promote your quiz as an announcement bar or popup. Here are the steps to follow.
Copy your promotions ID from interact
From the "Announcement Bar" option in the interact embed dialogue box, click on "WordPress" and then click "Copy ID"
2. Paste promotions ID into interact quiz builder settings in WordPress
To get there, navigate to "Settings" and then choose "Interact" from your WordPress dashboard.
3. Turn on your announcement bar and/or popup in interact quiz builder and customize settings
You can change the timer delay, colors, and choose which pages the announcement bar and/or popup will appear on. You can also choose to have the announcement bar lead to a link where your quiz is embedded, or you can have people take it in a popup box right on the same page they are on.
Here is what your announcement bar can look like
And here's what your popup can look like.
Need a quiz for your WordPress site? Interact has you covered with direct integrations to your email marketing system, 100's of ready-to-use templates, and one-on-one quiz strategy on-boarding. Start your free trial now!