Times are changing. We're all familiar with that popular adage.
Unless you own a restaurant or retail store, you're probably setting up shop online instead of in-person. Nowadays, it's not unusual for people to buy products through Instagram rather than commuting to a local business.
And so, brick-and-mortar shops are now competing with millions of online stores and creators, not just the shops nearby.
So, how can you make your business stand out from all the rest?
Maybe you've looked into an Instagram quiz, or perhaps you've never heard of one. Either way, I'll tell you everything you need to know about Instagram quizzes and how to make one.
Table of contents
What does an Instagram quiz look like?
Why make an Instagram quiz?
Instagram quiz vs. Instagram story quiz
Instagram quiz vs. Instagram quiz filters
How to make an Insta quiz
Design your quiz with Interact in 4 steps
How to create an Instagram ad quiz
Facebook quiz ads vs. Instagram quiz ads: Which one is better?
Promoting your quiz
Let's get started!
What does an Instagram quiz look like?
An Instagram quiz is like any interactive quiz. The only difference is it's on Instagram rather than your website, landing pages, or emails.
One way to promote your IG quiz is with Instagram advertising.
With PPC ads, users can take your quiz directly from their feeds. These Insta quizzes are advertised on people's feeds, stories, and reels.
Kaye Putnam, a brand strategist, uses Interact for her Insta quiz. With Interact, she can:
Change up the generic Instagram ad with an interactive quiz
Monitor how well her quiz is doing with quiz analytics
Capture leads with an email opt-in
Guide quiz-takers to her online courses
And PPC ads aren't the only way to promote your quiz. You can also externally link to your quiz on your profile and IG posts!
It doesn't matter if you use PPC ads or an external link. Either way, your audience will end up at the same place: your quiz.
Your audience can hit Take Quiz to answer your quiz questions. When they're done, they'll exchange an email address for the results.
An email opt-in is optional, but it's the best way to capture leads.
With the results, users can follow your call to action on their phones and learn more about your biz.
As you can see, Instagram quizzes are similar to regular quizzes! Two key differences are:
Most users take quizzes on a mobile phone instead of a desktop.
Quizzes are advertised on Instagram instead of the business's website.
So, why should you spend valuable time making an Instagram quiz?
Why make an Instagram quiz?
Instagram quizzes work wonders for online business owners, entrepreneurs, and freelancers. But why? We'll go over three reasons below.
1. Grow your email list
Do you want to know the secret formula to generating leads on autopilot?
Here it is: Instagram + quiz = leads, leads, and more leads!
Take a look at Jenna Kutcher, a digital marketing expert and photographer, who generates over 5,000 email subscribers every week.
She shares, "I can confidently say that having a fun quiz plays a big role in generating these kinds of numbers. My quiz has also been one of the biggest contributors in increasing my unpaid email list growth, which I love."
Jenna is well-known on the 'gram. With 916,000 followers, her Instagram quiz contributes highly to lead growth.
And no, you don't have to be an influencer to build a successful IG quiz. You can always go the PPC ad route and capture new users that way (More on this later!).
2. Capture mobile users
Fun fact: It took me three years of using Instagram to find out you can use it on a desktop.
Can you blame me? Instagram's interface is tailored for mobile users. The desktop app is not nearly as enjoyable as its mobile counterpart.
So when you create an Insta quiz, you can bet your audience is taking it on their phone. You don't have to take my word for it. Check out this statistic instead: 44% of mobile users spend their time scrolling through social media.
That's 44% more people to reach out to! The odds are even better for those targeting young users. 16- to 34-year-olds are more likely to buy e-commerce products through mobile than 45- to 64-year-olds.
And guess who hangs out on Instagram the most?
You got it: young people. We are hooked on the reels, stories, and live videos. With an Instagram quiz, you'll capture mobile users AND a young audience (both are more likely to buy from you online).
3. Engage with your audience
Say you're scrolling through Instagram and come across an ad. What would you rather see?
A. An image of nice-looking makeup products.
B. A quiz titled, "What's your go-to makeup routine?"
Most would answer B. And it makes sense! Unlike a generic ad, quizzes ask for the user's input. And let's be honest, we all love to learn more about ourselves!
Jenna Kutcher adds, "Instead of just handing over their email address for a download, visitors are able to interact with the quiz by answering thought-provoking or entertaining questions. It's a LOT more fun, too!"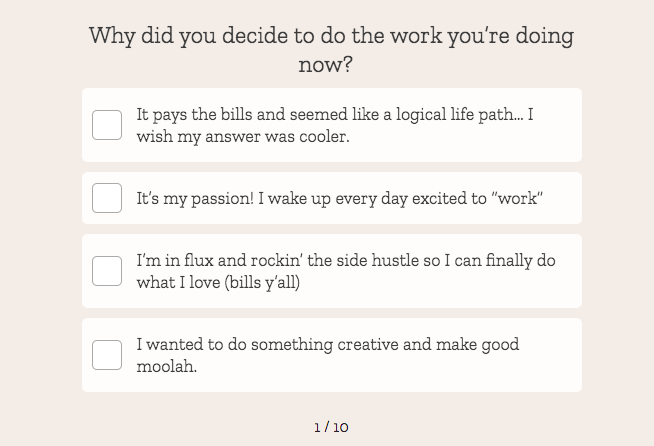 Normally, you'd have to get on Instagram and engage with your followers in real-time. With a quiz, you can put the engagement on autopilot.
Instagram quiz vs. Instagram story quiz: What's the difference?
Yes. There's a difference between an Instagram quiz and an Instagram story quiz.
Instagram quizzes grow online businesses with advertising, email opt-in forms, and high-converting results. Online businesses, creators, and coaches favor these jam-packed features.
An IG story quiz, alternatively, is simply a fun way to chat with your followers.
Using Instagram's story features, you can create a quiz similar to the above. You don't need outside software to build a story quiz.
So, which one is better: an Instagram quiz or an Instagram story quiz?
If you're a business owner, you'll do better with an Instagram quiz. Interact's software helps you build an email list, capture leads, and funnel sales on autopilot. And unlike a story quiz, which only lasts 24 hours, your Instagram quiz lasts forever!
But if you're looking for a simple way to engage with followers, use a story quiz.
Instagram quiz vs. Instagram quiz filter
You might be thinking, Is an Instagram quiz different from an Instagram quiz filter?
The short answer: yes.
The long answer: Instagram quiz filters work together with Insta quiz stories. You can use these filters in your story to ask your audience questions.
Just like an Instagram story quiz, filters are available to any IG user.
But if you're using Interact's quiz software, you don't need filters to create a quiz. You're free to use our hundreds of quiz templates and design interface.
How to make an Insta Quiz
Every social media platform competes for your attention. With so many photos, stories, and ads, you're likely to spend no more than three seconds on each photo.
Below are a few tips for building a quick, fun, and gratifying Instagram quiz.
1. Think of a topic
Social media is meant for short attention spans. A fun topic is the best way to turn heads.
Copywriting Christy's quiz, "What's in your glass? Your brand personality, uncorked," integrates her copywriting biz with a topic we all love: wine.
Christy could've gone with the generic "What copywriting service do you need?" But let's be honest; that's not nearly as fun as a wine quiz.
Another example is Tonic Shop's "What's your brand cocktail?"
Tonic Shop uses a "cocktail" theme to spruce up their website design biz. And no, you don't have to always use alcohol as a theme! Take a look at Kelly Trach's, "What's your genius?" quiz.
Kelly helps her clients find their strengths with business coaching. Doesn't "What's your genius?" sound way better than "What is your biggest business strength?"
It's all about the play on words. Social media users love these types of quizzes. It's why websites like Buzzfeed are so popular!
As you brainstorm topic ideas, consider your buyer persona. Make sure your ideas align with their personality.
What's their social media behavior like?
Do they have a sense of humor?
What are their hobbies?
What do they want more of?
When you think of a topic, add it to the template:
Which (blank) are you?
Some examples are:
What's your awe-worthy brand type?
What's your dreamy shade of lipstick?
Where's your next dreamy getaway?
Find more inspiration with our 800+ quiz templates!
2. Brainstorm 3 to 5 results
With your topic in mind, think of quiz results. Users look forward to their quiz results because it reveals something new about them. As you build your results, make sure they're positive, in-depth, and accurate.
Positive: Nobody wants to hear that they're a "Debby Downer" or "Negative Nancy." Give all of your results a positive spin!
For example, if you created a "What type of girlfriend/boyfriend are you?" quiz, one result could be "You're hard to get!" instead of "You're a player."
In-depth: There's nothing more dissatisfying than a too-short results page. People are dying to hear about their strengths, weaknesses, and how to improve. Don't hold back on the deets!
Accurate: Don't you hate it when you take a quiz, only to read your results and think, This is NOTHING like me!
Successful quiz strategies offer accurate results. Do your customer research and target their pain points, desires, and strengths.
You can always add, "Does this sound like you? If not, head over to the rest of the quiz results" as a buffer. 
You'll also need a convert-worthy call to action. Some CTA ideas from our past clients include:
But what if you're an e-commerce owner? Take a look at Smartass and Sass's quiz, "How sassy are you?"
This e-commerce biz added a link to their shop, so users can get straight to buyin'.
Check out our guide on product recommendation quizzes to make something like the above!
3. Think of 5 to 7 Instagram quiz questions
We get this question a lot: what are good Instagram quiz questions?
Three words: fun, easy to understand, and relatable. We'll use Jenna's quiz to go over each trait.
Starting with fun, Jenna uses a "secret sauce" theme to add flavor to each question.
This question could have easily been written as "What's your best personality trait?" but Jenna switched it up. Her question, "What's your real-life sauce spirit?" is WAY more fun.
Jenna's quiz is also short. You don't need more than 45 seconds to take the quiz.
Remember, our attention spans on social media are shorter than a goldfish's. You don't need any more than 5 to 7 questions.
Quick tip: Use a timestamp like "Take this 2-minute quiz!" to highlight your quiz length.
And last, Jenna's quiz is relatable.
Jenna reaches out to her clan with, "I get to be creative and take photos every day. It doesn't get much better than that."
Your Instagram isn't for just anybody; it's for your audience! Make it known with relatable questions and answers.
Now you might be wondering, What type of Instagram questions should I ask?
Besides the standard true-or-false questions, you can ask this-or-that questions. For example: "photography or writing?"
And then there are scenario questions: "You go to a bar and run into your ex! What do you do?"
You're free to use a combination of all three question formats. Have fun with it!
4. Build an email opt-in
An email opt-in asks users to exchange an email address for their quiz results.
Opt-in forms are simple. All you need is a title, description, form, and call to action.
Title: The standard title is "See your results!" but you can change it to go with your theme. Christy made a wine quiz, so it makes sense to ask, "So, what's in your glass?"
Description: Tell users what they'll get in return for an email address. Do you offer a freebie?
Form: Most online biz owners only need a name and address.
Call to action: "See my results" is the norm. But you can spruce it up with:
Take me to my (blank)
Tell me my (blank)
I'm ready to (blank)
And guess what? You can build an email opt-in with Interact.
On your quiz dashboard, toggle the Lead Generation button to on.
First, choose which contact information you'd like to collect.
Next are the additional form settings.
Allow users to skip opt-in form: With this feature, users can skip your form. This way, you'll get subscribers who actually care about your biz.
Display link to privacy policy: Make your privacy policy accessible to view.
Enable GDPR compliant consent checkbox on opt-in form: In short, you can add an "I consent" checkbox on your form.
And last is your opt-in form!
Add your copy and change up the CTA button. Then, click Next at the bottom right and integrate your software!
Design your quiz with Interact in 4 steps
There's one thing you need to do before adding your quiz to Instagram.
… Design your quiz with Interact, of course!
Interact isn't just an Instagram quiz maker, but a quiz maker of all kinds. Along with our design interface and 800+ quiz templates, you'll also find the following features.
Conditional logic: Have you ever taken a scarily accurate quiz? The creator probably used conditional logic. Conditional logic creates a personalized path based on the quiz-taker's response. You can dig deeper into each user's personality with branching logic.
Check out our guide: How to Make a Conditional Logic Quiz.
Email integration: Connect your email software with Interact and utilize email opt-in forms, sequences, and automated quiz funnels.
Embedded links: Embed your quiz on your website, landing pages, and social media channels (like Instagram!).
Quiz analytics: Analyze the below user stats.
How many users start your quiz
How many users finish your quiz
What questions and answers do users answer most
For more information on quiz analytics, click here.
Now let's get to designing!
1. Design your cover page
We'll start with your cover page. The cover page is a sneak peek into your quiz and why people should take it.
Your cover page is the first thing Instagram users will see; make it count!
Title: This part is simple. Use a title like, "What type of (blank) are you?" or "What is your (adjective) (blank)?"
Description: Describe your quiz in one to two sentences and focus on the benefits. The description in the above example says, "Plus, learn to brew a cafe-quality mug of joe from the comfort of your home," which pinpoints any coffee lover's desire.
Call to action: Keep your CTA button simple with "Take the quiz" or use a formula like:
Learn your (blank)
Find out your (blank)
Get started with (blank)
And we can't forget about your cover image! Click Edit Cover Image to upload or search for a photo.
2. Beautify your questions
We already covered how to make good Instagram quiz questions. Let's get to the fun part… designing them.
First, click Edit and add a question image.
You can also add answer images. Answer images help users visualize each answer to your question.
Image answers bring these countries to life for your users, rather than expecting them to visualize them on their own.
3. Make convert-worthy results
Your results page design is just as important as the copy. The goal is to make your results page easy to understand and fun to read.
Starting at the top, always include the results with an image.
Next, describe your user with relatable copy.
Notice how this description uses coffee-related vocabulary, like dark roast, complex nature, and almond milk, to describe personality traits like confident, strong-willed, and extraverted.
And you can't forget about your business! Highlight your biz throughout your page. Entice your readers with benefits, features, and tips.
A quick introduction won't hurt, either! Tell your readers who you are, why you do what you do, and why they should care.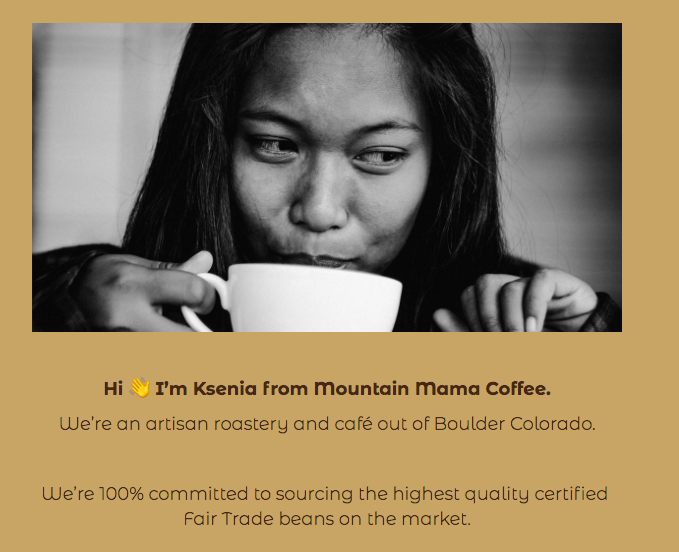 Your results page, as always, will end with a call to action.
This is a quick tutorial to build a results page. If you're looking for a deep dive, check out our guide: How to Create Quiz Result Landing Pages that Dazzle Your Audience.
4. Correlate questions and answers
With your cover page, questions, and results complete, all you have to do is correlate your questions and answers. Users get the most accurate results when you correlate certain answers with your results.
To get started, click Edit Result Correlations.
Connect your answers to the corresponding results. Make sure to do this with each question.
Now you can Preview your quiz at the top right corner.
Do you like what you see? Hit Publish, and you're finished!
How to create an Instagram ad quiz
One of the best parts about creating an Insta quiz is integrating it with Instagram ads. Some benefits of Instagram ad quizzes are:
They add a twist to the standard PPC ad.
They engage users on autopilot. Your quiz will keep users interested in your biz for at least three minutes.
They reach new users. Using Instagram's customizable audience features, you'll find your ideal customer.
All you need is a Facebook Ads Manager account to get started.
Table of contents
1. Create a Facebook ad campaign
2. Create an ad set
3. Customize your audience
4. Set your ad placement
5. Create your ad
6. Embed your quiz with Instagram
7. Ad Instagram ad copy
8. Test your Instagram ad quiz
1. Create a Facebook ad campaign
I know, you're thinking, Wait, why Facebook? I'm trying to build an Instagram ad! I'll show you how to switch your ad placement from Facebook to Instagram soon. But first, you need to create an ad campaign.
In this tutorial, I'll use the campaign objective, Lead generation, but you can choose from any of the Instagram-friendly objectives below.
If you choose lead generation, keep this in mind: The lead generation objective is popular for its "instant form" feature, letting users submit contact info without leaving the ad.
As an Interact user, you'll need to ignore this form.
Interact doesn't correlate with Instant forms because we have our own lead generation tool—email opt-ins!
2. Create an ad set
Your campaign is an umbrella for different ad sets. An ad set targets a specific buyer persona with individual ads.
In this example, our ad set will target a buyer persona named Sean, a 25- to 34-year-old who loves to work out.
When you name your campaign, go ahead and create an ad set. Then, you can set your budget and scheduling.
This Instagram budgeting guide will help you reach your biz goals.
3. Customize your audience
If you are a regular Facebook/Instagram ad user, you can use one of your Saved Audiences.
But you can also create a custom or a lookalike audience. We'll start with a custom audience. A custom audience lets you personalize users':
age
gender
location
interests
The demographics section is self-explanatory. Enter your ideal location, age, and gender in the appropriate areas.
The detailed targeting is the most fun part of creating an audience. You can get in the nitty-gritty with behaviors and interests.
Behaviors: shopping behaviors, traveling habits, event creators, self-reported donations, device usage (desktop vs. mobile, Mac vs. Microsoft), etc.
Interests: likes, dislikes, and hobbies
Connections: Facebook and Instagram followers
After creating a custom audience, you can choose a lookalike audience. Facebook will generate a "lookalike" audience—which is similar to your custom audience—so you can reach out to new users.
4. Set your ad placement (Important for Instagram quizzes!)
This is the part where you can move your Facebook ads to Instagram. Under Placements, click Manual Placements.
Check the box next to Instagram, and you're good to go!
5. Create your ad
With an ad campaign and ad set completed, you can now build your Instagram quiz ad! Starting with the name, enter your quiz title.
Now choose whether you'd like to create a single image/video or carousel (a slideshow of images/videos).
The single image and carousel both have perks. With a carousel, you can share screenshots of your quiz, testimonials, and other incentives. But a single image focuses on the quiz itself. Each option depends on your business needs.
Now you can choose your placement. Your ads can appear on IG feeds, stories, and reels.
Keep your budget in mind when choosing your placements. The more placements you have, the more funds you'll allocate.
6. Embed your quiz with Instagram ads
We're missing the primary element of your Instagram ad… your quiz! Luckily, it only takes a few steps to embed your quiz with Instagram ads.
On Facebook Ad Manager, you should see a Display link box. 

This is where you'll paste your embedded link. To get started, go to your quiz dashboard and click Share & Embed.
Select Facebook Ad and copy your link under Link Facebook ad to quiz share link.
Paste this code into the Display Link box. Your ad should now look something like the below.
Pretty easy, right?
7. Add Instagram ad copy
The bulk of your Instagram quiz ad is done. All you have to do is add convert-worthy ad copy. The Primary text box will appear above your ad.
Some examples of primary text are:
Ever wonder what type of (blank) you are? Take this 3-minute quiz!
Your next (blank) is only 10 questions away.
We'll tell you your (blank) in 60 seconds.
Next is the headline and description. The headline can be as simple as your quiz title. But your description will only show up if Facebook thinks a user will convert better.
You can leave both of these options blank if desired.
And last is your call to action, which will look something like this.

If you chose Lead generation as your campaign objective, you'll see a list of CTA buttons. Out of all the CTA buttons, Learn More works best with a quiz. When a user clicks on the CTA, they'll go to your quiz!
Quick tip: In your copy, you can add "Click 'Learn More' to take the quiz" for clarification.
8. Test your Instagram quiz ad
You finally published your Instagram ad quiz, and *chirp chirp* not nearly as many users as you'd like are taking your quiz.
Don't worry. We all need to test our ads now and then. To get the best results, check on the following:
Ad conversion rates: How many users engage and take your quiz? Check these analytics with Facebook Ad manager.
Finish rate: How many users finish your quiz? Check these results with your quiz analytics.
Opt-in rate: How many users sign up for your email list? You can see these numbers with quiz analytics as well.
Your ad funnel: Are users engaging with your ad or dismissing it as a whole? If this is the case, look into retargeting strategies. In a nutshell, retargeting will generate another ad for users who dismissed your first ad.
Instagram's algorithm: Are you following Instagram's algorithm best practices?
You might need to make changes to your quiz, ad copy, call-to-action button, and images! We suggest testing one thing at a time to get an accurate view of what's working.
Facebook quiz ads vs. Instagram quiz ads: Which one is better?
Instagram ads are tied to Facebook's Ad Manager. If you're creating Instagram ads, why not target Facebook users at the same time?
This seems like a great idea off the bat. But first, you need to make sure Facebook ads are suitable for your biz.
The key differences between FB and IG ads include:
Audience: There are more Facebook users than IG users, so you'll reach a broader audience with FB. But keep in mind that Instagram has more young users.
Images: Strong visuals, like food and fashion, do great on Instagram.
Personal preference: Does your business shine on Facebook or Instagram? Chances are, you'll have the most successful ads wherever your business does best, organically.
You can always test both PPC ads and see which one works best for you. Check out our guide on Facebook ad quizzes to get started.
Promoting your Instagram quiz
Instagram ads aren't the only way to promote your quiz. Below are two ways to reach out to your followers.
1. An Instagram post
Promoting your quiz is as easy as posting a photo!
Create a graphic with a free tool like Canva and promote your quiz. Then, write a caption.
Below, Kaye's caption says, "How does your brand play in the world? How should you interact with your ideal clients? Discover your brand personality type!"
I like how she asks questions to get readers thinking, Yeah… how do I interact with my clients? I want to know!
But you can also engage your users with comments.
Below, Jenna encourages others to "Comment below and tell me what your results were!" Comments are a form of engagement Instagram users LOVE, especially if you comment alongside your audience.
Instagram isn't the only platform for your quiz. You can also share a link to Facebook, Twitter, LinkedIn, and Pinterest.
To embed your quiz with social media, head to your quiz dashboard and click Share & Embed.

On the next window, in the Share Link section, click any of your social media links.
When you click on a social media channel, Interact will generate a link for you!

2. Create a Link Tree
Social media posts are helpful, but they are only visible for so long. To keep your quiz afloat, add a Link Tree to your profile.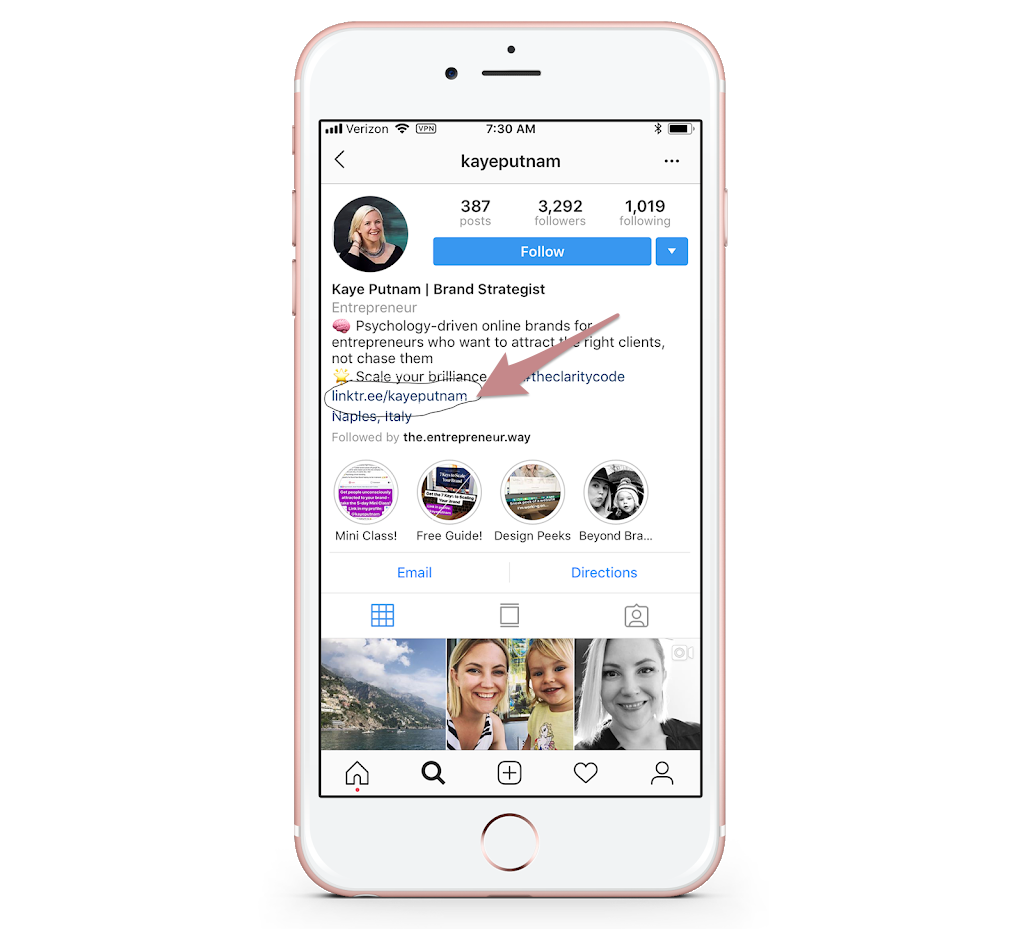 Link Tree lets you add links to your website, landing pages, online courses, and quizzes!
It's an easy way to maintain your quiz without posting about it all the time.
Your next steps
If you've made it this far, then you just learned a bunch of new info, like:
The difference between Insta quizzes and Insta story quizzes
The difference between Instagram quizzes and Instagram filters
Why you should make an Instagram quiz
How to make an IG quiz
How to design a quiz with Interact
How to create an Instagram ad quiz
The difference between Facebook and Instagram ads
How to promote your Instagram quiz
Now you know a whole lot about Instagram quizzes and how to get started. But just so you know, Instagram quizzes aren't the only way to promote your biz! We have a load of resources about landing pages, sharing your quiz on your website, and marketing psychology.
Continue your marketing journey and check out the following resources:
How to Create a Quiz Landing Page That Actually Works: Look through 20+ examples of quiz landing pages and why they convert.
How to Embed Your Quiz on Any Website: Generate more users to your site with an embedded quiz link!
Marketing Psychology Strategies for Quizzes: Learn 10 different psychology strategies to leverage your marketing and get more sales. Cha-ching!
And as always, feel free to visit our help center for any questions. We look forward to seeing your Instagram quiz live!