By integrating your interact quiz with Kartra you can send personalized email follow-ups to people who take your quiz. With an average opt-in rate of 40.8%, quizzes are the best lead magnet tool available today and you can connect your quiz to Kartra and create follow-up sequences for each quiz result to provide a personalized experience to your new leads.
Here is a video overview of how the integration works.
---
---
Create tags in Kartra for each of your quiz results
The first step for connecting your Kartra quiz to interact is setting up tags in Kartra for each of your quiz results. You can also use custom fields or lists to segment your quiz leads in Kartra but tags are the easiest. For the example quiz I'm showing it's a skin type quiz so there are three results and I created a tag for each of them. The results are Combination Skin, Oily Skin, Dry Skin.
Create follow-up Sequences in Kartra for each of your quiz results
Next step is creating a follow-up sequence for each result in Kartra. You'll set these sequences to start when a tag is applied and you'll have one for each tag you created for your quiz results.
If we take a look at each sequence it begins when the tag is applied and then sends a welcome email for that quiz result. This way you can send a different email based on each quiz result. In this screenshot I just have one follow-up email, but you can create a whole sequence for each quiz outcome.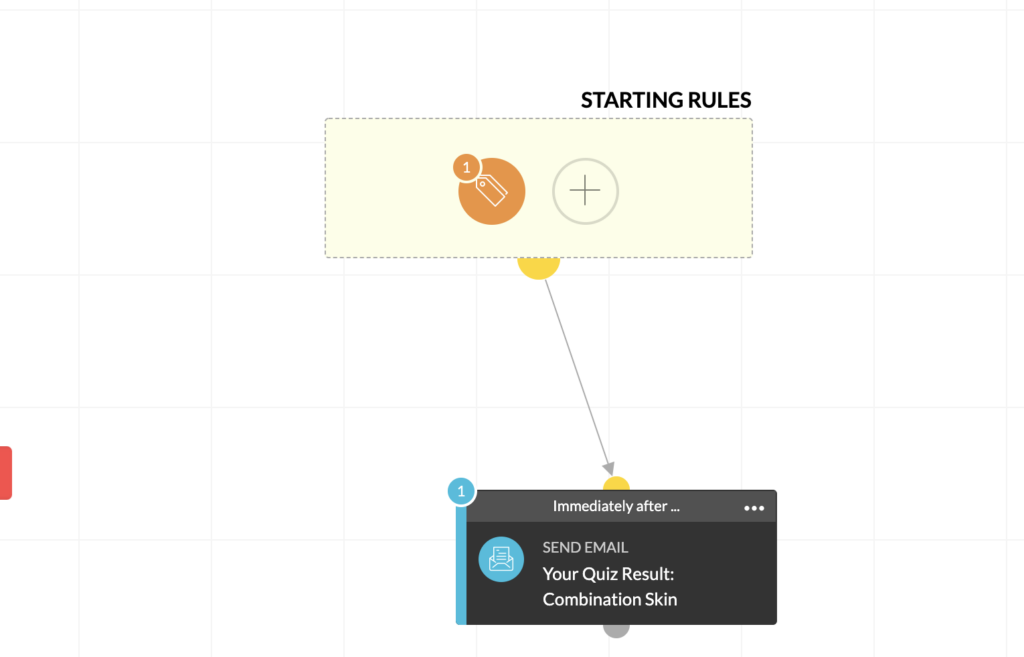 If we click into the "Starting Rules" you'll see that it is when the tag is applied for "Combination Skin" and then we'll create a sequence for each of our other quiz results following the same process.
Connect Kartra to interact from your interact account
The first time you set up interact to connect with Kartra you'll need your API key and API password, we have documentation on connecting interact and Kartra here. For the purposes of this post we're going to start by going to "Lead Generation" from our interact dashboard and we'll first set up our opt-in form with the fields and text we want to be on there.
Then we'll click "Save & Continue" and choose Kartra from the integration options page.
Connect each quiz result to a Kartra tag (or list or custom field) from your interact account
Once we've picked Kartra we'll be able to add an action for each of the quiz results. These actions can be "Add tag" (which we'll be doing" "Update Custom Field" or "Add to List" You'll see on the left side there is a different setup for each of our three quiz results for this quiz.
I'll choose which tag I want from the drop-down and connect it up to Kartra. This way when someone takes my quiz and gets the result "Dry Skin" interact will automatically tag that person in Kartra with the tag "Dry Skin" which will start the email sequence for that result.
(Optional) Connect individual question answer choices to Kartra tags, custom fields, or lists
The last step is optional and pretty advanced, but if you want to tag people, update a field, or put them on a list based on how they answer any specific question within your quiz you can do that as well in the same way you connected up your quiz results.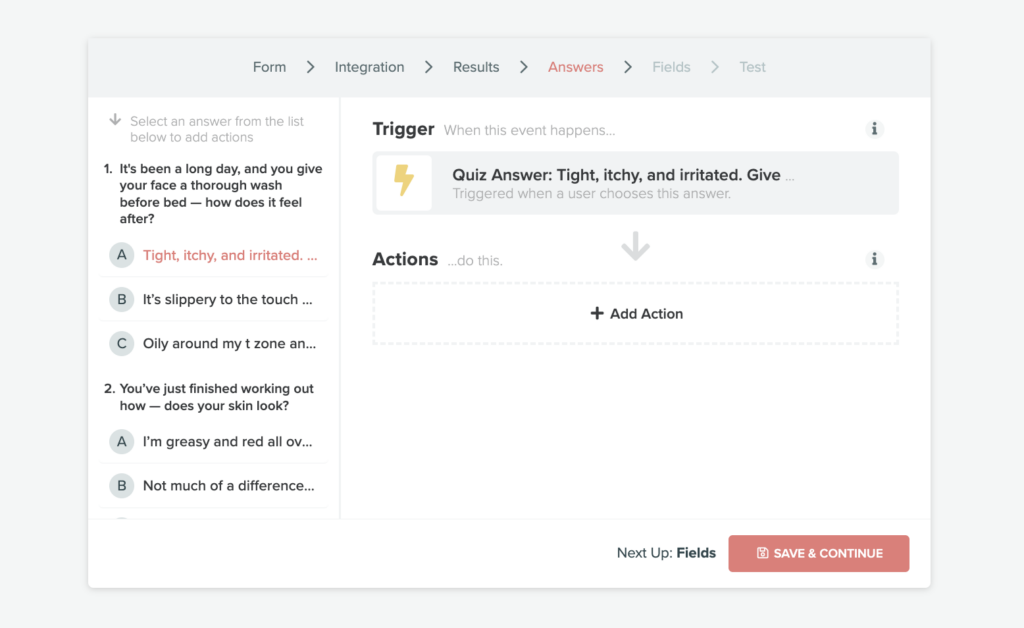 That's all it takes to connect an interact quiz to Kartra for easy and automatic personalized email follow up sequences based on which quiz result your quiz takers get. If you want to create a quiz like this, start your free trial with interact today!