Here at Interact, we do our best to help businesses and organizations gather leads through interactive quizzes. We can talk about how great these quizzes are at generating leads, but at the end of the day, we can just let the numbers speak for themselves. We want to show you all that our quizzes don't just work; they are extremely effective. Here's our top 7 list of our most successful quizzes as of today:
Coming in at number 7, Skilledup is a company that specializes in online courses. Their quiz, "Test Your Excel Skills" was one of our first successful quizzes that we put out. They took a very creative approach by embedding one of their quizzes into one of their articles.
Skilledup asks some pretty challenging questions, such as "What is the correct formula to round 29,128.6547 to the nearest hundred?" (Answer: =ROUND(29,128.6547, -2)). I consider myself decent at using Excel, and the quiz gave me a reality check: I scored a 4/7 on my first try. I guess I should really brush up on my Excel skills. It's a smart way of giving their audience a self-assessment of their own abilities, and giving them a solution to their failure if they don't do well.
They used an interesting technique to acquire leads in their lead capture form: They gave you the option to skip the lead capture form to see your results, but you had to scroll down on the quiz in order to see the button. I actually missed it the first time I took the quiz, so the chances of someone actually skipping it are pretty slim. But giving the option of skipping the form, as well as making the process seem less intimidating leads to a higher lead capture rate.
Tea Party Express was able to rack up almost 8000 leads with their hit quiz, "What Type of Conservative Are You Most Like?" Despite being a liberal, I found it this quiz very intriguing. Hypothetically, if I were on the other side of the political spectrum, what kind of conservative would I be? Regardless of your political affiliation, it's an interesting thought experiment.
All the questions seemed to be based around certain values. I decided that I wanted to try and be the most aggressive conservative, and see where that led me. For the question above, "What best describes your grocery store experience?" I picked "I march up and down the aisles decisively, knowing exactly what I am looking for and where to find it." Personally, I found the response a bit too macho for my taste, but I can see it coming off as being strong and confident.
Their quiz was a success mainly because they were able to give their supporters an affirmation of their beliefs. Looking at the results page, it's all about complimenting them about their values and validating their beliefs. Despite taking an aggressive stance on all of my values, they were able to take that directness and turn it into multiple compliments, making me feel pretty good about my decisions. What better way to appease an entire political base than to tell them that their beliefs are the right ones?
Guns & Ammo is the first on our list to break 10,000 leads with a single quiz. Their quiz, "How Well Do You Know The AR-15 Platform?" puts their audience to the test, to challenge even the most knowledgeable of gun fans. Personally, I like guns, but I wouldn't consider myself an aficionado. I wanted to see how my layman's gun knowledge would fare against this quiz.
Well, I failed. I got a measly 3/10, and I'm pretty sure I lucked into getting those right. These questions were incredibly difficult, asking about a lot of random minutiae about the AR-15. I found myself guessing at every single question. You'd have to know a lot about the history behind the gun, as well as the details of the individual parts of the gun in order to get a full score on the test. Despite doing terribly on the quiz, it was fun to learn facts about the AR-15 that I didn't know beforehand.
This quiz is pretty genius, because no matter how well they do on the quiz, it's a win-win regardless of if the participant succeeds or fails. Best part of it all is that it takes advantage of the tendency of gun fans to want to prove how much they know about guns. If you do well, then what better way to stay on top of your game than to subscribe Guns & Ammo magazine? If you didn't do so well, why not subscribe to Guns & Ammo magazine to brush up on your knowledge?
At number 4, we have the Foundation's "Do You Have An Entrepreneurial Mind?" quiz. The Foundation is a hub for entrepreneurs who are trying to grow their own business. Originally, the Foundation came up with an e-Book on this topic, and it barely brought in any leads at all. However, once they switched to a simpler medium, it instantly became a hit!
The questions are all geared towards the hardworking, up-and-coming professional who's trying to make their way in the world, which is precisely the Foundation's target audience.
It's all about getting people who are interested in being entrepreneur, and telling them that they are capable of achieving it. Very much like Tea Party Express's quiz, it's all about patting their audiences on their backs and telling them how smart they are. Their target audience are wannabe entrepreneurs who want to be told that they are going to be successful in the future, and the quiz does an excellent job of boosting their egos. They even give you a role model to follow as a face of success! Who doesn't like being told that they're smart enough to become successful?
3. Afar.com: – 21,239 leads
It's not easy to decide where to travel; however, with Afar's "Where Should YOU Go In 2015?" quiz, they made quick and simple to decide where to plan your next getaway. The editors of Afar picked out some of the best places to travel in the world, As someone who really likes to travel and very indecisive, this quiz seemed like a perfect fit for my interests.
The quiz takes into account your preferences and tendencies when you are traveling. They ask about what you are looking for in a trip, what kind of atmosphere you like, who you like to travel with, etc. to try and hone in on the perfect location. The quiz also include gorgeous pictures to help visualize your ideal vacation as well.
While they take a different approach by actively trying to help out with a common problem, it seems to be just as effective in generating leads. These places come highly recommended by experts editors and and there's even an article attached at the end if you want to learn more! The quiz certain appealed to my sense of adventure. Even if you aren't able to travel at the moment, it's a fun, little way to let you dream about traveling. It's a great way to grab the attention of people who love to travel!
Children's Hospital launched a huge donation campaign to try and get more leads. For every completion of a quiz, they received $1 as a donation. At the end of their campaign, their quiz, "Which Therapy Dog Are You?", was able to generate over 31,600 leads and raise $30,000 in donations, making it their most successful lead generating campaign ever! As a lover of dogs, I couldn't wait to find out what kind of adorable puppy I was.
I got a cute Beagle Cocker Spaniel Mix. I want to pet it so badly! I have no clue why I'm like this dog, but I've got to play with it.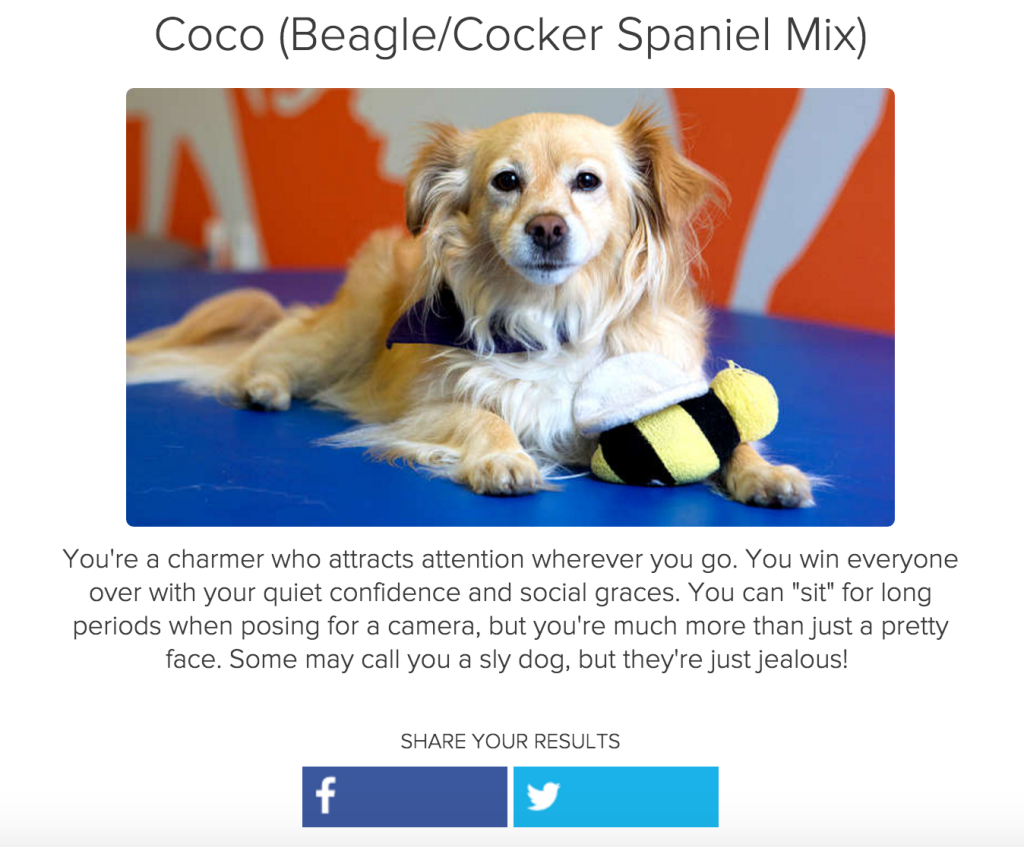 Children's Hospital of Los Angeles approached this lead generation in a very clever way; they appealed to the compassionate. By combining the fuzzy feeling of helping out a good cause with the cuddliness of adorable dogs, it's a one-two punch of the feel-goods. To read more about Children's Hospital's success, check out this article.
Country Rebel, a clothing company with a focus on country music, tops out our list at a whopping 39,000 leads gathered! Their quiz, "Which Luke Bryan Song Are You?" was a huge success for Country Rebel. They played upon the popularity of Luke Bryan, a famous country music star, and managed to get the largest amount of leads to date!
You can tell who the target audience is by the questions alone. The questions in the quiz are specifically aimed towards younger women. For example, in the question above, it asks to pick out a women's belt buckle. In a later question, they ask for you to pick out a pair of shoes, and all of them are women's shoes. Not only do these questions aim at their audience perfectly, but it also builds the association between Luke Bryan and Country Rebel apparel.
I think this one was most successful because of how big the fanbase is for Luke Bryan. If you google "What Luke Bryan Song Are You?", you'll get 10 different quizzes. Luke Bryan fans don't just like him; they're downright fanatical. They'd be willing to do anything Luke Bryan related, and finishing a quiz about which Luke Bryan song you are is a no-brainer. He's got one of the largest fanbases in country music, so tapping into that audience is genius. Country Rebel takes complete advantage of his rabid fanbase to generate a record breaking number of leads.
5 things these quizzes have in common:
1. They're relevant
All of these quizzes relate to their product or their audience in some sort of way. The sites that are trying to sell some sort of information typically have a quiz to test your knowledge, and the sites that are asking for some sort of contribution do a good job of getting their audiences emotionally involved. It's all about making a connection with your target audience, and making your cause or your product resonate with them.
2. Questions are exciting and engaging
Every question in all of the quizzes have something that's either challenging or fun. They either put the user through a gruelling battery of questions, or asking about their own preferences. The better the questions, the more likely The majority of them use high-quality images to spice up the questions, so the options are also visually stimulating.
3. The lead capture forms all come before the results
By placing their lead capture forms between the questions and the results, it gives the .. The main draw of the quiz is to see the results and answer the main question in the title, and all the quiz taker has to do is give them a lead in order to get the juicy results. No email? No results! And if your questions are exciting and engaging, it makes the quiz taker all the more likely to stick around and finish the quiz.
4. The more successful ones combine incentives with quizzes for better results
It's a combo that works very well together, and has proven results. The best example of this strategy is the Children's Hospitals' "Which Therapy Dog Are You?", where they incentivized a quiz completion with a $1 donation to the cause. By focusing the incentive towards finishing a quiz rather than getting an email, it makes prospective leads less likely to be wary of giving out their emails.
5. At the end of the day, they're all about you: the consumer
All of these quizzes aim to please the quiz takers in some sort of way, to give them a bit of instant gratification. The ones that are about testing your knowledge gives people a chance to stroke their egos, or improve if they do poorly. Others are about patting their audiences on the back, and telling them they have a lot of redeeming qualities. No matter what the end goal is, it's all about letting people talk about themselves. They did well on a quiz? They can brag about it to all their friends.
That's all for this list! To make your own quiz, try it out at tryinteract.com