Creating a personality quiz that has been taken over 100,000 times is impressive all on its own, but when that same quiz helps you generate over $100,000 in online course revenue?
It's worth celebrating in a BIG way.
via GIPHY
That's exactly what happened when
Kaye Putnam
, an online course creator, launched her
Interact quiz
. (We have a photo to prove it!)
If you've been wanting to sell online courses in a way that connects with your ideal buyers and increases trust, you'll want to take a page from her book!
So how exactly did Kaye generate this kind of revenue from a quiz?
It might seem like magic, but there are many strategic tactics that went into the development of her Interact quiz. Lucky for us, Kaye took some time to virtually sit down with us and share exactly how she created her high-performing quiz.
An interview on how to sell online courses with a personality quiz
We're so excited to share her success story with you!
If you've ever wondered how powerful personality quizzes can be, get ready to have your mind blown by this example from Kaye Putnam, a psychology-driven brand strategist who teaches her audience of entrepreneurs how to unlock their brand advantage to attract more high-paying clients.
In collaboration with her business partner and sister-in-law, Sarah Putnam of Clarity Code, they developed a brand personality quiz that has now been taken over 100,000 times (112,000 times, to be exact, as of June 2019) and has driven all six-figures of their online course sales for Brandfluency.
In her Brand Personality Quiz, she asks quiz takers a series of thoughtful questions about their beliefs, strengths, and desires in order to help them discover their top brand archetypes in their business.
The goal of the quiz? To help her audience deeply understand themselves, stand out in the market, and attract their ideal clients. After they feel confident in their personality type and empowered to take the next step, Kaye introduces her in-depth online course to help them learn more about utilizing their brand archetype.
Smart move, right?
But before we dig into why the quiz works, let's go back to the beginning to understand how it all came to be. Since choosing a quiz topic is one of the first decisions you'll make when you create your own quiz, we'll start there.
Q: Kaye, what inspired you to start a quiz in order to sell online courses in your business?
One day, I stumbled into archetypes on a website (that looked like it was created in the '90s), and I was immediately drawn to their application in branding. But I must admit, I had no idea which archetype I wanted to infuse into my own brand.
I immediately realized how powerful this type of tool would be for entrepreneurs because there wasn't anything like it on the market at the time. Everyone naturally relates to at least half of the archetypes, so how do you identify which one (or two) you resonate with most?
Essentially, I created the quiz for myself and made it available to everyone else in the process.
Key Takeaway: Don't be afraid to use inspiration from other sources to guide your quiz. You may just stumble into a new idea! Try to reimagine what the quiz could offer your audience by thinking about what questions you'd need to answer if you were in their shoes.
Q: What were your main goals with the quiz? What did success look like to you then, and what does it look like now?
Starting out, I'll be honest… it was just an experiment. Quizzes were still pretty new to the entrepreneurial space (circa 2013) but were gaining popularity fast! (Thanks Buzzfeed!)
I knew I wanted to utilize the quiz myself, so success to me meant other entrepreneurs found it helpful as well. As a fun twist, I matched up well-known entrepreneurs at the time with the archetypes that were showing up in their personal brands.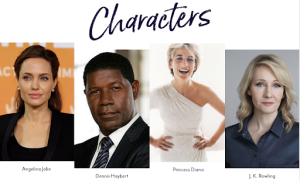 Some of these entrepreneurs were so excited to see themselves included that they shared my quiz with their audience! That's when I realized how powerful this tool would be for my business as a consistent lead generator.
Key Takeaway: Embrace the experiment! You can always improve on your quiz over time with additional resources, but everyone has to start somewhere. Before you publish your quiz, ask yourself, "Would this quiz be useful to me if I was taking it?"
Q: How did you decide how many quiz questions and personality results you wanted to include?
Don't do what I did – DO NOT HAVE 12 RESULTS! The 12 archetypes I use are defined in the book "The Hero & the Outlaw" by Margaret Mark and Carol S Pearson, so I didn't decide on that number.
With more quiz results comes so much more work! I would absolutely recommend choosing 3-5 personality quiz results for your own sanity.
For the quiz questions, it came down to having enough variety that the answers provided an accurate breakdown for the participant. My advice? This is usually the first encounter a cold audience has with your brand, so keep it short to keep their attention!
Key Takeaway: Stick to 3-5 personality quiz results when you are creating your quiz. Also, keep your questions and answers written in a concise way so it will increase the number of people who complete the quiz.
Building the quiz for success when you sell online courses
Q: What has a quiz done for your business that other lead magnets haven't been able to?
The quiz provides steady and inexpensive lead generation of my ideal clients, those individuals that understand the power of infusing your personality into your brand.
It obviously took time to get where I am today, but I barely need to promote the quiz and get (on average) 1,600 leads per month. It runs on autopilot now so it works without any hand-holding from me.
Educators and other entrepreneurs often refer their clients and audiences to the Brand Personality Quiz, which grows my audience each month even more. It's been cool to see it become a trusted resource for all kinds of entrepreneurs and, in turn, help me sell online courses.
Key Takeaway: Don't forget the power of word-of-mouth marketing! How can you create buzz with your new online quiz? How can you create it to be a solution not only for quiz takers but also those who interact with your ideal clients? This will help you create a quiz that really stands out.

Q: Why did you choose the Interact platform for building your quiz? Were there any specific features that really stood out to you?
I published my quiz on a different platform initially, but Interact quickly raised the bar with its outstanding features and benefits.
First and foremost, I wanted the ability to provide multiple results for participants. No one is 100% one brand archetype. My old platform just gave one result, which swayed the accuracy of the quiz.
Allowing participants to see their percentage breakdown of results gives them more power to make the final decision on their psychology-driven brand strategy. I love that they walk away from the quiz feeling more empowered!
Also, since each of the 12 archetypes links to a separate Brandfluency course, it gives quiz takers the opportunity to buy more than one course depending on the brand personalities they resonate with most.
Combine that with easy integration, brand personalization options, and a much better conversion rate?! It was an easy choice to go with Interact.
Sell online courses with a quiz today by signing up for an Interact account!
Q: How long did it take you to set up the quiz?
With 12 archetypes, it took longer for me to set up the quiz than other online course creators. That's another reason why I recommend NOT doing 12 results.
The actual quiz itself was simple to set up in the Interact platform (definitely the easiest part of the whole process!), but I went a step further.
I also created a custom landing page for each archetype (see an example here), an infographic for each, a lead magnet for each, and follow-up email sequence for each… all of that multiplied over 12 archetypes means I've spent a LOT of time optimizing my quiz!
But in all seriousness, take time in the beginning to create a seamless journey for the quiz taker. Make all of your outcomes positive so they'll be encouraged to share their result.
Offer extra value to those who choose to provide their email address. I don't force people to enter their email address to get their result. This may decrease my overall conversion rate, but it also ensures I don't add unqualified leads to my list.
Then, even after the participants have their result and have entered their email address… how do you keep them engaged? This is where landing pages and other content specific to their result will show off how much value you offer.
Key Takeaway: There are SO many takeaways in this section, so take a minute to re-read it if you need to. We agree that it's all about keeping your eyes on the main goal: nurturing your quiz taker along the journey and positioning your online course as a trusted resource to help them learn more. Only then can you sell online courses with your quiz.
Q: What kind of strategy went into creating your quiz personality landing pages? How about your follow-up email sequences?
The best advice I can give anyone creating a quiz is to provide a TON of value to the people who take it. For my quiz, this is typically the first interaction participants have with my brand, so I provide a ton of value to ensure they want to keep following my work.
Plus, I sell online courses down the line in my lead generation funnel, and you can't ask for a cold audience member to purchase after they've known you approximately 15 minutes.
So the landing pages are filled with free information about their archetype. You can see what I mean here. My emails (if they elect to sign up) provide even more resources and advice customized to their brand personality type.
Then, after about a week, I provide them with an opportunity for more free training which leads into an offer for Brandfluency, my 12 customized courses which break down how to apply each archetype step by step into a psychology-driven brand strategy.
Key Takeaway: Remember that creating a quiz is just the first step in selling online courses! You'll need more than an interactive quiz to increase your online course sales. Think about how much value you want to give away for free, and then go do it!
Q: What do you think is the "secret sauce" behind your massively successful quiz?
My quiz isn't just fun; it's useful. It's a tool that entrepreneurs can use to gain clarity about their brand and business strategy. While I absolutely love fun Buzzfeed quizzes, they aren't necessarily driving qualified leads to my business.
My quiz tells entrepreneurs something about themselves that's actually valuable and applicable to their business, which drives interest, engagement, and success!
Key Takeaway: Think of the bigger picture of your quiz. What is it helping people accomplish, and why does that matter to them? How can they actually use it to find success?
Q: Do you plan to use quizzes in the future?
Yes, I have so many ideas!
First and foremost, I want to create a more comprehensive, paid version of the Brand Personality Quiz. This extended version will have more questions that really help you get ultra-clear and confident about what you want your brand to stand for.
It will narrow down your results to only providing your primary and secondary archetypes to take the guesswork out of the top choices. And it will provide extra resources and value customized to those results. I can't wait to put it all together. So much of it has been inspired by the success I've seen with my Interact quiz!
Q: Do you mind sharing some of your best stats with us? We know everyone is dying to see how well the quiz has worked from a numbers perspective!
Absolutely! Here are some of our best stats at a glance:
Total quiz completions: 100,000+ quiz takers (112,000 as of June 2019)
Starts to (voluntary sign up) leads conversion rate: 47%
Views to (voluntary sign up) leads conversion rate: 27%
Revenue generated from quiz: Over $100,000 through Brandfluency online course sales
The unique thing about the quiz is that I can truly attribute ALL of the Brandfluency online course sales to the Brand Personality Quiz. This is because no one can purchase their customized archetype course without first understanding their primary and secondary archetypes.
Plus, I know that the quiz has influenced even more revenue from my other online courses. It has also helped me gain trust with leads who then go on to become one-on-one brand strategy clients. Some of my brand strategy packages can range from $3,400 to $17,000+, so this quiz has been instrumental in helping me stand out among other brand strategists. I couldn't be happier!
The previous quiz platform I used had a conversion rate (from views to leads) of about 16%. At the time, I was amazed by the number. But, since converting to the Interact platform, my rates have soared!
In the last year, I've had about a 27% conversion rate from views to leads. I know this number could be higher if I required an opt-in to see quiz results, but again, you will get more unsubscribers using this method, so it's your preference!
I do have my quiz embedded on a page on my website, which does have other information as well. So a more accurate representation of my leads would be looking at quiz starts to leads. (Plus, this number is way more fun to #humblebrag). This ups my conversion rate to 47%!
via GIPHY
I have over 400 students in our different branding courses, and ALL of them have taken the Brand Personality Quiz at some point. It's a core part of my brand, and I can't wait to dream up new quizzes in the future, like
Clarity Code's Brand Growth quiz
. There's no telling what the future holds with the power of personality quizzes!
Sell online courses with your own personality quiz
Take a moment to think about what a quiz could do for your business.
In Kaye's example, we saw how she took a brand archetype quiz and turned it into six-figures of online course revenue. Not only that, but it has also helped her create lasting connections with clients who will more likely turn into lifetime customers.
If you want to create a personality quiz of your own, here are seven easy steps to help you get started:
Decide on a quiz topic
Design your quiz to match your brand style
Create interesting quiz questions
Write engaging personality results
Create the logic of your personality quiz
Set up your quiz to grow your email list
Promote your quiz on your website and social media
Ready to skip ahead and sign up for your Interact account?
Start building your own personality quiz today!