You've probably noticed that there's suddenly an endless amount of AI platforms to choose from. If you've been following our blog at Interact, you know we're exploring all of them, really diving deep. We've also been testing other ways to use AI platforms—both in your marketing and business. And now we'll be able to tell you what the BEST AI tool for you is.
Check out Interact's most recent series of AI videos to stay up-to-date on all the different platforms we've used and how we've used them. 
Let's jump in!
Table of contents
The Best AI Tool: There's an AI for That
Today, we're looking at a website that we think will be helpful for businesses. There's An AI For That is a website with a central landing page where you can search for any AI tool or, rather, any use case that AI might be able to solve.
This is what the homepage of the website looks like: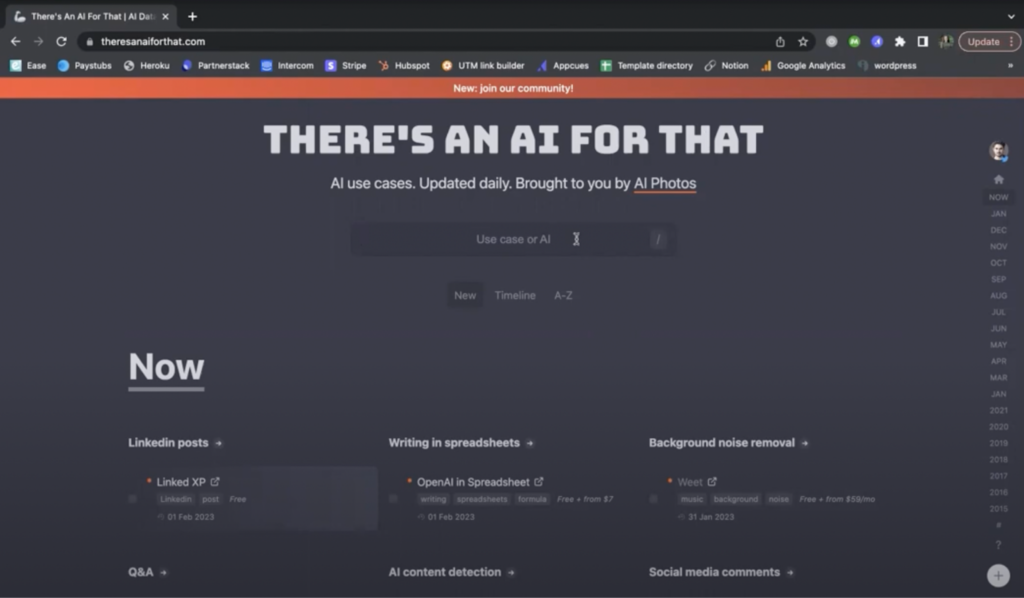 We were looking for a platform that made converting a YouTube transcript (or any video transcript) into a blog post easier. And so, we typed "video to text" in the search engine, and several platforms quickly popped up.
Note: We could do all this without signing up for an account.
A couple of the AI platform options were new to us. Previously, to find the best AI platform for a particular use case, we used Google search and Youtube videos to see what AI platform other content creators were using and their results.
A few platforms from the list above initially came up in Google, but the first option, ToWords, was one we hadn't used before testing this website. ToWords is a nice platform that makes it super easy to convert a YouTube transcript into a blog post.
Here at Interact, we wanted to ensure that if we weren't covering a specific use case or AI platform, there was an alternate resource available to quickly access for help.
Some notable features of There's an AI For That include the ability to:
Search by a timeline of what platform came out most recently
Order AI platform results alphabetically
Alphabetize use cases (content detection, generated content search tool, creating ad copy, Ad image generation, etc.)
Final Thoughts on the Best AI Tool
We looked through the giant list the website gave us and saw all the different ways we could use AI for our purpose. It's easy to look through the different platforms and see which one might benefit you or your marketing efforts. 
We recommend this website if our AI video series hasn't reviewed the exact use case of AI you're looking for!
Editor's note: This article was originally a transcript reworked by Sophia Stone, Interact Marketing Intern