Here at Interact, we're all about repurposing content. Today, I'm going to explore how to use Munch's AI to repurpose video content to make a YouTube short using Munch's AI video editing tool.
I signed up for a free Munch account, which I didn't have to enter my credit card information to do. Bonus: After I signed up, I got an email from the CEO, Oren, offering to do a fifteen-minute strategy call. Of course, I agreed, and I super appreciated the demonstration.
Okay, now that I have a Munch account and I'm finished with the demonstration, I'm all set. Let's get started!
Table of Contents:
Uploading a Long-Form Video to Convert into Shorts
My goal with this project is to take a long-form video I've already created and break it down into smaller bite-sized videos that I can repurpose for YouTube shorts and Instagram reels. I want to get more visibility to the video and the blog post it's promoting.
The original video has been doing pretty well in terms of analytics—it's one of Interact's most-viewed videos in relation to how long ago it was published, so it's an excellent choice for repurposing content.
Let's get to it.
The first thing I'm going to do is click "Munch another video" under "My projects."
Next, Munch prompts me to select a project type, and for this project, I'll choose "YouTube short." Continuing to follow the prompts, l pasted a link to the video I want to repurpose, named the project, and selected a description for my original video. I named my project "Use AI to Write a Blog Post," and chose "how-to post" for the description. Finally, I clicked "Create."
As Munch is converting my long-form video into shorts, it's analyzing keywords. This is the fun part and what I like so much about Munch! The program looks for company names, people's names, and trending subjects, among other specific keywords. It will even show me how each of the keywords ranks.
The program chooses what it thinks are the best clips, adding hashtags, adjusting the aspect ratio, and cropping, according to the purpose I selected.
Analytics and Keyword Rankings
My long-form video has finished loading, and Munch converted it into ten short clips.
First, I want to look at how Munch ordered the clips. The program gives each clip a "Munch score" based on keyword rankings and then organizes the clips in the order Munch thinks will do the best (in my case, for YouTube shorts).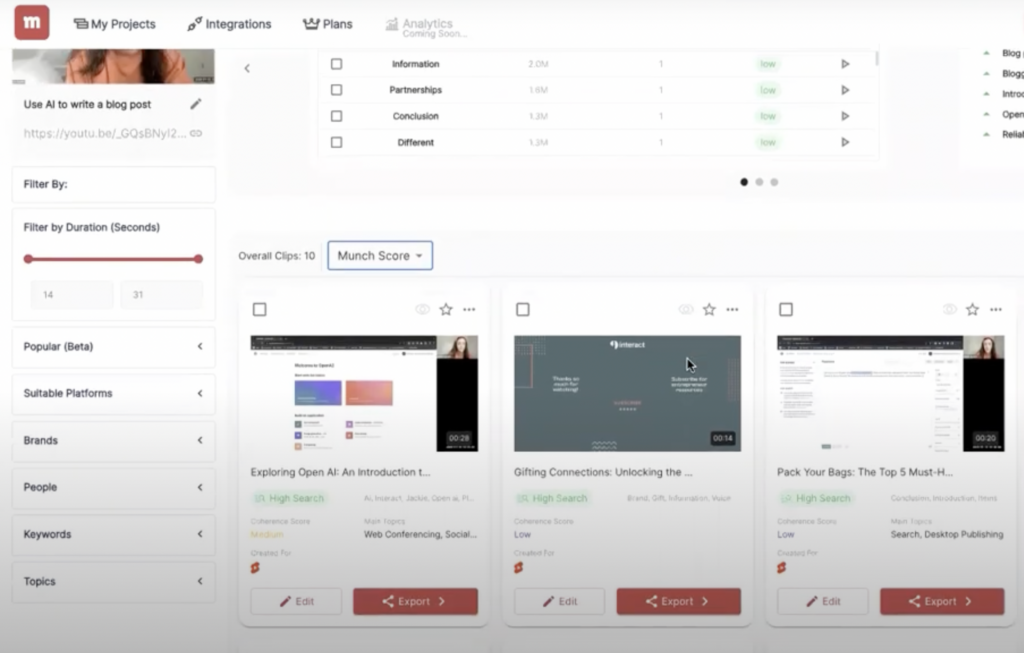 Before I dig into the actual videos, I want to look at the statistics at the top of the screen, which show keyword search volume. Specifically, the statistics show me how many clips contain the keywords and the competition for those keywords.
I'm going to scroll through these keywords and find one that people might actually search for in relation to my video topic.
I clicked the keyword "Interact," our company name. And now, Munch will show me which clips contain that keyword.
Two of my ten video clips feature the keyword "Interact." I watched both clips, and one felt like a better fit for a YouTube short, so I decided to work with that one.
Okay! Let's move on to editing.
Editing the Repurposed Video Content
Now that I've clicked on the video short I want to work with, I can start editing.
The first thing I'm checking out is the AI-generated caption, which you can find on the top right-hand side of the screen. I love this feature. For my video, the AI-generated the caption "Exploring Open AI with Jackie," which is almost perfect. "Exploring Open AI" is essentially what I was doing in my original long-form video.
However, I am going to swap out "Jackie" for "Interact" because "Interact" is one of my keywords, and that will help to surface the video.
Take a look at the caption the AI-generated for your clip. Maybe you want to change it up a bit, or you may want to leave it as is. Next, read the AI-generated hashtags just below. You can edit or add to the list of hashtags as well.
Next, I'm going to edit the actual video, which came out to be twenty-eight seconds.
I clicked on the pencil icon, which is just under the video, to start editing. I noticed my video lags slightly at the end, so I want to trim the clip to shorten it.
More Editing Tools to Try in Munch's AI
In addition to trimming your video, you can also play around with Munch's other editing features, like the auto focus and aspect ratio tools. You'll find these in the vertical editing toolbar on the left-hand side of the screen.
The AI-generated subtitles mostly looked good to me, but some pulled a little too much content for my liking. Luckily, they're super easy to edit. Just click "Subtitles" and make adjustments where necessary. Don't forget to double-check that everything is spelled correctly. Note: you'll have to pause the video before editing your subtitles.
If you trim or edit the video in any way, watch it afterward to make sure you're okay with how it turned out.
Another feature I really like is the "Magic posts" tool. Click on "Magic posts" to see what hashtags and introductory content Munch's AI-generated so you can post your video across different social platforms.
Finally, I'm clicking "Export" and adding my AI-repurposed video to YouTube shorts!
This is Munch! I'm really looking forward to seeing how my video performs. I hope this tutorial and review help you out. Let us know how it goes!