Experience what a quiz can do for you
Create an interactive quiz to generate leads, learn about your audience, and drive more traffic
After learning more about the benefits of personalized marketing, you may be looking to dive in by building your own quiz.
With a quiz, you'll be able to:
Generate more leads on autopilot
Convert passive visitors into passionate customers
Grow your email list with interested subscribers
Nurture your audience with valuable resources
If you're ready to make a lasting impression with a quiz, it's important to begin by choosing the right quiz-maker.
Today, I'll walk you through the main differences between Interact and Riddle, two great quiz-building tools for business owners.
Interact vs. Riddle: quiz-maker showdown
Interact and Riddle focus on helping businesses attract new leads through interactive quizzes. While they have distinct similarities, they each have unique features and drawbacks to consider.
Interact
Founded in 2013, Interact was created to help small businesses personally connect with their growing audience without adding more work to their plate. Through quiz automation, users can create an enjoyable quiz-taking experience from start to finish.
Interact is known for its extensive library of quiz templates, integrations, and helpful resources for first-time quiz-creators. With an easy-to-use drag-and-drop interface, business owners of any experience level can build a high-performing, lead-generating quiz.
While Interact was made with creative entrepreneurs in mind, let's consider if it is the right tool for your business.
Pricing
Interact is one of the only quiz builders that allows you to sign up for a free forever plan in addition to a limited-time free trial of a more comprehensive package. You can build unlimited quizzes for unlimited quiz-takers, but to start collecting email addresses, you'll need a paid plan.
Most quiz-creators start with the Lite or Growth plan. With Lite, you can collect up to 6,000 leads per year. With Growth, you can collect up to 24,000 leads per year and it also allows for custom branding.
If you pay annually, you'll save 40% on any Interact paid plan. Even if you pay monthly, the monthly cost is still up to $20 less than you'd be paying with Riddle.
More quiz templates
If you'd like to save time and start with a template, Interact has the upper hand. With over 800 quiz templates in virtually every industry, you'll be able to customize any template to fit your needs.
Creating a quiz from scratch is possible on Interact and Riddle, but no other platform offers as many template options as Interact. You'll have not only sample questions and answers to choose from but also a list of pre-made quiz result types.
Interact also has a built-in library of free stock photos, giving you access to thousands of photos to use in your quiz. To make your quiz even more delightful, try adding GIFs with Interact's built-in GIPHY feature!
Extended design options
With Interact, you'll have every opportunity to create an on-brand quiz at your fingertips. With a customizable color palette, you can select colors for your quiz background, progress bar, button, font text, and more.
Speaking of fonts, you can also choose a signature font from Interact's large library of typography options. We already mentioned the built-in stock photo and GIF library, but feel free to add your own headshots or brand imagery with our upload capabilities.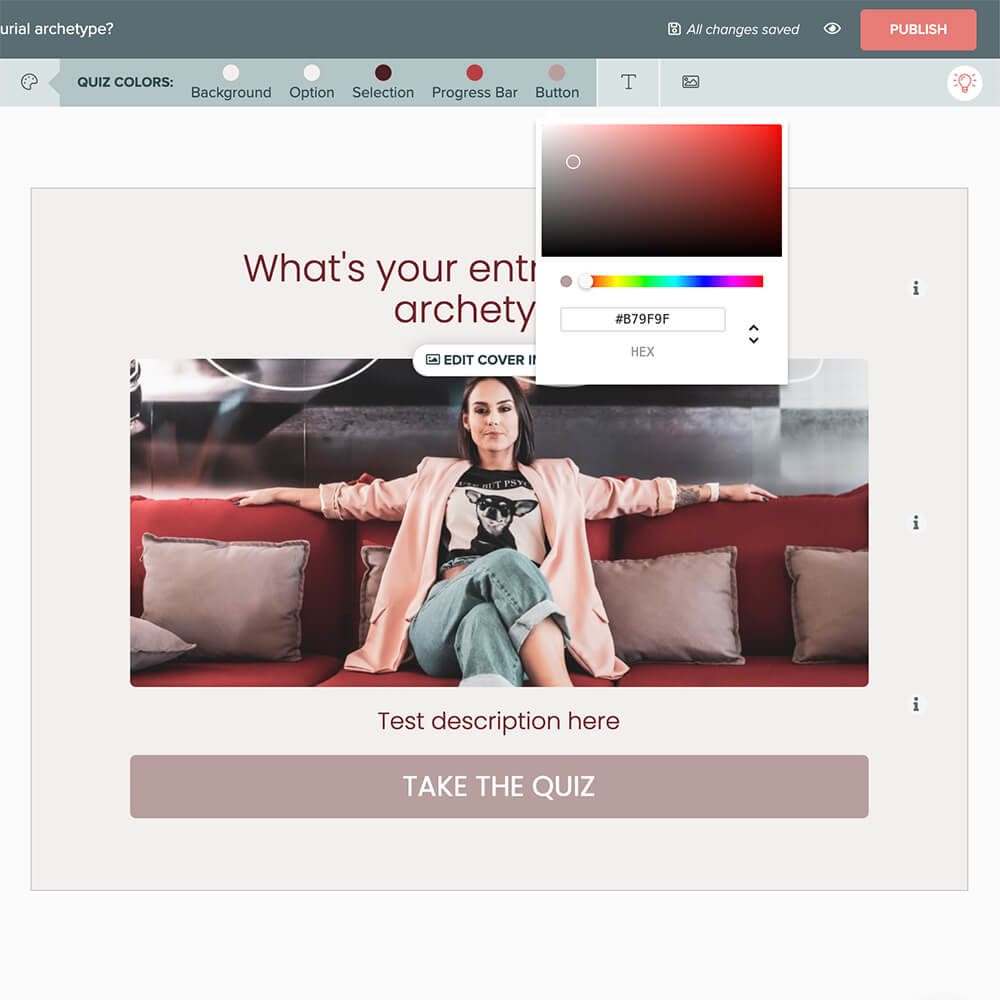 To brand your quiz, add your logo to your quiz design. You'll need to upgrade to the Growth plan to white-label your quiz and hide Interact's logo, but it's an option on the platform. Simply embed the quiz into your website page for a seamless quiz-taking experience!
Advanced quiz analytics
Once you publish your quiz, you'll want to know how it performs over time. That's why collecting quiz data and monitoring audience trends is so important. You can use this information to make better business decisions and optimize your content.
Inside the analytics dashboard, a funnel-style graphic will show quiz views, starts, completions, and leads with a customizable conversion rate at the bottom. However, to receive access to even more analytics, you'll need to invest in the Growth plan.
With the Growth plan, you'll dive deeper into quiz data, showing the percentages of how quiz-takers answered each question and which quiz result types were the most popular. This information can help you strengthen your marketing and messaging over time.
Riddle also features an analytics dashboard, but it is more text-based than image-based. It doesn't have as many customizable options and statistic types as Interact, but it still has the basics you'd need to get started.
Riddle
Much like Interact, Riddle is a quiz-maker that helps its users create quizzes, collect more leads, and engage with their audience. No coding is required to create your first quiz, making it a user-friendly platform for business owners and professionals who don't consider themselves tech-savvy.
Founded in 2014, Riddle aims to help larger organizations—like publishers, agencies, marketers, sports teams, and nonprofits—create engaging quizzes for a wide audience. While it's not built for small businesses or creatives (like Interact's quiz-builder is), it could be a quiz-maker alternative that's worth looking into.
While Riddle advertises itself as a quiz-maker, you can create other types of interactive content within their platform. To learn more about their software, read this in-depth review.
Pricing
When you invest in a paid plan, Riddle will give you the ability to create unlimited quizzes—a feature that's included in all free and paid Interact plans.
However, the main difference in Riddle's pricing is you can generate as many email leads as you'd like. That's why Riddle is a good fit for enterprise-level businesses, educational organizations, and large corporations who want to generate limitless leads every month.
Unlimited email collection comes at a cost, with paid plans starting at $69 per month. You can upgrade from Pro to Team for $299 per month if you're looking for a 100% white-labeled quiz with CSS editing.
While you can save 40% with an annual subscription to Interact, you can only save 29% with an annual subscription to Riddle. However, paying upfront could be a great way to save money in your marketing budget.
More form types
Instead of focusing solely on quizzes, Riddle allows users to create several forms, including polls, surveys, tests, lists, and more.
While their platform comes with versatile options, they don't have as many advanced quiz-building features because they focus on so many different types of interactive marketing.
Limited integrations
Integrations help quiz-makers like Riddle seamlessly connect with other tools, so users can automate more of their marketing throughout the quiz journey.
However, Riddle only integrates with:
Mailchimp
AWeber
Zapier
Google Sheets
Google Tag Manager
ActiveCampaign
Facebook
WhatsApp
LinkedIn
Twitter
Instagram
Users can only integrate Riddle with two leading email service providers: Mailchimp and AWeber. While these two platforms are popular, many entrepreneurs prefer to use other software.
In comparison, Interact integrates with dozens of marketing automation, email marketing, and other tools, giving users more opportunities to generate leads and interact with new email subscribers.
If you care about integrating your quiz with your CRM, email service provider, or another tool, Interact may be the better choice.
Simple branching logic
Like Interact, Riddle allows you to use branching logic to set up your quiz. All you need to do is order your questions and connect each answer option with the right quiz result type.
If you want to adjust the quiz-taker's journey based on how they answer a specific question, you can do this through branching logic. While Interact's platform looks different, it essentially does the same thing as Riddle's.
| | |
| --- | --- |
| Riddle's branching logic feature | Interact's branching logic feature |
If you're a visual thinker, you'll love Riddle's back-end feature. Some users find Interact's branching logic feature easier to understand, but ultimately, it depends on personal preference.
Difficult to navigate website
If this is your first time building a quiz, Riddle may not give you the resources and guidance you need to get started. While their main website navigation is user-friendly, their internal pages are hard to navigate and feature an overwhelming amount of information.
While they may not have any free courses, like Interact does, Riddle's blog is pretty easy to navigate. They also have an online help center featuring several educational docs, as well as a chatbot that can help you troubleshoot common issues and questions.
If you need help creating a Riddle quiz, we recommend starting on the blog instead of scrolling through their website.
The final verdict
There's no one-size-fits-all solution to building an engaging online quiz. Still, there may be a clear winner when it comes to what will work best for you and your business.
Are you looking for a slightly more budget-conscious quiz-maker that has a wide array of templates and design options? Interact may be for you.
Would you rather invest in a quiz-maker with the ability to collect unlimited email leads while letting you build polls, surveys, and more? Then Riddle would be the right tool for you.
To make your decision even easier, sign up for a free trial of each tool. Testing a tool before you purchase it is one of the best ways to make a confident decision.
Click here to sign up for a 14-day free trial of Interact.
Create your own Interact quiz and get started for free
Use a quiz to drive more traffic to your website and engage your audience.