If you want to find out how well your friends really know you, think about making a Buddy Meter quiz, then ask your friends to take the quiz and prove they're your best friends.
Don't know how to create a Buddy Meter quiz? This post will show you everything you need to know. You'll learn what a Buddy Meter quiz is, steps to build one with Interact, and fun questions to include in your quiz.
Let's get started!
What is a Buddy Meter quiz?
A Buddy Meter (sometimes, BuddyMeter) quiz is a quiz that allows you to test whether your friend is a true BFF. It has a set of questions that can fall into different categories ranging from your personality characteristics, appearances, favorites, tastes, and specifics like what you always do before going to bed.
What happens if your friend gets some of the answers wrong?
Nothing happens! They can never really "lose" in this friend quiz. A Buddy Meter quiz is all about getting to know each other and having a great time together. In other words, after you quiz them, they can quiz you, and soon enough, you'll be aces in the best friend department.
That's why a Buddy Meter quiz also works well for parents and children, siblings, colleagues, and acquaintances. It's a fun activity to do during free time, and who knows—you may even learn something new about the person who you think you already know everything about.
So, where can you get a Buddy Meter quiz?
There are two ways: One way is just to google "buddy meter quiz," and you'll receive many suggestions like this.
Enter your name and region, and you'll receive ten questions. If you don't like any of the preset questions, you can swap them out for something new. After you've finished answering the quiz, the site will give you a quiz link. Simply click the link and share it with your besties on Instagram, Facebook, Snapchat, WhatsApp, or whatever social media platforms they're on.
Alternatively, you can create your own quiz with quiz makers like Interact. This way, you can add specific questions you want to be answered, customize the quiz design, or change questions any time you want.
Sounds great? Let's move on to creating a Buddy Meter quiz with Interact.
How to make a Buddy Meter quiz with Interact
Interact allows you to create a true friend quiz in just five steps.
Step 1: Choose the quiz title and description
The quiz title tells what the quiz is all about, and the description gives extra information about the quiz. Here is an example:
To attract your friends' attention and encourage them to take your quiz immediately, you should create an eye-catching title and description. Here are some ideas:
| | |
| --- | --- |
| Quiz title | Quiz description |
| How well do you know me? | Take this quiz and prove you're my true friend! |
| Are you and I besties for life? | Take this quiz now to prove it! |
| Are you my best friend? | Take this quiz to see how much you know about me! |
| Do you really know me? | Prove to me you're my true friend! |
You're free to mix the quiz title and description to create a new pair.
Step 2: Plan your quiz design
With Interact, there are two options to create a new quiz: using a template or starting from scratch.
If you choose to build a quiz from scratch, click From Scratch and pick a type of quiz you want from the list.
For a Buddy Meter quiz, you can start with Assessment, which lets you decide which answer is correct. Or you can create a Scored quiz so your friends can get scores for their answers to your questions at the end of the quiz.
If you want to save time, you can use a quiz template. Interact provides more than 1,000 templates grouped into categories like Entertainment, Fashion, Food, and Drink. They're ready to use and also customizable—meaning you can modify them however you want.
To use a template, click Use This Quiz, and you'll be directed to the Interact Quiz Builder.
Step 3: Design your quiz cover
Your quiz cover contains a quiz title, a cover image, a quiz description, and a call to action (CTA) button.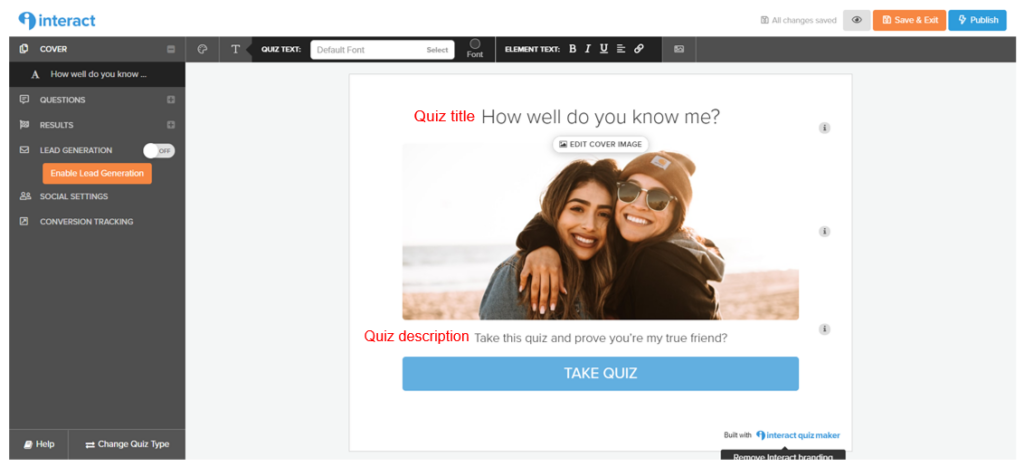 Because you already have the title and description, now just place them into the respective fields.
Next, add a cover image to make your quiz more attention-grabbing. How about a picture of you and your friend on a recent trip or a picture of the two of you at graduation? You can also choose a photo from Interact's library, which includes thousands of free, high-quality stock images.
Now it's time to customize your CTA button. By default, this button says "Take Quiz," but you can edit the copy to say anything you'd like (e.g., Start The Quiz, Start It Now).
BONUS TIP: The top toolbar is where you can customize the appearance of the quiz title, description, and CTA button. Use it to design a beautiful quiz to impress your friends.
Once you've finished designing the quiz cover page, add the quiz questions.
Step 4: Add quiz questions and answers
You can add as many questions as you want to your Buddy Meter quiz. To add a question, click the Question tab on the left menu.
Your questions should be specific, fun, and surprising. You can even add hard questions to challenge your friends.
If you need help with questions, consider these ideas:
What movie do I hate the most?
Do I believe vampires are real?
What is the worst book I ever read?
If I had $100 million right now, what would I do?
What is my favorite underwear brand?
Would I rather get a facial or a massage?
What is the most embarrassing moment of my life?
If I had to get a tattoo right now, what would I choose?
If I had a chance to meet President Donald Trump tomorrow, what would I say to him?
When you put the questions into the Interact Quiz Builder, this is what it'll look like:
Your questions will appear on the left menu. You can easily edit, delete, or change the order of the questions. If you want to add an image for each answer choice, just click Use Image Answers and repeat what you did with the question image in step 3.
To set correct answers to your questions, click Results on the left menu. Then type your correct answer. Options to add an image, write a description, and hide a CTA button are available.
NOTE:
If you use a template to create your quiz, you'll see predefined questions. But you can change them however you want.
There is no limit to how many questions and answer choices you can add. You can even set multiple answers to challenge your friends.
When adding a question, be sure to edit the result correlations. That's what maps your answers to the correct result.
Now that you've finished creating your Buddy Meter quiz, let's learn how to publish and share it with your friends.
Step 5: Publish and share your quiz
To publish your quiz, click the Publish button at the top right corner of your Interact Quiz Builder.
You'll be directed away from the quiz builder, and a new popup will appear with six options to share your quiz (see below).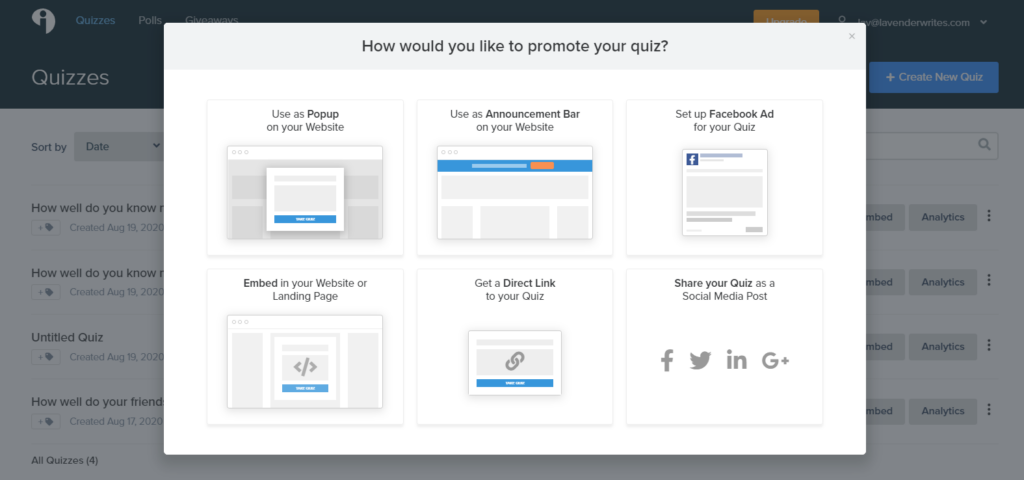 To share your Buddy Meter quiz with your friends, you can select the Get a Direct Link to Your Quiz option. Then click Copy URL to Clipboard and paste it to any social media network your friends use.
Another way to share your quiz is to select the Share Your Quiz as a Social Media Post option. In this case, you publish your quiz directly on Facebook, Twitter, LinkedIn, or Google+ as a normal post. Before posting, remember to write a short description to get your friends noticed.
Buddy Meter quiz questions to ask
You can use a Buddy Meter quiz to test the relationship not only between you and your friends but also between you and your loved ones. Choose the right kind of questions, be creative, and bring a lot of fun to everyone around you.
If you're looking for fun questions to add to your Buddy Meter quiz, we've got you covered! Here are some ideas to get started.
"How well do you know me" questions
What is my eye color?
What food do I hate?
What is my biggest pet peeve?
What's my favorite TV show on Netflix?
When did we first meet?
If I'm watching TV, what am I watching?
What is my biggest fear?
How often do I eat cereal?
What do I always do before going to bed?
Who do I hate most at work?
What three things do I like most about you?
What's my favorite smell?
What is my grandfather's name?
What shoe size do I wear?
Am I a dog or a cat person?
How many people have a crush on me?
What was the last thing I did yesterday?
If I could be someone else, who would I be?
If I wanted to do something for you right now, what would I do?
What was the first word I said to you the first time we met?
"How well do your parents know you?" questions
When did I start crawling?
What time was I born?
What did I want to be when I grew up?
What is my favorite scent?
Who is my best friend?
Who do I talk to the most?
Who was my first girlfriend/boyfriend?
At what age do I want to get married?
What is my biggest fear?
What was my most embarrassing moment?
What was the best gift I ever gave you?
What was the best gift I ever received?
When was the last time I told you "I love you"?
What is my dream job?
What is my favorite meal?
What do I do when I'm angry?
Which friend of yours do I love most?
What is my proudest accomplishment?
Which chore do I hate most?
How do you know when I lie to you?
"How well do your siblings know you?" questions
What secret have I told you but not my best friend?
Which is my favorite dress?
How many kids do I want to have?
Who do I want to marry?
Who was my first crush?
Who was my first kiss?
What's one thing I've never told you?
What's one thing you've never told me?
What do I regret the most about my childhood?
What's something our parents don't know about us?
What was the last gift I bought for you?
What was my reaction when you gave me a cat?
What's something I never forgave you for?
What's one piece of parental advice that I've held on to?
What do I love most about you?
Why do I always wear a sleep eye mask?
How tall am I?
Who is the person I tell you the most about?
Do I want to become a millionaire?
Where do I hide my secret box?
Are you excited to create your Buddy Meter quiz?
You may think your best friend is your half-world because you talk to them the most, giggle with them, and let them see you at your worst, right? But how well do they know you?
Follow the five steps above and use Interact's suggested questions to create a Buddy Meter quiz. Share it with your friends and learn their answers!