I wish I knew how to increase my blog traffic for free, has thought every blogger, ever.
The hardest part about starting a blog is generating traffic. What's the point of writing a blog if nobody sees it?
Enter: interactive quizzes.
With an interactive quiz, you'll drive more visitors to your blog than you would with a standard e-book or template. Interactive quizzes are engaging, personable, and fun.
In this post, I'll teach you how to create and design a quiz with Interact. I'll also show you the ins and outs of increasing your blog traffic with a quiz marketing strategy.
Let's get to it!
Table of Contents
What's the deal with interactive marketing?
How can a quiz increase blog traffic?
Before you create a quiz with Interact
How to design a quiz for your blog
Get more blog traffic with a quiz marketing strategy
Check your analytics
What's the deal with interactive marketing?
Interactive marketing is what it sounds like: a marketing strategy that's interactive. Some examples other than a quiz are videos, giveaways, and chatbots.
It took a while, but interactive marketing is finally getting its fifteen minutes of fame. In fact, one of 2021's predicted marketing trends is interactive marketing.
So what makes this type of marketing special? Why should you care about it?
One, interactive marketing engages people. Sure, other forms of marketing engage people, but interactive marketing is on another level.
We'll use a chatbot as an example. When a user visits a website, a chatbot greets them just as an employee would in-person.
A simple "Hey, do you need any help?" opens up a conversation. From here, the user can ask a question or offer feedback to the chatbot. They'll be too busy interacting with your business to leave your website.
Two, interactive marketing stands out from other blogs. How often do you ask your audience to fill out a form? Pretty often, I'm guessing. But how many times have you asked users to take a quiz?
Not a lot, right? When bloggers form their content strategy, most forget about interactive content. A quiz will help you stand out from the crowd.
Three, interactive marketing explodes blog traffic. Women.com is a perfect example.
A blog that promotes women-owned businesses, more than half of Women.com's engagement is from… can you guess?
You got it, quizzes.
I bet you're interested now. If quizzes quadrupled Women.com's traffic, then why couldn't the same be true for your business?
Let's talk about exactly how a quiz can blow your traffic through the roof.
How can a quiz increase blog traffic?
There are three ways a quiz can increase your blog traffic. Let's go through each of them carefully.
1. A quiz grows your email list
Instead of telling you how a quiz could grow your email list, why don't I show you instead?
Leisa Peterson, the founder of WealthClinic, generated 7,000 new email subscribers in five months from her quiz, "Are chakra imbalances affecting your money flow?"

With our free Interact quiz software, she turned 10,000 web visitors into 7,000 subscribers. All it took was a free quiz and investment in Facebook Ads.
As a blogger, your email list is a pot of gold. It's the hub to share your insights, new blog posts, and products. Imagine growing by 7,000 subscribers in a matter of months!
2. A quiz will skyrocket conversion rates
You might be interested in increasing your blog post views, content downloads, or product sales. All of these are conversions.
Sasha is a business coach. She uses her blog Every Day She's Sparkling to help aspiring online business owners build blogs.
To promote her coaching services to new visitors, Sasha used Interact software to create the quiz, "Where are you on the blogging roadmap?"
And the results? 511 views and a 34% conversion rate in one week. Seven days—that's it!

And just think of how many more visitors she's received since.
You can also use a quiz to promote other parts of your blog, like a post or landing page.
3. A quiz will boost your SEO
Every blogger's worst nightmare is a high bounce rate. If you're thinking, Wait… what's a bounce rate? Then you're one of the lucky ones.
A bounce rate is how fast someone leaves a webpage. The higher the bounce rate, the more people who exit your page ASAP.
A high bounce rate is . . . what do they call it? Oh yeah. Bad news bears. It tells Google that your webpage isn't interesting. And then Google penalizes your SEO for it.
Here's where a quiz comes in. A quiz grabs a user's attention for three to five minutes. Imagine how low your bounce rate would be if every user spent three to five minutes on your site!
Quizzes are also social media masters. In other words, people share them like crazy. The more shares you get, the more visits you'll receive.
A low bounce rate and high visiting rate tell Google, This site is pretty cool. And they'll reward you with a higher ranking on search.
Sure, you'll have to practice other SEO strategies to increase your ranking dramatically. But a quiz will keep more visitors on your site for longer, which is great for optimization.
I bet you're thinking, I'm convinced! How do I create a quiz for my blog?
Before you create a quiz on Interact
There are a few things you'll have to prepare before making a quiz.
1. Create an Interact account
If you want to follow this guide, then sign up for an Interact account. It takes about two minutes, and you'll have access to all the features you need.
Some of our best features include:
Email marketing integration
Conditional logic quizzes
Custom design
Conversion tracking
Hundreds of quiz templates
All signed up? Great. With that out of the way, let's get to the good stuff.
2. Create a quiz topic
Terrific quizzes start with an intriguing quiz topic. Before you choose your topic, consider the questions below:
What quiz topic embodies your blog the most?
Let's say you own a food blog. You could choose a standard topic like, "What's your food personality?"
Or you could go more in-depth. If you focus on Mexican food, you could choose a topic like, "What's your go-to taco recipe?"
What do you want your audience to do after they take your quiz?
Maybe you want to grow your email list, or perhaps you wish to promote a future online course. Your call to action will help you choose a high-converting topic.
What does your audience struggle with the most?
In other words, what are they dying to know the answer to? Choose a topic they look to you for advice on.
If you blog about blogging, then you might want to choose a quiz topic like, "What type of blog should you start?"
Check out our quiz templates to brainstorm more ideas.
After you choose a topic, decide what type of quiz to create. With Interact, you can build a personality, scored, or assessment quiz.
A personality quiz teaches users something new about themselves. People love personality quizzes because—let's be honest—we love to learn about ourselves.
Personality quizzes can be lighthearted, like "What type of drink are you?" They can be serious, too, like "What's your attachment style?"
An assessment quiz is similar to a test. Most assessment quizzes tell you how well you know something.
Two examples are "Do you know all the capitals in the United States?" and "How many countries do you know?"
And last is a scored quiz. A scored quiz determines a person's results by tallying up points. They're just like the quizzes you'd take in a magazine.
Scored quizzes can be about anything. Some examples are "How well do you know your partner?" or "What sport are you best at?"
Choose the type of quiz that goes best with your topic.
Next, head over to your questions.
3. Craft good questions and answers
When you craft your quiz questions, I want you to imagine sitting at dinner with a blind date.
You don't know this person at all, but you want to learn more about them.
What type of questions would you ask?
Here's my guess: Intriguing, exciting, and engaging questions.
Intriguing—You're not asking the standard "What do you do for a living?" type of question. You're diving deeper with questions like, "What motivates you to go to work every day?"
Exciting—You know that feeling when you're with a stranger and have no idea what to say? Maybe you sit there and stare at them for a few seconds. Or perhaps you suddenly act interested in the napkin dispenser.
This is how boring questions make a quiz-taker feel. Even worse, they might exit out of the page.
So be exciting! Use fun vocabulary and don't be afraid to write in ALL CAPS. And exclamation points are more than welcome!
Personal—There's a fine line between personal and too personal. You wouldn't ask your blind date their deepest darkest secrets, right? It's the same for your audience.
But this doesn't mean you can't be personal at all. Don't be afraid to ask questions like, "How do you react to failure?" or "What's stopping you from building a business?"
Now that you know what kinds of questions to ask, let's look at a few examples from one of our quiz templates.
This question checks off every trait. It rephrases the standard "What's your favorite quote" so it's more intriguing. It draws the reader in and gets them excited. And it's personal, but not too personal.
We also recommend using different types of questions, like:
Scenario questions—Most scenario questions start with Would you rather… or What would you do if…
This-or-that—Ever been asked, Would you rather drink a Coca-Cola or a Pepsi? This is a this-or-that question.
True-or-false—Yes or no. Agree or disagree. You know what these questions are.
Now let's talk about your quiz answers.
Just like your questions, your answers should be intriguing, exciting, and personal. But they should also be realistic.
Let's go back to the blind date example. Would you ever answer the question "Are you a cat or dog person?" with "Neither. I'm into unicorns."
Probably not. And yes, quiz answers like this actually exist.
Unrealistic answers can leave your audience feeling frustrated. The last thing you want is for people to leave your quiz. So try to create sensible solutions.
Let's look at the answers to the question above: "What's the bigger WHY behind your desire for more growth?"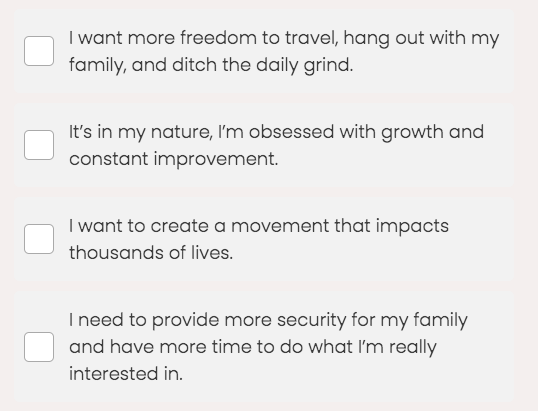 Everyone can probably relate to at least one of these answer options.
Keep these tips in mind as you create your question and answers. We recommend sticking with ten to twelve questions for a short and sweet quiz.
4. Create your quiz results
The last thing you need before designing your quiz is your results. Quiz results are crucial to your entire strategy. But why?
Your quiz results are the bridge between your quiz and blog traffic. If people find their results interesting, they'll want to dive deeper into your blog.
When you create each quiz result, make sure to:
Share positive results—Imagine taking a fitness quiz. Name one person who wants to receive a result like "Do you even exercise, bro? You're out of shape."
You can't, can you?
So be optimistic about every result, even if it's not ideal. You could say something like, "Congrats! You're one step closer to getting in the best shape of your life."
Guide users to your call to action—To obtain the most blog traffic, you want users to subscribe to your email or read more content.
Users won't know to do this themselves. You have to tell them.
Use a CTA button like "My blog post will tell you exactly how to (call to action)" or "Download my free blogging template to start your own blog!"
You can add one to three call-to-action buttons throughout your results page. Any more, and it can go overboard.
Relate to your users—Your audience will feel understood with a detailed results page. And don't be afraid to get personal.
Answer the "who, what, when, where, and why" for them. The more value you offer, the more likely users will check out your blog.
Offer free stuff—Introduce quiz-takers to your blog with free content. And this doesn't have to be a blog post. You can also offer a free video, audio recording, or downloadable template.
Don't worry, I'll go over what a quiz results page should look like later in the post.
How to design a quiz for your blog
It's easy to create a quiz with Interact. Follow each step below, and your blog quiz will be ready in no time!
Table of contents
1. Choose a template
2. Design your quiz
3. Create the cover page
4. Design each question page
5. Create your results page
6. Correlate your answers
1. Choose a template or a blank slate
To get started, log in to your Interact account and hit Create Quiz at the top right.
You can use one of our quiz templates or click Start From Scratch, which means you'll create a quiz without a template.
In this tutorial, we'll use the quiz template "Do you have what it takes to make your blog blast-off?"
2. Design your quiz
One of the best parts about Interact is the design features. At the quiz dashboard, you'll see a menu with Quiz Colors at the top.
Our templates include a color scheme, but feel free to change the colors to match your brand.
To access a list of fonts, click the T next to the quiz colors. As you choose a font, keep your reader in mind. Is your font easy to read? Does it flow with your entire design?
And last is your logo. Click the photo icon next to the T to upload your logo. It'll appear at the bottom right corner of your cover page.
And speaking of your cover page…how should you design it?
3. Create the cover page
Think back to the last time you walked into a bookstore. What made you grab a book and think, This book looks interesting. I wonder what it's about?
Hint: It's the first thing you notice about a book.
That's right! The book cover attracted your attention. Your eyes filtered through hundreds of books and found the most interesting-looking one.
Your quiz cover page is similar to a book cover. When you use exciting colors and web copy, you'll attract the right audience to your quiz.
Let's go through each element of your cover page.
The title—When you create your title, ask a question. What is your ideal user dying to know?
The example above is perfect for anyone who blogs about blogging. Instead of the standard "Blog Quiz," it asks the user a specific question: "Do you have what it takes to make your blog blast-off?"
Cover image—At Interact, we've found that pictures with one happy-looking person perform better than other types of images.
Let's face it: we love to see happy people! If you don't want an image of a person, then choose something with cheerful colors.
Click Edit Cover Image and choose from a gallery of images, or upload one yourself.
Quiz description—Don't worry about writing a long explanation. As long as you tell users what they'll gain from your results, you're good to go.
Call to action (CTA)—Keep your CTA button short and straightforward. You can use "Take the Quiz" or other formats, like:
Find out your (CTA) in 1 minute!
Begin your journey to (CTA)
Transform your (CTA)
Don't worry about random online users. Direct your cover page to your audience. What do they want to see?
4. Design each question page
As you already created your questions, we'll focus on the design of your question pages.
You can add images to your questions in two ways. The first is with a large image, like below.
The image should embody your question. Help readers understand what you're asking.
Click Edit to change your question image, or hit Hide Question Image to remove it.
The second way to add images is with Image answers.
Each image answer should help your audience understand your answers.
Plus, image answers add a bit of pizazz to your page.
You can also allow multiple answers by clicking Answer Settings.
Don't worry about correlating your questions just yet. We'll get to that after you build your results pages.
5. Create the results page
A notable feature of our quiz templates is the results page. We'll go through every element of our results page, starting at the top.
Positive results—A new blogger might feel insecure about their lack of knowledge. The title, "Blogging Newbie," isn't negative in any way, shape, or form.
Feel-good description—Make your audience feel good about their results. Even if it's not the best result, always find the silver lining.
And don't forget to give a compliment (or two). Get them fired up about what's to come.
Relevant image—Choose an image your audience can relate to. If your audience is mainly female, then include more women than men in your photos and vice versa.
Let's continue to the second part of the page.
Now that the quiz-taker knows their result, they'll think, Where do I go from here?
Queue: Your tips.
Give your reader three things they can work on right off the bat. Make sure each tip aligns with your business. This way, they'll be more interested in working with you.
And don't forget to introduce yourself!
Your audience wants to know about you and your vision. Add a profile photo and say your name and what you do.
A little about you—Show a timeline of when you started blogging and where you're at now.
Your success—Explain how your blog helped you achieve your goals.
How you help others—This is an essential part of your bio. Tell users how you'll help them reach success, too!
As you finish your results landing page, why not add a few pieces of your best content?
A big part of owning a business is becoming the source of information. You want your audience to come to you, but they have to trust you first.
So offer a few freebies to hook your audience. This can be an e-book, podcast, or your blog (obviously!).
The more value you give, the more your audience will trust and look to you for answers. Plus, these freebies are CTAs. You're telling your audience what to do as soon as they leave.
And speaking of calls to action, don't forget to add a last-minute "Expect to see me in your inbox!" message at the end.
Now users will expect your emails. Our results pages are created to generate more email subscribers, which I'll talk more about later.
But for now, let's celebrate the end of this results page! Check out our guide, How to create quiz result landing pages, for more conversion-worthy tips.
There's one step left before you finish your quiz.
6. Correlate your answers
Don't forget to correlate your answers and results. Go back to each question page and click Set Answer Scores. Or, if you're creating a personality quiz, click "Correlate Results" instead.
From here, add the appropriate score to each answer.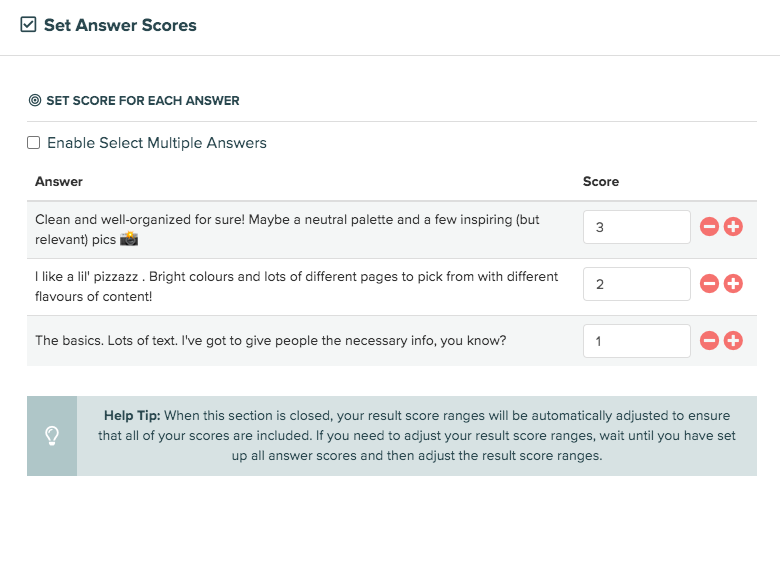 And you're done! To preview your quiz, click the eye icon at the top right.
Then hit Publish when you're ready. That wasn't too bad, was it? With your quiz finished, I can get to the juicy deets about your blog traffic.
Get more blog traffic with a quiz marketing strategy
When you add a quiz to your blog, there's no doubt that you'll get more website visitors. But if you want to EXPLODE your blog traffic, you'll need to create a quiz funnel.
A quiz funnel is similar to a marketing funnel. The only difference is each step tailors to your quiz.
The awareness and lead acquisition stages are crucial when it comes to blog traffic, so we'll focus on these stages. But you can check out our marketing funnel post to learn more about the rest of the funnel.
We'll start with the awareness stage.
Awareness stage
Online users find your blog (or quiz) in the awareness stage. At this point, they know nothing about you, your blog, or what you do.
In this stage, it's your job to:
Promote your quiz to new users
Get as many new users as possible to take your quiz
You can't expect your quiz to grow traffic on your site alone. People will find out about your quiz only if you promote it.
So, how do you promote your quiz?
An easy way is with social media. Remember, quizzes are social media's BFF. People LOVE sharing quizzes on Twitter, Facebook, and even LinkedIn.
With Interact, you can share your quiz on any social media account.
On your quiz dashboard, click Share & Embed.
Under Share Link, click on any of the social media icons to share your quiz.
If you click on Facebook, for example, your social post would like something like below.
Make sure to add a compelling caption to your social media posts. Let's take a look at how Jenna Kutcher promoted her quiz on Instagram.
She didn't use a generic "Hey, take this quiz and see your results!" type of caption.
Jenna also included a sneak peek of her quiz results. And she used emojis, fun language, and a "comment below" call to action to hype up followers.
Use the below questions to help create your caption:
1. Why should your audience take your quiz? What will they get out of it?
2. Is there something special about your quiz that you can promote?
3. What should users do after they take your quiz?
Another way to promote your quiz is with a pop-up ad. If a new user visits your site, advertise your awesome quiz with a pop-up ad.
I know what you're thinking. Aren't pop-up ads annoying? I don't want to bother anyone.
Pop-up ads are only annoying if you don't show them right. Avoid flashy colors and big fonts, and you'll be on your way.
Kelly Trach's pop-up ad is a perfect example. Is there anything annoying about her ad?
Not at all.
Here's what makes her pop-up phenomenal.
Image—Kelly's professional photo connects new users to her brand. This isn't a spammy ad—it's from a real person.
High-converting language—A few things here: One, Kelly capitalizes FREE. And we all know how much we love free things.
Two, she mentioned how 6,000 people have already taken her quiz. Talk about social proof.
Neutral colors—As I mentioned before, flashy colors are a big no-no for pop-up ads. Neutral colors won't bombard your audience.
To create a pop-up ad with Interact, click Share & Embed as you did earlier.
This time, click Popup.
You can embed your ad with Javascript or WordPress. For Javascript, copy and paste the code in the header of your website.
For WordPress, download our plugin.
Before you embed your ad, scroll down to Customize the popup.
Go ahead and choose your background color. Then select how many seconds until your ad will appear on the page with Timer Delay.
If someone dismisses your ad, you can decide how long until your ad reappears for them with Hiatus.
And last, you can disable your cover page if you want users to get straight to the questions.
You can also decide on which pages you'd like your popup with Edit the popup visibility.
Two more ways to promote your quiz for more blog traffic is:
With these tips, you'll promote your quiz to thousands of users in no time. Hello, blog traffic!
Lead acquisition
When a new user exchanges their email for a piece of content (like your quiz), they become a lead. From here, you can send your newsletter, new blog posts, online course… the list goes on.
Asking users for their email address after they take your quiz is lead acquisition. The more emails you get, the more leads you have.
The best way to get more email subscribers, AKA leads, is with an email opt-in form.
Your email opt-in form tells your audience, You can see your results AS SOON as you enter your email. And I'll even throw in a free (piece of content).
Let's go over why the form above gets so many conversions.
One, the title reminds users why they're entering their email address—to find out their zone of genius (the quiz).
Two, the description mentions what you get in return: a FREE five-page personalized strategy and three things you'll learn from it.
And last is the call to action. This form keeps it simple with "See My Results!" but you can also use a CTA button like:
I want my personalized report
I'm ready to (blank)
I want to learn more about (blank)
With a fantastic quiz like yours, hundreds of users will happily exchange their email for their results.
Want to know the best part? You can set up an email opt-in form with Interact.
On your quiz dashboard, head to Lead Generation and toggle it to on.
All you have to do is fill out the form below.
Under Select Contact Fields, choose the information you want to collect. You really only need their first name and email address.
Next is Form Settings. We suggest allowing users to skip your opt-in form. You don't want to force anyone to enter their email address, right?
You can also display your privacy policy to reassure that their information is safe and secure. Lastly, a user can "consent" to entering their email with a GDPR compliant consent checkbox.
When you're done, scroll down to customize your email opt-in.
Feel free to customize the title, description, and call to action. Next, integrate your email marketing software with Interact.
You can learn more about the next steps with these posts:
How's that for a bomb-diggity email list?
Last thing: Check your analytics
As a blogger, I know you're continually checking analytics like:
Your page views
Bounce rate
Organic traffic
Bloggers, like you, are analytic masters. If you don't analyze your traffic, then how will you ever increase it?
Lucky for you, you can grow your quiz traffic with our analytics feature! This way, you'll know how to grow your quiz and eventually your blog traffic.
On your dashboard, hit Analytics, and let the fun begin.
The homepage will tell you your overall stats. You can check out a summary of your quiz views and conversions.
Let's get more specific and head to the Leads tab.
This page shows every user who took and received their quiz results. Click on one of your leads to see more details.
These details tell you:
When this user started the quiz
How many questions they answered
When they saw their quiz results
You can see the average time it takes a user to complete your quiz. And you can check if your audience answers all of your questions.
Plus, you're able to download this information for later. Head to the Legacy tab to get started.
This info tells me that within two months, I've received:
79 views
38 starts (starting your quiz)
25 completions (completing your quiz)
3 leads (email opt-ins)
Now I can improve my quiz, so more people complete it and exchange their email address. Or, maybe I'll promote my quiz to more users.
Go ahead and hit Download Leads on the far right to keep these for later.
Now head over to Questions & Answers to check out your most common answers.
This information will help you learn more about your audience.
Let's say you create a blog quiz called, "What pick-me-up could your blog use?"
You might ask a question like:
What frustrates you the most about running a blog?
Editing and optimizing content
Thinking of blog ideas
Designing my website
With these analytics, you can figure out which task frustrates your audience the most. Then you could create more content around that subject.
Another way to learn more about your users is in the Results tab.
Look out for how many users viewed their results and clicked on your call to action. If you notice a large number of skips, you might want to reevaluate your results pages.
We recommend checking on your analytics once a week. Keep track of your conversions. And look out for how you can improve your quiz and get more blog traffic!
To wrap up
You've made it to the end! Now you know how to create a quiz and explode your blog traffic. You also learned:
How to create a quiz marketing strategy
How to think of a quiz topic
How to write good questions and answers
How to build a results page
We hope you found this tutorial helpful for your future quiz. Your next step? Learn how to drive sales with our 6-step blogging strategy.
Here's to you and your blog!