When I discuss how quizzes work to generate leads with potential or current customers, I often find myself using words like "magic" or "unique" – which I realize are vague and coy. The truth is, quizzes do have a one-of-a-kind advantage over other forms of content when it comes to lead generation, and there is an explanation as to why.
Unfortunately that explanation is a bit long, and not something I can explain in two minutes over the phone. There are three things that make quizzes the lead generating machines that they are.
1. They help you learn about yourself
2. They emulate a conversation
3. They offer personalized benefits
For each point, we'll dive into the psychology of what is actually happening from a scientific perspective. These lessons are about quizzes specifically, but they can be applied to any part of your site that is being used to generate leads. What I've done here is extracted the elements that lead to quizzes working as lead magnets and distilled them into actionable items for all of your marketing.
1. Quizzes help you learn about yourself
We all have a burning desire to learn more about ourselves. This is not a bad thing, rather just a natural want to better ourselves through introspection. Because we care about ourselves, we get angry when marketing messages are pushed on us that really have nothing to do with our unique interests.
The bottom line: 72% of consumers are frustrated with generic marketing – Guy Marion, autopilot
Quizzes are uniquely positioned to act as a marketing piece that people are not frustrated with because they let you learn about yourself. Take the picture below, where I get the results "You are an Entrepreneur" which is my personality result. There is a full description of what that means for me and how I can use my personality to achieve more. There is also a sales pitch in this quiz result to buy something for my personality, but that's not going to frustrate me because it's relevant.
How to use this right now: Be conscious of who you are contacting every time you email, call, or post to social media. What do your customers and prospects like to do for fun? Who are their heroes? What are their worries?. Use what you know to make your communications more personalized to the actual human behind the computer.
2. Quizzes emulate a conversation where someone listens to you
As people, we just want to be recognized and acknowledged for who we are, as evidenced by this very sad quote about what causes divorce.
The top communication complaints by men in couples considering divorce were: nagging/complaining (70%), followed by their spouse not expressing sufficient appreciation (60%). The number one complaint (83%) from women who responded was "a lack of validation for their feelings and opinions" (sounds a lot like 'recognizing' feelings and opinions). – Roger S. Gil, MAMFT
I know it might seem cheesy, but a scripted quiz conversation can actually act as a listener. When someone is taking your quiz, they'll feel validated and recognized just like in a real-life conversation, and considering how impersonal most of the internet landscape is, this will truly make you stand out.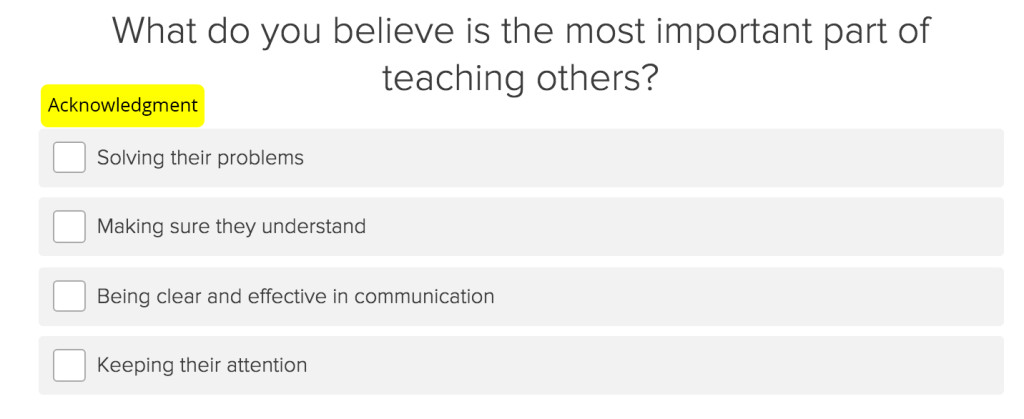 How to use this right now: Create a Trello board and call it "Questions." Use that board to write down all the things people ask you about on a day-to-day basis (add a number next to each item indicating how often it has been asked). Then use those questions to fuel your content ideas.
3. Quizzes offer up benefits that are personalized to you
As I was researching this point, a stat came up several times, and it goes like this:
As Econsultancy's research shows, 74% of marketers know that personalisation increases customer engagement. Curiously then, the same study highlighted that only 19% of marketers are actually using personalisation. – Andrew Davies, Idio
Why is it that we all know personalization works for increase engagement and sales, but very few of us actually do it? The answer is pretty simple – setting up personalization is difficult in almost every scenario. You have to figure out how to connect different data sources to offer up the right suggestion at the right time, which involves writing scripts and such that's just a pain.
With quizzes though, you already know one of a person's interests – the subject of the quiz itself. You also know that they are keen to see which results they got and learn more about their personality type. By combining those two things, you can craft a call-to-action that is hyper-relevant to each person, and promises value to their particular interests.
Take the Tony Robbins example below – in the call to action text they promise to send you your personality type via email. That's a benefit that applies to me personally.
How to use this right now: Go through your highest traffic pages and look at what the call to action for opt-in or signup is on each of those pages. Then use a lead magnet like a quiz or a download that is specific to each unique page and add that lead magnet to the content. Now you'll have calls to action that are relevant in context.
In conclusion:
Quizzes work for lead generation and there are measurable reasons why. Today we've looked at three of those reasons and broken them out into individual lessons that can be applied to all marketing efforts. Hopefully this sparked some ideas for you and I'd love to hear your thoughts in the comments below.