It's no secret that quizzes are an invaluable marketing tool.
Online business owners and coaches, just like you, use quizzes to automate marketing funnels and reel in leads and sales.
Let's take a look at Tonic Site Shop's quiz.
A simple "brand cocktail" quiz helped this web design boutique generate $50k+ in sales!
But quizzes aren't just a valuable tool for reaching your income goals. They also help you collect zero-party data.
Hold up… zero-party data? What's that, and how can I collect it with a quiz?
You're about to find out! This guide will tell you all about zero-party data, why it's important, and how to collect it with a quiz.
Let's dive in!
Table of contents
What does zero-party data mean?
Before we tell you what zero-party data means, let's talk about data in general.
Companies and small businesses use customer data to provide a customized experience. Some examples of data include purchasing behaviors, product preferences, and website analytics.
Data gives businesses the insight they need to make informed decisions. But how do they collect this data?
There are a few ways to go about it, so let's go over each one!
1. Third-party data
Third-party data is data purchased from a "third party" organization to identify trends. These organizations gather information from numerous sources, including social media networks and apps. Then, they make a profit by selling the data to other companies.
Need an example?
Let's say Brynn just opened an online wedding dress shop. She's curious about her audience's behavioral trends and decides to look into third-party data.
Brynn can't communicate directly with these organizations, so there's no guarantee that she's buying from an accurate source. This is why third-party data is mainly used to identify trends.
Keep in mind that third-party data is becoming less favorable among the public. For instance, Apple's iOS 14 update allows users to opt out of third-party cookies. And Google plans on removing third-party cookies altogether in the future.
So, third-party data is becoming less reliable every day. But don't stress. There are other types of data you can collect!
2. Second-party data
Unlike third-party data, which allows you to buy a collection of data from one entity, second-party data is when you buy from one direct source.
Let's go back to Brynn's example. She might reach out to a reputable wedding dress shop called Frills for customer data. As long as Brynn pays the price, she'll get reliable data from Frills.
What if you don't want to buy data from anyone at all?
This is where first-party data comes into play.
3. First-party data
First-party data is collected by you, the business owner. You don't have to communicate with anyone else to get this data.
So… is first-party data valuable?
You bet it is! First-party data helps small businesses collect information without burning a hole in their wallets.
Using first-party data, Brynn can use tools like Google Analytics, Facebook Pixel, and Customer Relation Management software (e.g. Hubspot) to gather insights.
She can use this data to:
Retarget wedding shoppers
Nurture leads
Create customized content throughout the sales funnel
To recap: First-party, second-party, and third-party data all collect data without asking the customer directly for information.
But there's still one more kind of data we haven't talked about. Zero-party data! Continue reading to learn what you need to know.
What is zero-party data?
Zero-party data is data given to you directly by your audience. They can give you this data by opting into email messaging, completing surveys, and taking quizzes.
So, why is this kind of data valuable?
Receiving feedback directly from your customers helps you understand their wants, struggles, and desires. You can use this info to increase your retention rate, decrease your churn rate, and provide an overall customized experience.
Now for the real question: Which type of data is best?
Unfortunately, there's no "best" type of data. It depends on your business goals! What I can tell you is that zero-party data gathers invaluable insights straight from your audience—and it's FREE.
By now you're probably thinking, zero-party data sounds great, but how do I get started?
In the rest of this guide, I'll give a few examples of zero-party data and tell you how to get started today.
Sound good?
Great! Let's dive in.
4 ways to collect zero-party data
The best way to collect zero-party data is by offering something in return. Each example below does just that.
1. Email opt-in form
A dedicated email list nurtures leads through your funnel. It also keeps current buyers in the loop with product updates and promos.
But how can you collect random users' email addresses?
It's simple. Entice your audience with a valuable piece of content and then exchange it for email addresses.
Here's what that looks like: Once someone signs up for Ell Duclos's email list, she sends them a free list of 44 journal prompts.
Ell's form makes it clear that users will "be added to the list to receive free monthly journal prompts, weekly mindset tips, and all the latest downloads…" So, just like Ell, tell new users what they're in for!
And you don't have to offer journal prompts. There are dozens of ways to collect email addresses. Your freebie might be an e-book, video, audio recording, or guide!
2. Surveys
Another way to collect zero-party data is with a good ol' survey.
But wait… aren't surveys long and boring?
Not anymore! E-commerce shops are just one type of business that has mastered the art of gathering data through customer feedback. For example, after purchasing a product from Magdalena, the owner asked users to fill out a survey in exchange for a $10 coupon.
$10 off the next product? Sign us up!
Did you notice how Magdalena claims the survey will only take three seconds to fill out? Maybe they're exaggerating a little, but it gets the point across—this survey won't take much of your time.
Not to mention, it looks like Magdalena can use this feedback as social proof. Feedback AND a raving review? It's a win-win!
3. Resources
Are you a blogger? Then you might find this next example helpful.
Similar to an email opt-in form, you can offer free resources on your blog in exchange for an email address.
When a site visitor hits Download, they'll enter their email address in exchange for the resource.
As your email list grows, you can send more zero-party data offers like surveys and quizzes.
4. An interactive quiz
Lots of people prefer quizzes because they offer quiz-takers actionable tips about their "type." Not to mention, they're fun to take. Plus, they count as zero-party data!
Here's an example.
When someone takes a "What kind of creative entrepreneur are you?" quiz, they'll find out their creative type and how they can succeed as an entrepreneur.
And here's what makes quizzes so effective: If you attach an email opt-in form at the end of your quiz, many users will give you their email address in exchange for the results.
Pretty cool, right?
As for zero-party data, quiz analytics can tell you your most common quiz answers and results.
Let's say you're a business coach. You might ask a question like the below:
If you could get rid of any task, what would it be?
Accounting. I'm nowhere near qualified to do my taxes!
Social media. It takes WAY too much time.
Website maintenance. Technical work isn't my thing.
If most quiz-takers answered "B. Social media," you could create content around outsourcing social media to help solve your audience's biggest struggle.
Overall, quizzes get users engaged with your biz and give you the data you need to build a more personal customer experience.
3 examples of quizzes and why they work
Quizzes are an amazing way to collect zero-party data, but that's not the only thing they provide.
Would you believe us if we told you that our clients experience more leads, sales, and email subscribers when they start using quizzes?
Maybe you're nodding your head in agreement, or perhaps you're a bit skeptical: How can a silly quiz generate growth for my business?
Let's take a look at three example quizzes and how they contribute to business growth.
1. What's your brand's core essence?
Quizzes aren't only helpful for selling products; they're also an incredible tool for service-based businesses!
Sales copywriter Zafira Rajan uses a "What is your brand's core essence?" quiz to book more clients.
When a potential client takes Zafira's quiz, they get free tips to improve their brand copy. Reading how well Zafira knows her stuff might get people thinking, Zafira sounds like a pro, I should hire her to finish my brand copy!
Oh, and did we mention that this quiz helped Zafira double her email list in one month AND book all of her signature courses?
Zafira's quiz shines because quiz-takers relate to their results. Check out her thoughts from our case study.
"I love when quiz-takers tell me how they're applying my tools and tactics from the quiz. Feeling like I have an intentional lead magnet that makes others feel seen and understood has been one of the best parts of creating a quiz."
Zafira nailed the art of zero-party data. Web users are willing to share their data because of her valuable quiz and results!
2. What's your meditation style?
Quizzes are useful for more than just sales. Amelia Harvey, life coach and meditation teacher, uses a "meditation style" quiz to generate more leads.
When people take her quiz, they get access to her "Inner Peace" Facebook group.
With so many people working from home, joining an online community is a great way to socialize with like-minded people. Most users will happily submit their email address to join a group of people with similar interests.
And let's not forget about zero-party data. Using a Facebook group, Amelia can gather a ton of insight by reading Facebook posts and comments from fellow members. She also has the opportunity to build 1:1 relationships with leads using Facebook live and updates.
3. What's your skin state?
If you're an e-commerce shop, then you'll love this example from Primally Pure. Primally Pure promotes its skincare products with a "What's your skincare routine?" quiz.
This brand asks questions like, "My main skin concerns are…"
What a great way to gather insight about your audience's needs!
Using Interact's quiz analytics, Primally Pure can check how many users clicked on each answer. This info helps them focus on creating skincare products that will benefit their customers the most.
On top of that, Primally Pure promotes personalized products for quiz-takers.
Here's a fun fact: Primally Pure's last quiz, "What's your deodorant style?" generated $100k in sales! You can also reach your goals with a shoppable or product-recommendation quiz.
Whether you're an e-commerce expert, blogging guru, or service-based biz, a quiz can help you collect zero-party data AND reach your goals.
How to collect zero-party data with an interactive quiz
Okay, so now you know that a quiz collects zero-party data, but how do you create one?
For starters, you'll need quiz software. Using Interact, you can gather insights with the following features:
Email integration: Create email opt-in forms and connect them to your email software.
Conditional logic: Personalize your quiz with customized questions. (More on this later.)
800+ quiz templates: There's no need to create a quiz from scratch. Use one of our ready-to-publish templates.
Design interface: You can design a quiz in a day or less with our design features.
Interact takes care of the technical stuff, but you'll need to strategize how you'll collect zero-party data with your quiz.
We'll take you through five steps to prepare your strategy!
1. Consider your goals
Every successful quiz starts with a set of goals. Using the following questions, think of three goals you want to achieve with a quiz.
1. What type of data do you want to collect and why?
Zero-party data is an umbrella term for:
Customer feedback
Purchasing behavior
Product requests
Reasons your audience is interested in your business
Your audience's future goals
Focus on one to three types of data throughout your quiz.
2. Where does your quiz land in your sales funnel?
Decide if you're targeting new web visitors (leads) or current customers (sales).
3. What pain point will your quiz target?
Channel your quiz toward a problem you can solve for your audience. For example, "What's your blogging style?" helps newbies decide their path as bloggers.
Now take a minute and set up those goals!
Are your goals ready? Great! Now you can decide on a quiz topic. You can use question #3, "What pain point will your quiz target?" to brainstorm topics.
Let's go through an example.
Sarah is a money coach. She's targeting users who are struggling with deeply rooted money beliefs. One quiz topic she can choose is, "What's your money mindset?"
A money mindset quiz will identify spending habits and unravel money beliefs—aligning with Sarah's goals!
If you're having trouble thinking of a topic, you can always use the "What's your (blank) style?" template. The word "style" can change to archetype, type, spirit, etc.
Photographers: What's your photography style?
Chef: What's your cooking style?
Business coach: What's your entrepreneurial spirit?
Brand strategist: What's your brand archetype?
2. Brainstorm 3 to 5 results
You have a quiz topic—Yay! Now let's talk about your quiz results.
List the strengths, weaknesses, and behaviors about each quiz result as if they were a person.
Let's go back to Sarah's "What's your money mindset?" example. Her results might be:
The Saver: Has a large savings account, plans for the future, but is scared to spend any money.
The Spender: Uses retail therapy to cope with stress and doesn't think about their financial future. Carpe Diem is their middle name.
The Frugal: Finds deals like it's their job, knows how to negotiate, and doesn't think nice things are worth the cost.
The Investor: Uses money to invest in their future, takes bigger risks, and believes there's enough money to go around.
Aim for three to five different quiz results.
Now let's talk about your results pages and what they should look like.
Earlier, we talked about Zafira's quiz, "What's your brand's core essence?" Let's take a look at her results page.
Zafira starts off by identifying the user's "Brand core essence" and follows up with a customized description. Reading Zafira's page, you'll notice that she uses positive language to describe this person.
No matter the quiz result, always describe your user in a positive light. Fun adjectives and punchy copy lighten the mood and make the experience enjoyable.
Next, Zafira goes deeper into the user's type and defines three core traits. The more details you give, the more seen the user will feel!
Now that you've highlighted your user's strengths, pivot to their struggles.
Hey, everyone has a few weaknesses… It's no biggie! The goal is to identify them without being critical—frame quiz-takers' weaknesses as a problem that YOU can solve.
And don't leave users hanging. Offer three tips for improving on their weaknesses right away.
Zafira goes above and beyond and lists actionable steps for each type. Take a tip from Zafira: Don't be afraid to get into the nitty-gritty and offer specific insights. The more details, the more value users will get from your quiz.
Last is the introduction. Relationships are a two-way street. Upload a photo of yourself and describe who you are and what you do.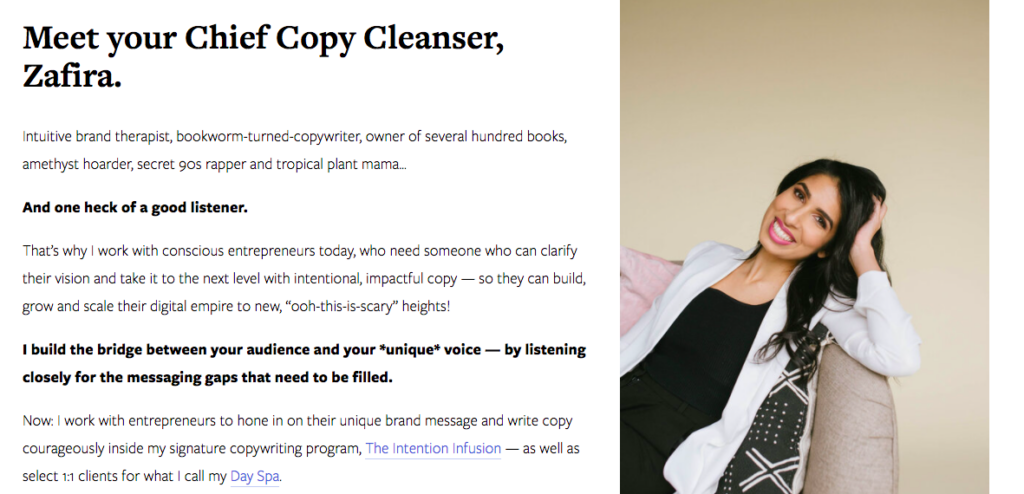 There's no need to write an essay about yourself. Use Zafira's method and jam-pack your sentences with interesting traits:
"Intuitive brand therapist, bookworm-turned-copywriter, owner of several hundred books, amethyst hoarder, secret 90s rapper, and tropical plant mama."
It only took one sentence to learn so much about Zafira!
In a few paragraphs, give your audience a glimpse into your life and business mission. You can even mention your services or products toward the end.
End your results page and tell users what's next.
Mentioning your email list is a standard way to end your page. But you can also add a call to action and direct users to a product, piece of content, or additional resource.
A few more key features of Zafira's results page are:
Original images
A nice color scheme
A professional headshot
The key is to let your audience get to know you. People prefer to buy from brands they feel a connection to.
Have more questions? Check out our quiz results page guide for the ins and outs of building your best results pages.
3. Create customer-focused questions
Think you can collect zero-party data with just any old questions?
Nope—think again!
So, what makes a good quiz question?
Two words: relatable and fun.
Relatable questions connect with your audience's humor, struggles, and wants. It's a way of saying, I get you!
And let's face it, nobody likes answering boring questions. Use pretty images and "Would you rather" scenarios to keep your audience engaged.
Zafira's question below ties it all together.
It's common for coaches and entrepreneurs to attend retreats in gorgeous spots like Bali. Zafira targets her audience and asks where they'd rather go. Plus, her answer images invite users to dream about their future vacay.
Another way to connect with your user is with conditional logic (AKA branching logic). Conditional logic creates a customized journey for each user based on their answers.
In the above image, the first question is, "Who's your celebrity soul sister?" If someone answers A or B, they'll be redirected to "Which of the following quotes do you need taped to your fridge?"
And if someone answers C or D, they'll go to "Which of the following fill in the blank statements do you agree with most…?"
The point of conditional logic is to provide a customized experience for the user and ask questions that interest them. Check out our guide to creating conditional logic quizzes to learn more.
Oh, and don't forget to change up your question format! Below are some ideas.
This or that: Bali or Sedona?
True or false: Your dream vacay is Bali, Indonesia. True or false?
Scenario: Your best friend bought you a ticket to the location of your choice! Where are you going?
As long as you use a variety of question formats, intuitive questions, and intriguing images, you'll be good to go!
4. Provide a freebie
As we mentioned before, the best way to collect zero-party data is by offering a freebie.
Think of a freebie as a thank you gift for taking your quiz. In this case, your freebies should be specific to each quiz type.
After taking Sibila's "What's your brand style?" quiz, users get a customized guide along with their quiz result. They just have to enter their email address for the exchange to happen.
So, how do you create a freebie?
There are tons of ways to go about it. Let's say you create a "How do you show love?" quiz.
Your freebie might be a:
Guide: an actionable guide on how to improve relationships
Consultation call: a 20-minute chat about your love style and how to take action
Journal prompts: 20 ways to journal about your love style
Video: go in-depth with information about your love style
E-book: 10 pages about your love style and how to improve your relationships
A meditation: a personalized recording to zone in on your love style
Choose a freebie that will resonate best with your audience. And don't hold back! The more value you offer upfront, the more leads and sales you'll get.
5. Create an email opt-in form
I've talked a lot about email opt-in forms throughout the post, but how do you set one up?
Using Interact, it only takes a few steps! First, in your quiz editing page, change the Lead generation switch to on.
Then select what info you want to collect. In most cases, an email address and first name are fine.
Next, go to the form settings.
Here's what each setting means:
Allow users to skip opt-in form: When you allow users to skip your form and head straight to results, you're more likely to gather leads who are genuinely interested in getting updates from you (rather than every single person who takes your quiz).
Display link to privacy policy: Add a link to your privacy policy on the form.
Enable GDPR compliant checkbox on opt-in form: A GDPR compliant checkbox is a fancy way of asking users to "Confirm" that they're okay with submitting their email.
Now you can set up your email form!
There are four parts to your form.
Title: Ask users to enter their email to see their results. You can customize this to something like "Enter your email and find out your (blank) type!"
Description: In the description, tell users about your freebie. For example, "Along with your quiz result, you'll also get (freebie!)."
CTA button: Change the CTA button to one of your brand colors.
Finished? Let's move on!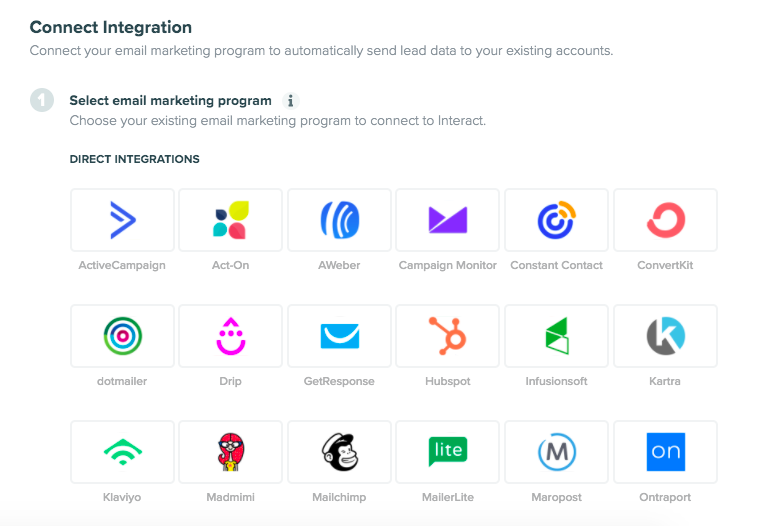 Connect to your email software, and you'll be on your way to building a segmented email list. You can find more information about that here:
Hooray! You just finished the hard part. The foundation of your quiz is ready to go. Now let's get to the fun part—designing your quiz!
Designing your interactive quiz
When it comes to web design, visitors will focus most on your photos, colors, and videos.
If people favor these design elements in a website, they'll probably do the same for quizzes, too.
Using Interact, you can implement your brand style and images in just a few steps! To get started, all you need is an Interact account.
1. Use brand elements in your design
Your quiz is an extension of your brand. You'll want to use your brand colors, images, and logo throughout your quiz.
At the top of your quiz editing page, you'll see a design menu.
Here, you can change your quiz colors, font, and logo.
Don't have a brand style just yet? You can always use one of our quiz templates! Each template is ready to go, so you'll be done in no time.
2. Catch your audience's eye with a cover page
A quiz cover page tells users what your quiz is about and why they should take it. Just like the cover of a book, you want to grab your audience's attention with an eye-catching image and fun web copy.
Every cover page includes a title, image, description, and call to action.
Title: Add the name of your quiz in the title section.
Image: Upload an image related to your quiz theme, or use our image search engine by clicking Edit Cover Image.
Description: In a sentence or two, tell your readers why they'll love your quiz. And don't forget to mention what they'll get in return—your freebie!
Call to action: "Take the quiz!" will do.
So far, so good!
3. Beautify your questions
With your questions finished, all you have to do is copy and paste them into each question page. Then, you can add images to spruce them up.
One way to go about adding images is with answer images. Answer images help users visualize each option. If you click Edit, you can upload a photo or use our search engine.
You can also add a question image by clicking Show question image.
4. Optimize your results pages
You can use photos to give more life to your results pages, just like you did on your question pages.
When you click on your result page, an additional menu will pop up.
Using this menu, feel free to change your font and link back to your resources.
Oh, and one more thing!
The lightbulb icon at the right-hand corner is full of our best tips for creating quizzes your audience will adore.
Follow these steps, and you'll finish your quiz design in a day or less! Afterward, hit Publish at the top-right corner.

You're good to go!
Your next steps
You made it! After reading this guide, you now understand…
What zero-party data is: Data that your audience voluntarily shares with your business.
4 examples of zero-party data: email opt-in forms, surveys, resources, and quizzes.
Why interactive quizzes work: They engage with users from the get-go!
How to collect zero-party data with a quiz: Always give your users something in return, and create an email opt-in form.
Designing your quiz: Use elements from your brand so users can get to know you.
For your next steps, we recommend promoting your quiz so as many people see it as possible. Here are three guides to help you promote your quiz on your website, with Facebook ads, and via a landing page.
And if you haven't created an Interact account yet, what are you waiting for?