Overview
Congratulations! You've done the work and created yourself an online course that's engaging, well-designed, and filled to the brim with valuable content. Now it's time to get out there and find yourself some students!
But how do you go about promoting your new online course?
Well, one very simple and incredibly effective way to promote your online course is by utilizing an online quiz. More than just being a powerful lead magnet, when paired with the right email sequence, you might just have yourself a killer marketing funnel designed to attract, engage and convert hundreds – even thousands – of leads!
And that's precisely why I'll be walking you through the process of how, with a single quiz, Amber Lilyestrom managed to attract, engage and convert thousands of new leads for her own online course. In this post, I'll be breaking down exactly how and why using a quiz to promote your online course will be one of the best decisions you'll ever make.
Ready to create a quiz? Make one now!
How this quiz generated 2500 new leads
When it was time for Amber to promote her new "Brand You Breakthrough" course, she wanted to find a strategy that was cost-effective, required little time to set up and could produce sustainable results.
Taking a page out of a friend's book,  Amber began experimenting with using quizzes as a way to generate new leads. The end result was the creation of her "What's Your Core Purpose" quiz, a quiz that managed to generate her 2500 new leads for her course!
But for Amber, it wasn't enough to have her quiz generate more leads, merely having more people sign up to her email list wasn't going to help her generate any more revenue. In order to really take advantage of all that leads her quiz generated, she needed a build a proper sales funnel that would allow her to automatically engage and convert every new quiz lead that came her way. This involved creating an email sequence designed to nurture her new leads and creating a sales page made specifically for her quiz leads.
The combination of these different elements allowed Amber to create an automated sales funnel around her quiz that not only helped her generate new leads for her course, but it also qualified them and turned them into paying customers.
The best part? It took Amber and her team less than 10 hours and a budget of $300 to set up this entire sales funnel.
A sales funnel that she could leave on auto-pilot and confidently know that it would constantly be working to bring in new leads and sales. To date, ever since implementing this quiz sales funnel, Amber has added 4,000 new warm leads to her email list with the majority of them purchasing her "Brand You Breakthrough" course.
Read on, as we break down how Amber successfully promoted her online course through the power of quizzes.
Check out the full interview and testimonial from Amber here!
Step #1 – Mapping Out Your Quiz Marketing Funnel
One of the most common mistakes I always see with businesses implementing quizzes for the first time is that they have no idea where their quiz fits in their marketing funnel. They don't know if they're using their quiz as a lead magnet, as a way to engage and nurture their audience, or as a way to gain more customer information.
For Amber, she decided to incorporate her quiz at the top of her sales funnel as a lead magnet.
The quiz was designed to specifically appeal to the target audience for her online course and capture their email addresses. Once someone had completed the quiz, Amber would then send them an automated email sequence designed to introduce them to her brand, nurture them, and ultimately attempt to convert them into purchasing her online course.
In the end, her basic quiz marketing funnel looked like this:
By mapping out where and how her quiz fit into her sales funnel, Amber was able to clearly define what her customer's journey was like, what steps she could improve on and optimize and the best way to nurture her leads.
Here are some additional resources for you to check out:
Step #2 – Build the Perfect Lead Generating Quiz
Once you know where your quiz fits into your marketing and sales funnels, the next step is to start creating the perfect quiz to promote your online course.
The key to this is making sure that your quiz is directly related to the product you're offering. Think back to who your ideal customer is, what their pain points are and what they'd like to know more of.
For Amber, the "Brand You Breakthrough" course was designed to help people figure out how to build a business and a brand that reflected own unique values. She knew that a major challenge for her ideal customer was someone that was looking to create their own business but they weren't sure where to start.
With that in mind, she created the "What's Your Core Purpose" quiz, a personality quiz that was designed to help her audience discover what type of business they should build based on their personality type. By zeroing in on such a specific pain point, Amber was able to create a fun and engaging quiz  that she knew appealed directly to her target customer.
After deciding on what your own quiz's topic and the theme is going to be, it's time to make sure that you fill it up with the right questions. You want to craft 5-10 questions that'll help you understand your audience better and allow you to find out what their individual personalities are like, what emotional factors motivate their actions and, if possible, what's holding them back.
The more you know about your audience, the more personalized and effective your marketing will be.
In Amber's case, she crafted seven questions that would allow her to gain a better understanding of each lead's individual goals and motivators. By using Interact's quiz builder she then matched each answer to a specific result, allowing her to qualify and categorize her leads based on the end result.
In the example below, notice how she makes her questions more engaging to her audience by speaking to them as if she was having a one-on-one conversation with them. Also, take note of how the language used is casual and mirrors the way her audience naturally speaks and reflects the friendly personality of her brand.
Finally, it's time to collect your quiz taker's email addresses by building the perfect lead capture form. After all, there's not much point building an awesome lead generating quiz if you're not able to contact them afterwards.
The best practice for where to place your email opt-in form is just before revealing the quiz taker's results. By the time someone has reached the end of your quiz they already have a natural desire to see their results, you can use that to your advantage by withholding their full results until they give you their email address.
While Amber has chosen to keep her lead capture form as simple as possible by only offering her audience their quiz results in exchange for their contact details. You can increase the conversion rate of your email opt-in form by adding extra incentives such as a promise for more value or a specialized piece of content for example.
Here are some additional resources for you to check out:
Step #3 – Have a Killer Results Page that Sells
After someone has taken the time to take your quiz, it's time to give them what they came for: their results.
How you structure and write your results page is critical in establishing your brand's level of trust and authority to your audience. Remember that a large part of the appeal behind online quizzes is that people want to learn more about themselves and receive results that are personalized to them.
You have to, at the bare minimum, be able to satisfy those desires with your own quiz results page. If your quiz results are too short or generic, then your lead is more likely to feel annoyed, betrayed even, at wasting their time on a quiz that doesn't provide them with any unique value or insight.
Notice how in the first section of Amber's results page she immediately dives into the various positive characteristics of the quiz taker's personality type. By first inspiring a positive emotional reaction to her quiz results, Amber is able to immediately develop a strong connection with her audience.
The great thing about online quizzes is that it gives you the ability to create content that is incredibly specific and personalized to each lead. Instead of having to guess at what kind of advice or content your audience will find valuable, with a quiz you can easily create the type of content that you know will appeal to that specific audience member.
In the next section of her quiz results page, Amber continues to demonstrate her knowledge and understanding of her audience by delving into their particular pain points and challenges.

Already in the first half of her results page, Amber has successfully demonstrated to her audience that she understands their emotional truths. It's become increasingly clear that people don't want to be sold to by just anyone. They want to feel as if the seller truly understands what they're going through and knows exactly how to help them.
Which is exactly what Amber does as she follows through on that initial momentum of goodwill and trust that she's built so far and offers a soft call-to-action to her course in the last half of her results page.
Like in any good sales copy, Amber effectively illustrates how the upcoming offer is directly related to the lead's quiz result, how her course will help new lead and how her product will help them achieve their goals. The results page is structured in a way so that when Amber does make her offer, it's not viewed as a transparent attempt to make a sale but a natural progression of events in the eyes of the lead.
But in order to effectively promote your online course, or any product really, you have to create a results page that not only meets, but exceeds, your audience's expectations. That means including advice that is both immediately actionable and highly relevant to your audience's interests.
Which is exactly why at the end of the results page, Amber also includes links to various pieces of content on her site that she knows her audience will appreciate.
Even if the lead doesn't end up converting right away, she is still able to keep them within her brand's influence by providing them with free content that will continue to engage and nurture the lead.
 Here are some additional resources for you to check out:
Step #4 – Followup With an Epic Email Sequence
Chances are that the majority of your new leads won't end up converting through your results page alone. But, that does not mean that you've lost your chance to convert that lead into a customer. The most likely scenario is that your potential customer just needs a little bit more time and convincing before they're comfortable with the idea of purchasing your online course.
This is where having an epic automated email sequence comes in.
Now that you have your new lead's contact details you can continue to nurture your relationship with them by providing them with even more valuable content. Doing so allows you to quickly build up that sense of know, like and trust within your audience and make it much easier for you to convert them into a customer.
 All you have to do is integrate Interact with your preferred email marketing client and you can be safe in knowing that each and every one of your quiz leads are automatically getting the attention they deserve.
Here is the four-email sequence that Amber used to further nurture her quiz leads and maintain their interest for her online course.
 Email #1 – Results Recap
The very first email in the sequence should be sent out immediately after someone has completed your quiz. This email will very likely be the first time they ever see you in their inbox so it's incredibly important that you make a good first impression. You can do this by making sure your email as relevant as possible by referring back to the quiz results they received and providing as much value as possible.
For Amber, her first email is simple and straight to the point and provides a simplified version of their results and a soft call-to-action for the lead to access their profile page again. Notice how she ends the email with a promise to provide further value to her new prospect so that they'll actually look forward to reading her next email instead of dismissing it into the spam folder.
Email #2  Reinforcing the Problem and Solution
Amber's next email, sent two days after they've completed the quiz, is designed to reinforce the main ideas she's already introduced in her initial email.
You can see how she does this by recapping the pain points and challenges that her audience are facing before offering the online course again. By this point she knows that her audience is already aware of the offer, so she approaches the offer by highlighting the key benefits and value that her course provides. Even sweetening the deal by also offering a 10% discount to her audience as well.
Email #3 – The Personal Story
Sent another two days after her previous email, the next email in Amber's followup sequence is designed to further familiarise her audience with her brand by telling them a personal story. In telling a personal story, Amber is encouraging the reader to view her brand as more of a personal friend rather than as a faceless business while simultaneously positioning herself as someone that has gotten through to the other side.
After sharing her story and how she managed to find the solution to her own problems, she offers her online course again as a simplified solution to her audience's problems.
Email #4 – The Final Sell
In the final email, sent another two days after the last email, Amber goes for the direct sell for anyone still on the fence about purchasing. She addresses any concerns or objections the prospect might have by including positive customer testimonials and even adds in some scarcity by claiming that this is the lead's "last chance" to purchase the course.
Here are some additional resources for you to check out:
Step #5 – Promote it Everywhere
Now that you have all the key components of your quiz's marketing funnel in place, it's time to get your quiz out there and start bringing in those leads! Keep in mind that this isn't a "build it and they will come" scenario, in order for your quiz to start generating some high-quality leads you need to find different ways to get your quiz in front of your target audience.
To promote her "What's Your Core Purpose" quiz, Amber first featured her quiz prominently on her website so it would be the first thing visitors would see. This way her quiz serves as the main call-to-action and lead magnet and ensures that every visitor to her website is encouraged to take part in her quiz.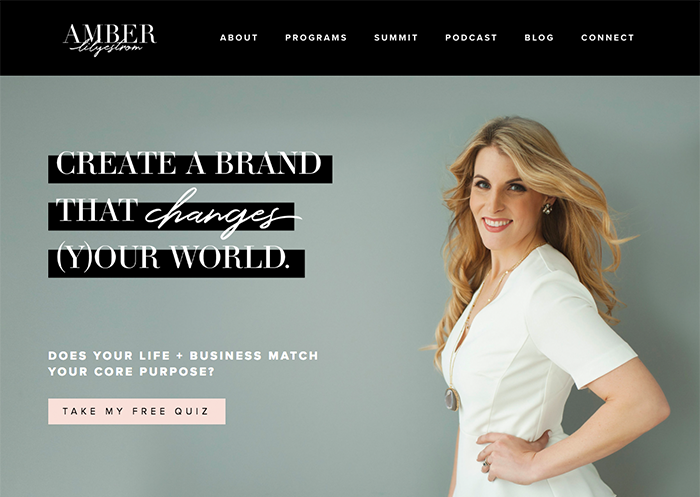 In order to get her quiz out in front of as many new leads as possible, Amber also promoted her quiz on all her social media platforms such as Facebook, Instagram, Twitter and even Pinterest.
To really increase conversions and interest for her quiz, she made sure to really nail her social media copy and use a large eye-catching graphic. Notice how in the copy for her Facebook post, Amber presents her quiz as a solution to her audience's main pain point and really reinforces the benefits of taking her quiz.
Finally, and something we always recommend, Amber also ran paid Facebook ads for her quiz. This way she could make sure that her quiz was getting in front of a targeted audience and that could increase the overall longevity of her quiz.
Here are some additional resources:
Ready to Promote the Hell out of Your Online Course?
As you can see, when used correctly, quizzes incredibly powerful in helping you promote and gain customers for your online course. It doesn't matter what you're teaching or what your online course is all about, what is clear is that any savvy entrepreneur will be able to benefit from taking advantage of this quiz marketing funnel.
Promoting and selling your online course doesn't have to be hard, and you don't need to be a marketing genius to do it effectively. Just follow the steps I've outlined above and watch as the students come rolling in.
What kind of quiz would you create for your online course? Have any extra tips or tricks that you'd like to add? Let us know in the comments below!