It doesn't matter if you have the best products and services on the market if no one knows about them. So, how do you get people to start talking about your brand?
To better market your offerings, you need to first understand how your audience wants to feel. Then, you can create a strong brand experience around that emotion.
This branded experience will help you build trust with audience members who will then publicly advocate for your brand by proudly sharing what you offer.
Experiential marketing strategies like this are meant to improve brand perceptions and increase overall awareness of what your business provides.
Many say this term was coined by the events industry, but when it comes to building an online quiz, you can take the main principles of experiential marketing to create a highly engaging quiz-taking experience.
In order for your online quiz-taking experience to become memorable, it must have three key elements in place:
Quiz content
First things first, let's start by understanding what your quiz content needs in order to make a great impression on your audience. The goal of your quiz content is to simply turn passive audience members into loyal brand participants as they move through your quiz.
Your first order of business is to select a topic for your quiz.
Choose an interesting quiz topic and title
Some quiz creators immediately know what quiz topic they want to use while others have a difficult time narrowing down their ideas. No matter where you fall, it's best to determine which topics your audience cares the most about.
What kind of questions does your audience ask you on a frequent basis? Have they been begging for more resources in a certain area? Do most of your conversations with client leads revolve around a few topics? The answers to these questions can unlock great quiz topics for you to use.
If you need more help with this, we have a list of quiz topics for virtually every industry here. You can choose one from the list or let it inspire your next idea. You might also want to start by customizing a quiz template that already exists—luckily, we have hundreds to choose from!
Once you've selected a quiz topic, you'll move on to creating a quiz title that entices your audience to take the quiz.
The simplest title formulas are:
What kind of [blank] are you?
What type of [blank] are you?
What is your [blank] IQ?
How much do you know about [blank]?
What does your [blank] type say about you?
You can customize one of these options or come up with your own. When your quiz title and topic are chosen, you can input them into Interact to create your quiz cover page.
It may look a little something like this when it's done:
Offer in-depth quiz results
The next step is to create quiz result types that your audience will deeply resonate with. We recommend including a minimum of three with a maximum of five types for most quiz creators. If you have too few options, your descriptions will feel over-generalized, but too many will feel overwhelming.
First, choose a short title for each quiz result that describes exactly who each audience member is. This can include an adjective along with a descriptor. For example, if your quiz topic was helping people understand their work-from-home style, you might offer quiz results like "The Organized Implementer," "The Tech-Savvy Maven," and "The Devoted Traditionalist."
When someone reads through their result description and sees the title, you want them to feel really proud of their result. It's best to write all of your potential results with a positive spin so everyone walks away feeling great about what the quiz results say about them.
You can also add a touch of well-timed humor to your descriptions if it feels like a good fit for your brand voice. Try not to force it, though, as it could do more harm than good. It's best to keep a lighthearted tone throughout your quiz, even if you are covering a more serious or business-focused topic.
Lastly, be specific with your quiz results. No one wants to feel like you are giving them the same results as everyone else. People want to feel special and unique, but you don't want to be so specific that you may alienate certain audience members. Here's some more advice on that.
Are you struggling to come up with quiz result descriptions?
Follow this easy, fill-in-the-blank formula:
You are a [Blank]! This means you're known for [Blank] and [Blank]. You're motivated by [Blank] and value [Blank] and [Blank]. You are focused on accomplishing [Blank] goals so you can [Blank], but let's be honest, you've been struggling with [Blank] lately. I'll show you how to [Blank] so you can achieve [Blank] in no time! But first, check your email inbox for more information.
Seriously, that's all you need to get started.
It doesn't have to feel like rocket science when you create each quiz description. Use the fictional example below to guide your writing process. Once you finish writing, your quiz takers are going to love them!
Write engaging quiz questions
With experiential marketing principles in mind, you'll want to intentionally use each quiz question to unlock a new step on their path toward better self-discovery.
The best quiz questions are written in a way that's direct, engaging, and insightful. It's great if you can inspire these responses from quiz takers as they move through the quiz:
"Wow, I've never thought about it like that before."
"This is such an interesting question…"
"Oh, I know the answer to this question!"
Some questions should be easy to answer while others can inspire your audience to take a moment to pause and think about what answer choice fits them best. Then, they can use this momentum as they work through the rest of your quiz.
Quizzes perform best when they can be easily completed in one or two minutes maximum. You don't want to keep them there all day! This is largely why we recommend keeping your quiz between seven to ten total questions.
To get your brainstorming session started, here are a few questions to include in your quiz:
What does your ideal workspace look like?
My ideal day consists of…
What three words would your friends use to describe you?
You're known for being…
Your go-to [blank] is…
What is your favorite pastime?
Where do you want to be in five years?
What [blank] character is most like you?
How do you want to impact the world?
At the end of the day, what are you most likely doing?
What is your dream job?
How do you want to be remembered?
Create answer choices for each question
Now that your quiz questions have been created, it's time to move on to your answer choices. There are a few ways you can structure answer options within your Interact quiz.
One is to use multiple-choice answers that allow your quiz taker to choose ONE answer from a determined set of options that may fit them best. This is the most common answer type and helps your audience easily flow from one question to the next.
However, giving your audience multiple-answer selections gives them the opportunity to choose MORE than one answer that may fit them. You'll notice that inside Interact, it will show a "Next" button for people to click once they are finished selecting all of the answers that best fit them.
You can also add stock imagery to your answers to illustrate what each answer option is saying at a very quick glance, like Erin Rachel Doppelt's quiz.
When we reviewed the top 100 most viewed Interact quizzes, we found that 90% of them utilized image-based answers. It's such an easy way to make your quiz-taking experience that much more enjoyable!
As you write your answer options, you'll likely want to have the same amount of answer options as your result types. This will make it easier to connect each answer choice with the corresponding quiz result later on.
It will look a little something like this inside Interact once it's done:
Now that your quiz content is created, you can move on to making a solid impression in the way you deliver their quiz results. Get ready to wow them with quiz result landing pages!
Quiz result landing pages
You may already have an idea of what quiz result types you want to include in your quiz, but how do you deliver that content? In Interact, you have the option to create a results page within our platform that looks something like this: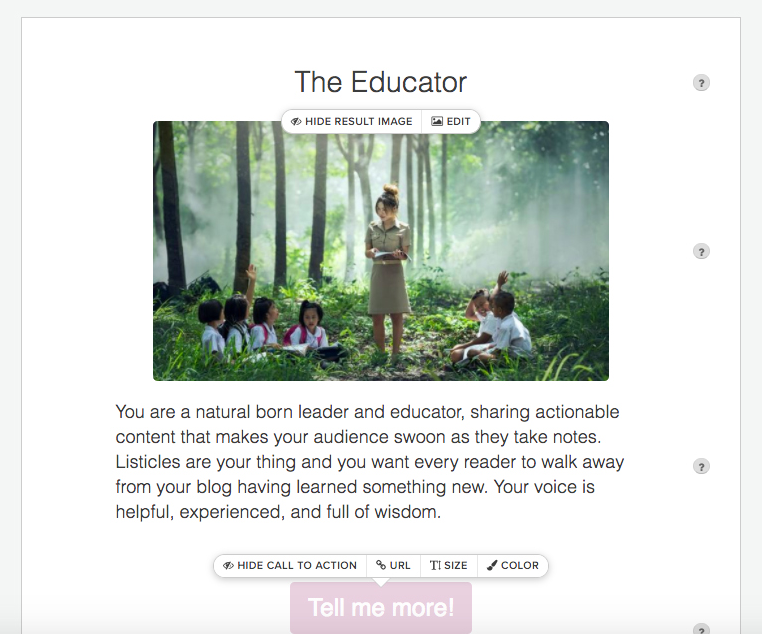 The main four elements of this quiz result page are:
Result title: This title can be something that is short but catchy. Make sure it is a title that matches with the quiz result and makes quiz takers feel proud of their result.
Image: You can choose any imagery from our stock photo library, include a GIF, or upload your own graphic to this page.
Description: You have a lot of creative freedom when you write a description for each result. Be sure that you include what their strengths are and phrase everything in a positive way. If you need help with this part, remember the section on quiz results above.
CTA button: Think about what action you want people to take after they receive their results at the end of the quiz. No matter what it is, link to it with the CTA button and customize the wording of the button to fit your offer.
This is a great start, but since experiential marketing is all about going above and beyond, you may want to use this opportunity to create a quiz result landing page for each type.
With a quiz result landing page, you can include more description copy and imagery throughout the page and customize it to your offer. By doing this, you'll impress quiz takers who make it to the end of your quiz. They'll be delighted to see an entire page on your website dedicated to their quiz result.
Let's see how it's done in action.
Jenna Kutcher, the influencer and entrepreneur behind her personal brand's multi-million dollar empire, offers her audience a wonderful quiz-taking experience that ends with a custom landing page that fully outlines their final results.
For example, if someone received the Empire Maker quiz result after completing her quiz, they'd immediately see this quiz result landing page:
The streamlined design alone makes a lasting impression, but just think about how much more valuable Jenna's content is than the typical quiz creator. This is because she has more room to educate her audience on a landing page rather than a quiz result page.
We've noticed more of our quiz creators electing to use quiz result landing pages that are hosted on their own websites so they have more creative freedom when designing them. To amp up your own experiential marketing, let's talk about the different elements you can add into your quiz result landing page to really make it stand out.
Interesting, in-depth quiz results
When you deliver your audience's quiz results, you want their personality to be fully represented. This means identifying the person's most notable attributes, motivators, strengths, and more.
When they read through your quiz results, they should be nodding along and building trust with you as they scroll through the rest of your page. Make sure you spend ample time in creating customer personas that will match up with your quiz result types.
As you create the long-form quiz results, think about what information would be helpful for your audience to know. They'll be looking to you to aid in their own self-discovery. The more they can learn about themselves, the better!
Words matter when it comes to writing your results. Take this example from Lydia of Screw the Cubicle. Instead of stating what each person's strengths and weaknesses are, she described them as "opportunities" and "challenges" on her quiz result landing pages.
"Challenges" feels like a more approachable and positive word than "weaknesses" because it speaks to external obstacles rather than attributes that could wrongly be seen as internal flaws. Because of this, her audience is able to learn similar information but from an optimistic lens.
Speaking of choosing which words to use, you can unleash your brand voice when writing each description. That's what designer Jen of TONIC Site Shop did with her quiz, and she was able to generate $50,000 worth of website template sales from it. We'd say what she's doing is working!
Just from reading the main headline of this quiz result landing page, it's clear to see that Jen doesn't take herself too seriously and likes to add personality to her writing. If someone thinks that the process of brand building is boring or dry, they definitely won't think the same way after reading through Jen's quiz results.
Recommend curated resources
Your quiz result landing page should be focused on giving information that's useful and helpful to your audience members. This can extend farther than the educational content you provide in your personality descriptions. We're talking about a recommended resources list!
There's so much noise on the internet, and it can be hard to know what content you should be intentionally consuming. No one has time to waste, so creating a list of your favorite resources for each quiz type can help them cut through the noise.
As someone starts to build a relationship with your brand, it's only natural for them to think about what you're interested in and what you recommend. That's why so many of us love when influencers share their favorite books, movies, and more. You can use this same concept when creating a quiz with better experiences.
We already mentioned how much we love Jenna's quiz result landing pages, and it's partly because of her must-listen podcast episodes list. Since Jenna is a podcaster who has already interviewed hundreds of business experts, she can repurpose this content by creating a list of episodes for each quiz type.
Jenna is a social media influencer with almost 900,000 Instagram followers, but some people who take Jenna's quiz may not know that she has a podcast. This episode list helps to direct more people to her regularly updated podcast content while building trust with each person as they hear her voice.
Beth Kirby is also a social media influencer but she offers something completely different to her audience than Jenna does.
When someone completes Beth's quiz and scrolls through her landing pages (like this), they'll find a curated list of hashtags they can use in their Instagram feed. People know they can trust Beth because she has over 720,000 Instagram followers, obviously showing that she knows a lot about using hashtags for Instagram growth.
Since you can use a total of thirty hashtags per Instagram post, this is a great way for Beth to use her knowledge to save her audience time from having to research hashtags on their own.
Our last quiz result landing page example comes from Chanti Zak, a quiz copywriter and creator who created an easy-to-follow list of blog posts for people who want to learn more. Since her landing page reads almost like a blog post all on its own, this list gives her audience an opportunity to read other resources written by Chanti Zak.
Give a free offer
While you could lead with a sales pitch at the end of your quiz result landing pages, it's a great idea to keep the value train going by giving a free offer first. This shows that you want to give value well beyond the self-knowledge you are providing through the quiz results.
Your free offer could be a:
PDF guide
eBook
Email course
Masterclass video training
Video tutorials
Brand strategist Kaye Putnam created a brand archetype quiz where she offers quiz result landing pages (like this one) that include an inspiration kit for each type.
Since she already gives each of her twelve archetypes a unique Pinterest board, branding board graphic, and an introduction video training on the page, this inspiration kit is just the cherry on top!
Email copywriter Chanteuse Marie offers a freebie in the form of a full-length launch sales funnel for her quiz takers. This will help them map out an email marketing strategy that perfectly fits their goals and skill set.
Get creative with this before you move on to the next step: creating a follow-up email sequence.

Follow-up email sequence
In order to be truly successful, your quiz must turn visitors into new email subscribers.
If someone takes your quiz without joining your email list, you may not be able to get in touch with them again. That wouldn't make for a great quiz-taking experience if the relationship you begin to build with someone is then gone in an instant.
However, if you're able to convince the quiz taker to sign up, you'll have a chance to engage with them regularly through your email marketing strategy.

Instead of feeling like you have to create weekly or daily email content to start out with, think about creating a personalized email sequence around your quiz. If this is a new term for you, an email sequence is simply a series of automated emails that are sent to audience members who complete your quiz and sign up for more email updates from you through a form.

The email sign-up form typically looks something like this in Interact:

This includes:
A title that tells quiz takers why they should sign up.
A short description that lets people know what to expect from your emails.
Any additional information or special offers for signing up.
First name and email address form fields to fill out.
Clickable button to unlock the final quiz results and sign up for the list.
It's that simple! It takes less than five minutes to update this email sign-up form content inside the Interact dashboard before you can move on to creating a great email sequence.

We'll follow along with the email sequence outline below for the rest of this article, but you can adjust its topic to whatever your quiz is covering.

Lead with an introduction email
Consider this first email in the sequence to be your audience member's personal welcome into your list. You should write this in an approachable and personable tone with plenty of excitement. After all, they've taken the big step of joining your community!
You don't want to take this lightly since it requires trust for someone to give you access to their email inbox. It's one of the most private and protected online assets someone has, so make sure that you prioritize emailing them your best content.
After personally welcoming them into your community, you can reiterate what their quiz results were and add any extra information that makes the email that much more worth reading. This special content will convince your audience to regularly open your emails in order to have more access to your knowledge and expertise.
Then you can move on to lightly introducing yourself. You won't want to include stories of your personal journey here just yet, but let people know about who you are and what you do. You can also mention who you like to work with, which should describe people who are just like them.
In summary, you want to include:
Welcoming greeting
Reiteration of their quiz results
Additional information that's exclusive to your email list
Next steps they might want to take
Small personal introduction into your business
Follow up with a value email
You've already summarized their quiz results, but now it's your turn to show what they can do with this new knowledge about themselves. How can they implement it into their business or life in order to improve their skills, mindsets, habits, and more? This is the main question your second email should answer.
You may want to also include more resources like you did in the quiz result landing pages to heighten the value of your experiential marketing. This will create a more well-rounded quiz-taking experience for subscribers who are looking to consume more of the right information.
If you created a quiz to teach others about how to make passive income from their blogs, your second email could include a list of YouTube tutorials on how to create their first eBook in a free tool like Canva. This is the perfect place for this resource because it isn't the highest priority to share on your quiz result landing page but it's helpful for people who want to get started and take action on their results.
For another example, if you wanted to write a value-based email that gave your audience a chance to look behind-the-curtain at a real coaching session, you could share an audio recording to show your coaching style. This strategy could fit many quiz topics, no matter what your coaching niche is.
Focus this second email on giving your audience lots of value. You can include mentions of your products and services later in the email sequence, but for now, stick to highlighting educational resources to help you continue building trust.
In summary, you want to include:
Summary of what the last email said
Educational information that can benefit your audience
Links to any valuable resources you want to share
Optional: Tease what the next email will be about
Build curiosity with a personal story
Now that your audience is armed with educational information they can implement, you'll be in the perfect position to share a more emotion-led story about yourself and your brand.
We're naturally wired to connect with stories, so this is your opportunity to share why you are passionate about the quiz topic and why it deeply matters to you.
Is there a personal reason behind why you started your business? Have you made changes in your business to reflect your audience's needs? These are perfect details to share in this third email. Your level of emotion, transparency, and vulnerability will depend on what you're comfortable with sharing, of course.
If you're looking for an example, online business educator Amber Lilyestrom shared how a near-death experience completely changed her outlook on life and her business. While your story doesn't have to be as emotional, Amber does a great job of relating to her email subscribers on a very real and raw level.
You might notice that Amber includes a discount link in the email for people who want to invest in her online course, Brand You Breakthrough. This third email is a good place to introduce your paid offer. At this point, your email subscribers have been primed through educational information and free resources to hear more information about your offer.
We like how Amber uses a discount to get people interested in quickly taking action on her offer. It adds a sense of urgency, even though the offer is delivered through an automated email. Think about how you could do something similar with your third email.
Remember this email is all about building curiosity, meaning you don't need to list every single feature and benefit of your offer. Instead, use your personal story to naturally lead to whatever your soft sales pitch is.
You can use the same storytelling formula that Amber uses by transitioning from your story to the offer by completing this sentence: "That's why I created [your offer here]…" Simple, right? Give it a try for your own story!
In summary, you want to include:
A personal story that shares who you really are
Transition into what your product or service is
Share the emotions that led you to create the paid offer
Optional: Give an incentive for buying
Next steps with your email sequence
Since three emails have already been sent to your audience at this point, it's up to you to decide what you want the quiz marketing funnel to lead to.
Quiz creators who want to offer a mid-level or premium priced offering typically direct subscribers to their larger sales funnel email sequence. This is done within their email service by transitioning the most engaged subscribers into a new series of emails that is specific to whatever you are selling. Here, your audience members will build off of everything they've learned from the quiz-specific email sequence as they learn more about your offer.
If you are a quiz creator who wants to sell a low-priced product for more passive income, you might want to include a fourth email to the email sequence. We call this your hard sales pitch since you will include direct information about the offer in order to get people to buy right at that moment. After this email, you'll transition subscribers into your regular email list for weekly or monthly updates.
Fewer quiz creators transition these quiz-taking email subscribers to a welcome or nurture email sequence before they introduce a sales funnel, but if you feel that a stronger bond needs to be made between you and your audience, this could help.
No matter which path you choose, you can rest assured that your audience will be directed to wherever they need to go next. That way, you don't leave them hanging after they finish your quiz marketing funnel.
Utilize experiential marketing in your own Interact quiz
By now, you probably have dozens of ideas around how you can make your Interact quiz stand out. It's all about creating a memorable quiz-taking experience your audience members will love.
Ready to get started?
Click here to start building your own Interact quiz for free!
Don't forget to tell us about the kind of quiz experience you're creating for your audience.
We can't wait to see it in action!